Last updated on November 24th, 2023.
Many people have sought mental health services through online counseling in lieu of attending physical offices. Having an online therapist at their disposal can mean a difference in the quality of life now and in the future.
Many people prefer online counseling versus face-to-face in an office. Online sessions can last as little or as long as you need them to. There are also benefits that are exclusive with online counseling that one would not have access to in the traditional office setting.
In this article, you will discover seven of the greatest benefits of online counseling and explanations for why they are. You will also discover one of the best online counseling services that provide high-quality service to all patients.
As a digital publisher, we may receive compensation from BetterHelp, Online Therapy, Talkspace or similar programs if you purchase products or services through the links provided.
What are the Benefits of Online Counseling?
There is a range of benefits that comes with online counseling. Online counseling is convenient because you have 24/7 access to a counselor from the comfort of your own home and any other location. This service also saves you time on commutes to a physical office and saves time on scheduling blocks of office time.
Studies have also shown that because of the availability of online counseling, the range of individuals reached has grown tremendously. More help is provided to those individuals who need it but had no previous access to it. Therapists are licensed and matched to individuals based on the specific area of study and need of the client.
7 Great Benefits of Online Counseling
Online counseling has become popular for many individuals. There is value that is exclusive to online counseling that cannot be compared to any other method of counseling.
Online Counseling is Both Accessible & Convenient For All
With technological advances, anyone can connect with an online therapist through the use of:
iPhones
androids
iPads
tablets
laptops
notebooks
This is a wonderful benefit for those who lack transportation and for those who may have a disability as well.
Having online counseling sessions comes as a convenience to clients with small children. Childcare is not a requirement to attend the sessions, and neither is commuting. This automatically allows the client to save on gas as well as childcare costs.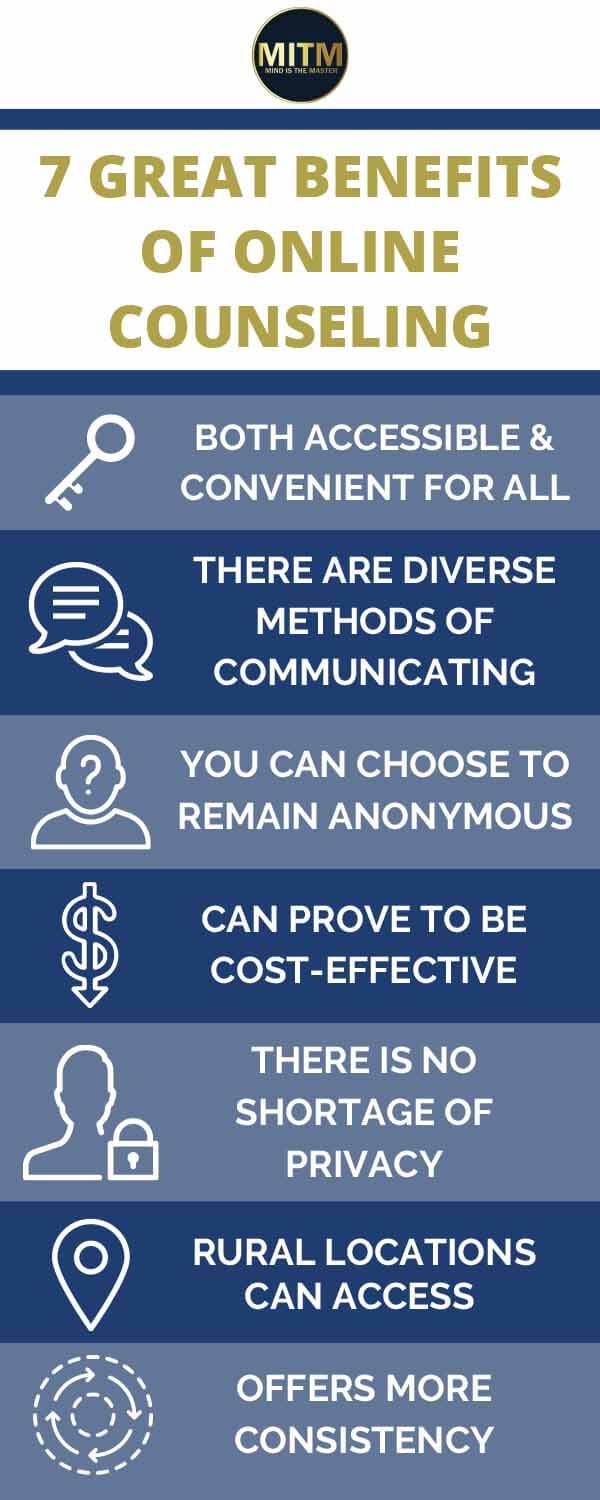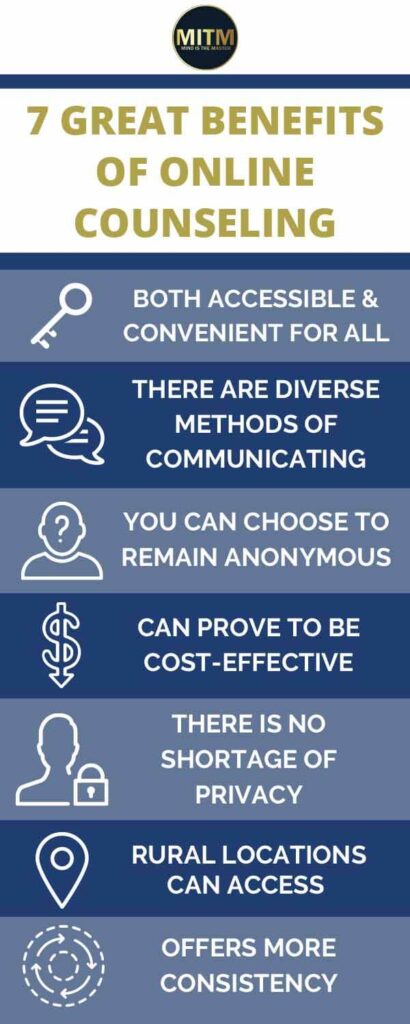 There are Diverse Methods of Communicating
Online counseling takes the win against counseling in the traditional office setting. Online counseling sessions offer flexibility in communicating such as:
Email
Text message
Phone calls
Video chats
By online counseling offering different ways to communicate helps therapists avoid possible no-shows from clients, which can add to the cost of therapy in a traditional setting. Online counseling makes it possible for the client and the online counselor to avoid rushing and driving through unruly traffic in hopes that they make it to the meeting on time. They can attend the online counseling sessions in comfortable attire.
You Can Choose to Remain Anonymous
The option of letting your identity be known or not is at your discretion. Discussions, questions, and concerns can be asked anonymously through online chats and messages, which help the client feel secure and comfortable expressing their needs. The client is more likely to feel at ease and open up quicker about personal issues if they feel their identity is protected.
Online Counseling Can Prove to Be Cost-Effective.
Healthcare coverage may cover the costs of therapy sessions, depending on the carrier you have. If insurance does not cover all the costs, then perhaps a portion of therapy will be covered. Check with your insurance provider about online counseling coverage costs. There are a few programs for online counseling that take insurance.
If you find that your policy does not cover this service, you can inquire about setting up a payment arrangement with your therapist. Most have a sliding scale that is an option for those who need the help but may have difficulty covering the cost of therapy.
There is No Shortage of Privacy
There is no shortage of privacy when opting for online counseling. The client and the therapist are meeting directly, face-to-face. There is no receptionist to check in with and you do not have to wait in a lobby occupied with other clients waiting to see therapists.
There is also the confidentiality clause that is found with most online counseling services. Information that is shared amongst the client and the therapist is not to be shared with other therapists and individuals unless given consent from the client. If a therapist finds that an individual's life is in danger, the confidentiality clause is no longer applicable, and the therapist can request emergency medical care on the individual's behalf.
Rural Locations Can Access Online Counseling
There is this idea that if you live in the country or somewhere far from civilization that you do not have access to services that most others do. Commuting from distant communities for traditional in-office therapy sessions can prove to be taxing for those who need them but live far away. Online counseling is available for those who live outside of major cities. WiFi, an active high-speed internet connection, and functional devices such as tablets and laptops are all that is required to access online counseling services.
Online Counseling Offers More Consistency
Online counseling allows individuals the opportunity and the freedom to schedule therapy sessions at any time during a 24-hour time frame. This is preferred over rescheduling meetings or even canceling them because of other obligations. If, for whatever reason, you cannot get hold of your preferred therapist, more times than not you can leave a message, and your therapist will get back to you as soon as they can.
What Can I Expect in My First Online Counseling Session?
During the first online counseling session, you can expect to consent to a couple of different matters. This is similar to the paperwork one is obligated to sign in the physical office to begin receiving the same services. You are informing your counselor that you understand all requirements. It is during this stage that you should ask any questions and express any concerns you may have about online counseling.
You will introduce yourself. To get the most out of future therapy sessions, your counselor will want to engage you in an ice breaker activity to help build a connection so that you are comfortable talking with them. They will ask you general questions about yourself, such as your name and age. Therapists are licensed to provide their services in specific locations and will ask your location to determine whether or not you can receive online counseling from them.
Your therapist will ask you questions related to your personal life. These might be questions regarding your childhood, relationships you have with others, and hobbies. The purpose of this kind of questioning is so that your therapist can familiarize themselves with aspects of your life. This benefits you because once solutions have been drawn, you will be able to make connections on your own and analyze why you are experiencing certain emotions and thoughts.
Some topics that are suggested for discussion either by you or your therapist will make you uncomfortable. It is normal to feel this way in the first counseling session. Just keep in mind that it is your therapist's job to peel back layers of trauma to find solutions to help you feel more comfortable. It is during this time that you and your therapist are building the connection needed, so your online sessions are successful.
Technology has its moments of not functioning properly. It is strongly suggested that you make sure that your device is fully charged and operating the way it should before attending an online counseling session. Be sure to check that you have quality internet service or WiFi to avoid glitches while screen sharing and that your audio is working properly so that your therapist can hear and communicate with you and vice versa.
A Resource We Recommend to Get Started with an Online Counselor
BetterHelp is an online counseling program that welcomes visitors from all walks of life. Here you will find:
Licensed psychologists
Marriage and family therapists
Clinical social workers
Board licensed professional counselors
These professionals look forward to helping others who are struggling through life. Each licensed professional with BetterHelp promises complete security and privacy during online counseling sessions.
What Do I Gain from Choosing BetterHelp?
BetterHelp is one of the largest online counseling platforms servicing roughly two million clients worldwide. The services provided have proven to be effective. Almost 100% of clients saw a dramatic increase in their mental health, and roughly 70% experienced a decrease in their depression.
These professional therapists are equipped to handle a multitude of issues. Some of these issues include stress, relationships, depression, suicide, and many others. Regardless of the issue, your information is held in complete confidentiality. During conversations with your therapist through text messaging, you have the option to "shred" any information that was previously shared.
BetterHelp is available for as long as you need online counseling. Some clients may find that the services offered help in a matter of weeks. Others may need the services longer depending on how extensive the issues are. If you feel that your needs are not being met, you are free to change your therapist until you are matched with one whom you feel can meet your needs.
Upon registration, BetterHelp will charge you every four weeks at a rate of $60-$90 per week. A standard debit or credit card is used to pay for your subscription. You can link your PayPal account as well if you prefer this method.
Insurance usually covers online counseling services. If yours does not cover the service completely, it may cover it partly. Check with your provider to see what your policy takes care of. You are under no obligation to continue receiving services with BetterHelp if you should feel at any point during your subscription that help is no longer required.
If you are considering counseling or seeking a therapist, consider online counseling because it proves beneficial for many reasons. You have the freedom of having all of your questions and concerns regarding your life answered right in the comfort of your home or anywhere. The state of your mental health can determine the quality of life you will have. Addressing your concerns with the assistance of an online counselor can have a positive impact.
BetterHelp is your one-stop online counseling service offering state-of-the-art quality services to anyone seeking mental support. You will experience all of the benefits as mentioned earlier and more when you subscribe and start receiving services with this particular online counseling service.