Last updated on September 23rd, 2023.
Yoga is highly advantageous to children. It will help them be able to regulate their emotions better, ease anxious thoughts, and encourage mindfulness, plus so much more. But did you know that the benefits also extend to the person teaching the yoga class?
Here are 7 benefits of teaching children's yoga:
It's rewarding
Children express their creativity
Children connect with themselves
Help children with their emotions
Help children with self esteem
You can grow from the experience
It's fun
If you're on the fence about whether or not you should become a children's yoga instructor, learning the benefits may be all you need to take the first step toward this rewarding career. Below, you will find essential information, including how to become a children's yoga teacher and why it is so beneficial.
We all know those complex yoga poses. How would children be able to do this? If they don't, what is children's yoga?
Children's yoga is like any other form of modern yoga but slightly altered to cater to children. However, the poses will be given creative names, and games may be incorporated to keep kids interested. Many teachers sing fun songs or tell interesting stories to keep kiddos engaged.
For instance, a children's yoga class will share the same poses to encourage strength and flexibility. 
How Can I Become a Children's Yoga Teacher?
If children's yoga is different than yoga for adults, does this mean you have to take different steps to become a children's yoga teacher?
Here are the steps it takes to become a children's yoga teacher:
Learn the requirements of the facility you're interested in working in, for example, a studio or school. 

From there, you can "dip your toes" into the working world by shadowing a class or teaching it yourself if you have the necessary skills.

A certification should be considered when you're ready to take your children's yoga instruction to the next level. Not only will this help you develop your instruction deeper with advanced training, but it also proves to businesses, schools, etc. that you're serious about your children's yoga, and they should consider hiring you.

Yoga Teacher Training courses are typically 200 Hours or Continuing Education and Specialty courses at 95 hours, which can be time-consuming and intensive if you opt for traditional, in-person classes.

While you can undoubtedly go this route, many have opted for online training courses to complete the lessons on their own time.
Now, let's see some benefits to becoming a children's yoga teacher.
7 Benefits of Teaching Children's Yoga
Not sure if becoming a children's yoga instructor is right for you? Check out these top seven benefits of being a kid's yoga teacher – some of these answers might surprise you.
Any job that includes teaching children will be rewarding, including teaching children's yoga. As a children's yoga instructor, you get to teach children a new skill that will benefit them in all areas of life. Not only that, but it's a skill they will keep with them for the rest of their lives. Essentially, as a children's yoga instructor, you're making a big difference in the lives of children.
2. It Unleashes Your Creativity
Adults can succumb to living humdrum lives that lack creativity – which isn't a good thing. But when you teach children's yoga, you will have to get in touch with your youthful side and unleash your creativity. After all, kids don't want to go through a "boring" regular yoga class. It's your job to think outside the box and create a fun environment that still teaches.
The best part is that this new creative outlook can extend beyond your children's yoga class, benefiting your life in many ways.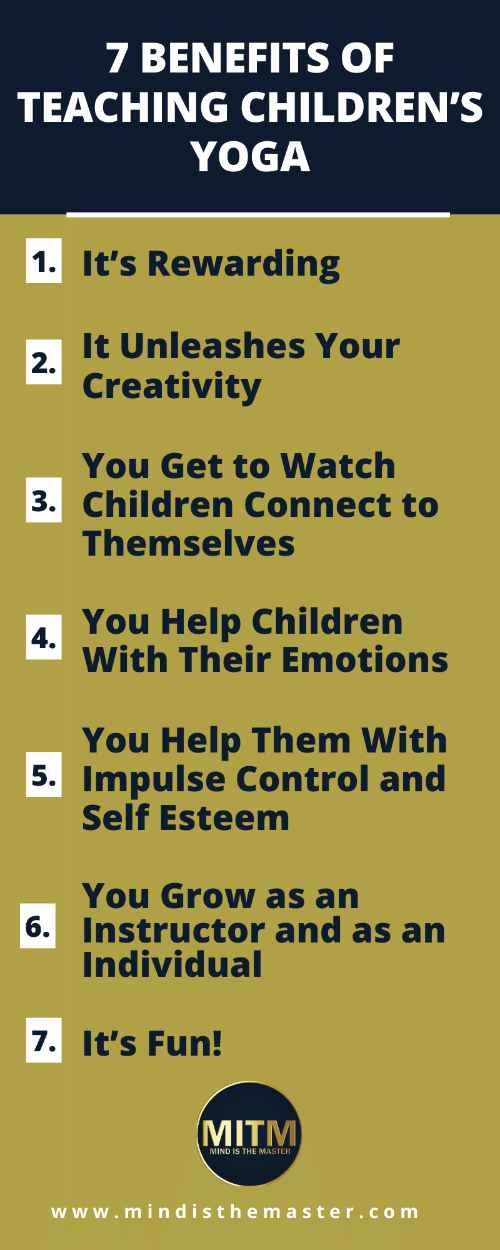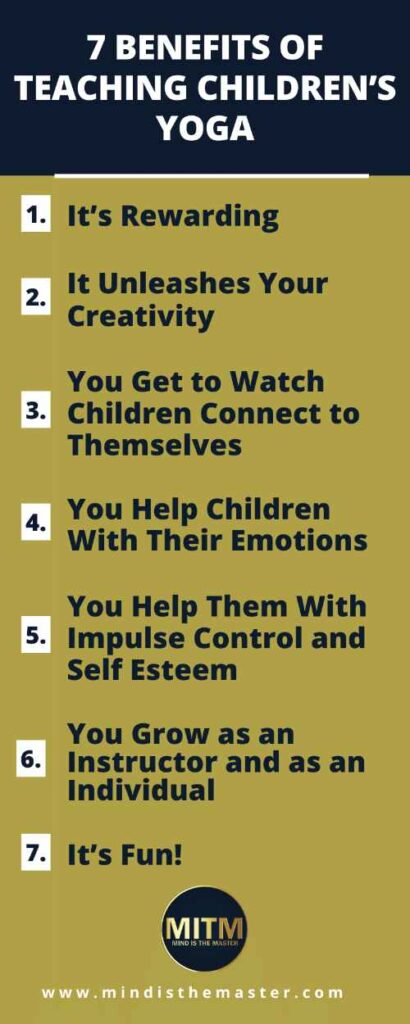 3. You Get to Watch Children Connect to Themselves
Many people – kids and adults alike – look at yoga and think, "I can't do that" – until they can. Doing something you didn't know was possible is exciting, and it's even more thrilling when you watch a child discover that they're truly capable – and that's all because of your teaching.
4. You Help Children With Their Emotions
Children's lives may not appear "difficult," but they experience anxiety, depression, stress, and other emotions, just like any other adult. Unfortunately, they're still in the learning phase, trying to uncover how to deal with their feelings appropriately.
That's where yoga comes into play. Yoga is not only great for teaching emotional regulation and helping little ones' minds become more at ease. As a teacher, watching your child go from stressed-out to calm and satisfied is an enriching experience.
5. You Help Them With Impulse Control and Self Esteem
Children's yoga comes with a slew of benefits, and one of the big ones is impulse control. Impulsivity can be harmful regardless of age. As a teacher, you're encouraging children to learn and understand impulse control, which will help them in every area of life.
Not only that, but yoga can help with self-esteem. Many kids suffer from low self-esteem for one reason or another, but throughout your teaching career, you will likely notice shy children with low esteem come out of their shells and find their confidence.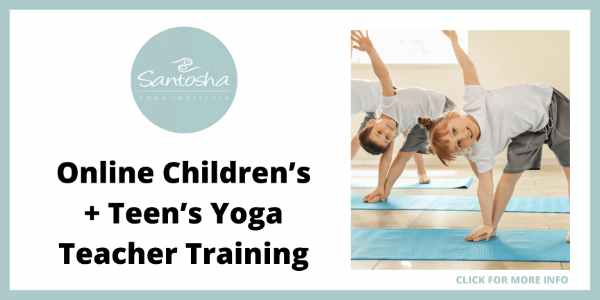 6. You Grow as an Instructor and Individual
As much as teaching children is a rewarding experience, it's also a challenge. There will be many pitfalls, mishaps, and exciting events along the way, and you must be prepared for all of them.
Teaching kids is much different from teaching adults, but it quickly becomes a growing experience. Not only will you build your blocks as a well-rounded and confident instructor, but you will evolve as a human being in ways you didn't think possible.
Children's yoga is different from adult yoga. There is a lot more "fun" added to the equation. Yes, you're still performing the essentials – like poses, breathing techniques, etc. – but in a whole new way. And, in true childlike fashion, you're bound to have a good time.
So, if you're looking for a new way to be active and practice your yoga skills, becoming a yoga instructor may be the best choice you've ever made.
Teaching Children's Yoga is Beneficial to Teachers and Student
The benefits of becoming a children's yoga instructor are seemingly endless. The most significant advantage is that you'll feel more rewarded, knowing you're teaching kids a valuable skill they'll employ for the rest of their lives. Not only that, but you will have a fun time, unleash your creativity, and grow as an instructor.