Last updated on December 8th, 2023.
Mindfulness is how to live if you want to be happier and have a meaningful life. Finding meaning in fleeting things is hard, so mindfulness helps you dig deeper within yourself. It enables you to discover who you indeed are and what you crave in this life, and by gaining this information, you can cultivate happiness in your way, no matter what it looks like. Mindfulness teaches us to concentrate on the present moment as it passes to the next without judgment. Being judgmental tends to hold us back; once you learn how to let it go, you can harness content in things the way they are. 
Even though you can start practicing mindfulness today at home, it can sometimes reach a point where you hit a plateau and need guidance on the way forward. That's where the best mindfulness courses online for 2024 come in. We understand that it's a new year and you're looking to improve yourself and expand your horizons, and these mindfulness courses will help. You can pick whichever you like, depending on what you're looking for (teacher training or personal practice), and run with it. Taking on a mindfulness course is the best way to get started on a transformative year. 
What does it mean to cultivate mindfulness?
Cultivating mindfulness does something incredible for your mental health. That's because it affects the body, mind, and soul. Meditation is a tool that can change the way you think and feel and even have neurological patterns. Mindfulness requires lots of practice since it can only happen after a while. You can only achieve it through years of dedication, patience, and work. 
To cultivate mindfulness, you must maintain a moment-by-moment awareness of your thoughts, bodily sensations, feelings, and surrounding environment. You can do all these through a gentle, nurturing lens. Cultivating mindfulness also means paying attention to your thoughts and feelings without judging them but accepting them as they are. There is no right or wrong way to feel or think at any moment. Mindfulness helps you tune into your thoughts rather than rehashing the past or daydreaming about the future. 
There are different ways to cultivate mindfulness. These include: 
Concentrate on your breathing, especially when you're experiencing intense emotions. 

Notice the moment through the sounds, sights, and smells that usually slip away without reaching conscious awareness. Notice your thoughts, feelings, and senses through each moment. 

Recognize that thoughts and emotions are fleeting and don't define you. This means you can free yourself from negative emotions at any given time. Since we have many emotions throughout the day, the next time you have a trigger, ask yourself why you're feeling the way you do and reacting the way you are. You can even ask yourself whether there's a different way you can respond in that situation. Understanding emotions means that we also know that they don't define us. 

Concentrate on your body's physical sensations, like moving your legs as you walk or sit on that chair. 

Find moments of mindfulness throughout the day to refocus your sense of purpose. You can even practice a body scan while in your office to check in with your body and notice what's happening. 
Thought leaders of mindfulness
Many thought leaders of mindfulness help people learn more about this practice and how to cultivate it. 
Mindfulness is "the awareness that arises from paying attention, on purpose, in the present moment and non-judgmentally," as Jon Kabat-Zinn defines it. Jon is the founder of Mindfulness-Based Stress Reduction (MBSR) and a mindfulness leader; he's written several books about the practice. He took the practice of mindfulness from Buddhism and taught it to the Western culture and worldwide while eliminating other Buddhist teachings. Jon Kabat-Zinn, with others, pioneered an eight-week mindfulness-based stress-reduction course at the University of Massachusetts Medical School to help patients with chronic pain by harnessing the fundamentals of mindfulness meditation through the teachings of Buddha. 
Jon Kabat-Zinn studied molecular biology at MIT and graduated with a Ph.D. Philip, a Zen missionary, introduced him to mindfulness through his studies at MIT. Eight years after graduating, he opened MBSR. Even though he learned mindfulness from teachers like Thích Nhất Hạnh and Kapleau, he removed all the Buddhist teachings from mindfulness practice and turned it secular. He used a scientific methodology to create a course that could serve the people he wanted to treat. Initially, he tried to help those undergoing bodily pain, but now the course can be done by just about anyone. 
MBSR believes in the idea of the mind-body connection. Social, emotional, and behavioral factors hugely influence physical health. Factors such as caring for others are necessary for healing. MBSR combines yoga techniques and meditation to address physical and psychological symptoms. Jon Kabat-Zinn spent years studying the effects of mindfulness practice on the immune system, body, and brain. This course is used in hospitals, the military, workplaces, online, and universities. 
Thich That Han is a zen master, poet, author of many books, spiritual Leader, and peace activist. He's well known for his powerful teachings and bestsellers on mindfulness and peace. He has pioneered bringing Buddhism and mindfulness to the West. Han has always believed in helping people, which took him out of the monastery to help others in trouble. Since he traveled to the U.S. and Europe to make a case for peace to end all the hostility in Vietnam, he was exiled from North and South Vietnam for 39 years. He then traveled widely, spreading the message of peace and lecturing on mindfulness. 
He then established Plum Village, the largest and most active Buddhist monastery with over 200 resident monastics and more than 10,000 visitors every year from around the world. Plum Village welcomes people from all backgrounds and faiths. By visiting Plum Village, you learn different types of meditation like walking, eating, sleeping, and other forms of meditation that you can practice from moment to moment. He has also founded Wake Up, a movement teaching mindful living. He has also established schools teaching mindfulness in Europe, America, and Asia. Besides Plum Village, he has opened other monasteries in many Western cities and countries. 
Thich Nhat Han suffered a stroke in 2014 and moved back to Vietnam to a temple where he was ordained when he was 16. He wished to spend his last days there, passing on in January 2022. He has left a legacy behind in his community because he established over 700 monastic disciples, 11 monasteries, and more. There are lots of his talks online, books, and more resources for everyone to learn from his legacy. 
The Best Mindfulness Courses Online for 2024
Let us explore the best mindfulness courses and what they offer.
1. Wholebeing Institute: What Makes Us Happy(er)
Have you ever wondered about what makes you happy and felt like there's a more profound answer beyond fleeting pleasures? This self-directed, 4-week online course from the Wholebeing Institute, What Makes Us Happy(er), is here to unravel the intricacies of happiness and take you on a journey into its multifaceted nature.
You will dive headfirst into understanding happiness as more than just a quick emotion and explore it as the holistic experience of meaning, strengths, and pleasure, all within the context of a larger systems dynamic. It's like peeling back the layers of an onion to reveal its core.
Master the art of happiness in this course through:
Three dimensions of happiness. Understanding the three ways to define and grasp the essence of happiness. It's not just about feeling good but understanding the broader context.
The genius of the and. Introduction to a strategic approach that allows you to embrace the paradox between pleasure and meaning. It's like having the best of both worlds.
Relational network mapping. Learn how to create a relational network map that unlocks the power of well-being within this ecosystem.
Detecting meaning. Equips you with an evidence-based approach to seeing meaning in the everyday humdrum of life. You'll discover that meaning is hiding in plain sight.
Biofeedback for positive emotions. Explores the fascinating concept of using physical sensations as biofeedback to understand and cultivate positive emotions. It's like hacking into your body's happiness system.
The flow state. Concepts of "flow" in daily life teach you to engage with activities deeply. Get ready to enter the zone where time seems to stand still.
This course isn't just about happiness; it's about unlocking the secrets to a flourishing existence. If you're going through a period of transition or seeking to enhance your happiness, this course is your compass. It's also an invaluable resource for coaches, leaders, parents, and team players looking to boost personal and collective well-being.
2. School of Positive Transformation: Meditation and Mindfulness Teacher Certificate
If you want to become a meditation and mindfulness teacher, the School of Positive Transformation is an excellent program. This is an efficient course designed to offer teachers the knowledge and experience they need to be competent at teaching meditation. If you're already practicing meditation or qualified in yoga, Plates, life coaching, health professional, etc., this course will help you expand your practice or career, accommodating more people. You will obtain a solid foundation in your daily practice and enjoy the many benefits of meditation. Even though only some people who join this course want to teach, it helps them deepen their knowledge and daily practice.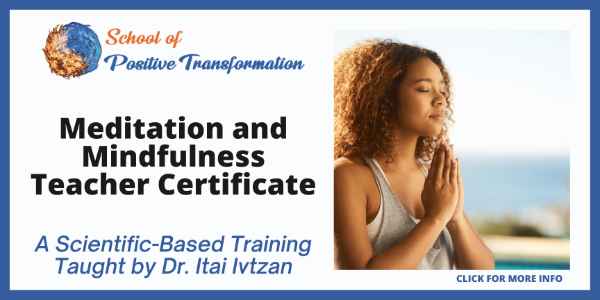 3. Masterclass: Jon Kabat-Zinn Teaches Mindfulness and Meditation
If you want to incorporate mindfulness and meditation into your daily life, this is the course to sign up for. This mindfulness course is detailed and covers a myriad of ways you can practice mindfulness and meditation. It also has a scientific take on the practice of mindfulness and meditation. The lessons flow, giving each other incremental understanding and progress. Besides all the pre-recorded classes, you'll also get over two hours of guided meditations in the right places. Each meditation exemplifies what Jon has taught and brings a new way to practice meditation and mindfulness. If you've been practicing meditation on and off, this masterclass by Jon Kabat-Zinn will help you accept your practice and transform it into something you enjoy daily.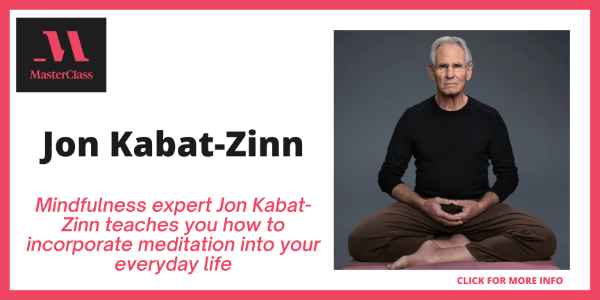 4. PositivePsychology.com: Mindfulness X
Mindfulness X, from PositivePsychology.com, is an extensive 8-session mindfulness training program designed to equip practitioners with all the necessary tools for delivering practical mindfulness training under their brand. The program, valued at $1,150, is backed by scientific research and curated by Dr. Hugo Alberts, a seasoned psychologist and researcher with over 14 years of expertise in mindfulness studies. 
Having created this methodology over a decade ago, Dr. Alberts is now sharing it to expand the reach of mindfulness and its positive impact on individuals' lives. The program includes a wealth of resources such as videos, worksheets, exercises, and presentation slides, all accessible through a dedicated website. 
You'll learn to teach the 8 Pillars of Mindfulness
Attention and the now
Automaticity
Judgment
Acceptance
Goals
Compassion
The Ego
Integration
Each pillar is thoroughly explored, focusing on practical techniques and insights that guide participants in cultivating mindfulness. To ensure practitioners effectively transmit the principles of mindfulness, the program also includes a teach-the-teacher segment. This module trains on various aspects, from creating a safe and productive learning environment to guiding meditation sessions and handling challenges that may arise during teaching. 
The comprehensive curriculum ensures that practitioners not only grasp the foundational concepts of mindfulness but also acquire the skills to guide others on their mindfulness journey effectively. With lifetime updates and a range of supplementary resources, Mindfulness X offers a holistic and professional approach to sharing the benefits of mindfulness.
The Mindfulness-Based Stress Reduction program from Mindfulness Training is an eight-week yoga, meditation, and awareness course. Although the course is designed to be completed in eight weeks, you can access all of the material, like lectures and readings, forever so that this course can accommodate a busy schedule.
The instructor, G Ross Clark, has worked with various institutions and has a lot to share with mindfulness coaches in training about connecting with students and conveying the proper techniques so that everyone can practice mindfulness. The course includes various yoga positions and tips to help students focus on the world around them.
It also covers proper breathing practices and using them to overcome physical pain to concentrate and stay in the moment. It acknowledges how easy it is to become distracted and caught up in thinking about the past or the future but shows coaches how to gently bring their students back into the present if that happens.
Most importantly, this curriculum deals with complex topics like learning to accept yourself, body, and mind and grounding yourself with gratitude. By incorporating physical and mental exercises, this course focuses on the coach's internal and spiritual welfare to ensure they are in the right mind to help their students best.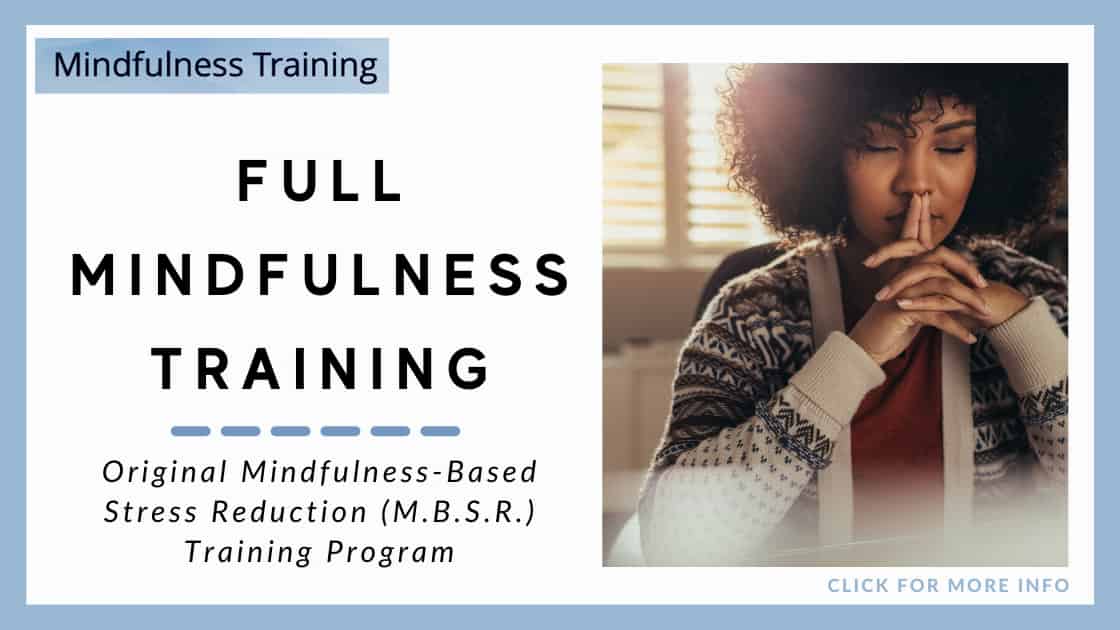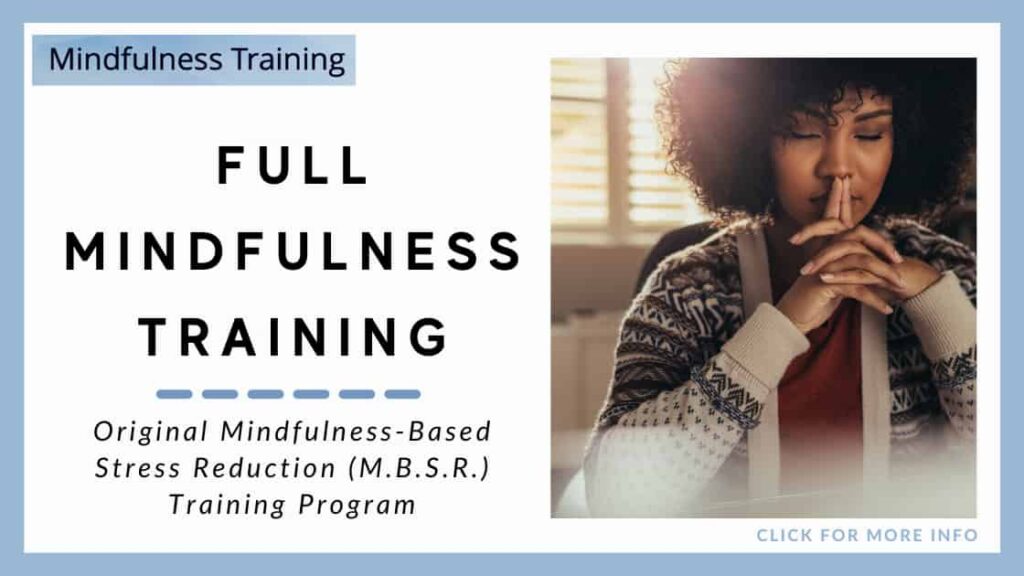 6. mindful: A Practical Guide to Daily Mindfulness Course
Mindfulness helps with difficulties in life and enables you to learn more about yourself and act compassionately towards others. The mindful program on practical mindfulness allows you to walk the path of mindful living with experts in the field guiding you as you learn. You will learn to embrace mindfulness and get its benefits as you keep learning. The program is backed up by research to help you navigate worry and anxiety, tune into awareness to be happy, and help others around you become more comfortable. This course touches on different ways you can practice mindfulness so you can pick ways to practice daily.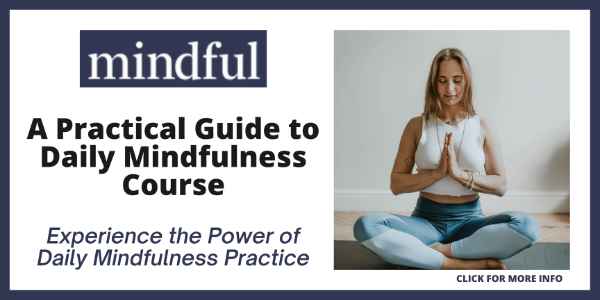 7. Mindful Leader: MBSR 8-Week Certificate Course
This Mindfulness-Based Stress Reduction course will help you reduce stress, cultivate self-awareness, and respond rather than react to stress. You'll get live, online interactive classes to chat with the instructor and ask questions you've been dying to know. You will also learn all forms of meditation like sitting, walking, silence, loving-kindness, and other various types. It is an excellent course for those who yearn for self-development, healthcare and wellness professionals, psychotherapists, HR professionals, and anyone interested in learning more.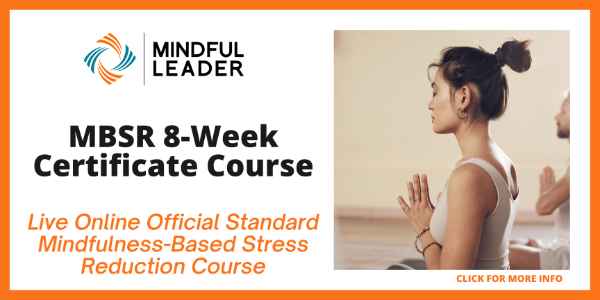 If you want to learn more about mindfulness to help others or yourself, the best mindfulness courses online in 2024 will help you get started. Mindfulness practice can help you change your life positively, elevating it and improving its quality.