Last updated on August 29th, 2023.
Marketing is critical to the structure of any business. It holds benefits for customers, clients, and partners. If you're interested in a marketing career, it's beneficial to have a degree. However, not everyone has the time to attend college in person. Are there any quality online marketing degrees available?
The 7 Best Online Marketing Degrees are from the following schools:
These are the best online marketing degree options.
Read on to learn more about the best online marketing degrees. In no time, you will be ready to take on the world of marketing with the best education to back you up.
Is Marketing a Good Career?
Marketing is a controversial career, and it's not for everyone. However, some people will enjoy marketing to earn an income. If you like a good challenge in your life and want to help take the stress off the shoulders of others, you will do well with marketing.
A few other reasons marketing is an excellent career are because:
The industry is quickly growing
Every day provides different action
You can socialize with others frequently
Professionals are in high demand
You can work from anywhere
These are the benefits that appeal to many individuals in the world.
If any of these appeals sound good to you, marketing might be an excellent step in your life. However, it's critical to note that there are high stakes. Be ready to handle high-pressure situations throughout the workday.
Which Type of Degree is Best for Marketing?
The best degree for marketing is a basic bachelor's degree in marketing. It offers all the basics you need to succeed in marketing without taking too much time and money. Anyone can achieve a bachelor's degree in marketing and work their way up to a more advanced position in a company.
Other excellent degrees for marketing include the following:
Graphic design degrees
Social media analytics degrees
Consumer psychology degrees
These can complement a marketing degree well in the professional world.
As long as your degree is related to marketing, it will work well to help a career in marketing. You should be ready to analyze consumer data and act on it when a company needs your help.
How Long Does it Take to Get a Bachelor's in Marketing?
If all goes well, it should take no more than four years to earn a bachelor's degree in marketing. This education consists of 120 credit hours if taken full-time, though some may have a different path in their education.
Part-time degrees can take about six years to earn, and accelerated programs can shorten the time to three years. There are many factors to consider when it comes to the time it takes to get a bachelor's in marketing. It depends on your life.
The 7 Best Online Marketing Degrees
If you want to earn a marketing degree online, there are plenty of choices available. All seven of these programs will provide you with everything you need to succeed in the marketing world.
No matter your budget or goals, there is something here for you. Let's get started.
1. Udacity's Become a Digital Marketer
First on the list is Udacity's Become a Digital Marketer. This option is a nanodegree, so it's much shorter than an associate's or bachelor's degree. You get real-world experience through a course that takes about three months to complete at your pace. With a Udacity subscription, this course is free for interested students.
Here are a few items you will learn about in this course:
Marketing fundamentals
Content strategy for the marketing world
Social media marketing
Social media advertising
Search engine optimization
These will prepare any student for the marketing world as soon as the degree is complete.
With this program, you get access to projects that incorporate newfound skills. They offer technical and career support for students determined to take the classes. The course works at your pace to ensure you can work around your schedule.
There are no requirements for this course, except that you must pay for a subscription and register before the official starting date. Be comfortable navigating the online world and utilizing basic computer skills.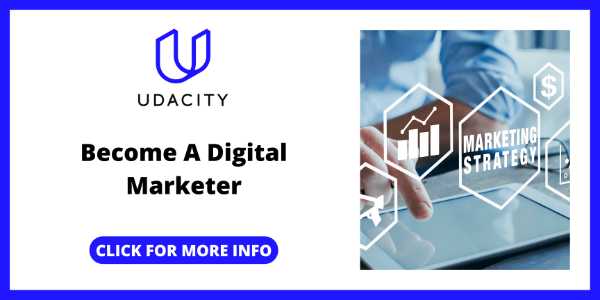 2. Florida International University's BBA in Marketing
Next up is Florida International University's BBA in Marketing. This bachelor's degree operates with the intent to provide students with a variety of opportunities in various marketing fields. They strive to offer a solid foundation that graduates can work with to find their dream career in the business world.
In this program, you will learn about the following:
Legality in the business environment
Organization and management
Marketing research and strategies
Issues in the retail market
These courses will prepare you for the marketing world and everything else that comes with it.
Per credit hour, this BBA in marketing will cost you $228.81 if you live in the state. If you're a resident of somewhere other than Florida, it will cost $345.87 per credit. The degree is online, and it starts three times a year. Educators in the marketing program strive to give their students the skills to make it.
If you want to enroll in Florida International University's online degree BBA in Marketing, you must submit official high school transcripts and official SAT or ACT scores. The university will then examine these documents and determine if you are the best fit for the university. They will let you know of your acceptance soon after.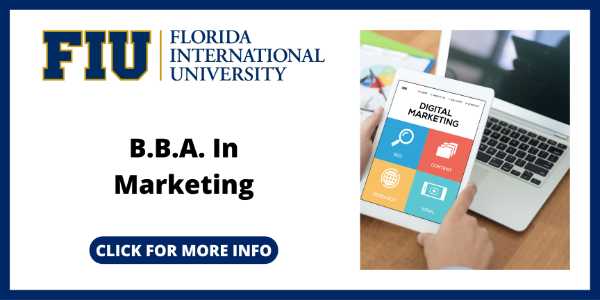 3. University of Arkansas's BBA in Marketing
University of Arkansas's BBA in Marketing is another excellent degree to try out if you want marketing to become your future. This four-year program blends three aspects of marketing – advertising, understanding, and building – to equip students to form and develop relationships necessary for success.
In this 120-hour program, you will learn about the following:
Market research
Market management
Advertising
Digital marketing
These will help you succeed in the business world in no time at all.
It costs $280 per credit hour if you sign up for this marketing degree. The University of Arkansas puts a special emphasis on digital marketing to address a world that is making the shift to the online space at a rapid pace. Marketing graduates have the flexibility to interact with this online course whenever they have the time with access to quality assistance.
There are a few requirements for their BBA in Marketing. You will need a GPA that is at least 2.25. You will also need to have taken College Algebra and Composition 2 to be accepted into the course.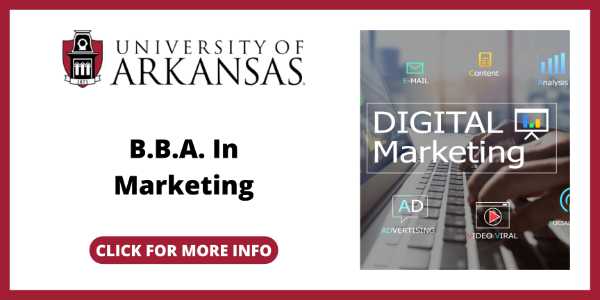 4. Udacity's Become a Marketing Analyst
Next up is another nanodegree choice, Udacity's Become a Marketing Analyst program. This course is one of the best for those who want to learn the foundational skills of marketing, whether for a future career or to further develop a current job. It takes about three months to complete this course at a rate of five hours a week.
In this program, you will learn about the following:
Data analysis and marketing analytics
Informative data visualization with Tableau
Foundational data skills
You will be ready to kick off a career in marketing right away after this course.
As long as you have a Udacity subscription, this course is free to take. You will get projects straight from real-world experts who have industry expertise in marketing. The flexibility of the program allows anyone to learn the foundations of marketing, whether you have time to be a student or have a full-time job on the side.
For this nanodegree program, there are no prerequisites required for interested students. All you need to do is register for the course, power up your device, and learn as much as you can about marketing.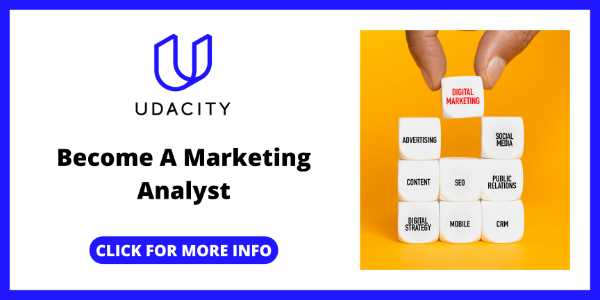 5. University of Louisiana's Bachelor of Business Administration
University of Louisiana's Bachelor of Business Administration is another excellent choice if you want to learn more about the administrative portion of marketing. They prepare their students for dozens of career opportunities in the field, from marketing management to media coordination.
In this program, you will learn about the following:
Management concepts and practice
Economic principles
Marketing research
Legal environment of business
It's an in-depth course that provides students with everything they need to succeed.
The University of Louisiana's Bachelor of Business Administration online degree is a four-year, 120-hour program. It's a flexible program intended to adapt along with the students enrolled in the educational opportunity.
If you're a transfer student, there are a few requirements you need to meet to be considered for the class. You will need to have completed college-level English or college-level mathematics. Either of these courses will need to have been achieved with at least a 'C' grade or higher.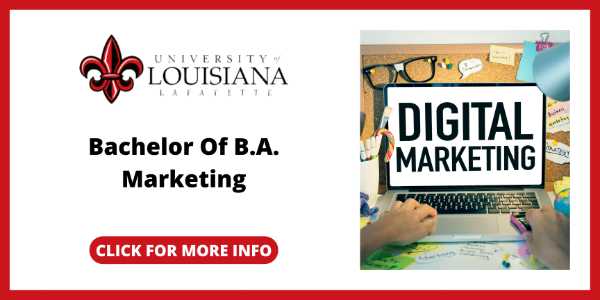 6. Udacity's Become a Project Manager
Udacity's Become a Project Manager is the last nanodegree program on this list. This program focuses on becoming a project manager, rather than a marketing analyst or digital marketer. Udacity seeks to equip students to take on the coveted role of the project manager when it comes to marketing careers.
In this program, you will learn about the following:
Product strategy
Product design
Product development
Product launch
You will be equipped with everything you need to see a project through to completion, from marketing to design and everything in between.
If you have a Udacity subscription, this program is free for anyone to take. It's a flexible learning opportunity that allows even the busiest people to earn a nanodegree in their free time. You'll get to take part in real-world projects and get expert advice from professionals with experience in the marketing universe. You will have mentors if you need help at any point.
As an interested student, there are no necessary prerequisites required if you want to enroll. You don't need any kind of experience to succeed here, though it does help to be adept at technology. It's where most of the work will happen.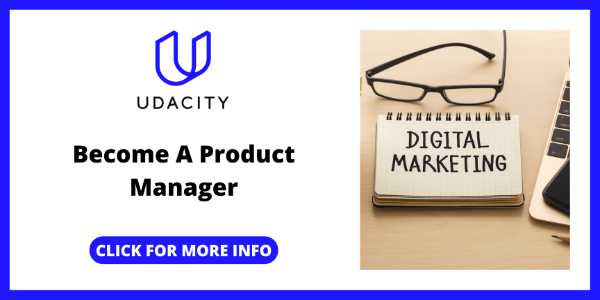 7. Park University's Management Degree
Last up is Park University's College of Management Degree. This management college is one of the largest nonprofits in the country, and they put the education of their students first. They seek to put students in professional careers as soon as possible. The faculty are well-equipped to help students with any trouble they might experience.
At Park University, you will learn about the following:
Communication skills
Interdisciplinary training
Critical thinking techniques
Marketing strategies
You'll be ready to work in the marketing industry in no time at all.
One of the best parts of Park University is the discount they offer to students. If you're a military veteran, reservist, national guard, graduate, federal employee, and even a veteran spouse, you can get excellent discounts on the tuition for online courses. They offer flexibility for students online. You can take classes no matter how chaotic your life might be.
If you want to understand what you need to get into the program, you can contact Park University staff right on their website. They will help you get everything to make the most out of this educational opportunity.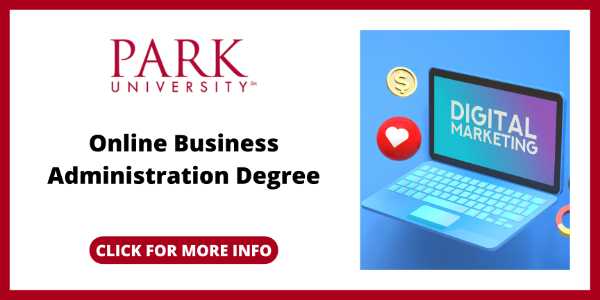 Final Thoughts On the Best Online Marketing Degrees
If you want to earn a degree in marketing online, it can be tricky to find a course that will work for you. The seven classes listed above are filled with excellent learning opportunities and structured to provide as much information as possible to interested students. If you want an online degree, these are all excellent choices you can select from for your life.
We hope this information is helpful! Marketing is a specialized skill growing in demand as the world shifts further online. With education, you can open up tons of options in the marketing world for your career. No matter how busy you are, it's never too late to earn a marketing degree.