Last updated on December 5th, 2023.
Qigong, also pronounced "chi gong, exists as a holistic practice that encompasses the cultivation of physical, mental, and spiritual well-being. It has its roots in ancient Chinese culture and traditional Chinese medicine, originating roughly 4,000 years ago. Qigong was developed as part of traditional Chinese medication, which involves exercising to optimize energy in the mind, body, and spirit.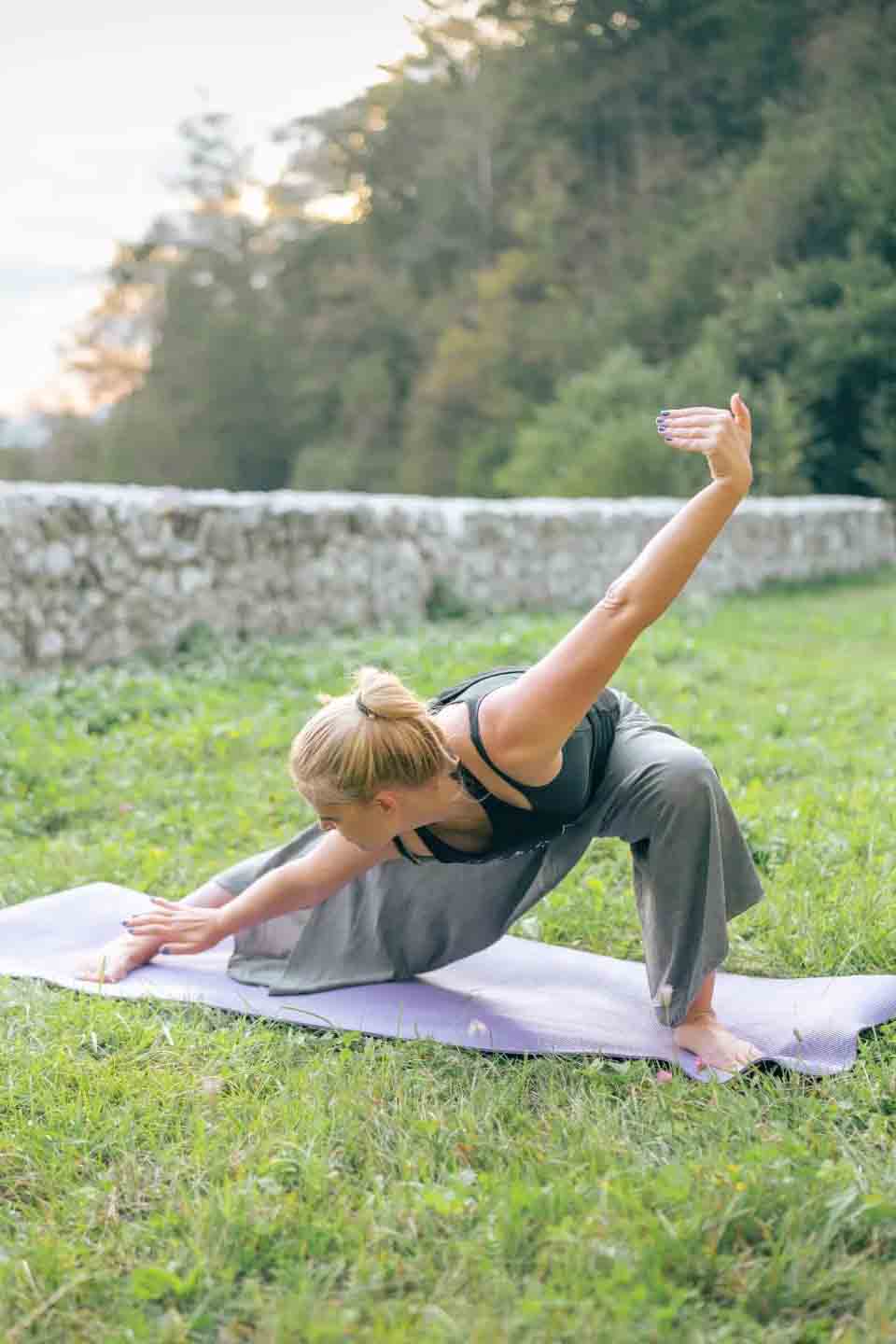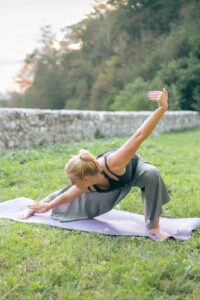 We have extensively researched and assembled some of the best qigong training for those interested in achieving a qigong certification online. Here is a quick overview of six of the best programs:
Obtaining your qigong certification online enables you to assist others in achieving improved sleep, stress reduction, and heightened energy levels. When considering pursuing a qigong certification, online learning is a top choice due to its flexibility, allowing you to maintain your existing work commitments and roles without disruption.
Is it possible to study Qigong online?
Yes, it is possible to learn qigong online. While learning solely from a book without illustrations may be challenging, online resources, including illustrations and videos, can help with learning. The advantage of online learning is that you can do it from the comfort of your home, at your convenience, and with expert guidance. Unlike in-person classes, online qigong courses allow you to rewind and review content as often as needed.
Online qigong courses often provide abundant information, sometimes even more than physical classes. These courses typically offer a variety of materials, such as ebooks, course content, audio files, visualization handouts, live streaming sessions, webinars, and more, helping you to learn to practice qigong effectively.
How do I become a Qigong instructor?
You will need a certification if you want to teach qigong and guide others on a healing path. According to the National Qigong Association (NQA), you must meet the following requirements to obtain that qigong instructor certification. As credentials and programs often shift their curriculum, ensure that your desired program is up-to-date with the specific requirements for each qigong course.
Qigong Instructor Level I
At least 200 hours of documented Formal Qigong Training
2 years of personal Qigong practice
Qigong Instructor Level II
At least 350 hours of documented Formal Qigong Training
3 years of personal Qigong practice
2 years experience teaching Qigong
Qigong Advanced Instructor Level III
500 Hours of documented Formal Qigong Training
6 years of personal Qigong practice
5 years experience teaching Qigong
Qigong Senior Teacher Level IV
1000 hours of documented Formal Qigong Training
10 years Qigong experience teaching teachers, clinical practitioners, or both
The satisfactory completion of an interview with members of the Application Review Committee if required
How long does it take to become a Qigong master?
It takes many years to become a qigong master. The only way to become a qigong master is to be taught by another master. To become a master, you must first begin by learning functional theories of qigong from an instructor. These theories include beliefs on breathing motion passed down for centuries. Knowing these fundamentals gives you a foundation to understand why specific movements and activities benefit meditative exercises. You will also understand the basics of alternative Chinese medicine, such as pressure points, and how to apply them to your studies.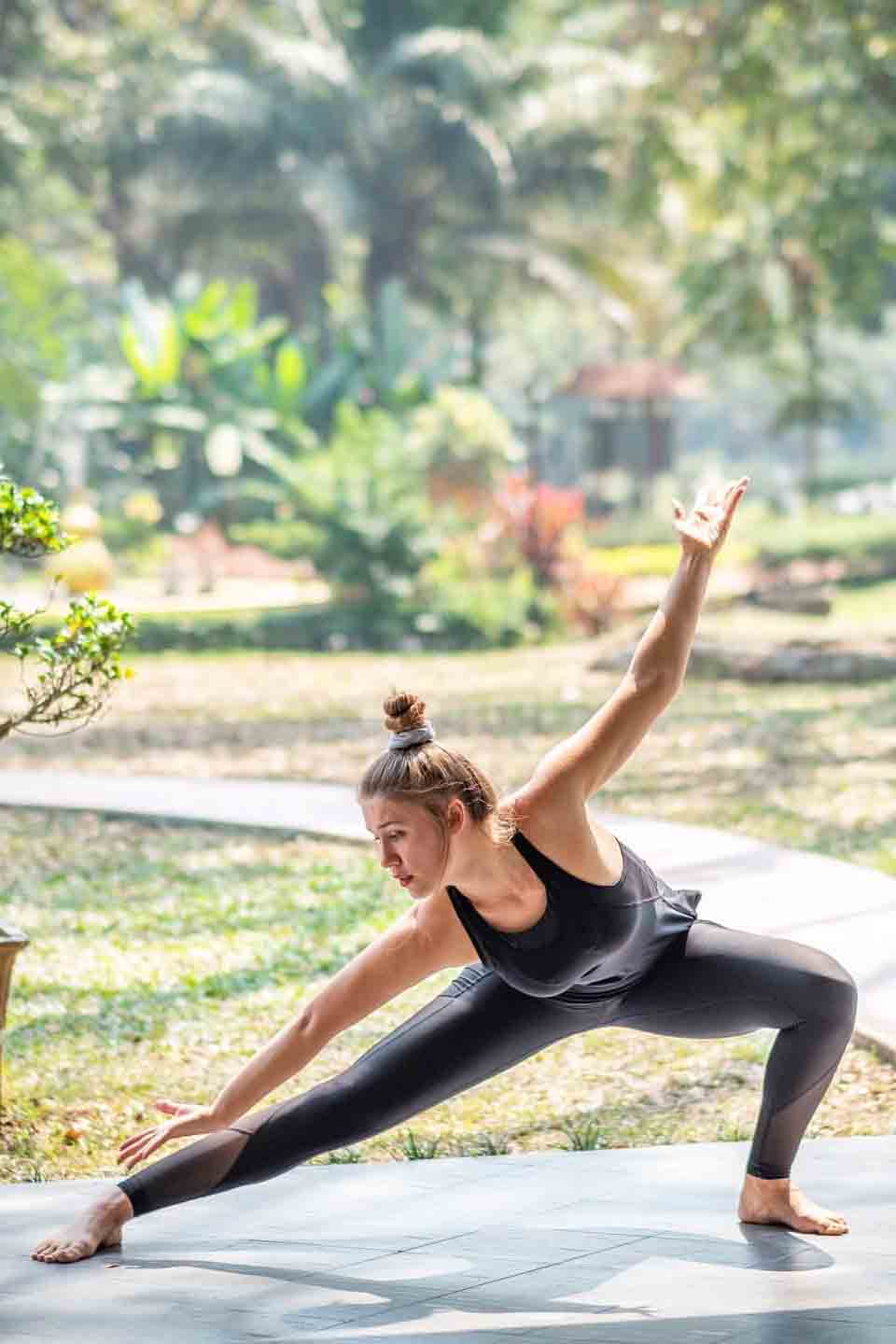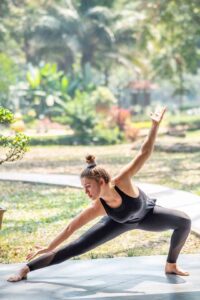 Next, you will learn about the three primary qigong forms. To become a qigong master, you will also need to practice static qigong, which means you must learn various qigong poses and hold them for long periods to improve and optimize mental and physical strength. Also, each master is unique, and their practices may differ from one master to the other. For example, there are forms of meditative qigong that focus on attaining self-enlightenment through meditation, while some are more yoga-like, and others are meant to improve focus. 
Once your qigong master is fully confident that you have learned everything that you need to succeed on your own, you will be ready to move on and become your own master. Many teachers can walk you through this path, and it can done both online or in person. 
The 6 Best Qigong Certifications Online
There are many qigong certifications online, and selecting which one will best suit your needs can be challenging. Learning qigong will help you master yourself and help those around you master themselves. It is a form of art that combines physical movement, breathwork, and sometimes even yoga. If you want to be a certified qigong practitioner, continue to discover some of the best courses.
1. Long White Cloud Qigong: Instructor Certification Program
The Long White Cloud Qigong Instructor Certification Program is an enlightening course by the founder, John Munro. With over 20 years of experience in qigong, Traditional Chinese Medicine, and Kung Fu, John Munro has developed a thorough and well-rounded approach to teaching qigong. This course is flexible and online-based, lasting for 15 weeks. You can study and practice from home and at your own pace, creating a more personalized learning experience.
Long White Cloud Qigong offers three 200-hour online qigong instructor certification programs – Elemental Alchemy Qigong, Small Universe Qigong, and Inner Fire Qigong. In these trainings, you will learn over 50 moving qigong exercises and practices to harmonize energy through the body's meridians. It is a crucial practice in qigong and Traditional Chinese Medicine, as it helps cultivate and balance the flow of qi throughout the body.
Program Benefits
Learn not just the exercises but also the theory behind them so you can understand what you are doing

Be guided to feel and be aware of the fundamental flows of energy within your body, including the organ meridians, extraordinary meridians, dantien, and energy fields

Balance mind, body, posture, and emotions through regular daily practice of powerfully effective qigong exercises and boost your overall vitality and energy

Gain practical advice and support as you begin your journey as a qigong instructor in your community
Included in the program
Powerful breathing exercises to develop a complete natural breath

Qigong meditation to strengthen your mind-body connection

Introduction to Zhan Zhuang standing qigong practice

Weekly group practice sessions led by Long White Cloud Qigong instructors

Weekly Q&A sessions with Long White Cloud Qigong founder during the course

Two private sessions with senior Long White Cloud Qigong Instructors

Comprehensive testing to ensure your knowledge and practice are sound at the end of the program

Guidance in planning qigong classes and workshops

Free access to the private practitioner online community for one year after completion of the course

Lifetime access to all program learning materials
Enrolling with Long White Cloud Qigong offers an opportunity to learn from a seasoned and respected teacher and author and to gain practical insights into incorporating qigong into modern daily life.
Long White Cloud Review

"Doing this course with John was one of the best decisions I have ever made – it truly is a life changing course. It is so well thought out – I loved the different formats with written text and clear videos as well as some audio practices to follow along with. If you have any questions John who has the most incredible knowledge on Qigong is there to answer whatever you want. Online working was really good for me as I was able to learn at a time that suited me…You could really feel the energy of the group even though we were all over the world." – Simone B (Direct website review)
2. Holden Qigong: Self-Paced Online Qigong Teacher Certification Program
The Holden Qigong Teacher Certification Program is a comprehensive online training that goes beyond just teaching qigong. It caters to aspiring teachers and individuals seeking to deepen their knowledge of qigong and traditional Chinese healing practices.
For new practitioners, it covers the details of each movement and the theory behind them, while experienced practitioners can use it to enhance their practice further. By the end of six months, participants gain powerful tools to support their well-being and help others along their journey. It's like a "Master Course" in Traditional Chinese Medicine!
What's included
16 weeks of self-paced course materials (over 70 hours of instruction)

Two monthly Masterclasses with expert instructors

One live, monthly group Q&A call with Lee Holden

The "Masterclass Library" contains over 96 Masterclasses on topics ranging from business to unique qigong forms

Private, practitioner-only online community

Two private sessions with senior Holden QiGong instructors

And the Holden QiGong Teacher Training manual (in PDF format)
Complete 200 hours of training to receive your certification
The Five Elements

The Three Treasures

Teacher Training fundamentals

Additional personal practice

Complete two one-on-one lessons with our senior instructors

Complete a final written examination

Record a 15 to 20-minute teaching demonstration video

Teach qigong to others
Breathe deeply, be present, and check in with yourself. When you join this 200-Hour Self-Paced Online Holden Qigong Teacher Certification Program, you get lifetime access to everything you need to become a qigong teacher from the comfort of your home. If you're new to qigong, you will learn the details of each movement, how they will positively impact your energy system, and when to practice or not practice specific movements. If you've already been learning or practicing qigong, this training will help deepen your practice and understanding.
3. Qigong Awareness: Level I – Certified Qigong Instructor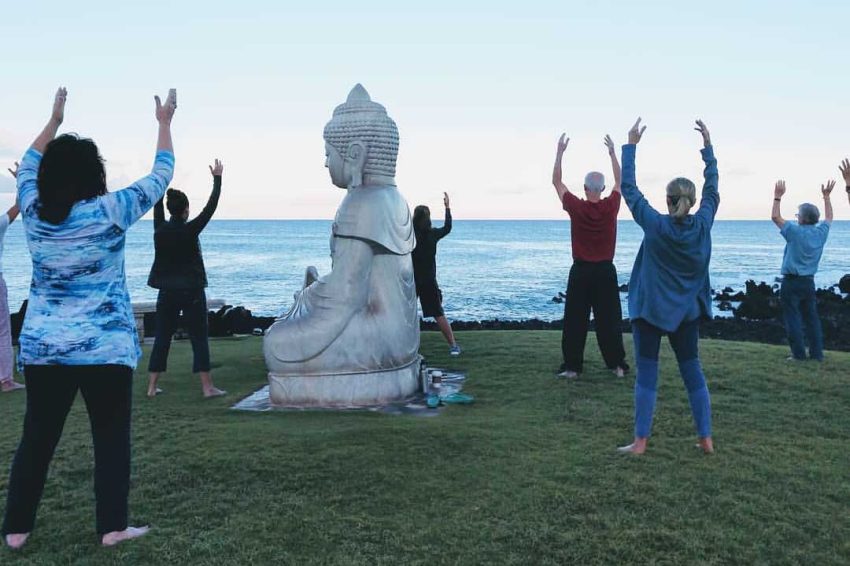 This 50-hour, Level 1 Qigong Instructor Training Program from Qigong Awareness offers just that. This all-inclusive program is designed by David Coon, a seasoned medical qigong master with a wealth of thirty years in facilitating healing. It is carefully crafted to instill in you the skills to excel as a proficient qigong instructor and confidently lead one-hour qigong classes. There are no prerequisites for this teacher training program, making it accessible to everyone.
The Qigong Awareness Level 1 training is broken down into:
Two Qigong Awareness online intensives (15 hours each). Golden Dragon medical qigong: alchemizing stress & restoring balance, and medical qigong for back pain
Daily qigong exercise program (10 hours). Learn to teach the level I qigong routine: alchemizing stress & restoring balance.
Documented qigong instruction (5 hours). Qigong exercise classes (group & private instruction): teach the level I qigong routine, the basic template for creating your class
Medical qigong sessions (3 hours). Give a one-hour, documented medical qigong session
Medical qigong sessions (2 hours). Receive a one-hour, documented medical qigong session.
Additionally, you will acquire extra qigong exercises that can be seamlessly integrated into the classes you teach. The entire program consists of four levels – each is 50 hours and contributes to a 200-hour certification. You will receive online training on instructing a one-hour qigong class and delivering a medical qigong treatment. Level IV focuses on teaching a 2-hour qigong workshop. This is a thorough, hands-on, experiential training program.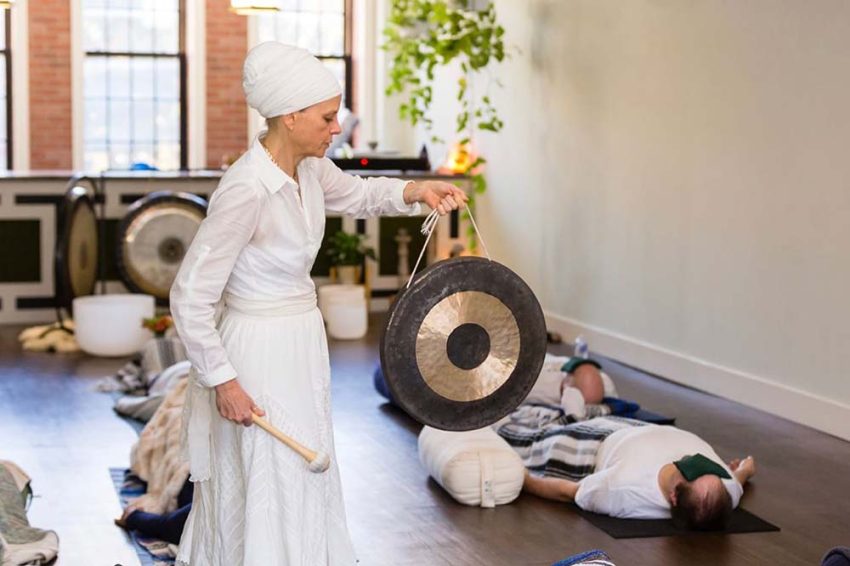 You can get your Level 1 qigong teacher training at Yoga Farm Ithaca. This in-depth training will help your healing and earn you a 200-hour teacher training certification. This teacher training will prepare you to teach with profound competence and help others achieve their mind, body, and soul. 
This qigong teacher training is a trauma-informed layering of healing and embodiment practice of qigong, meditations, and the essential keys for the healing curriculum. This training suits everyone, whether you're a yoga teacher who wants to introduce qigong as part of their classes or someone new who wants to learn qigong exclusively. 
By the end of this Yoga Farm Ithaca training, you will learn: 
Fundamental qigong theory: Understand and verbalize yin and Yang, five element theory, the theory of qi, blood, and fluids, Chinese energetic anatomy, competency in channel theory, ma da yangs heavenly star points, and the gate points.
Introduce and practice Nian Li Taoist medical qigong
Demonstrate how to correct and teach:

Wu Ji empty stance, Zhan Zhaung Standing Post, San Ti Shi three-body posture
Abdominal breathing, reverse breathing, embryonic breathing
Shen Fa: Movement pattern training for qigong: principles of Song, Moving from the Yao, Rising and Falling, Drilling, and Six Harmonies incorporating Bear Movement, and swings
Walking patterns: Mud Stepping, Crane Stepping, Phoenix Stepping
Wave Hands like Clouds Qigong
Ba Duan Jin/ Eight Pieces of Brocade Qigong
Five Element Qigong
Yi Yin Jing: Sinew Tendon Changing Classic Qigong
Reviews

"This is the place to be, and I am beyond grateful to the teachers here. It is incredible how an online program feels so intimate. YF provides exceptional, wise, kind teachers, who truly care and guide you home to yourself while providing skillful YTT. I have unpeeled layers with the help of their suggestion, experience, guidance and personal support. The gifts I've receive beyond the actual yoga teacher training and Qigong training are priceless gems (classes, meditations, office hours, chats, …). Something else that was a surprise, and for which I am humbled and grateful, is the true loving community of fellow students. I've experienced nothing like it. It is a testament to the mission and vision of the founders and teachers, the beautiful energy put out and returned.
This has literally changed my life, and I am grateful

."

-Karen E (Google review)
5. White Tiger Qigong: Qigong Master Course and Teacher Training
White Tiger Qigong offers a unique 15-week, 5-level, online qigong Teacher training. During this qigong teacher training, you will discover each qigong exercise's body mechanics and alignment, plus the essential theory behind every movement. This training will teach you how to heal yourself and others through this ancient form of Chinese medicine. There is no specific order to take this course, and you can take whichever portions cater to your interests. However, you could qualify as a White Tiger Qigong instructor upon full completion.
Let's explore the course in more depth:
Level 1: Body.

Education on the mechanics, alignment, and theory of each exercise, including its controversial and intriguing history. Master the qigong forms with essential checkpoints and helpful visuals. Uncover the wisdom of qigong Theory, Taoist philosophy, the 3 Treasures, 3 Harmonies, and the fascinating link with Fascia.

Level 2: Breath. This transformative phase represents the "Qi" level in the Teacher Training course, where you'll gain profound insights into the workings of Qi and learn to channel it precisely through your body.
Level 3: Spirit. Unlock the state of flow by combining time-tested Taoist practices with scientifically backed techniques. As you graduate from this level, you'll embark on a journey that deepens your connection with the art of qigong and opens up new realms of possibility in your pursuit of well-being and inner balance.
Level 4: Prescription Qigong (Medical Qigong). Learn how to craft personalized prescriptions for a range of ailments with qigong! Uncover the powerful frameworks of Chinese Medicine, Fascia, and Sports Medicine, and harness their secrets to tailor qigong practices to your unique needs. Say goodbye to one-size-fits-all solutions and hello to a world of customized healing and rejuvenation. 
Level 5: Teacher Training. Are you ready to share the wisdom of qigong with others? This final module is designed for aspiring qigong instructors, offering the most comprehensive teaching course. To earn your official qigong Instructor certification, you'll be assessed through both a video test and a theoretical examination. 
Deepen your practice, whether breathwork, movement, or meditation, and explore opportunities to teach and build a thriving business in holistic wellness. Embrace the power of qigong to transform lives and foster your growth journey. 
Reviews

"Tevia is a very knowledgeable teacher with so much expereince. I really appreciated him taking the time to answer my questions and found his level of care and attention very professional. Totally recommend learning with him

."

-Artikai (Google review)
6. Shelton Qigong: Qigong Teacher Training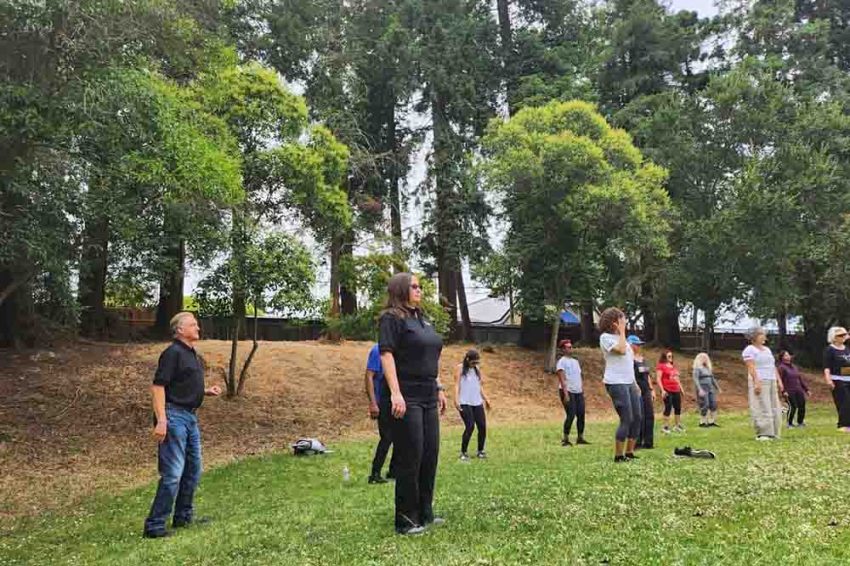 Spearheaded by the experienced husband and wife duo Chris and Parisa Shelton, this qigong teacher training from Shelton Qigong is a beacon of hope for those seeking long-lasting relief from chronic pain and disease. This unique program not only equips participants with the skills to help themselves but also empowers them to impact others positively. 
The Sheltons, certified qigong practitioners and teachers, have garnered a reputation for their expertise in the field. Operating the Morning Crane Healing Arts Center, they have extended their knowledge to thousands of individuals worldwide, fostering holistic healing and overall well-being. 
The program encourages participants to dedicate 30 to 60 minutes daily, two to five days a week, to study and practice. This commitment forms a backbone that promises improved stress tolerance, daily positivity, and a rewarding sense of aiding oneself and others.
At the heart of Qigong Teacher Training lies a comprehensive curriculum spanning two levels:
Over 13 weeks in Level 1, students study the foundational teachings of qigong, mastering techniques that rejuvenate personal health and well-being. 

As Level 1 concludes, participants gain the ability to teach complete qigong classes, and the option to proceed to Level 2 opens up. 

Upon completing both levels, including a final project that assesses personal mindset and technical prowess, graduates emerge as certified qigong Instructors.
By focusing on foundational qigong techniques, participants gain a deep understanding of how to harness energy and create a harmonious balance within themselves. This knowledge transcends the individual, enabling graduates to extend their expertise to others and foster a holistic wellness network that ripples through communities. Click through for more information on Shelton Qigong.
Reviews

"Just after one visit with Chris, I felt a complete difference in my energy and my physical body. I have been going to Chris for a few months now and after every visit see a shift in being. I feel supported by the work, I see a difference in my body and feel a sense of myself return more and more each time. I am grateful for this work and highly recommend it to anyone who has had past trauma, physical limitations, emotional challenges, etc. Thank you Chris and Parissa for helping me get strength back

."

-Amy E (Shelton Qigong Website review)
Final Thoughts on the Best Qigong Certifications
Qigong is a fantastic way to master oneself, and helping others who need it can provide tremendous fulfillment. It does not matter whether you will be a qigong practitioner; when it comes to such ancient practices, it can be an enriching experience to share and pass the knowledge down to someone who needs it. The above qigong training programs will benefit you if you want to pursue qigong professionally. You can choose a program that best complements you and your needs, follow it closely, and become certified as a qigong instructor.