Last updated on September 26th, 2023.
Yoga dress pants give you all the comfort and movement of yoga pants while also functioning as a stylish pair of dress pants. These pants are suitable for any occasion, including work and leisure activities. You can dress up in yoga pants with all kinds of attire.
What is the perfect yoga dress pant with pockets? To be in the top 7, they must be comfortable, stylish, and have no buttons or zippers. There should be just enough spandex to show off your sleek and classy persona. They should fit anywhere, ideally in the board room or the hot yoga room.
The best part is that yoga pants come with deep pockets, allowing you to keep your phone and other belongings. This article delves into the seven best yoga dress pants with pockets. Take a look.
Are yoga dress pants a thing?
Have you ever had to choose style over comfort? It is no fun feeling like you must choose between looking good or simply feeling good. It creates a situation where you cannot be as versatile with your wardrobe. It is essential to have certain pieces in your wardrobe that you can wear anywhere. 
Yoga dress pants were created to be an all-purpose wardrobe item. You can wear them not only to the office but also to a yoga session and bed. If you want style combined with comfort, yoga dress pants are the perfect fit. No occasion requires an outfit change. These pants can work in any situation.  
You can just put these pants on and go. These are the type of pants that can be stretchy while still maintaining proper shape. You can wear them out for a casual date just as easily as you can wear them around the house. They are game changers and will provide the perfect excuse you need to be comfortable in any situation. 
Can you wear yoga pants as dress pants?
You can absolutely wear yoga pants as dress pants. The material for these types of pants is four-way stretch and very breathable. They were made to be a perfect fit. Not too tight and not too loose. No more fussy zippers or buttons to mess around with. However, these pants can still look professional. Select a pair of great-looking pumps and a nice blouse, and you are office ready. 
Some stylish ideas for wearing yoga pants to work:
White or neutral colored shirt or blouse

Dressy black cardigan without buttons

Brown or black Leather boots

Smart-looking jacket or blazer
You may also want to try a black tunic top that covers the bottom, which will look effortlessly classy. You could also do black yoga pants with a gray V-neck sweater and a chic-looking pair of black ballet flats. 
What is the best yoga dress pant?
You can wear many types of dress pants to work or on a date. The best dress yoga pants should look like traditional office pants and be both practical and stylish. Yogi Pace Belt Loops are a great pair of pants. They come with loops where you can put a belt if you want to look as professional as possible. 
They have two faux side pockets and two functional back pockets. The pockets are designed to carry your phone. These straight-leg pants would look great on anyone, as they are feminine and flattering. 
The 7 Best Yoga Dress Pants with Pockets
Nothing is more assuring than a pair of comfortable pants that you can wear to coffee with friends or proudly at the office. You want to choose the perfect yoga dress pants you can wear for any occasion. The following includes the seven best yoga dress pants with pockets available for purchase:
1. The BALEAF Woman's Yoga Dress Pants
These pants are fantastic for many different purposes. BALEAF yoga dress pants are fitted through the hips and thighs. They will indeed look dazzling with an attractive pair of pumps, ballet flats, or tennis shoes. Some of the other features of these pants:
Pull-on style 

Faux fly and non -functional button at waist

Elastic waist

Soft and stretchy
BALEAF has four functional pockets, including two front pockets that can hold your cell phone and two back pockets. The fabric is made from 87 percent nylon and 13 percent spandex for a nice stretch.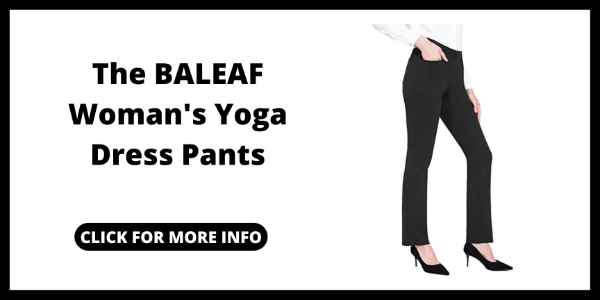 2. Heathyoga Bootcut Yoga Pants
These pants have unique four-way stretch technology that allows you to practice any yoga position in the utmost comfort. High-rise tummy control gives you a smoother look. The pants get an A+ for enabling you to move about freely. Some of the other attributes:
80 percent Polyester and 20 percent Spandex

Elastic closure

Streamlined hips cutting
Side pockets are perfect for holding your cell phone. The functionality and style of Heathyoga Bootcut Yoga Pants are untouchable.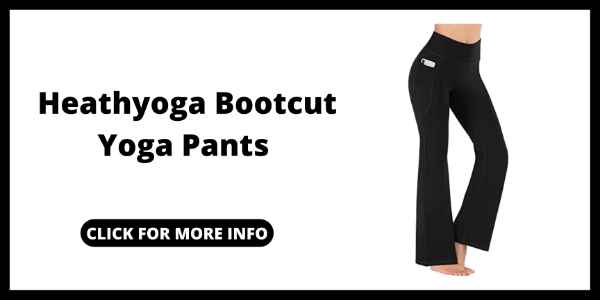 3. IUGA Bootcut Yoga Pants
Comfort and style rolled into one, IUGA Bootcut Yoga Pants are hard to beat. They were created for comfort around the waist, hips, and legs. They have a modern look with a slightly tighter fit in the hips, and they come out with a small flare at the bottom. Some other notable highlights:
25 percent Spandex 75 percent Polyester

Modified classic style

Super stretchy

Regular inseam length
These pants have two deep front pockets and two back pockets. The style is highly versatile and youthful.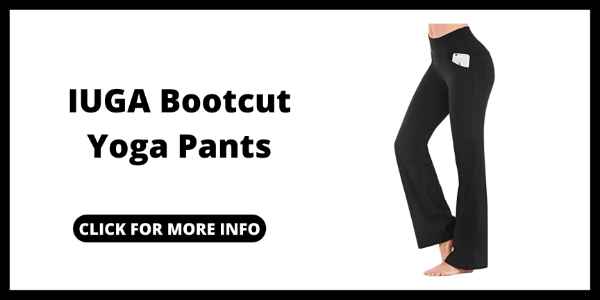 4. Hainings High Waisted Boot Cut Yoga Pants
These are the goldilocks of dressy yoga pants: not too loose, not too tight. They are ideal for any activity or occasion. The stretchy waistband is high enough to accentuate the body's positives. There are other high points:
Highly breathable

Four-way stretch material 

Lightweight

Unique fitness compression technology
Haining  High Waisted Boot Cut Yoga Pants have four functional pockets. Two deep-seated pockets in the front and two back pockets to fit your phone.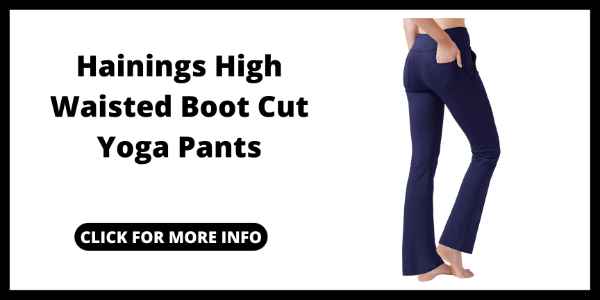 5. Saffort Regular Tall Bootcut Yoga Pants
The Saffort Regular Tall Bootcut Yoga Pants are denser and more solid than the alternatives. These pants fit all different heights. Saffort yoga pants are 79.3 percent Polyester and 20.7 percent Spandex. These stylish pants have other key attributes:
Pull-on closure

Not hemmed

Non-see-through guaranteed

Bootleg flare 
These dress yoga pants have two deep front pockets and two back pockets. They have adequate tummy control to flatter every figure.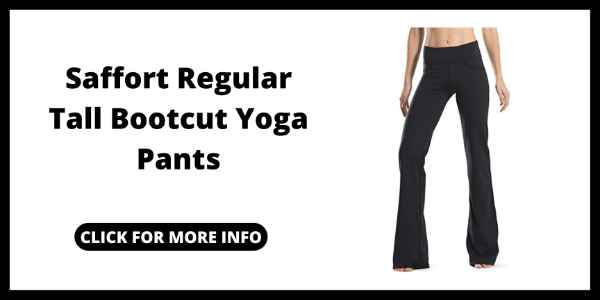 6. Bamans Yoga Dress Pants
The Bamans Yoga Dress Pants have a wide leg opening, accommodating the sportiest sneakers or the classiest high heels. These pants have super soft, stretchy fabric. Some other qualities: 
Covers imperfect calves

Suits all body types

Modified classic fit 

87 percent Polyester, 13 percent Spandex
Baman's yoga dress pants have big pockets. They keep your phone safely tucked in when you are practicing your sun salute.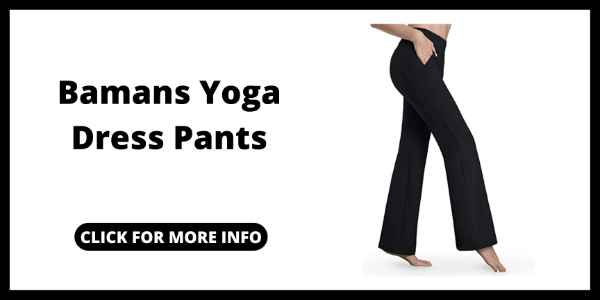 The signature four-way stretch technology allows for a dressy look suitable for work, yoga, and play. The HDE Yoga Dress Pants are built for comfort and poise. Some other pluses:
Uniquely made with 68 percent Rayon, 27 percent Nylon and 5 percent Elastane 

Faux zipper and belt loops

Elastic waist 

Straight leg 
These pants boast eight impressive functional pockets, while many other yoga dress pants have faux pockets. HDE Yoga Dress Pants are perfect for an upbeat yoga session while maintaining the high standard of dress pants.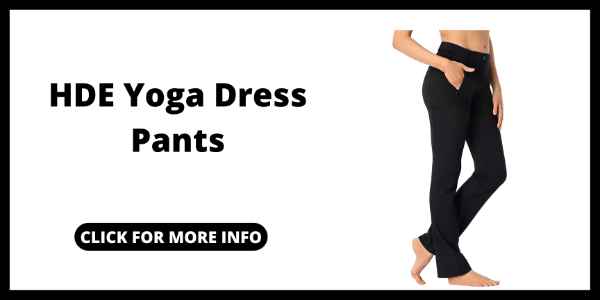 Concluding Thoughts on the Best Yoga Dress Pants
The journey to discover the best yoga dress pants intertwines comfort, functionality, and style, creating a harmonious blend that caters to both the demands of an active yoga practice and the desire to present oneself with confidence in everyday settings. The ideal pair of yoga dress pants seamlessly accompanies the modern individual through various aspects of life, embodying the balance sought after in both mind and body.
In making informed choices about yoga dress pants, it is crucial to consider personal preferences, body type, and the intended purpose of the garment. While functionality remains paramount, the ability to express oneself through fashion should not be underestimated. With the plethora of options available today, individuals have the power to curate a wardrobe that aligns with their unique style and enhances their holistic well-being.
Ultimately, the best yoga dress pants transcend mere clothing and become an extension of one's lifestyle and values. By embracing comfort, versatility, and style, these pants have the potential to elevate not only our physical experiences but also our overall sense of self. As we continue to embrace holistic approaches to health and self-expression, the journey to discover the perfect yoga dress pants becomes a meaningful step toward a more balanced and fulfilling life.