Last updated on August 29th, 2023.
When you talk of bodybuilding, the first thing that comes to most people's minds is muscled men and women walking around in little clothing, showing off their muscular bodies to a cheerful crowd. While this is accurate, there's more to bodybuilding than meets the eye, and that's where there is a need for a bodybuilding certification. This type of competitive sport is an inspiration by the ancient Greeks. Today, more men and women are interested in becoming bodybuilders, and that's why you need to take a bodybuilding course, earn a certification, then have your own clients if this is something you're passionate about teaching. 
A bodybuilder is an individual who seeks to build their body from the ground up. To become a bodybuilder instructor, you need to understand how to train, grow muscles and create customized exercise regimens. These days, you can easily earn a bodybuilding certification online, and you don't need to stop doing whatever you are during your working hours. You can easily create a study schedule and pursue your dreams. 
What is a Bodybuilding certification?
A bodybuilding certification helps you as a fitness trainer understand how to help competitive bodybuilders. Such a certification teaches you about their nutrition, how to customize it according to an individual's need, and an understanding of successful bodybuilding competition strategies and poses. Such a certification equips an instructor with the knowledge that will help them work hand in hand with any person and help them win a bodybuilding competition. 
By pursuing this certification, an instructor will know what's needed to win a competition and help their clients get there. They will develop strategies and tools to help their clients become healthy while building muscles and preventing injury. Successful instructors know when they're overworking their clients and realize they need to slow down to prevent injury. This certification also provides tools to help clients learn how to pose and dress in a competition. A bodybuilding certification gives you the tools and knowledge to train and coach competitive bodybuilders. A certificate in bodybuilding and personal experience gives one enough ability to help others pursue this competitive sport. 
How is a Bodybuilding Certification different from Personal Training?
The role of a personal trainer is to either work with a small group of people or an individual and help them achieve their fitness goals. Their role could be improving a client's muscular endurance, increasing physical flexibility, or even weight loss. They help their clients achieve their fitness goals. Sometimes they even help recommend health and nutrition plans to further help their clients reach the said goal. On the other hand, a bodybuilding certification helps the instructor gain knowledge on supplementation, bodybuilding competition, principles of muscle anatomy, and further understand how to use ergogenic to improve performance and their health risks. 
Most of the time, you'll find that personal trainers only help individuals with their personal fitness goals. In contrast, bodybuilding experts help those participating in bodybuilding competitions get the win they so much deserve. While a personal trainer has impressive knowledge to help one transform their bodies into healthy ones, they don't have what it takes to help one participate in and win a bodybuilding competition. These two professionals are different in their ways. The main difference we can see between these two is that while both involve health and fitness, you can say that bodybuilding is an aesthetic sport that focuses on appearance. A personal trainer will help you become fit, but they won't sculpt you to compete in a bodybuilding competition. 
How much does a Bodybuilder coach make?
In the U.S, a Bodybuilding coach makes around $49,029 this is according to salary information collected from indeed, employees, and past and present job advertisements. Glassdoor says the average salary for a bodybuilder coach is around $55,155. All this data means that bodybuilding can earn more or less depending on their specific situation, place of work, and clients. 
The 3 Best Bodybuilding Certification Courses Online
1. ISSA Bodybuilding Certification
ISSA offers this bodybuilding certification to those who want to be Bodybuilding trainers or even professional bodybuilders. By signing up for this course, you will learn the principles of muscle anatomy, kinesiology, and biomechanics. You will also get to understand how to optimize muscle hypertrophy and strength. There is so much you'll be learning in this course about bodybuilding that's hard to come across elsewhere. Upon signing up for the course, you'll receive an online course textbook that updates the latest information to help you learn more about bodybuilding as the industry keeps growing. 
ISSA also prepares you for exams by offering practice exams and section quizzes to ensure you understand what you're learning. You're typically preparing for your exams by reading and doing these quizzes. They also have an online exercise lab with over 250 animated exercises from different angles to show you how to notice proper form and ensure technique. You'll also join their online forum where you can always ask questions to do with your clients or anything you need help with in the fitness industry. By asking such questions on their platform, you get to receive guidance from the staff and other professionals worldwide.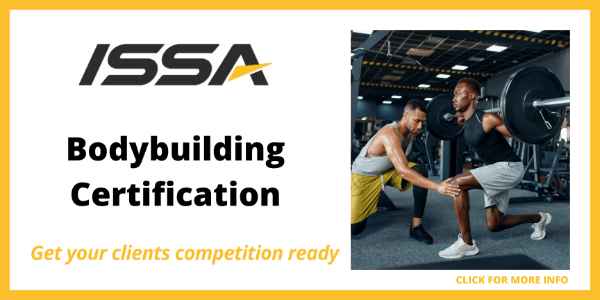 2. IFBB Online Personal Trainer Course
This is the perfect course for you if you want to help others achieve their health, fitness, and sports goals. IFBB takes the authority in strength and weight training. This personal trainer course equips you with tools on supplementation, exercise, diets, and natural alternatives for achieving good performance. IFBB offers this course in Spanish, English, and Portuguese. 
This IFBB course helps individuals who want to deepen their knowledge in fitness and training and help more clients achieve their goals. All their course material is easily printable and available online once you've purchased the course.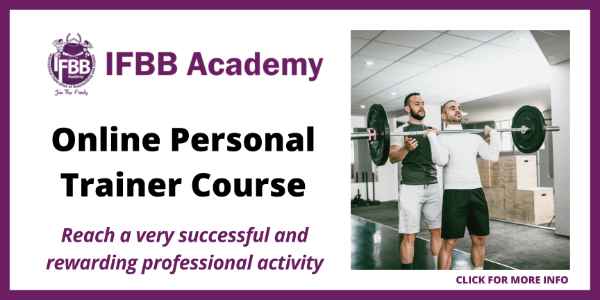 3. ASFA Competition Bodybuilding Trainer Certification
This ASFA certification is meant for fitness professionals looking to expand their careers and knowledge. By pursuing this course, you will understand successful bodybuilding competition strategies and poses and successful nutritional components and considerations of bodybuilding competition. Besides that, you will also be able to design customized and effective training regimens for professional bodybuilders. While all these are important, the course also gives bodybuilders a proper understanding of nutritional education.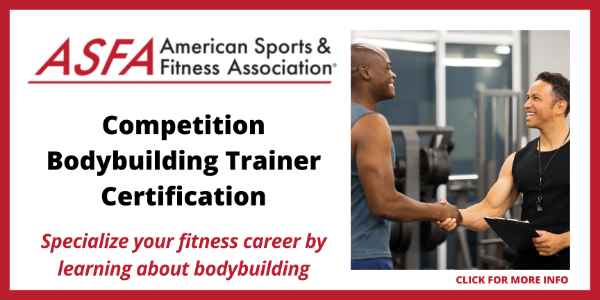 Many people are passionate about becoming bodybuilders and competing professionally in this field. If you're passionate about teaching this craft, it's time you sign up for a bodybuilding certification course and get the papers and education you need to guide others on this path. As a professional Bodybuilding specialist, you'll be able to work with all types of clients, helping them tone up and sculpt their bodies into what they desire. You will be fulfilling other people's dreams. These bodybuilding courses are primarily online, which means you can keep working with your other clients during the day as you improve your knowledge of bodybuilding when you're free. You can self-pace yourself easily and eventually get the certification you desire. Also, considering these bodybuilding courses have a payment plan, you don't need to worry about the payment method as you will slowly but surely pay for the course without needing a loan or breaking the bank.