Last updated on November 24th, 2023.
Going keto can be a bit daunting without some help. Having to constantly read labels, make sure it's high protein but in the keto range, count macros, and make certain food is within carbs allowance can be frustrating even for the experts.
Perfect Keto has created a way for going keto to be a lot easier and so much more delicious with these seven best Perfect Keto products you can buy online. These products include:
If you'd like to learn a little more about how each of these products can help you maintain ketosis easily and deliciously, keep reading.
How Long Has Perfect Keto Been Around?
Perfect Keto had been around since November of 2016 when Dr. Anthony Gustin created it. He began this company with the mission to make keto easy for everyone.
According to the website, Perfect Keto can be defined by the following values:
Assisting anyone desiring to reach their health goals with food, supplements, and education
Only using ingredients that are clean, minimal, and backed by research
Customize and guide each customers experience
Connect others who are on the same health path to each other for support and educational purposes
Perfect Keto continues to be a staple for anyone looking to start or continue their keto lifestyle. The founder, Dr. Anthony Gustin, states, Perfect Keto is focused on improving health by providing products that help you reach your goals with ingredients you can trust." Its products are free of sugar, artificial flavors, fillers, chemicals, gluten/grains, soy, and corn.
Which Is More Popular, Perfect Keto Collagen Or Powder?
While both Perfect Keto Collagen and Perfect Keto MCT Oil C8 Powder are both fantastic products, Perfect Keto Collagen is a fan favorite.
The Perfect Keto Collagen is a protein powder that combines collagen and MCT oil derived from grass-fed sources. It is designed to assist the body in recovery by utilizing the two healthiest forms of protein and fat.
Perfect Keto MCT Oil Powder is a pure form of easily absorbed fatty acids that can be readily used by the brain, muscle, and other tissues for energy and is a powdered form of medium-chain triglycerides.
While customers love both products, those who have purchased Perfect Keto Collagen have stated it is the best bang for their buck as it is like getting three products in one with the added prebiotic and MCT oil within the collagen powder.
The 7 Best Perfect Keto Products You Can Buy Online
The Perfect Keto product line consists of over thirty-two products ranging from nutritional bars, soups, broths, coffees, snacks, and supplements, so it is easy to see why Perfect Keto is still satisfying customers over six years after being founded. Find out the things happening in ketosis while fasting to learn more about the food your body needs,
Below is a list of the seven best Perfect Keto products you can buy online straight from their website, plus you can use our promo code MITM for discounts on the best Perfect Keto products!
1. Exogenous Ketones Base
This keto powder is formulated using a natural ketone body molecule, BHA or S Beta-hydroxybutyrate, that helps support ketosis. Its delicious taste is derived from monk fruit, and it has been newly formulated to taste less bitter and sweeter. For peak hydration, electrolytes were added, and users can enjoy this refreshing supplement without the worry of artificial sweeteners or added sugars.
This product is best to use:
Am or PM
When you are feeling tired
Before a workout
Anytime you need to clear your mind
When you want an energy boost
To combat keto symptoms while your body is adapting
This keto base comes in six different flavors: chocolate, vanilla, peach, coffee, salted caramel, and unflavored. This product will assist in increasing blood ketones for about two to three hours by directly putting ketones in your bloodstream. While it will not keep you in ketosis, it will give you that extra healthy energy lift you need.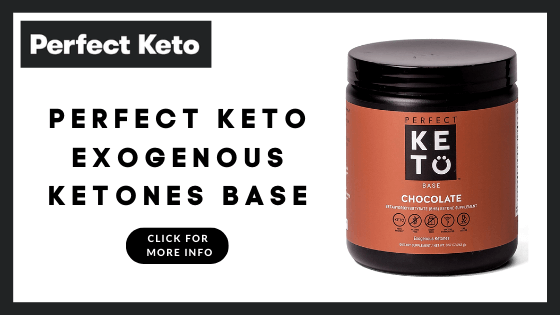 2. Perfect Keto- Keto Collagen
This clean and dairy-free product is designed to help with a nail, hair, skin, and digestive health support. While it also includes MCT oil which aids with focus, collagen is also known to support joints and ligament health.
Keto Collagen comes in seven flavors that include:
Chocolate
Vanilla
Strawberry
Salted Caramel
Cinnamon Toast
Peanut Butter
Unflavored
With one serving of Keto Collagen, there are approximately ten grams of grass-fed bovine collagen that can be mixed with coffee, used to carve those sweet tooth cravings, incorporated into your favorite recipes for an added healthy boost after a vigorous workout to help your body recover, or help relax just before going to bed.
Customers rave that this powder can be added to just about any food or beverage without a bitter or harsh taste. They love how it can go completely undetected, even in a glass of water!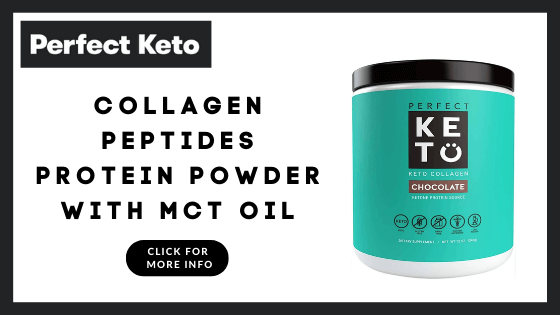 3. Perfect Keto MCT Oil Powder
This product makes adding fats to your diet easy and affordable. Perfect Ketos' MCT powder is made with real coconuts and is the energy your brain needs while promoting ketosis and adding keto-friendly fibers to keep you full longer.
This powder comes in eight flavors that include:
Strawberry
Vanilla
Chocolate
Peanut Butter
Unflavored
Cinnamon Toast
Salted Caramel
Matcha Latte
The easy-to-use powder can be scooped and tossed into any beverage, food, or recipe for an added delicious treat. The Perfect Keto MCT Powder was designed to help satisfy cravings, curb hunger, assist in meeting macros, help with focus, and be a natural energy booster.
Customers love that there are no chemicals, sugars, artificial sweeteners in this product and can go undetected in their favorite beverages.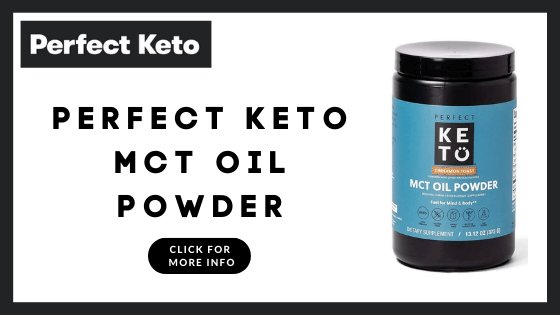 Perfect Keto Bars come in a twelve-pack and are the ideal between-meal snack to hit the spot and to stop that mid-afternoon stop at the vending machine.
These bars come in six decadent flavors that include:
Banana Bread
Chocolate Cookie Dough
Almond Butter Brownie
Salted Caramel
Cinnamon Roll
Lemon Poppyseed
The Perfect Keto Bar is only two to three net carbs per bar and has between seventeen and nineteen grams of keto-friendly fats. They are free of dairy, artificial sweeteners, soy, or corn and were created to support balanced blood sugar levels and ketosis.
Perfect Keto Bars are made from dry roasted nuts and have collagen and MCT oil added for a perfect blend of delicious flavor. These bars are meant to be on-the-go snacks before or after the gym, for dessert, a between-meal filler to curb hunger, or something to throw in the bag while traveling.
Customers love the variety of flavors and rave about crushing the bars up, blending, freezing, and enjoying a healthy ice cream alternative.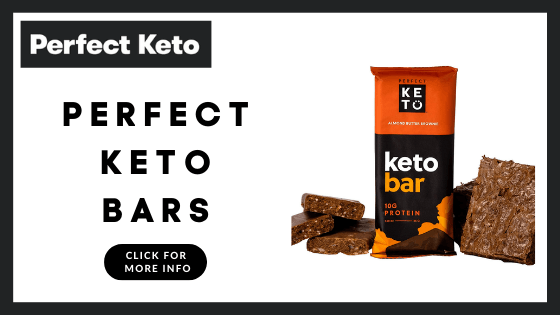 5. Perfect Keto Nut Butter
Perfect Keto Nut Butter is packaged in a ten-ounce jar packed with all-natural flavors, ingredients, and keto-friendly fats. With only three net grams of carbs, this no sugar, antioxidant-rich, creamy butter can be the perfect snack for any sweet tooth.
The ingredients in this chocolate hazelnut or snickerdoodle butter include:
Almonds
Macadamia nuts
Coconut
Cashews
Cacao
MCT oil
This great-tasting nut butter helps reduce sugar cravings, curb hunger, boost energy and be a great grab-and-go snack for that late-night movie-thon. The Perfect Keto Nut Butter is the best alternative to regular peanut butter with all-natural ingredients and low net carb grams per serving.
Customers love that they can simply spoon the butter and eat right out of the jar to meet their daily macros. Other options included dipping their favorite keto-friendly fruits as a dessert, adding them to any recipe for extra creamy taste, as a snack between meals and after the gym, or even dipping a keto bar into it for a decadent treat.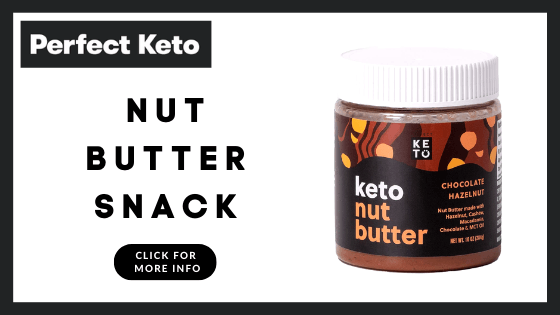 6. Perfect Keto -Keto Greens Powder with MCTs
This Keto Greens Powder with MCT is an effective and easy shortcut to ensuring you get your daily allowance of fruits and vegetables. It is derived from twenty-six organic fruits and vegetables without the additives of sugar or artificial ingredients.
Keto Micro Greens consists of cold-pressed micronutrients, MCT oil, and digestive enzymes to assist the body with properly absorbing the nutrition you need without excess carbohydrates.
Customers who reviewed Keto Greens Powder rave about its great taste that can be added to water or a smoothie without a harsh or bitter after taste. They also love that it has only one net gram of carbs per serving and only needs to be taken one time a day to reap the benefits.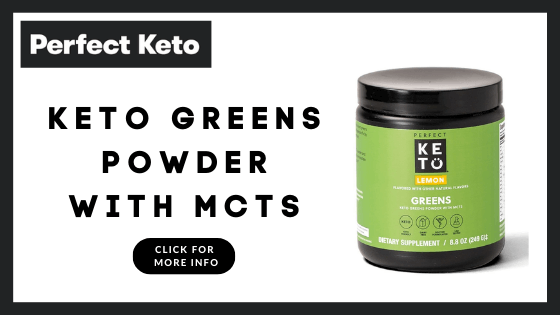 7. Perfect Keto's Kettle & Fire Keto Soups
Perfect Keto partnered with Kettle and Fire to create these array of soups loaded with healthy fats and protein for keto lovers everywhere.
Offered in four delicious flavors such as:
Broccoli and Cheddar
Butter Curry
Spicy Cauliflower
Mushroom Bisque
With only two to three grams of net carbs per serving and eight to fifteen grams of natural proteins, depending on what flavor you choose. These delicious soups are a great way to add nutrients such as collagen and gut-loving amino acid glycine into your keto diet.
Customers can rest easy knowing that all packaging is recyclable and all ingredients, including animal-based bone broth, are from farmers who don't add any hormones to their livestock.
These soups can be great additions to any meal or quick heat and serve lunch when you just don't have the time. Customers love how creamy and flavorful the soups are and the easy-to-store box that ensures air-tight freshness.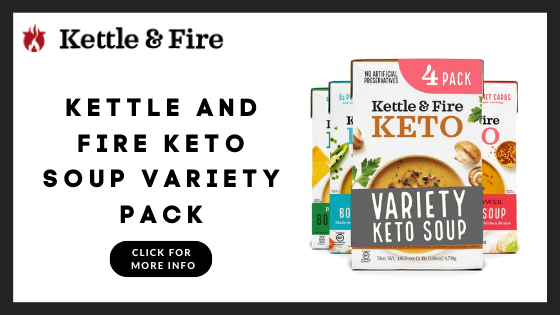 Where Can I Get Perfect Keto Products Online?
Perfect Keto products can be purchased online in many ways. Customers can go directly to the Perfect Keto website, scroll through the entire product line, and read reviews from customers, press reviews, and employee feedback.
Those wanting to purchase Perfect Keto products online can also shop their website for the latest bundles, discounts and join their newsletter and blog.
Perfect Keto products can also be purchased online at these stores:
Amazon
Walmart
GNC
Lucky Vitamin
The Vitamin Shoppe
Although some retail stores may not carry all Perfect Keto products, they carry most supplements and powders in the brand line.
As with any new lifestyle change, it is all about educating and researching products available to you to ensure the best possible outcome for your health goals.  Take the time to navigate keto-friendly products online and in stores to see what best fits your life.