Last updated on November 18th, 2023.
If your passion lies in data and statistics, a potential career path that might align with your interests is that of a data analyst. However, before stepping into this role, acquiring a deeper understanding of the field is crucial. For individuals who are unable to attend traditional classes, online education offers a viable solution. So, what are the top online certification courses available for aspiring data analysts?
Five of the best data analytics certifications are from:
These courses encompass all the essential components for your success.
Continue reading to discover further insights into the finest online data analytics courses. Among these options, you're bound to find one that aligns with your preferences, regardless of your specific program requirements. Let's begin this exploration.
What does a data analyst do?
A data analyst is a professional who collects, processes, and interprets data to extract valuable insights and inform decision-making. Their role involves analyzing large datasets using various techniques and tools to identify trends, patterns, correlations, and other meaningful information. Data analysts are responsible for cleaning and organizing data, conducting statistical analyses, creating visualizations and reports, and presenting their findings to stakeholders. These insights help organizations make informed choices, optimize processes, improve strategies, and address challenges based on data-driven evidence.
Why is having data analysts on business teams so important?
Having data analysts as integral members of business teams is of paramount importance due to their pivotal role in translating raw data into actionable insights. These insights, in turn, form the bedrock of informed decision-making and strategic planning within organizations. Data analysts are adept at deciphering intricate datasets, identifying patterns, trends, and correlations, which empowers leaders to make judicious choices grounded in empirical evidence rather than intuitive assumptions. Moreover, their analytical prowess aids in unraveling opportunities and potential risks, shaping effective long-term strategies, and ensuring adaptive approaches aligned with the ever-evolving market landscape.
By leveraging data analysts' expertise, businesses can foster a competitive advantage. These professionals delve into market trends, customer behaviors, and competitor strategies, offering a panoramic view of the industry landscape. This informed perspective equips companies to stay ahead in their respective sectors and tailor their offerings to meet customer preferences with precision. Furthermore, data analysts' contributions extend to enhancing operational efficiency by identifying inefficiencies, devising data-backed risk mitigation strategies, and fostering a data-driven culture that promotes accurate measurement and accountability. Their role is instrumental in transforming organizations into agile, data-savvy entities capable of navigating complexities and seizing opportunities with confidence.
What kind of jobs do data analysts have?
A career as a data analyst opens the door to various job opportunities, each catering to different individuals' strengths and interests. Here are a few roles you can pursue within the realm of data analysis:
Market Research Analyst
Business Analyst
Operations Research Analyst
Intelligence Analyst
Each of these roles provides a distinct perspective on the market and its dynamics.
To secure a position in this field, it's crucial to enhance your data analysis skills. Fortunately, there are five outstanding class options available that can help you elevate your expertise.
The 5 Best Data Analytics Certification Courses Online
Irrespective of your preferences, an online data analytics certification course tailored to your needs awaits. Here are five exceptional options to consider, all conveniently accessible from the comfort of your own home. Let's begin this journey.
1. Rice University Data Analysis and Visualization Course
First on our list is Getsmarter's Data Analysis and Visualization Course by Rice University. This class takes eight weeks to complete, excluding orientation. It can happen at your pace and costs $2,000 to enroll in the program. They recommend 7-10 hours of learning a week.
This course:
Is guided by Rice University faculty
Talks about the fundamentals of data analysis
Helps students interpret and communicate findings
You'll be ready for the workforce after this course.
If you want to get an overview of the basics, this class is for you. It will ensure you are familiar with all the components of data analytics.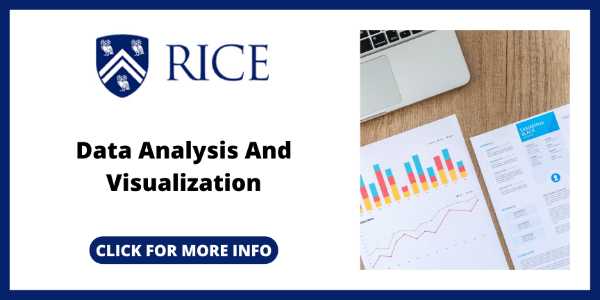 2. University of Capetown Data Analysis Course
Getsmarter's Data Analysis Course by the University of Capetown is another popular choice. It takes about eight weeks to complete without orientation and costs $991. Everything you will learn comes from the University of Cape Town.
This course:
Teaches basic data science and analytics
Provides chances to utilize real-world skills
Gives all the necessary fundamentals
You'll learn everything you need right in one spot.
This course is the most affordable and the shortest overall. If you want a fast, cheap, and quality education, this one is yours. You can also check out a degree in Computer Science which is a related technical field to Data Analytics.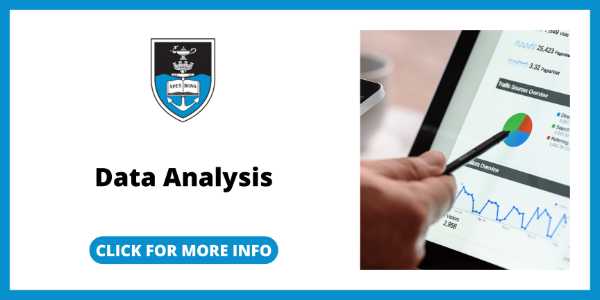 3. Udacity's Business Analytics Course
Next up is Udacity's Business Analytics Course. If you have a Udacity subscription, you can learn everything in this course for free. It takes three months to complete with ten hours a week of class.
This course:
Teaches foundational skills
Gives technical mentor support
Provides a world of resources to utilize
You'll have a great time with what's provided.
Udacity is an excellent program to subscribe to, especially if you plan to learn more after this course. There's a lot to uncover.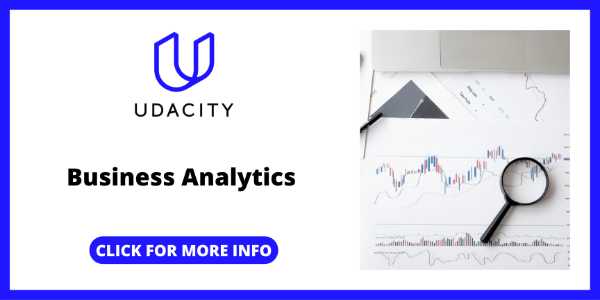 4. Udacity's Online Become a Data Analyst
Udacity's Online Become a Data Analyst is the next on the list. If you pay for a Udacity account, you can take this course for free. It takes about four hours to complete with at least ten hours of work a week. You should know Python and SQL before enrolling in this course.
This course:
Provides information about data analysis with Python and SQL
Gives expert advice on the industry
Allows mentor support and a working community
There are tons of benefits to this course.
If you're advanced in your coding skills and want a solid community, this class is best for you. A Udacity subscription is worth it for education.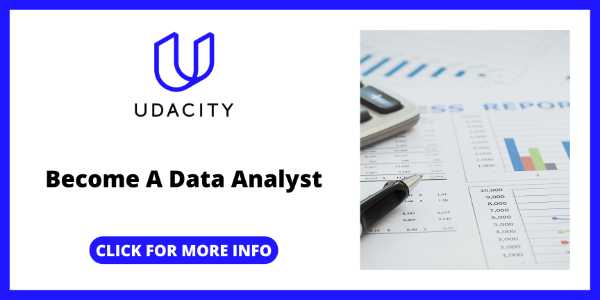 5. Google Career Certificates Data Analytics Professional Certificate
Last but not least is Coursera's Google Data Analytics Professional Certificate by Google Career Certificates. This course is offered for free on Coursera with a subscription to the website, and it's taught by Google professionals. It claims to prepare students to a job-ready level within six months.
This course:
Provides information on basic data analytics skills
Gives an applied learning project for a chance to practice skills
Goes over concrete skills tailored for success
These will help you win in your work environment.
If you want to work with a company like Google, this course is an excellent opportunity to do so. You'll be ready for a career in no time at all.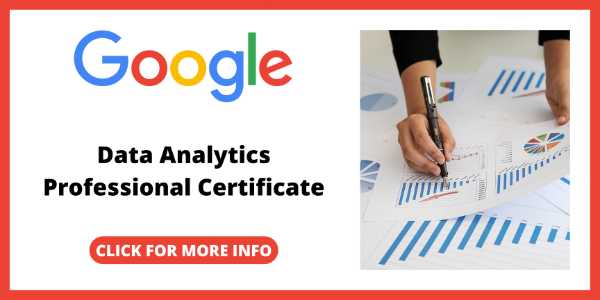 Final Thoughts on a Certification in Data Analytics Online
Opting for a certification in data analytics online opens a gateway to a world of opportunities and growth. The landscape of data-driven decision-making continues to expand across industries, and possessing a recognized certification equips you with the knowledge and skills to thrive in this dynamic environment. As technology and data-driven insights become increasingly integral to businesses, your certification not only validates your proficiency but also positions you as a valuable asset in today's competitive job market.
Embarking on this educational journey can empower you to unravel complex datasets, extract meaningful insights, and contribute to strategic decisions that drive organizational success. Whether you're charting a new career path, seeking to upskill, or looking to transition into data analytics, the convenience and accessibility of online certification programs offer a flexible way to advance your knowledge.
Ultimately, by investing in a certification in data analytics online, you're investing in your future by gaining the expertise to decipher data's secrets and steer businesses toward informed, data-backed choices. Embrace the power of data, and embark on a transformative journey that promises growth, innovation, and exciting career prospects.