Last updated on September 24th, 2023.
The digital age has forever transformed the way that people acquire information and consume content. It has also shaped the way that consumers learn about new products and services, conduct their research, and ultimately, make their purchasing decisions. For these reasons and more, digital marketing is a rapidly growing field and among the best ways to earn certification is through online courses.
GetSmarter and Coursera feature digital marketing courses created in collaboration with top-notch universities such as Yale, MIT, Northwestern, while Udacity partners with industry-leading companies like Google and Facebook to offer a unique nanodegree developed with an insider's perspective.
The best digital marketing certifications online instill key fundamental principles and instruct students on how to best apply these teachings in the business world.
The following courses are the best digital marketing certifications online:
Each of these courses have a unique perspective and cater to different professional needs. Collectively, they are the 7 best digital marketing certifications online and a great compliment if you've already received a marketing degree or if you simply want to a begin a new career with a specific focus. Read on to learn more.
Is digital marketing a good career?
According to Forbes magazine, digital marketing is a facet of business that is becoming more and more vital to achieving commercial success, as evidenced by the fact that the newer generations of consumers (made up primarily of millennials and Generation Z) represent the largest segment of online buyers, spending countless hours each day online, including nearly 4 hours on their mobile devices alone.
Casting a wider net, recent statistics support the notion that people, in general, are spending an increasing amount of time consuming digital content through various channels:
More than 75% of Americans go online daily and nearly 26% are online "almost constantly"
Among mobile device users, 89% go online daily and 31% are online "almost constantly"
Tapping into these enormous consumer bases requires a structured approach rooted in data and analysis in order to recognize, and even anticipate, buying trends and purchasing behaviors. It is through digital marketing that these objectives are achieved and this makes those well-schooled in its ways valuable members of the organizations that employ them.
Which Certification is Best for Digital Marketing?
When it comes to digital marketing certifications, there can be no one-size-fits-all approach to selecting the right online course. Individual circumstances and needs will vary from person to person just as individual objectives will differ. For some, a digital marketing certification is a stepping stone to lofty career goals, while for others, it is a critical skill set that can take an enterprise to the next level.
For digital marketing newbies, the 6-week Digital Marketing and Media Strategy short course from GetSmarter is a great introductory program while the 8-month Digital Marketing Specialization from Coursera may be the best option for those willing to invest the time and resources to enroll in a fully immersive certification program.
The 7 Best Digital Marketing Certifications Online
As more and more aspects of people's personal and professional lives are touched in one form or another by aspects of digital marketing, it becomes more important for marketers and entrepreneurs to learn the fundamentals of this expanding field. Whether for newcomers to the working world or seasoned professionals, these are the 7 best digital marketing certifications online.
1. Digital Marketing: A Strategic Perspective (GetSmarter)
Digital Marketing: A Strategic Perspective is an online digital marketing certification course developed by the Executive Education department of Yale University's School of Management. Curated by leading online learning provider 2U's GetSmarter site, this rigorous online course is geared toward motivated working professionals seeking to leverage digital marketing fundamentals into real-world results.
This 8-week course provides a foundational understanding of key digital marketing concepts and empowers participants to apply those principles to the particular needs of their organization. There are a number of benefits to be gained by successfully attaining this online digital marketing certification and key among them are:
Enhancing lead generation and increasing conversion rates through effective digital marketing campaigns
Formulating and implementing a digital marketing plan that is custom-tailored to an organization's specific target audience
Establishing and deploying data collection tools to guide analytics-based decisions
Ongoing networking opportunities and professional support through 2U's Career Engagement Network
With a rigorous curriculum developed and taught by the esteemed Yale University School of Management's Executive Education program, this online certification course comprises 8 modules covering key aspects of digital marketing including:
Customer value frameworks
Paid media
Owned media
Social media
Mobile technologies
Analytics
Digital marketing on an organizational level
One of the hallmarks of Digital Marketing: A Strategic Perspective is the unique approach that combines holistic and theoretical teaching methods. Earning this certification is a notable accomplishment on both personal and professional levels.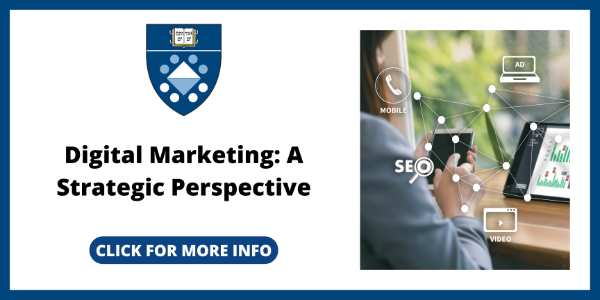 2. Digital Marketing and Media Strategy (GetSmarter)
In partnership with Northwestern University's Medill School, 2U's GetSmarter offers its Digital Marketing and Media Strategy online certification course which is geared toward marketing professionals and entrepreneurs seeking to elevate their digital marketing game and apply those teachings in a world with an estimated $4.9 trillion in global e-commerce.
While there is no such thing as a sure-fire, fail-proof marketing strategy, this mini-program provides the essential tools that will enable successful candidates to harness the power of digital marketing and develop highly effective, audience-centric strategies that will expand an organization's reach and improve its bottom line. Particular points of emphasis include:
Fundamental marketing principles that are applicable to the ever-evolving realm of digital commerce
Audience-centric marketing strategies to enhance the effectiveness of digital campaigns
In-depth study of the fundamentals of digital media
Comparative analysis of diverse markets and their unique attributes
Within a period of 6 weeks, students enrolled in this online certification program can expect to navigate the digital marketing landscape through 7 modules that cover relevant topics such as:
Digital media strategy
Digital media landscape
Consumer-centric strategy
Formulating a digital marketing strategy
Establishing KPIs (key performance indicators)
Utilizing data and analytics
Investing in digital media
The digital marketing principles taught by this course have broad applications that can be utilized by a wide range of organizations ranging from start-ups to independent operators to large enterprises.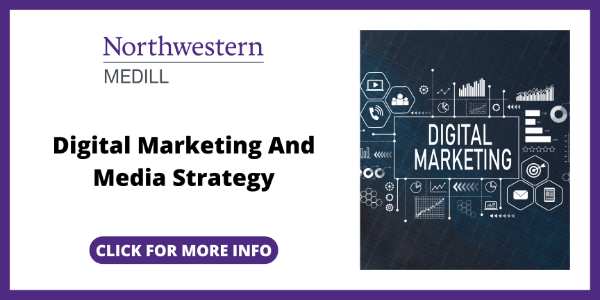 3. Become a Digital Marketer (Udacity)
The Become a Digital Marketer online digital marketing certification program from renowned digital learning provider Udacity is a comprehensive nanodegree course offering an in-depth study of core digital marketing principles structured within the framework of 8 immersive projects.
With an estimated completion period of 3 months (based on 10 study hours per week), this online certification course prepares successful candidates to embark on any number of different career paths in the ever-expanding field of digital marketing, including:
Social media manager
Social media strategist
SEO analyst
SEO strategist
Digital marketing manager
Internet marketing manager
Website optimization manager
SEM analyst
Paid search marketing manager
Email marketing manager
As far as the curriculum is concerned, Udacity's Become a Digital Marketer certification program has been meticulously curated in collaboration with a who's who of leaders in the digital commerce space, including the likes of Google, Facebook, HubSpot, Hootsuite, Moz, and MailChimp. The value of this partnership is evident in the way that the course is structured with areas of study that include:
Marketing fundamentals
Content strategy
Social media marketing
Social media advertising
Search engine optimization (SEO)
Search engine marketing with Google Ads
Display advertising
Email marketing
Utilizing Google analytics
As far as online digital marketing certification programs are concerned, Become a Digital Marketer from Udacity is as expansive and comprehensive as they come and for this reason, is well-suited for a broad base of prospective students from all corners of the professional world.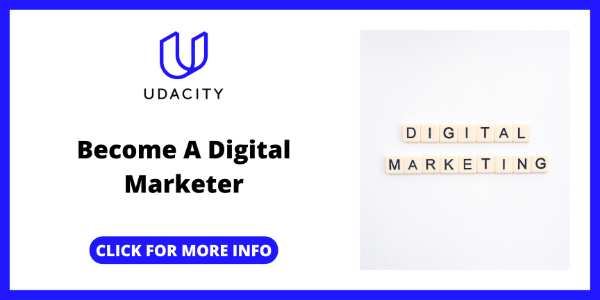 4. Digital Marketing Specialization (Coursera)
Coursera's Digital Marketing Specialist online certification program is offered in partnership with the University of Illinois at Urbana-Champaign and its online Master of Business Administration program. This online program is unique in that it comprises 7 standalone courses that when taken and completed in series, confers a certificate that is widely respected throughout digital marketing circles.
The Digital Marketing Specialist certification requires completion of these modules, each highly rated in its own right:
The Digital Marketing Revolution
Marketing in a Digital World
Digital Marketing Analytics in Theory
Digital Marketing Analytics in Practice
Digital Media and Marketing Principles
Digital Media and Marketing Strategies
Digital Marketing Capstone
Candidates who successfully navigate their way through this 8-month curriculum (based on 5 study hours per week) can expect an engaging learning experience that emphasizes the teaching of these core principles and skills:
Modern data collection practices
Understanding and quantifying consumer behaviors
Harnessing the full power of analytics in the digital space
Recognizing the merging role of new media in global commerce
So highly recognized and acclaimed is the academic substance of this digital marketing specialization that this coursework is part of the iMBA program (100% online Master of Business Administration degree) at the University of Illinois and its completion would be counted toward earning this degree should successful candidates decide to further their education.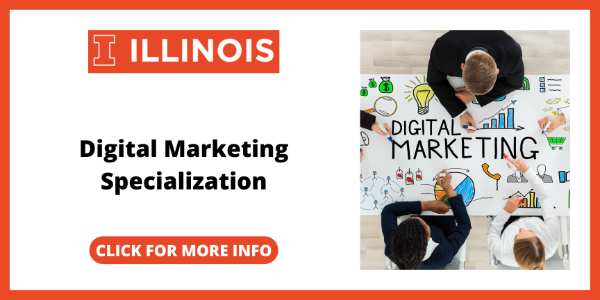 5. Search Engine Optimization (SEO) Specialization (Coursera)
The Search Engine Optimization (SEO) Specialization program is a collaboration between Coursera and the University of California Davis and is purposefully designed to enable successful candidates to perform advanced evaluation and analysis pertaining specifically to search engine optimization of web content in various forms (but primarily websites).
There are 5 courses comprising this online digital marketing certification program:
Introduction to Google SEO
Google SEO Fundamentals
Optimizing a Website for Google Search
Advanced Content and Social Tactics to Optimize SEO
Google SEO Capstone Project
With an estimated completion time of 5 months (based on 6 study hours per week), this digital marketing specialization program is recommended for enrollees with 2 years of professional experience in any business field and is 100% online and self-paced. Among the specialized skills that students can expect to learn are:
Attaining high-ranking search engine results through optimized content
Developing a deeper understanding of the inner workings of search engine algorithms
Proficiency in both on-page and off-page optimization
Performing audits of web-based content through an optimization lens
Structuring SEO-centric business strategies
Because this certification consists of purposefully sequenced courses that are intended to build upon each other, the final module is a capstone project that by drawing on all the teachings of the entire program, serves as an invaluable assessment of the skills that have been learned.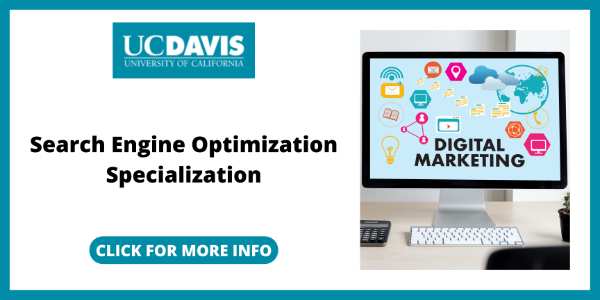 6. Digital Marketing (GetSmarter)
GetSmarter's Digital Marketing short course is offered in partnership with the University of Cape Town and represents an ideal opportunity for digital marketing newbies to dive into an in-depth study of core digital marketing principles along with practical pointers for applying this program's teachings in the ever-expanding e-commerce space.
Among the subjects that are covered in this 10-week online certification are these relevant concepts:
Digital marketing 101
Web design and development
Web analytics
Search engine optimization
Copywriting for the web
Online advertising and pay-per-click
Social media and branding through the web
Email marketing
Marketing through mobile devices
Strategizing in the digital space
One of the primary objectives of this course is to empower those who successfully attain certification to design, administer, and successfully deploy a fully integrated digital marketing strategy for their organizations. To accomplish this goal, program enrollees can expect to learn these critical skills:
Develop a compelling brand narrative that reaches target audiences across multiple platforms
Integrate organizational objectives into an effective strategy in the digital space
The key facets of digital marketing, including web design, analytics, SEO, online content, social media marketing, and email marketing
With coursework meticulously curated by the University of Cape Town, the Digital Marketing online certification program will not only elevate the expertise of successful candidates in the field of digital marketing but will also pay dividends where it counts the most – in the bottom line.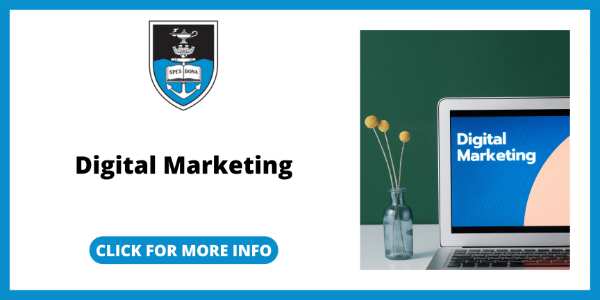 7. Digital Marketing Analytics Online Short Course (GetSmarter)
In collaboration with the MIT Sloan School of Management, GetSmarter offers its Digital Marketing Analytics short course certification program, which focuses on the financial aspect of digital marketing, specifically, leveraging data analytics to optimize the ROI (return on investment) for marketing expenditures.
Enrollees in this program can expect to take a deep dive into the world of data analytics as seen through the lens of digital marketing. The curriculum includes specially-curated topics such as:
Data visualization and interpretation
Integrating data analysis into an organization's decision-making processes
Utilize data analytics to determine the appropriate level of marketing expenditures
Extracting valuable insights from data and converting them into actionable campaigns
The estimated completion time for Digital Marketing Analytics is 6 weeks (based on 6 to 8 study hours per week) and the course is broken down into 6 main modules:
The different types of digital marketing channels
Integrated digital marketing (and how to implement it)
Predictive analytics and predictive marketing
Predictive modeling through data interpretation
Optimizing ROI
The future of video, mobile, and AI in integrated digital marketing
Despite being a short course, this online digital marketing certification packs a lot of substantive, relevant material into its half-dozen segments, and upon completion, students will be prepared to embrace the growing role of data analytics in the day-to-day operations of organizations large and small, particularly with respect to maximizing the ROI for marketing expenditures.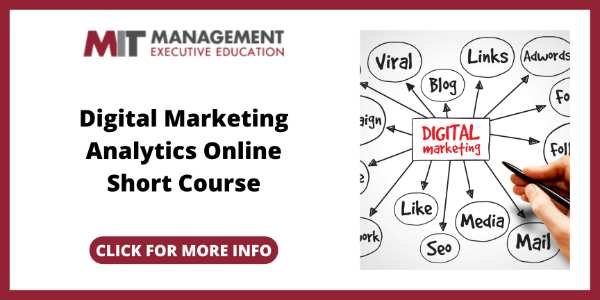 Digital marketing is an all-encompassing, ever-evolving field that is rapidly becoming an area of vital interest to just about any business enterprise. Digital marketing is more than just dealing with websites and e-commerce; it is the means through which companies can maximize the ways through which they connect with their audience.
And to empower individuals and the organizations that they work for, these 7 online certification programs are the best options for getting up to speed on the fundamentals of digital marketing.