Last updated on November 28th, 2023.
Eye Movement Desensitization and Reprocessing, or EMDR, is an excellent treatment for patients with PTSD. By carefully, gently connecting a person to the images and emotions of their trauma, people certified in EMDR have reached great lengths in helping their patients. So, what are some of the best ways to get your EMDR training online?
The 3 Best EMDR Training Courses Online are:
Continue reading to learn about the three best EMDR training courses online. Gaining your EMDR training is another step taken during the process of helping those struggling with PTSD. As a licensed mental health professional or a license-eligible person, helping all kinds of people with various trauma is one of the most important parts of your job. Making sure you find an excellent EMDR training resource is equally essential to having the skills necessary to help others in trying times.
Can you do EMDR training online?
With the importance of taking such great care of patients with PTSD, you might be wondering how effective EMDR training is. While studies have proven a great success with EMDR training, what might be equally alarming is the idea of people with EMDR training having been trained online. So, can you do EMDR training online, and more importantly, is it legitimate?
There are several online EMDR training options out there, and most, if not all of them, are completely legitimate. Through these online training courses, you can receive the exact same benefits as someone taking EMDR classes in person. The only difference is that it is on a computer screen. Websites that offer EMDR training allow trainees to experience the same excellent resources as if they were face to face.
Because of this, online EMDR training is just as legitimate as EMDR training in person. You do not have to worry about missing out on any in-person opportunities if you opt to get your EMDR training online. However, you must still make sure that you find the right online training program. It is essential to find a program that proves its success at the same time that it fits your needs.
How long is EMDR training?
Of course, the specific time of your EMDR training depends on the program you choose, but in general, EMDR training takes between 5 to 8 days. There are different options of training within different programs, but if you choose the typical training program process, it will likely be six days total.
Sometimes, you might have access to intense training programs that last five days or slower programs that could last longer than a week.
If you are looking to schedule yourself for EMDR training, be prepared to set aside a week's worth of free time. Keep in mind, however, that many courses are split into sections, phases, or the like, which consists of two different three-day spans.
The 3 Best EMDR Training Courses Online
So, if you are considering receiving your EMDR training through an online resource, how do you know which program to pick? Luckily, you have access to the top choices below.
By looking at the three best EMDR training courses online, you should be able to choose the program that works best for you. Each of the three options is an excellent choice. The difficult part is figuring out which of the best you want.
Take your time in looking over the details of each program below. Getting your EMDR training is an accomplishment that many other healthcare professionals do not have the privilege of obtaining. With that said, it is your right to find the best EMDR training course for yourself.
First up on the list is EMDR Consulting. EMDR Consulting has a lesson plan specifically designed to teach you the eight phases of EMDR protocol at their most basic level. As you go through the program, you will learn how to approach and understand each phase individually, ensuring that your knowledge is as broad yet honed in as possible.
EMDR Consulting's online training course consists of a one-part, five-day intensive virtual training webinar. If that does not work for you, you can choose their traditional, part one, three-day, and part two, three-day training course.
If you already have part-one training completed, you can also choose their part-two, three-day training only. With these opportunities, you will get the exact same information as those participating in in-person training courses through EMDR Consulting.
Along with lectures, videos, and presentations, EMDR Consulting allows you to virtually practice EMDR with other participants. Their site says that they aim to teach you how to apply the:
"Adaptive Information Processing theoretical approach to psychotherapy
Eight phases of EMDR therapy
Ability to utilize EMDR with a variety of clinical populations"
This type of training is essential to learning about EMDR therapy because it teaches you how to approach and react to different situations.
EMDR Consulting also teaches you, as a trainee, how to use EMDR therapy in the growing telehealth environments, a skill that is essential for today's society. As with any other EMDR training course, to register with EMDR Consulting, you must be a licensed or pre-licensed mental health professional or a graduate student actively pursuing a mental health license.
Other benefits of choosing EMDR Consulting include:
Reception of 40 hours of continuing education credit
An excellent starting point on which to build if you are looking to go from a trainee to gaining official EMDR certification
A fair price for the advantage of being allowed to provide EMDR therapy
EMDR Consulting is just one of the three best EMDR training courses online, but it is on this list for a reason. If you feel like EMDR Consulting is the best resource for you, you can be sure that your decision will not be in vain. Still, it is encouraged that you continue reading to learn more about other online EMDR training programs.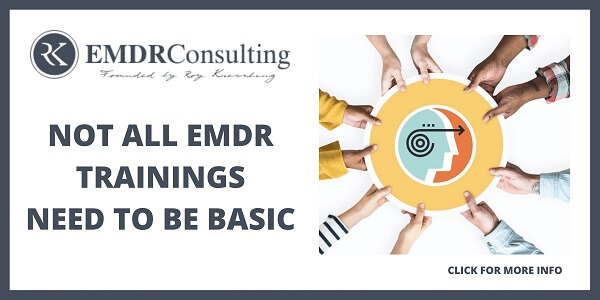 2. The Institute for Creative Mindfulness
The Institute For Creative Mindfulness offers another world-class online EMDR training course. This six-day, intensive training program will equip you with some of the best available information regarding EMDR therapy. With even their initial, basic training information, you have the opportunity to conduct EMDR therapy on the most extreme of cases by using mindfulness-informed and trauma-focused training online.
The EMDR training course online offered by The Institue For Creative Mindfulness is structured as a retreat-style program. This environment allows you to focus as much as possible on the task at hand, gaining the knowledge necessary to successfully practice EMDR therapy.
You also benefit by creating meaningful connections with both your peers and mentors.
According to their descriptor, at its most basic level, The Institute For Creative Mindfulness's EMDR training program teaches you:
"The basics of trauma
The adaptive information processing model
Trauma-informed stabilization
The basic methodology of mechanisms of action used in EMDR Therapy"
As a licensed, pre-licensed, or license-expected mental health professional, The Institute For Creative Mindfulness knows that the best way to teach a program such as EMDR training is through covering the basics and then expanding to gain experience.
Other advantages of The Institue For Creative Mindfulness include:
Various options of online training schedules, be it the intensive, six-day program or a program split into two parts, each three days
Joint reciprocation of professionalism paired with a true love for teaching others
Just like the aforementioned program, you will not be disappointed if you choose The Institue For Creative Mindfulness as your resource for EMDR training online. If it feels like a perfect fit for you, do not hesitate to submit your registration and begin your journey through learning EMDR therapy online.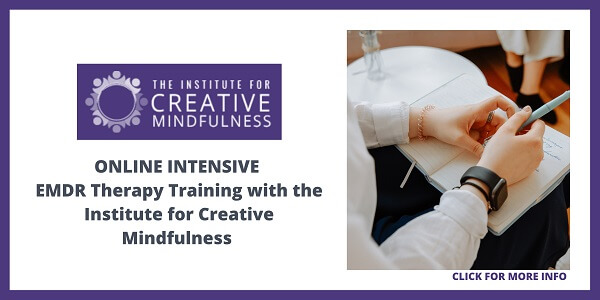 Yet another high-quality EMDR training course online is Rebecca Kase & Co. Although it is third on the list of these basic EMDR courses, it is just as valid of an option as the others. In fact, it is probably the most unique of the three. Rebecca Kase & Co. focuses on training you in a comfortable environment void of any distractions that might prevent you from gathering as much information as possible.
Activities intertwined within Rebecca Kase & Co.'s training program include things like:
Yoga that helps open one's mind
Activities to stimulate authenticity and transparency
An atmosphere full of humor and magic
Rebecca Kase & Co. ensures that you are just as important as the people you will work with using EMDR therapy.
The key to teaching a successful EMDR program is to make sure trainees are as comfortable and focused as possible. While the program is a grueling 50 hours, it is more than simple online meetings.
With access to an online platform for videos, discussions, and more plus information emphasizing the Polyvagal Theory, Rebecca Kase & Co, also teaches participants how to pay attention to diversity and make sure they take multicultural considerations as applicable to the clinical work.
This two-part online training program utilizes lectures and practicum to allow trainees to both learn in a classroom setting and practice EMDR therapy tactics with other participants. By staying immersed in the community of this training program, it is hard to see any reason for failure.
Other advantages include:
Emphasis on specialty populations who may need EMDR therapy
The aforementioned discussion board to chat with peers and mentors in a professional setting
Extreme attention to participants' own mental wellness throughout the training process
Rebecca Kase & Co. also only accepts licensed, pre-licensed, or license-expecting mental health professionals into their program. If you want your training process to immerse you into the world of EMDR therapy, this program is a great choice for bettering the health of yourself and your patients.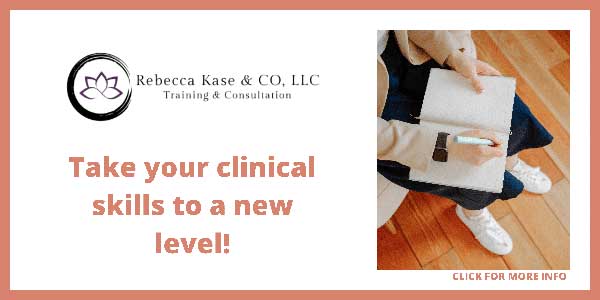 How much does it cost to be certified in EMDR?
A worthwhile EMDR training course online is going to cost you between $900 and $1,500. Yes, this is a steep price, but compared to some other training programs, the knowledge you will receive from EMDR training is unmatched by some of those other programs.
Particularly if you choose one of the three courses above, the benefits of receiving your EMDR training far outweigh the cost of your investment. EMDR therapy is quickly growing as an extremely helpful tool for people with PTSD. With that said, it is probably a good idea to get your training in before the prices are even higher. If you are looking to become an EMDR therapist, that link is a good place to start.
Can I practice EMDR without certification?
Yes, you can practice EMDR without certification. After completing a basic EMDR training course online, you are perfectly capable of practicing EMDR therapy on your patients. The question is, should you?
Gaining your certification is the next step to mastering EMDR therapy. If you are looking to use EMDR therapy as part of your practice, you may want to strongly consider successfully completing EMDR certification. Nonetheless, you are technically free to practice with basic training.
Can you do EMDR on yourself?
You can perform EMDR on yourself, but it is not always recommended. If you are dealing with major trauma, EMDR is a safe outlet of therapy between a professional and a patient. If you try to do it on your own, it could be severely overwhelming. Doing EMDR on yourself can work for objectively minor unresolved trauma, but be extremely cautious if you choose to do so.
Final Thoughts on the Best EMDR Courses Online
EMDR therapy is a very useful tool for a professional to practice with a patient with PTSD. Choosing an online program for your EMDR training is just as valid as an in-person course – as long as you find the right online resource. 
EMDR therapy is a very useful tool for a professional to practice with a patient with PTSD. Choosing an online program for your EMDR training is just as valid as an in-person course – as long as you find the right online resource.
The three options above are the best EMDR training courses online. No matter which one you choose, you can be sure that your experience will be extremely beneficial.