Last updated on August 29th, 2023.
Just as people seeking guidance in matters relating to fitness turn to personal trainers, so too are they turning to certified nutrition coaches for dietary counseling. As health and fitness professionals are realizing, there is a growing demand for nutrition specialists who can provide personalized counsel relating to eating habits and food intake. And as far as nutrition certifications go, NASM is a top option.
The NASM nutrition certification is a science-based, clinically-tested program designed for health and fitness specialists seeking to deepen their knowledge base and expand their professional reach to include nutritional and dietary coaching.
With so many fad diets and food crazes out there, it is difficult to discern fact from fiction. This is where an approach rooted in science can help people navigate past false claims and slick marketing campaigns. An NASM nutrition certification is not only an effective way to gain expertise in the field of nutrition, but it is also a worthwhile investment in yourself and your professional endeavors. Here's how.
Is NASM a Good Nutrition Certification?
For over 30 years, the National Academy of Sports Medicine (NASM) has taken a scientific and clinical approach toward developing products and services geared toward health and fitness professionals. In the area of nutrition, NASM has taken this same analytical approach to developing a unique training platform to prepare a new generation of nutrition experts who will transform how people eat.
Based on the collaborative efforts of over 20 specialists from the fields of nutrition, metabolism, physiology, and psychology, to name a few, NASM's nutrition certification is a comprehensive program that will empower successful candidates to impact the lives of their clients through diet and nutrition coaching. NASM's nutrition certification program comprises three primary areas of study:
Nutrition science – starting with a deep understanding of nutritional concepts like proteins, carbs, fats, macronutrients, micronutrients, and the like, students in this program will study the differences between legitimate food intake strategies and fad diets that come and go. This area of study also covers the latest scientific advancements in health, wellness, and nutrition.
Behavior change strategies – program participants will do a deep dive into the psychological aspects of eating and dieting, including methods for breaking unhealthy patterns, setting dieting goals, and developing life-enhancing eating habits.
Nutrition coaching – last but not least, successful nutrition certification candidates will learn how to apply the scientific teachings of this program to the real world and empower their clients and followers to embark on a path of healthier, informed eating habits.
One of the main benefits of an NASM nutrition certification is acquiring the ability to develop personalized dietary action plans for individual clients based on their unique circumstances and needs.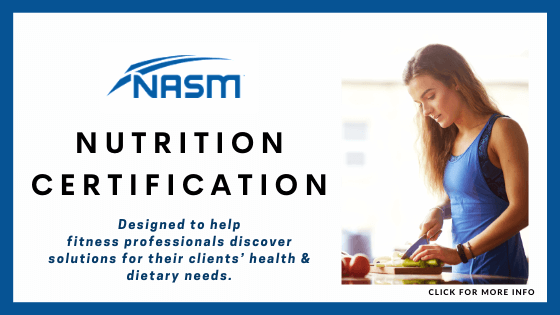 What can You do with an NASM Nutrition Certification?
Earning an NASM nutrition certification can be a highly impactful career move. With a deeper understanding of nutrition and the skill to apply those concepts to the unique dietary and nutritional needs of individual clients and followers, you can open the doors to a number of professional possibilities.
For instance, people in these professions can expect an immediate boost to their reputation and credibility by adding an image-enhancing credential like an NASM nutrition certification to their resume:
Fitness instructor
Sports trainer and coach
Physical education teacher
Nutritionist and dietician
Professional chef
Medical professional
Practitioner or instructor of holistic arts
Even if nutritional science will not form the foundation of your professional endeavors, it can provide a specialized depth of knowledge that can be impactful through a wide range of applications. In other words, having an NASM nutrition certification can be the game-changing credential that elevates your standing and earning potential in just about any health-related field.
Equally important to the substantive knowledge gained through an NASM nutrition certification program is learning how to apply those concepts to the individual needs of clients and developing personalized dietary solutions. Successful completion of this course will enable you to:
Understand how culture, age, and socioeconomic factors shape your clients' eating habits
Conduct comprehensive body assessments of your clients to determine a dietary course of action
Understand and explain dietary trends and differentiate between legitimate nutrition plans and diet fads
Create personalized, science-based nutrition programs for your clients
Provide a link between nutrition and fitness strategies
Whether you are looking to build a career in nutritional science or want to use that knowledge to bolster your professional standing in a related field, pursuing an NASM nutrition certification can be a worthwhile investment.
How Long does it Take to Complete NASM Nutrition Certification?
The NASM nutrition certification program is offered online and is designed to be self-paced. It is therefore ideal for working professionals whose busy schedules do not permit attending in-person classes and it affords great flexibility for students who have a limited number of hours per week that they can devote toward their studies.
As far as how long it takes to complete the course, here is what you need to know:
Once you register for the course, you will have 6 months to complete it
Because it is open enrollment (meaning new students are continuously accepted on a rolling basis), the course begins 24-48 hours after registration
If taking the course through an academic or continuing education institution, there may be dedicated instructor support available as well as the possibility of obtaining an extension of time to complete the course (beyond the allotted 6 months)
According to the NASM, with an average commitment of 8-10 hours per week (1-2 hours per day) this nutrition certification program can be completed within a period of 6 to 12 weeks.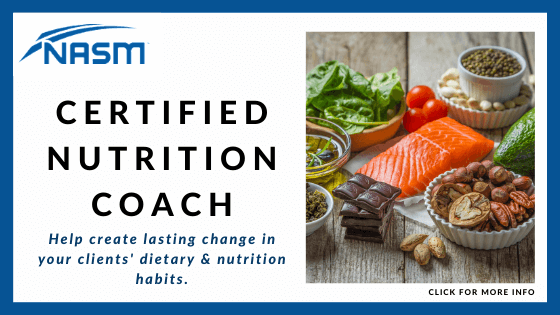 How do I Get Started with an NASM Nutrition Certification?
Enrolling in an NASM nutrition certification program can be completed within a matter of minutes online. Whether through NASM's website or through any number of online academic providers like this one, signing up for this potentially life-changing course is just a few clicks away.
There are no prerequisites to register for NASM's nutrition certification program and the program is broken down into straightforward lesson plans that break down specific topics into easy-to-manage modules. To aid students in the learning process, this online training course includes:
Dozens of easy-to-comprehend infographics
On-demand video lessons
Review checkpoints to monitor your progress
Printable handouts to use as study aids
Upon completion of the course materials, participants will be required to pass a final exam in order to earn their certificate. Consisting of 100 multiple-choice questions, the certification test is timed (90 minutes) and the minimum passing score is 70%. For those who do not pass on the first try, a total of three attempts to achieve a passing score is allowed.
Check out the best online nutrition certifications here!
Obtaining an NASM nutrition certification can be a major accomplishment with long-term and far-reaching benefits. Not only would successfully completing this program expand your knowledge base in matters of health and well-being, but it can also deepen the impact you have on your sphere of clients and followers, such as by teaching and reinforcing life-changing eating habits.
If you want to keep track of your habits and nutrition progress you have the option of having a great nutrition calculator for your tracking!