Last updated on August 29th, 2023.
When it comes to becoming a nurse, you will never stop learning. Discoveries will be made over time, which is important to keep up to date. To maintain your license, you must acquire several continuing education hours in most states, but choosing from the many online courses may be difficult. 
The best online continuing education courses for nurses range from RedMedEd to Western Schools. These online courses provide nurses with many benefits of convenience and cost. However, it is essential to remember why you or others the benefits of continuing nursing education. 
Let's continue reading to learn about the benefits of continuing nursing education, what a nurse's education consists of, and the seven best online continuing education courses for nurses. 
Why Continue a Nursing Education?
A person can become a nurse after receiving an associate degree, but further education is beneficial for those who want to continue their education for various reasons. Current nurses may wish to continue their education due to being a proponent of active learning. However, there are other benefits to continuing nursing education. Benefits to continuing a nurse's education include: 
More job opportunities. 

Continued improvement in your field. 

Continuing certification.

A salary increase. 

Ability to stay current. 

Ability to lead. 
We will continue reading about the six benefits of continuing nursing education. 
6 Benefits of Continuing a Nurse's Education
Being a nurse, and continuing to do so, may seem challenging, but it is often rewarding in the end. Let's continue to read to learn more about the six benefits of continuing a nurse's education.
1. More Job Opportunities
You will have more job opportunities. Hiring nurses is competitive and often more challenging nowadays because medical workplaces require more out of the employee, including obtaining a higher degree and actively learning about medicine. This way, you will stand out from the other candidates. You'll also be able to fill in for workplaces suffering from nurse shortages if they are understaffed.
Upon obtaining more current and up-to-date knowledge about nursing, you will be getting better as a nurse. You will be doing a better job at performing and interacting with the patients. Improving patient interaction will ensure they receive the best care possible. You'll also have better knowledge when there are discoveries of viruses, medications, etc. 
3. Continuing Certification
To continue nursing for as long as you want, obtaining a certain number of continuing education hours is often required, and not receiving them causes you to be at risk of losing your license, which means you would not be able to apply for a job and practice nursing until you renew it. So, you'll be ahead of the game.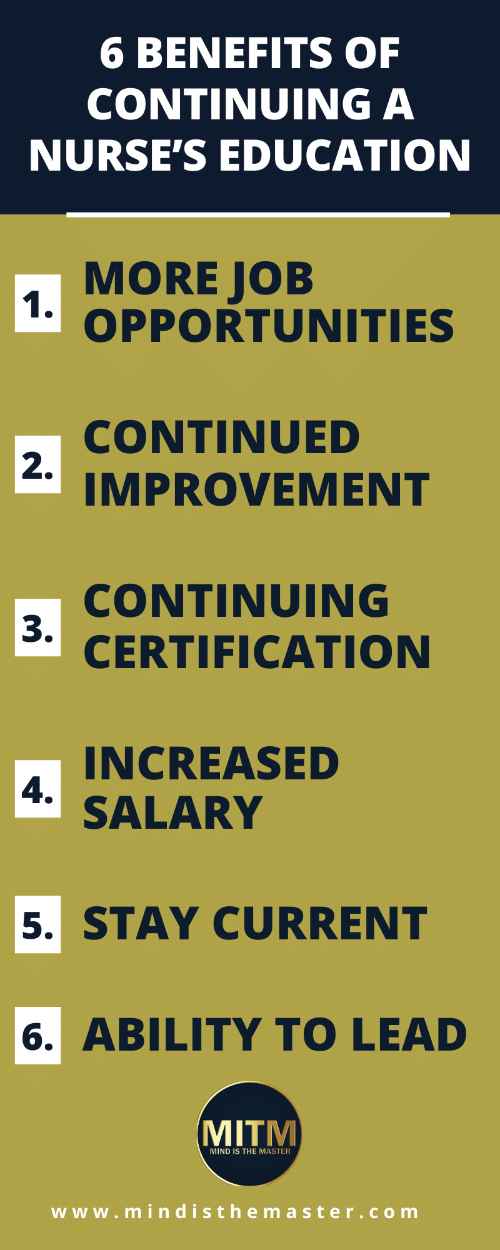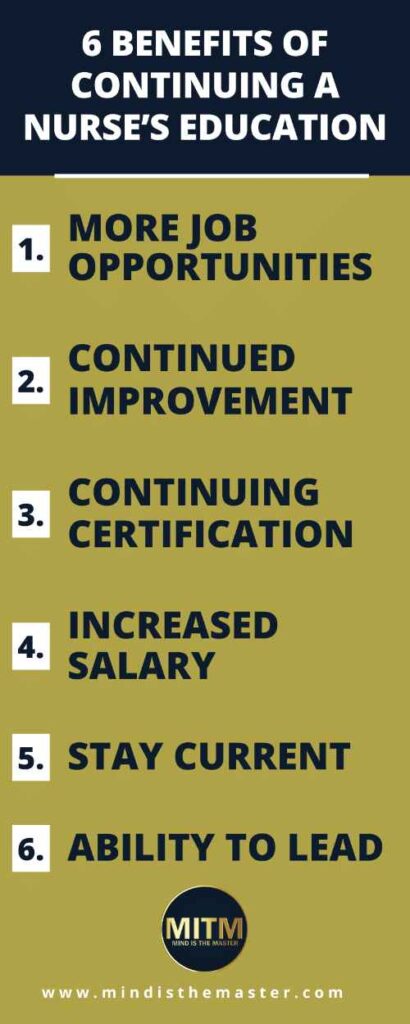 There are various levels to nursing. The higher you are in those levels, your yearly salary will be higher. A significant benefit to continuing your nursing education, for many, is because of a bigger paycheck. It can be costly and time-consuming, but you make a profitable investment. You are giving money only to receive it and more back.
New information is being developed every year and decade, so nurses must continue their education to stay up to date because the knowledge that they gained four years ago can change four years later. So, the best way to ensure that your patients receive the best care. The best nurse is willing to obtain current knowledge to stay adequately informed.
As a nurse, you will have the opportunity to become a leader within your work field. You will be able to lead nurses who are starting and may look to you for guidance on advice and information. As you guide your fellow nurses, you will improve your leadership skills and be considered reliable within your department and co-workers. 
An essential aspect of reaping the benefits of being a nurse is to become a nurse first. Many who want to become nurses for the first time may not be fully aware of the steps to become one. As we continue to read, we will learn about a nurse's education and what it consists of. 
What Does a Nurse's Education Consist of?
A nurse's education consists of you taking various classes ranging from anatomy and physiology to math classes that center around ethics. To officially become a registered nurse, you could stick with obtaining an associate degree or continue your education further and receive your bachelor's degree, which would mean four years of university if you want higher pay. 
Throughout your time as a nurse, you continue to learn more every day and every year. But how do you continue nursing education? As we continue reading, you will know how you continue your nursing education. 
How Do You Continue Nursing Education?
To continue your nursing education, you must complete a continuing education along with contact hours to keep your nursing license. Contact hours require you to spend an hour attending a board-approved continuing education course, and depending on the continuing education course, that equals however many contact hours. The number of contact hours you need depends from state to state. Co
Continuing education and contact hours are different. However, to obtain your continuing education hours, you may not know how many of those you need to keep your license. Let's continue reading about how many continuing education hours are required for registered nurses.
How Many CE Hours Are Required For RN?
Out of all fifty states, a couple of states do not require continuing education hours. However, the remaining states for a registered nurse vary depending on your home state and maintain your nursing license. For most states, the continuing education hours required are to be acquired every two years. 
So, for example, if you live in the state of Mississippi, you will be required to acquire twenty contact hours every two years, then you can take continuing education courses online. However, with so many, it isn't easy to narrow it down to the best ones. So, we will continue reading about the seven best online education courses for nurses. 
The 7 Best Online Continuing Education Courses for Nurses
Online continuing education courses can be a significant convenience for you because it is online. However, there are so many options to choose from. Narrowing down to which courses suit you the best can be difficult. As we continue to read further, you will learn about the seven best online continuing education courses for nurses. 
RedMedEd was created to offer continuing education and continuing medical education e-learning courses. To help enhance and better the learning experience, RedMedEd has also included game-based learning to make the experience more engaging and memorable. 99% of learners have remained satisfied, with over 37,000 participants and over 29,000 users.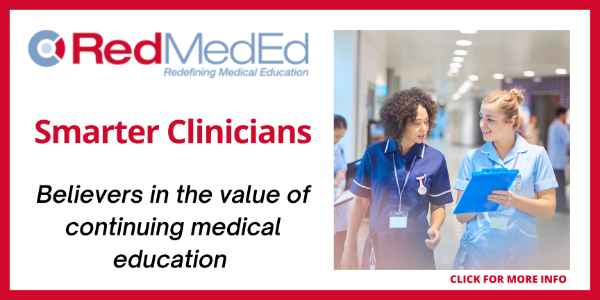 2. American Nurses Association
American nurses association is an organization that offers a plethora of continuing education courses. Depending on which series of courses you need and which fits you and your interests the best, it is also provided different prices but the number of hours you will receive once you've completed the continuing education courses.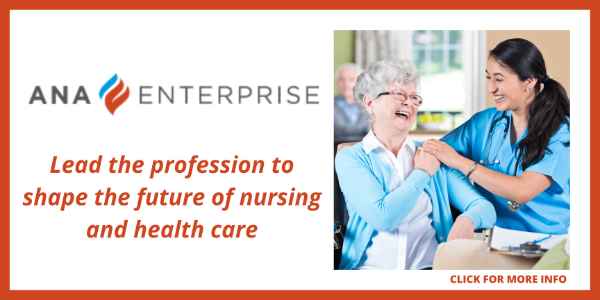 Prime education allows you to access many continuing education courses. The education courses are funded by various medical grants, which helps you and other participants to access the courses free of charge. Most courses will provide a release date, expiration date, and duration of time it would take to complete the courses.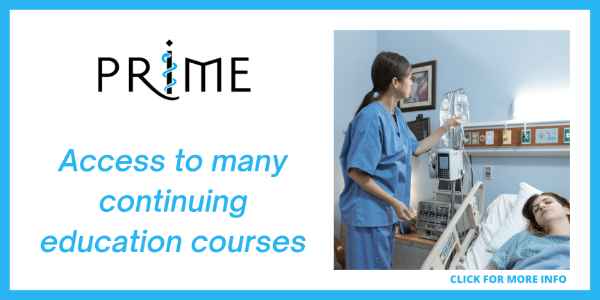 Nurse.com is a program that has been in existence for thirty-plus years. This program provides online education, offering continuing nursing education courses. Their goal is to ensure that nurses stay up-to-date on the current healthcare findings, discoveries, etc., and this knowledge helps patients get the best care.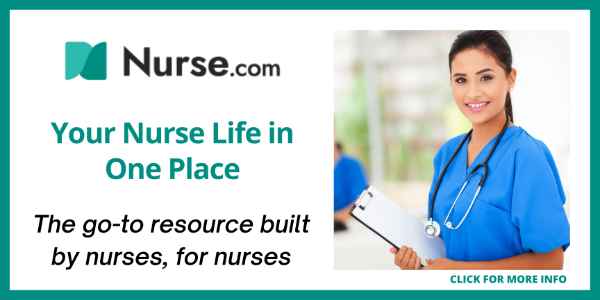 RN.org provides access to all continuing education courses after payment of a flat fee. Along with the courses, you will be provided the tests and the ability to retest, with one year of unlimited, free access. RN.org was founded by registered nurses Larry Snyder and is run by him with many other registered nurses with ten-plus years of medical experience.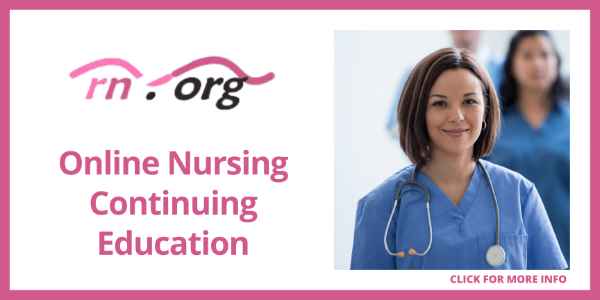 Nurse CE4Less is founded upon providing affordable continuing education courses, with Dr. William Cook developing the courses. A benefit to this website is that there are no tests and unlimited continuing education hours. You will also be able to utilize a free course before committing fully.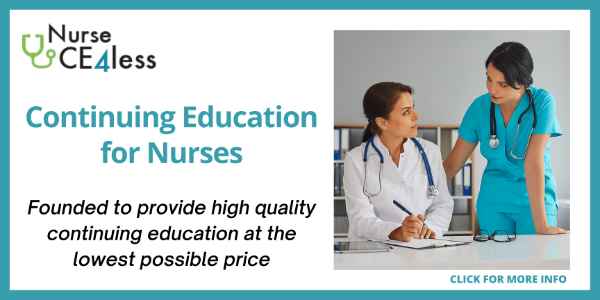 Western schools were founded on being a helpful hand in continuing education for healthcare professionals. Western schools provide a drop-down button to select your respective state on their website. Upon that, it will also provide you with the number of continuing education courses you can take and the number of hours credited to you once completed.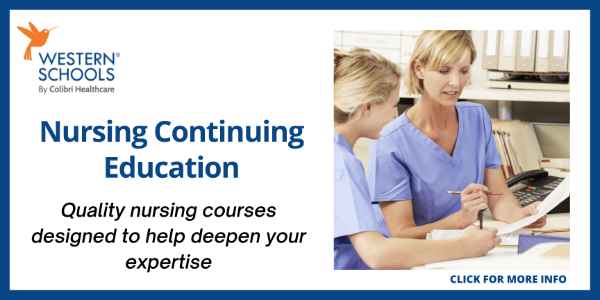 Knowing the various best online continuing education courses for nurses can allow you to explore your options and narrow your choices to what best suits your needs and wants. You have also learned why people would like to continue a nursing education, its benefits, and how much continuing education is required for a registered nurse.