Last updated on August 23rd, 2023.
Almost everyone uses psychology in their everyday lives, whether they communicate with coworkers, family members, or friends. Most people are unaware of how our choices and behaviors are influenced by psychology.
The best online courses in psychology offer either certifications, certificates of completion, or even continuing education courses for psychology professionals. While some classes online are provided for free, many others require some kind of payment to participate.
University of Queensland
Knowing what courses are available and which ones you should take can seem daunting if you do not know what to look for. Keep reading to discover whether psychology courses are offered online and the seven best ones.
Can I Do a Psychology Course Online?
With the many advances in technology and the availability of online courses taking center stage over many colleges and universities, individuals wonder if they can do a psychology course online. The answer to this question is a resounding yes. 
Whether you wish to take online psychology courses from an accredited college or university or would like to explore other options, many online courses fit the bill. This is because even before the recent pandemic, the landscape of learning has become an issue of many discussions.
With websites such as Coursera, Udemy, EdX, and others, individuals can take online courses on various topics such as psychology through accredited colleges and universities at a fraction of the cost.
There are many advantages of studying psychology online rather than sitting in a classroom setting. With online learning, in most cases, you have the opportunity to work at your own pace since there is more flexibility. You can also take these courses from anywhere in the world as long as you have access to a computer and an internet connection.
Many of these online courses have the option for you to participate in discussion groups with other students just like you. So if you think you will miss out on the opportunity to collaborate with others, think again.
Is There Any Certificate Course for Psychology?
While many psychology courses are available online, you will have to research whether they offer certificates. It also depends on the type of certificate you are looking for. While some offer only certificates of participation, others provide a certificate of completion or even continuing education credits.
Additionally, finding a psychology course that provides a certificate at completion will heavily depend on the type, of course, you are looking to take. Since there are many areas of psychology, you will want to ensure that you are taking one that translates to your career.
Many of the available courses are designed for psychology professionals already in the field to earn continuing education courses. Other studies are designed to allow beginners in psychology to learn foundational skills and make certificates while doing it.
Which is the Best Psychology Course Online?
When it comes to the best psychology courses available online, it depends on the area of the subject you are interested in. There are a plethora of courses available online for a wide variety of psychology topics. The best ones depend on several factors.
As you look for the best psychology courses online, you should consider what you gain by taking them. While it may be great to learn additional information for your knowledge, you should also check to see if the course has a certificate to help you move forward in your career.
Suppose you are an already practicing psychology professional. In that case, you will want to look for courses that improve your knowledge and skills and provide you with continuing education credits to ensure you can stay certified.
The 7 Best Online Courses in Psychology
The 7 best psychology courses compiled below will give those interested in the subject a wide variety of topics to choose from. While most of the courses require a fee to register, it is essential to keep in mind that many of them are offered by either prestigious universities or taught by well-respected professors from top universities.
1. Introduction to Psychology - University of Toronto
The Introduction to Psychology course offered by the University of Toronto through the Coursera website is designed to give students a foundational understanding of psychology. Through exciting case studies, the course will provide students with first-hand knowledge of the various ramifications concerning the study of psychology.
The Introduction to Psychology course gives students a foundational understanding of various psychological challenges, mental health issues, psychology in the social realm, and other topics under the psychology umbrella. 
The course, taught by University of Toronto professor, Steve Joordens, is 100% online, self-paced, and takes about 23 hours to complete. Additionally, students will receive a certificate to be used for professional or personal purposes upon completion. 
The cost for this course is free to audit, but if you want to have a certificate of completion, you will need to pay a little bit of money. The great thing is that there is financial aid available for those who cannot afford the fee.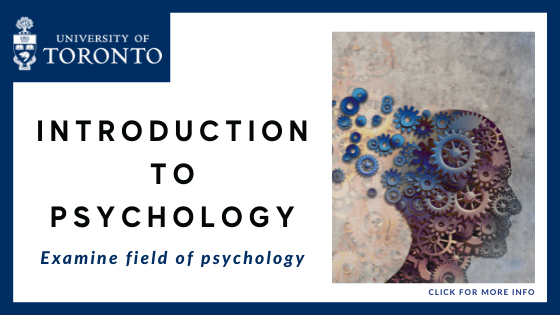 2. Introduction to Developmental, Social & Clinical Psychology - University of Queensland
The Introduction to Developmental, Social & Clinical Psychology course is offered through the edX platform. The course is offered through The University of Queensland in Australia and taught by a group of professors who are experts in psychology.
The course is designed to give an overview of developmental, social, and clinical psychology to give students an understanding of how the mind affects behavior. Students will be introduced to various disorders and treatment options, human behavior in a variety of settings, human development topics, and different research methods in the subject.
The expert professors who teach this course will take students through four classes over seven months if they spend 1-2 hours per day on the program. Students will have the opportunity to take this program that is 100% online and is self-paced. 
The cost for this course is pretty expensive, but you will receive the entire program experience.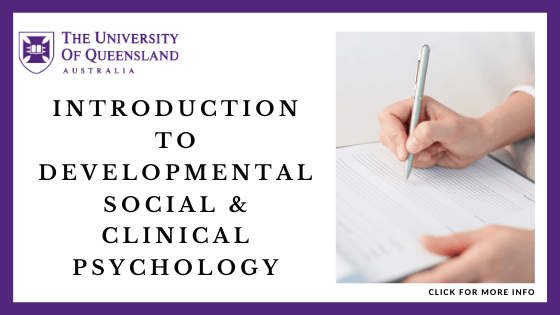 3. Foundations of Positive Psychology Specialization - University of Pennsylvania
The Foundations of Positive Psychology Specialization is offered through the University of Pennsylvania and accessed through the Coursera website. This specialization program includes five courses that cover the various aspects of the application of positive psychology.
This course teaches students about the various theories and strategies involved in the discipline of positive psychology. The various courses are designed to teach methodology and how to apply the ideas to their lives and in their professional lives.
While Dr. Martin E.P. Seligman leads the course, four other professors from the University of Pennsylvania join him in teaching this course. This course which is designed for a beginner level, is offered 100% online as a self-paced course of study.
The Positive Psychology Certification Course can be completed within about five months if they are able to work for about four hours per week on the course. Additionally, the cost of the course is one of the cheapest on the list, and students will receive a certificate of completion.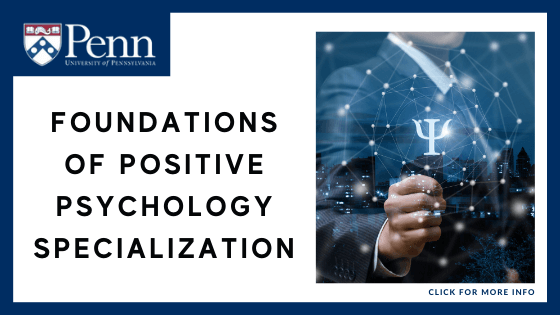 4. Social Psychology - Wesleyan University
The Social Psychology Course is offered through Wesleyan University and provided through Coursera. This course is designed to give students a foundational understanding of why humans behave the way they do.
The course covers topics such as attraction to other people, decision-making, behaviors, and other issues related to the social aspect of human behavior. Throughout this course, students will have the opportunity to review case studies and learn about various theories and methodologies that exist.
Professor Scott Plous leads students through 38 hours of studying human behavior that is designed to be self-paced and 100% online. Students taking the course will be issued a certificate of completion if they are not taking the free audit course. 
The cost of the course covers the certification cost and is quite reasonable for all you get considering it covers more than $1,000 worth of course materials that students will have even after they have completed the course.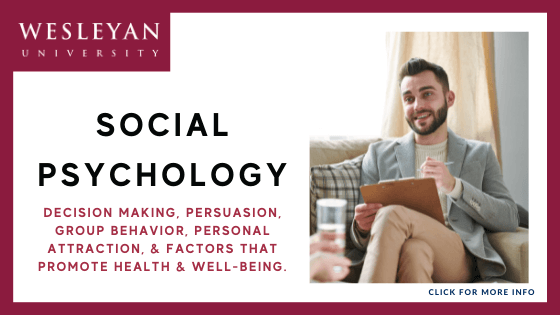 5. Advanced Level Psychology – Elmira Strange, MPhil
The Advanced Level Psychology Course is offered through Udemy by Elmira Strange, MPhil and is accredited by the International Association of Therapists (IAOTH). The course is designed to give students an advanced understanding of various psychological theories and issues.
The advanced theories offered in this course are just suitable for those students who wish to learn about psychology on a deeper level. The course focuses on various approaches and challenges such as mental illness, behavioral differences, human development, and more. 
The instructor, Elmira Strange, a Motivational Psychologist (MPhil) and Certified Life Coach (Dip), has worked in psychology for many years. The course is packed with four hours of video lectures, articles, and many downloadable resources for further study. 
The cost, which they sometimes offer sales on, is slightly cheaper than the others on this list and includes lifetime access to the resources. The price of this course also includes a certificate of completion, which can be used as continuing education credits, if allowed and is excellent for a resume.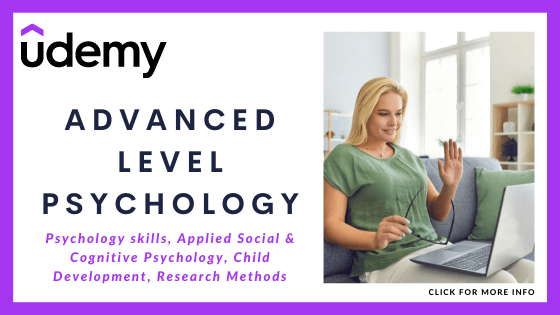 6. Introduction to Psychology - Yale University
Yale University offers this Introduction to Psychology Course through the Coursera website. This course is designed to give students a foundational understanding of psychological theories and methodologies.
The Introduction to Psychology course gives students a comprehensive view of human behavior and thought. It focuses on various topics such as persuasion, decision making, communication, memory, and more. The course also helps students understand human development and behavior at multiple ages.
Professor Paul Bloom, who is an instructor in the School of Psychology at Yale, is a well-renowned Psychologist and professor who has written for many academic journals throughout his career. The course offers about 15 hours worth of knowledge that includes video lectures, reading assignments, and quizzes to test understanding.
The course, much like other Coursera courses, is offered for free to audit the course; however, for those who desire to earn a certificate of completion to be used for resume or continuing education credits, they must pay a fee. Typically the cost for Coursera courses is anywhere from $49-$79 per course.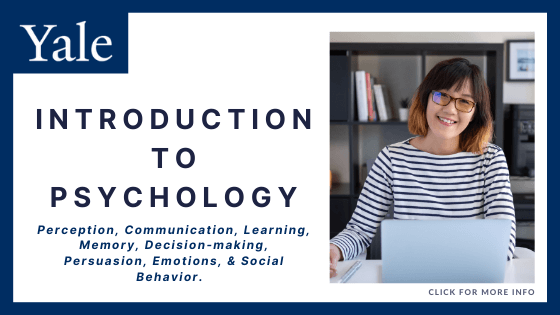 7. Influence People With Persuasion Psychology - Andrew Luttrell, Phd
The Influence People With Persuasion Psychology Course is offered on the Udemy Platform by Andrew Luttrell, PHD for those interested in learning the art of persuasion. Students who take this class will be taught the knowledge and skills necessary to get people to say "yes" to anything you ask them.
The course is designed for salespeople, managers, fundraisers, and others who make their living by attempting to persuade people to do something. This topic which is deemed social influence, falls into the category of social psychology since it has to do with human behavior.
Dr. Andrew Lutrell, who is a Social Psychologist and also hosts a podcast called Opinion Science, is the instructor of the Influence People With Persuasion Psychology course. Students will learn through two hours of video lectures, articles, and other downloadable resources. 
The cost of the course is currently discounted for a limited time only. The total price of the course is reasonable and includes lifetime access to the various resources. Students who complete the course will receive a certificate of completion that can be used as proof of continuing education credits. 
When it comes to taking psychology courses online, there are a wide variety of sources that offer them. Since the boom of online classes, more and more colleges and universities have contracted with websites like Coursera, Udemy, edX, and many others to get the information into the hands of students who want to learn.
With prices of everything on the rise, it can be difficult for some individuals to attend the college or university that they want to attend. Having the opportunity to take these classes online opens up a whole new world to many people around the world.
By doing a bit of research on the internet, you will be able to find many websites that offer these types of courses and more on a variety of topics such as psychology. People who never thought they would be able to attend college courses and expand their knowledge now have access to hundreds of thousands of courses that are taught by top-of-the-line professors from all over the world.