Last updated on November 29th, 2023.
Establishing and flourishing in yoga entrepreneurship requires a passion for the practice and a solid business strategy. In this digital age, where the yoga industry is rapidly expanding into the online realm, honing your skills in the art of yoga is just one piece of the puzzle. To succeed, you need a well-crafted yoga business strategy that aligns with your goals and resonates with your audience. To help you navigate this path, we've curated a selection of the finest online courses tailored to empower you in shaping a robust yoga business strategy. Whether you're an aspiring yoga instructor or a studio owner looking to expand your online presence, these courses will provide the essential knowledge and tools to thrive in the ever-evolving yoga landscape.
Here's a quick snapshot of the list of the top online courses designed to assist you in crafting your yoga business strategy:
Yoga Career With Gwen: Your Yoga Launch Plan
Clare Hudson Yoga: The Art and Business of Teaching Yoga One-to-One
Brett Larkin Yoga Uplifted: Business Launchpad
The Peaceful Warriors: Business for Yogis
My Vinyasa Practice: 40-Hour Business of Yoga
The Whole Health Project: Launch Your First Online Course
Know How to Start Your Online Yoga Business
Are you a recent yoga teacher training program graduate, finding yourself at a crossroads pondering the next steps in your journey? Alternatively, are you an experienced yoga instructor envisioning the next phase of your career? If establishing your own yoga business, particularly in the online realm from the comfort of your home, has ever crossed your mind, it's essential to recognize that meticulous planning is the cornerstone. The realm of online yoga ventures demands yogic expertise and a solid entrepreneurial skill set.
Determining the financial investment required to kickstart your online yoga class venture is crucial. Launching a small business is a journey that unfolds over time rather than materializing overnight. Venturing into the realm of online yoga instruction calls for modern technological tools and equipment, not to mention a robust platform to seamlessly host your classes.
As you delve deeper into this article, you will discover a selection of premier online courses tailored to guide you in crafting a comprehensive online yoga business plan. Furthermore, we will delve into the optimal platforms for hosting your courses and conclude by offering a priceless tip to set you on the right track when launching your online yoga enterprise. By reaching the end, you will possess the insights to contemplate, strategize, and embark on your journey toward a thriving online yoga business.
1) Create your goals and targets
When formulating your plans, begin by contemplating the future trajectory of your business, envisioning both the one-year and five-year horizons. In a year, consider the personal income threshold you aim to achieve. Projecting five years ahead, ponder the workforce you envision, defining the number of employees that will be part of your team. Additionally, set specific objectives, such as the desired clientele volume within a particular timeframe, the allocated budget for first-year advertising endeavors, and the range of classes your business aims to offer within the initial six months of operation.
It's paramount to note that meeting your established goals and targets should not mark the end of your journey. Instead, it should serve as a springboard for creating new objectives. Continuous growth and progress are the lifeblood of your business; remaining static can lead to stagnation.
2) Create a fool-proof marketing plan
There are a multitude of advertising platforms to choose from. The conventional options of radio, television, and newspapers persist, but it's worth considering the potency of contemporary avenues like social media and email marketing. As you draft your marketing strategy, seeking guidance from a marketing agency well-versed in crafting promotional campaigns tailored for small enterprises, including yoga studios, could prove advantageous. Such a specialized agency can offer valuable insights and strategies to optimize your advertising efforts.
3) Create financial goals
Enrolling in a small business development class offers another compelling rationale: it equips you with the skills to formulate sound financial objectives and determine the necessary capital requirements. Crafting robust financial projections is vital to ensure your revenue stream adequately covers operational costs. It's imperative to reserve a buffer of funds for unforeseen contingencies and to fortify your business's resilience during economic downturns.
Moreover, securing sufficient startup capital is paramount. This entails meticulous planning to procure the necessary funds, which must encompass expenses like business software, furnishings for your home yoga studio, advertising, marketing initiatives for your nascent venture, and the essential equipment for filming classes and securing a suitable hosting platform. Anticipating and preparing for various contingencies is an indispensable aspect of your entrepreneurial journey.
4) Choose business management software
You don't have to juggle every aspect of your business single-handedly anymore, and it's a wise decision not to. Consider investing in a comprehensive business management software suite that will significantly streamline tasks such as client booking, payment processing, and financial reconciliation, among many others. 
If you don't possess a natural aptitude for financial intricacies, business management software acts as a safeguard against errors. Furthermore, as a busy yoga instructor managing both classes and the myriad responsibilities of a home yoga studio, time is a precious commodity. These software solutions free you from the burden of manual bookkeeping, enabling you to focus on your core activities.
5 Great Online Courses to Help You Build Your Yoga Business Plan
Budding entrepreneurs aiming to establish their online yoga enterprises no longer need to grapple with crafting a business plan. You are embarking on a pivotal career journey that necessitates a strategic blueprint to foster your business's prosperity. To facilitate this, we have curated a selection of five outstanding online courses designed to aid you in the creation of your yoga business plan. Explore the options below; each course is a remarkable resource to propel your online yoga venture to soaring heights.
1. Yoga Career With Gwen: Your Yoga Launch Plan
Are you a passionate yoga instructor ready to take your career to new heights? Introducing Your Yoga Launch Plan, a comprehensive done-for-you strategy by Yoga Career With Gwen. It is designed to help you confidently launch and sell your online yoga offerings.
As part of her Yoga Business Coaching Solutions, Gwen Ferreira offers expert guidance to streamline the process, enabling you to focus on what you do best – teaching yoga with a purpose.
The Benefits of Your Yoga Launch Plan
Personalized launch strategy. Say goodbye to uncertainty. This plan equips you with a tailored launch strategy and execution plan to guide you from the pre-launch warm-up phase to the cart closing phase. Every step is mapped out, ensuring a seamless transition through each phase of your launch.
Content blueprint. Content creation often presents a significant hurdle for many yoga instructors. With Your Yoga Launch Plan, you'll receive pre-written IG/FB posts, emails, and IG story prompts for your 8-week launch. This blueprint saves you time and guarantees consistent and engaging content that resonates with your audience.
Review and confidence boost. You'll benefit from a private 30-minute review call with your finalized launch content. This personal touch ensures that you fully understand and feel confident about every piece of your launch strategy.
Swift turnaround. With a 10-day turnaround time, you can implement your launch strategy immediately. This rapid timeline allows you to capitalize on your momentum and enthusiasm.
Unlocking success, launch after launch. Your Yoga Launch Plan isn't just a one-time solution; it's a powerful strategy that can be used for future launches, regardless of the specific offerings. This adaptable framework will continue evolving, giving you a dependable roadmap for consistent success.
Tailored to your audience and niche. Every yoga instructor's journey is unique, so Your Yoga Launch Plan is meticulously crafted to suit your specific audience and niche. This customization ensures that your launch resonates deeply with your target market, increasing the likelihood of a successful sell-out.
Launching your online yoga offerings can be a game-changer for your career. For $497, Your Yoga Launch Plan allows you to navigate the process with confidence, efficiency, and impact. Don't let overwhelm hold you back – let this expert strategy guide you towards a successful launch and a flourishing yoga instructor career.
2. Clare Hudson Yoga: The Art and Business of Teaching Yoga One-to-One
The Art and Business of Teaching Yoga One-to-One online program has gained popularity among yoga teachers worldwide, attracting over 500 students from 50 countries. This course, led by Clare Hudson, a highly regarded personal yoga teacher based in London, offers a transformative experience to enhance teaching practices and reveal the secrets of personalized instruction. 
Throughout this great program, participants will 
embark on a journey of personal growth, fulfillment, and success

immerse themselves in the art of connecting deeply with individual students

enable themselves to customize yoga practices to meet each person's unique needs and goals

gain invaluable insights into cultivating the right mindset, identifying potential clients, implementing effective marketing strategies, and developing session methodologies 
The program costs $197, and here's what makes it so special
Authentic approach.

 Clare's teachings are rooted in authenticity, honoring the individuality of each practitioner. By embracing the power of one-to-one sessions, you'll receive personalized guidance tailored to your unique needs, allowing your practice to flourish like never before.

Comprehensive curriculum. 

This course covers everything from the art of sequencing for individual sessions to practical communication and building meaningful connections with students. You'll gain valuable tools and insights to elevate your teaching and enhance your students' experience.

Yoga Alliance accreditation. 

This training is recognized and accredited by Yoga Alliance, ensuring its quality and aligning it with industry standards. It's an investment in your professional development and can open doors for future opportunities.
Whether an experienced practitioner or a novice in the teaching journey, "The Art and Business of Teaching Yoga One-to-One" empowers yoga teachers to impact their clients' lives profoundly. By unlocking their full potential as private yoga teachers, participants can expand their reach and create transformative experiences for their students, thus elevating their teaching abilities and career prospects.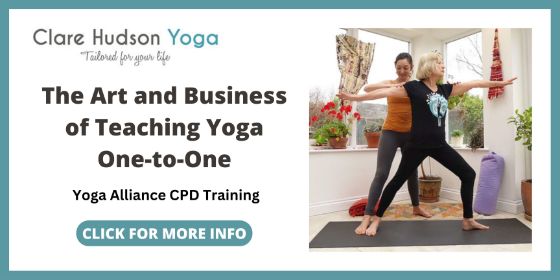 3. Brett Larkin Yoga Uplifted: Business Launchpad
Brett Larkin's Yoga Uplifted Business Launchpad course was designed for yoga teachers to bring their classes online, capturing the popularity of virtual yoga classes. Brett Larkin offers a powerful mission statement, elaborating on her reasons for offering the course:
"My mission is to empower YOU as a high-quality yoga teacher to step forward, clarify your vision, and convert that vision into tangible value (and charge for it!). Don't be timid. Be bold. Now is the time to take action."
But is this course right for you? Brett Larkin designed this course for:
Healers who need to focus their expertise, make their career sustainable, and attract students
Yoga teachers searching for a niche
Business owners desperately want branding that showcases their unique spirit and allows them to stand out.
Yoga teachers who perhaps don't have a head for finances
Yoga teachers that are uncomfortable dealing with everything money, such as collecting student payments.
The curriculum for the course is all-encompassing and should set you well on your way to creating and delivering a great business plan. You'll learn how to:
Choose a business model that meets your unique strengths
Charge more and help more students by focusing on your mindset and entrepreneurial skills
Make your teaching stand out and rapidly add offerings to your in-person classes or online courses with course workshops, classes, and lesson plans you can use as your own
Reach your lifestyle and revenue goals as a health and wellness professional
The program costs $1995, and with that, you'll get:
40+ Hours of Business Video Training, Tutorials & Coaching Replays on our Mobile App
PDF Worksheets, Plug & Play Excel Sheets & Step-by-Step Business, Mindset & Journaling Exercises
40 Hours of Continuing Education Credit with Yoga Alliance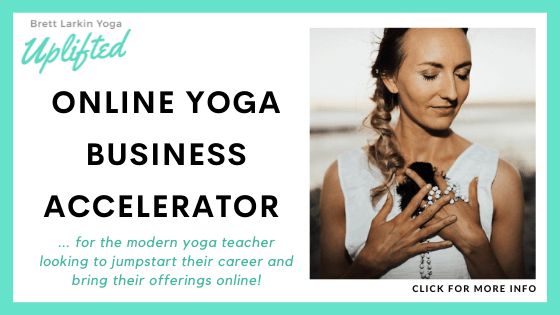 4. The Peaceful Warriors: Business For Yogis
This is an excellent course by Maria Frisch of The Peaceful Warriors. In this Business for Yogis course, you'll learn what it means to have a yoga business starting at the very beginning, whether going at it as a teacher in a studio or thinking about starting your own. 
There are so many opportunities for yoga teachers out there. Doing private lessons or even corporate classes are options, and with these, as well as what was mentioned before, you'll need to learn to self-promote through social media and maybe even a website, and this course digs into these platforms.
Another covered element is leading specialized events like workshops and retreats. You'll also learn who the Yoga Alliance is and how to stay updated with your certifications.  
Use code MITM25OFF for 25% off at checkout on The Peaceful Warriors' website.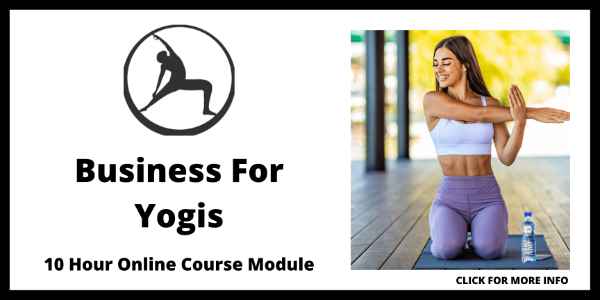 5. My Vinyasa Practice: Online Business of Yoga Course
My Vinyasa Practice's Business of Yoga program will give prospective business owners the qualifications to start a yoga business and keep it growing. After you finish the course, you'll receive 40 non-contact hours with Yoga Alliance. And, as a course graduate, you can become a paid Mentor Teacher with My Vinyasa Practice to help other aspiring yoga business owners achieve their dreams.
In the $190 course (half off if you pay in total), you'll learn
How to draft and execute a successful yoga business plan.
How to effectively price and position your classes
How to set up an easy-to-use website that creates clear paths to conversion
How to identify your audience and realize the most effective plan for outreach and engagement
How to plan, implement, and scale marketing strategies to generate sustainable wealth
The course is entirely online, and you can finish at your own pace. Course materials include a Business of Yoga Workbook with a business plan template, sample waiver of liability, website checklist, and sample new client intake form.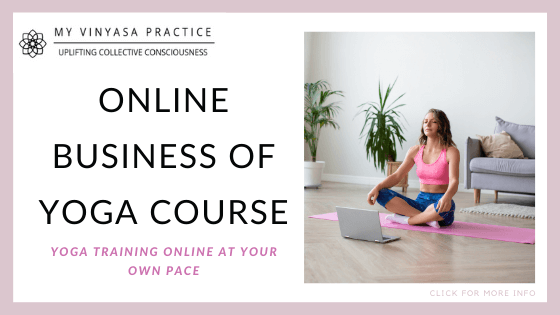 6. The Whole Health Project: Launch Your First Online Course
If you're eager to expand your reach, increase your impact, and generate income with less effort, The Whole Health Project's Launch Your First Online Course is the perfect opportunity for you. This comprehensive program will walk you through every step of the process, from course creation to marketing, launching, and scaling. With a practical and affordable approach, this course is tailored specifically for yoga teachers and coaches who want to establish a thriving online business.
Rachel and Lucy, who have successfully transitioned from being yoga teachers to prosperous entrepreneurs, are the driving forces behind this course. Drawing from their experiences and expertise, they have developed a method and process that they now share with aspiring course creators. Having created multiple successful online courses, they understand the challenges and opportunities that arise in this journey. Enrolling in this course gives you insights and strategies to achieve greater financial freedom in your business and personal life.
Throughout this program, you'll learn how to
structure and design your course effectively

develop marketing strategies to attract your target audience

execute a successful launch

scale your course to maximize your impact and profitability
The focus is on practical, actionable steps without unnecessary fluff, ensuring you can implement what you learn directly into your business. With Rachel and Lucy as your guides, you'll gain the knowledge and confidence to create and sell your profitable online course, impacting a wider audience while intelligently leveraging your time and resources.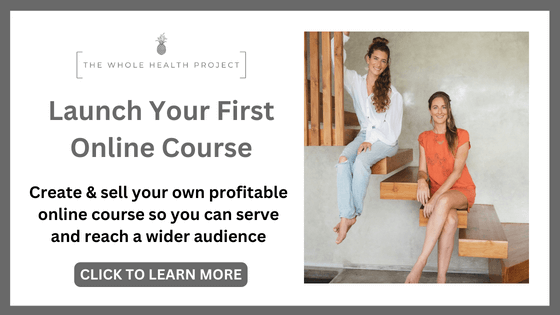 Top Tip if You Want To Start a Yoga Teaching Business From Home
Indeed, launching your online yoga teaching business demands dedication and effort. It involves finding a unique niche to attract like-minded clients, investing in effective advertising and marketing strategies, and mastering the art of self-promotion on social media. Crafting a memorable and captivating brand identity is crucial, as is maintaining patience and unwavering commitment because success doesn't happen overnight. Strategic planning dramatically enhances your prospects of success, but continuous learning is equally vital – whether it's about managing a business, attracting clients, or deepening your knowledge of yoga.
However, the paramount tip for establishing a home-based yoga teaching business is to become an integral part of a network. Your business doesn't exist in isolation; it thrives through strategic partnerships that expand your reach, attract more clients, and boost profits.
Business networking encompasses various avenues, including:
Joining local business associations, like your chamber of commerce, to collaborate with fellow entrepreneurs.

Engaging in community service clubs or non-profit organizations to work on charitable initiatives and connect with potential clients.

Leveraging online and social media networks such as LinkedIn, Instagram, and Facebook to build an online presence and connect with a broader audience.

Becoming a member of professional organizations like Yoga Alliance offers opportunities to network with individuals passionate about yoga through events and conferences.
Effective networking can lead to mutually beneficial partnerships. For instance, your yoga teaching business might collaborate with a massage therapy center for reciprocal advertising and joint events on Ayurveda medicine and clean eating, appealing to yoga enthusiasts and massage therapy clients.
Additionally, community service club involvement can enable you to give back to your community while introducing your yoga classes to potential clients.
Social media networks offer a powerful platform to maintain contact with current students and attract new ones. A dedicated Facebook page can serve as a hub for your company, and participating in yoga-focused groups and pages can help increase your business's visibility.
As you explore these networking options, remember that consistency is critical. Expand your circle, engage with your network, and keep your business's name in the spotlight. With persistence and proactive networking, you will ensure your business remains visible and memorable to potential patrons.
Final Thoughts on the Best Online Yoga Business Courses
The world of online yoga business courses offers a wealth of knowledge and tools to empower aspiring yoga entrepreneurs. These courses are invaluable resources for those embarking on a journey to create, grow, and sustain a thriving yoga business in the digital age. By arming yourself with the insights, strategies, and skills gleaned from these courses, you're investing in your professional development and positioning yourself for success in a rapidly evolving industry.
Remember, building a successful online yoga business is a journey that demands dedication, continuous learning, and adaptability. The courses mentioned in this guide are excellent starting points, providing you with the knowledge and guidance to navigate the intricate path of entrepreneurship in the yoga world.
Your passion for yoga, a strategic approach, and a commitment to your craft will drive your success. So, as you embark on this exciting venture, your online yoga business may flourish, bringing the gift of yoga to a global audience while enriching your journey as a dedicated yoga entrepreneur.