Last updated on November 28th, 2023.
When it comes to an online degree, veteran spouses need a career that you can take on the road with you. One of the key traits of a military spouse is the need to move around with their significant other, so your job has to be as mobile as you are.
Below you'll find the ten best online degrees that veteran spouses can pursue. From computer sciences to remote work, there are plenty of flexible job options available to build a great career suited for military spouses.
Does the VA Pay for Spouse's College?
If your family is strapped for funds for secondary education, being the spouse of a military veteran has some advantages in that arena. There are a few different ways that the Veteran's Association (VA) helps the spouses of military veterans pay for their education.
Here are some of the ways that the VA helps to pay for the college of military spouses:
Transferral of the GI Bill: If a military veteran doesn't want to use their allotted GI Bill money to pursue their own education, they can transfer these funds to an immediate family member such as their spouse. This is a good option for military veterans who already have their own degree or work in a trade that doesn't need one. (Source: The University of Southern Mississippi)
Chapter 35 Benefits: If your veteran spouse was disabled or died in any American conflict after September 10th, 2001, you are entitled to pursue educational assistance on their behalf. This assistance is not available for veteran spouses with no injury, death, or imprisonment involved. (Source: S. Department of Veteran Affairs)
With the VA's help, there are many different online degrees you can pursue. The financial assistance offered can help offset the costs of pursuing an education no matter where you are if your spouse is still on active duty.
What Are the Education Benefits Military Spouses Get?
Military spouses have access to many education benefits they wouldn't if they weren't involved with a veteran. If a military spouse has a veteran's GI bill transferred to them, they can be entitled to the following educational benefits:
Tuition: The tuition of secondary education degree is the most expensive part of the degree.  Benefits may also cover secondary education certifications. The primary purpose of military educational benefits is to provide free tuition for online degrees to veterans and their families.
Books: Tuition isn't the only cost associated with going back to school. Even for online degrees, veteran spouses need access to school supplies such as books, workbooks, and other necessary items for learning.
Housing costs: If you pursue an online degree as a veteran spouse, you won't need to pay for a college dorm. However, you can still receive funds to help reduce the costs of your living situation while you earn your online degree. This will allow you to go to school full-time and complete your degree more quickly in many cases.
Admissions/application fees: There are always miscellaneous fees associated with starting an educational program, even online, that you might not think of during the admissions process. Be sure to get a full breakdown of all these costs before you commit to a course of study.
If you have any questions or concerns about what kind of educational assistance is available to you through the U.S. Department of Veteran Affairs, it's always smart to contact the department directly. Direct contact will let you know exactly where you stand and what you're entitled to concerning financial aid.
How Much Does the VA Pay for a Spouse?
The amount of money that the VA pays out for a spouse to get a degree depends on the benefits. If you're using a veteran's transferred GI bill to cover the costs of your online degree, you'll be entitled to the following:
Full tuition for 36 months at the residential rate for public universities across the United States
Over $21,000 a year to help offset the costs of a private or foreign university (Source: ClearanceJobs)
Housing and book allowances averaging $1,300 a month for residency and $1,000 a year to cover the cost of books
For those attending school on DEA (Chapter 35) death and injury benefits, the VA offers $1,224 a month to help offset the costs of continued education for veteran spouses. (Source: U.S. Department of Veteran Affairs)
The 10 Best Online Degrees for Veteran Spouses
So you know what you have access to in terms of financial support for pursuing your online degree as a military spouse.  That's right!  There are benefits and provisions not only to help veterans pursue their degree but the spouses too!  What's the best career choice to pursue?
There are great online degree programs for the general public and then there are great online degree programs tailored or aligned for the military spouse.  If you're the spouse of a veteran who is still on active duty, you'll need a mobile career path. It may also be advantageous to seek out careers that can be performed from home.
Here you'll find a breakdown of some of the best degrees you can pursue online as a veteran spouse. These jobs benefit from being easily obtained through an online degree while also providing a flexible career path that allows veteran spouses to move freely with their significant others while on deployment.
1. IT and Computer Support
For veteran spouses who are naturally good with computers, pursuing an online degree in IT and computer support is a smart job that pays well. It often offers the benefit of allowing the IT professional to work remotely, too, which is a good option for veteran spouses who are also stay-at-home parents.
Along the same lines as IT and computer support, you can learn computer programming and coding through an online degree that can be practiced from home for a remote job position. This capability makes computer-related job positions much more flexible than other employment opportunities.
3. Applied Behavioral Analysis (ABA) Therapy
If you prefer to work with people rather than machines, ABA therapy is a specialization that has become more and more popular. This form of therapy is often used with children who have autism spectrum disorder, and these professionals are usually in high demand wherever they go due to the commonplace nature of autism.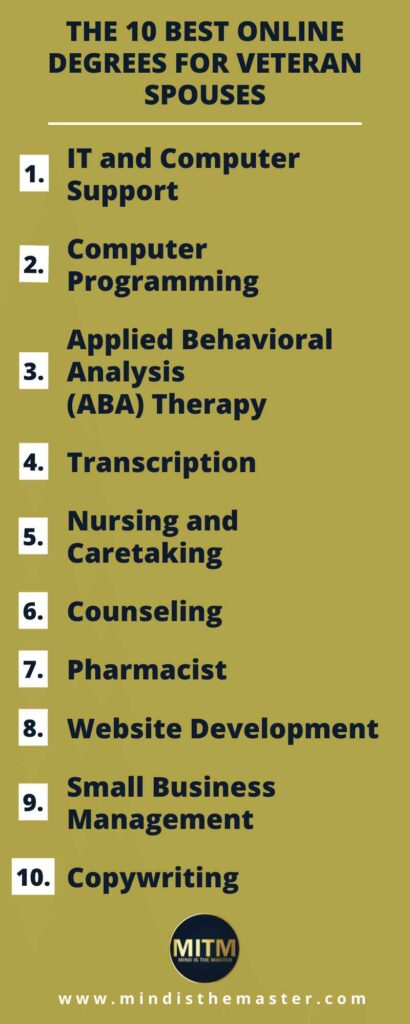 For another online degree where you can work from home, transcription is a job that doesn't occur to many people. However, this skill is necessary in many different fields, particularly in medical insurance and communications fields like journalism. Transcribers need to have strong typing skills and attention to detail.
5. Nursing and Caretaking
Many caretaking jobs don't require a formal degree, but getting an online degree in nursing or a related health degree can make you more competitive if you decide to pursue a career in personal home care or hospice care. A nursing degree is one of the best degrees you can pursue online since these professionals are always in high demand wherever they go.
Counseling is another flexible and in-demand career you can pursue through an online degree. You don't even have to have a business office to run a counseling service – many therapists run counseling out of their own homes. Whether you're interested in marriage counseling or you want to specialize in adolescents, there are plenty of options available.
Pharmacy may not be a career path that many people think of right out of the gate, but pharmacists are well-paid and work good hours for family living. This is also an ideal job for people who like to be involved in the medical field and discuss health-related topics but don't necessarily want to deal with bodily fluids or the other "dirty" parts of medicine.
Website development is similar to computer programming and IT service, but this branch of computer technology education focuses on learning how to build websites and perform social media marketing campaigns for individuals and businesses. This sector of industry is thriving, and the best part is that many web developers are able to easily work from home.  You can even get certified in web development from home making it a very remote-friendly career.
9. Small Business Management
If you're a veteran spouse who is also an artisan or an entrepreneur, pursuing an online degree in Business Management can give you the background to start a small home-based business if you don't have any prior business management experience. These degrees can also suit veteran spouses for many white collar positions outside of the home.
There are several online degrees you can pursue to get a good foundation in a copywriting career, such as English or Technical Editing. Freelance content creation and copywriting work is one of the fastest-growing fields in the world, so it's perfect for veteran spouses who are able to write well and do basic research on a wide variety of topics.
How to Choose an Online Degree for Veteran Spouses
There are dozens of great affordable online colleges with degrees and career options for veteran spouses, and the amount of choices available can make narrowing them down into a single career path completely overwhelming. So how do you make the choice which online degree to pursue if you're a veteran's spouse? Here are a few things you should consider:
Do you want to work from home or in an office? There are many online degrees that are geared towards helping people pursue remote work from home. This can be a good option for veteran spouses who want to be home to help take care of their children or just want to work from the comfort of home.
How soon do you want your degree to be complete? Some degrees can be completed in as little as fifteen months, while others take just as long as a traditional bachelor's degree (four years or longer). Which is the better option for you depends on how fast you need to complete your studies and what field you want to enter.
What are your personal skills? A veteran spouse that is attracted to machines and computers will get a lot more out of an IT degree than someone who prefers to be around people. Some online degrees also require talent in specific areas of study. For example, pharmacists have to have strong math skills.
What kind of credentials do you need? Some professions such as nursing and pharmacy work require specific certificates or other degrees to perform, while others like web development and personal caretaking are more flexible.
Any degree you pursue shouldn't be entered lightly, especially if you're depending on VA benefits to finish your degree. Otherwise you might end up wasting your educational funds on a career path you aren't really interested in after all. It can be a good idea to consult with a career counsellor to determine which online degrees might be the best fit for you.
Online Degrees Are a Great Option for Veteran Spouses
When you've been supporting a spouse in the military, it can sometimes be easy to forget your own career aspirations in the hubbub of picking up and following them around from place to place. Luckily, online degrees offer a ton of choices for veteran spouses to help advance their careers in several interesting professions.
For another online degree where you can work from home, transcription is a job that doesn't occur to many people. However, this skill is necessary in many different fields, particularly in medical insurance and communications fields like journalism. Transcribers need to have strong typing skills and attention to detail.