Last updated on August 29th, 2023.
If you need a list of the best online degree in general check out that list but for the ones narrowed into finance and accounting, check out these 7!
Accounting and Finance Online courses and degrees have been growing in popularity every year, and there is no shortage of organizations that offer them. There are many degrees available online that can help you start or advance your career as an accountant.
The seven best courses and degrees for online accounting and finance are from:
This article will look at degrees and courses that can help you build a career in accounting or finance. We'll look into what each one has to offer, where it is offered online, and the average cost of tuition for these degrees.
Can I Be an Accountant with an Online Degree?
Accounting and finance degrees are offered in many different forms. For example, some degrees require you to attend classes at a physical campus, while others can be completed entirely online.
You can be an accountant with an online degree. However, it is essential to research and choose a program that best fits your career goals. Many accounting degrees are offered online as well as in person.
Some courses focus on international accounting standards, while others teach students about auditing procedures. These degrees can be completed online but require extensive study of detailed material. However, online accounting courses can give you an edge in your career without the increased cost of a university degree.
Can You Be an Accountant with a Finance Degree?
Various degrees will give you the skills to become an accountant, including finance degrees.
You can become an accountant with a finance degree if you want a career in accounting. If your interests lie more with finance, some degrees focus on financial management and investment analysis.
Some courses may offer an online option which can be beneficial if you need to balance work and study schedules.
Which Course is Best for Finance and Accounting?
There are countless courses in finance and accounting.  Online degrees allow you to work while studying. However, these degrees may lack the personal interaction that many accounting firms prefer when hiring new employees.
The best course for finance and accounting is the Chartered Certified Accountant (ACCA) designation. ACCA offers flexible courses and is recognized globally. Completing the ACCA course successfully will allow you to work as a certified accountant.
Alternatively, for finance degrees, there are financial management degrees where graduates focus on investment analysis and corporate governance, some of which offer an online degree option as well.
Some universities even offer a joint program with both accounting and finance in one course. These courses offer students the opportunity to obtain their Chartered Certified Accountant designation at graduation!
The 7 Best Courses & Degrees for Online Accounting and Finance
Here are the seven best courses and degree programs for online accounting and finance. We have also included some of the requirements you must have to earn them.
1. Chartered Certified Accountant (ACCA) Designation
The first on our list of best degrees and course options for accounting and finance professionals is The Chartered Certified Accountant (ACCA) designation from the Association of Chartered Certified Accountants (ACCA).
This course is offered directly through the ACCA site, and as an ACCA member, you can take the course at a member price. In addition, this is an online program with no requirement of prior accounting degrees or experience, making it very accessible for students who have just recently graduated from college.
This degree option also has many benefits beyond just being able to call yourself a Chartered Certified Accountant. Upon completion of this course and designation, graduates can expect upward mobility in their careers and higher salaries than other finance degrees.
This qualification allows candidates to work as accountants across all sectors with confidence because this certification ensures they have achieved an industry-recognized standard.
After earning a bachelor's degree, it takes three years to achieve this certificate; however, there are sometimes accelerated routes available depending upon your education level. There are also courses, degrees, and certifications available online for those interested in earning an ACCA certification.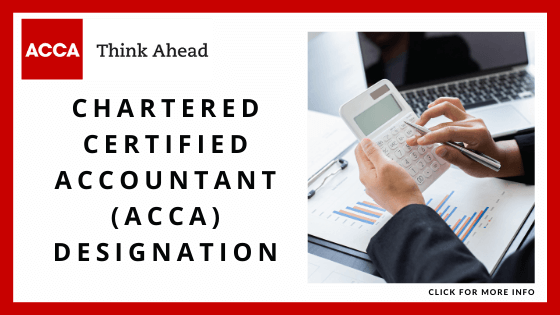 2. Certified Financial Planner (CFP Board) designation
Certified Financial Planner degrees are more common for those who are interested in working as a financial planner. This certification is available online directly through the CFP website, making it accessible to everyone worldwide.
Hiring managers prefer degrees over certifications because degrees take at least two years after earning an associate degree or bachelor's degree to complete. They also ensure that individuals have met all educational requirements before completing this course of study.
CFP professionals make a vow to act as fiduciary when providing financial advice to customers as part of the CFP certification. This means they've accepted an obligation to put your interests first and can offer you confidence now and in the future.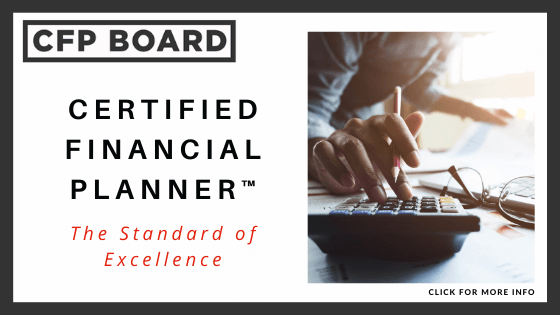 3. Certified Management Accountant (IMA) Certification
Certified Management Accountant (CMA) certifications are available through the Institute of Management Accountants. This certification focuses on collecting, communicating, and using accounting information to manage business activities so companies can make informed decisions about plans.
Accounting certifications like the CMA provide students with critical skills employers seek, including:
Strong analytical thinking abilities
Problem-solving skills, and
Attention to detail.
CMA certifications require a bachelor's degree and passing a computer-based exam. Students who earn the CMA certification can opt to receive their degrees through an online accounting program, which provides flexibility for busy professionals with full-time jobs or families.
Employers also value degrees from specific universities that are known as business schools. These degrees provide students with experience working in teams on projects while learning real-world issues they will face in today's workplace.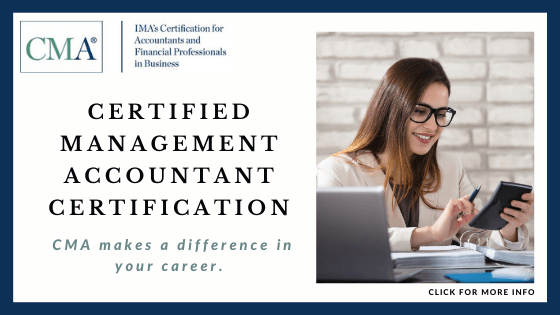 4. Certified Public Accountant (CPA) Certification
The American Institute of CPAs offers an online CPA course that must be completed within four years. Students are required to:
Complete 150 hours of study
Pass an exam, and
Have two years of accounting experience before they can receive the CPA designation.
The AICPA offers a directory of licensing requirements for each state where citizens can find out if their profession requires them to hold any type of certification or license. Some professions may even earn students' college credit upon completion of courses in certain states.
There are many benefits of becoming a Certified Public Accountant, including:
High pay rates
Job security
Stability through recessions
Low unemployment rates
CPA degrees can also be obtained through an AICPA approved university or college in order for individuals to sit for the exam and earn their certification. In addition, many schools offer students a chance to complete courses online. However, not every degree program is offered this way.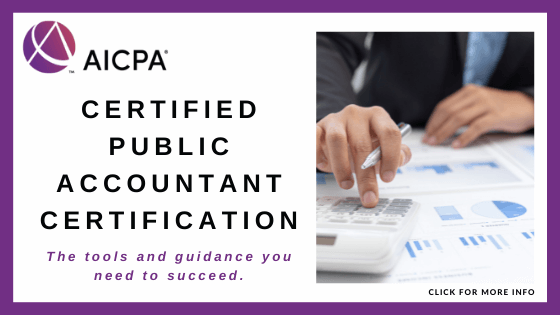 5. UAGC Forbes School of Business and Technology Online Accounting
Accounting and Finance Degrees from the UAGC Forbes School of Business and Technology offer a number of degrees to individuals with different levels of experience and education.
For those who have not completed their undergraduate degree, an online associates in accounting may be a perfect choice. Students can complete this course at their own pace, so they do not need to worry about scheduling conflicts or other obligations that might prevent them from completing the program on time.
In addition, degrees offered online are often cheaper than degrees earned through traditional methods as students do not have to spend money on commuting costs between home and school every day.
UAGC Forbes School of Business and Technology also offers:
Fully accredited MBA programs for full-time students
Online programs for working professionals looking to earn a graduate degree while continuing work.
This ensures that all graduates leave the program with the skills and knowledge necessary to begin a successful career.
The Forbes School of Business and Technology will show you where commerce has been, where it's going, and how to thrive in today's—and tomorrow's—global economic climate. This accredited online business school's business courses and online MBA program are designed to help you rise among the ranks of other business professionals so that you can become a leader in the business world.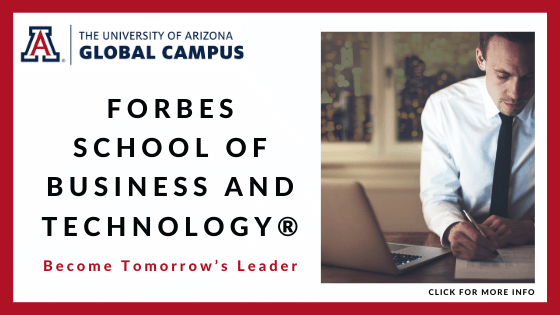 6. University of Phoenix Online Accounting Degrees
The online accounting program from the University of Phoenix is ACBSP accredited, which means that organizations throughout the world recognize the degrees it provides.
The online accounting program is designed for individuals who already have a degree in:
Business
Administration
Related fields but want to expand their career opportunities through advanced education and additional credentialing.
Earn your degrees on your time with the University of Phoenix's online degrees program. This online college offers students various associate degrees such as:
Accounting and Business Management
Bachelor's degrees such as Bachelor of Science (BSc) in Information Technology
Master degrees like Master of Business Administration (MBA)
The University of Phoenix offers online courses available 24 hours a day, seven days a week, and always active. One-on-one assistance is highly regarded and is accessible 20 hours a day, five days per week. You may also start your degree whenever you're ready; there are up to 18 chances each year.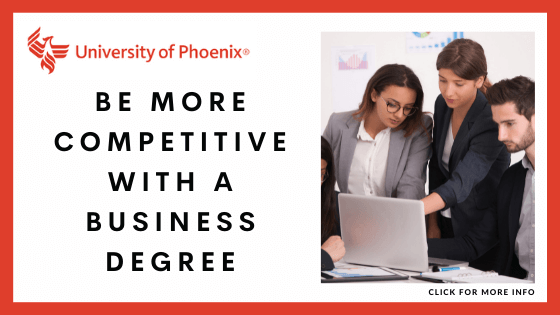 7. Purdue University Global Online Accounting Degrees
Flexible online programs allow you to work at your own pace, saving time and money while still receiving a degree from Purdue University. Their degrees cover the major career fields, including:
Accounting & Finance
Business Administration, and more!
The most up-to-date company developments drive the university's career-focused structure to ensure that you are competitive now and in the future. They examine each student, including:
Work experience
Transfer credits
Personal demands—to assist them in finishing their education as quickly as feasible while still providing a high level of quality.
All degrees are designed for success in today's business world, with online classes taught by real-world industry experts who bring knowledge right into the classroom.
Career specialists will help guide students step-by-step through their education to finish as quickly or slowly as they desire. With affordable tuition rates and monthly payment plans available, there is no reason not to earn your degree from Purdue University Global.
Purdue University Global has degrees for everyone, and to meet the needs of today's students, they offer degrees online and on-campus so you can learn in a way that fits into your lifestyle!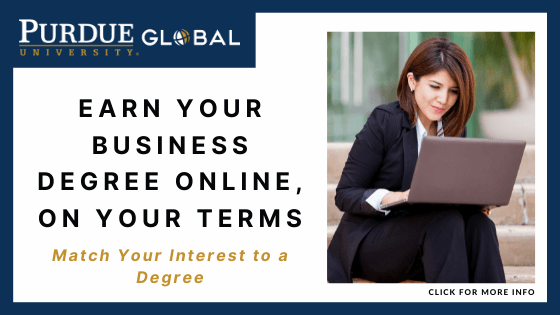 If you are interested in a career that may be one of the most lucrative and stable, consider taking an online degree or certificate program in accounting. These programs can teach skills such as:
Financial analysis
Tax law
Audit procedures, and
Business management to prepare you for a successful career.
The average cost of tuition for these degrees varies, but online degrees are a lower-cost option than many other graduate-level courses offered at traditional universities.