Last updated on August 29th, 2023.
In the online space, there are a lot of options for online degrees in Psychology. The best online degree programs in Psychology cover all areas from clinical psychology to forensic science and everything in between.
The Seven Best Online Degrees in Psychology are from:
Read on to discover more about the seven best online degrees in Psychology. We will discuss how online Psychology degrees work as well as their cost and time to complete. Additionally, we will discuss all seven degrees in detail and highlight what makes them stand out among the many online degrees available at institutions across the country.
Can You Become a Psychologist with An Online Degree?
One of the most popular online degrees in psychology is an online bachelor's degree. This option offers students the same benefits as on-campus programs, like access to professors, laboratories, and field experience through internships and hands-on work.
You can become a psychologist with an online degree. Online schools offer many advantages over traditional universities: they're typically less expensive, more convenient (you can study from anywhere), and allow students to work full time while in school.
The university admission process can be daunting, but don't let it scare you away! Online schools have plenty of resources to help their applicants get oriented and make their online experience successful.
How Much Is an Online Degree in Psychology?
Online degree programs in Psychology are online courses that allow for supervised clinical training under licensed professionals. The online program is designed to enable students who cannot attend classes on campus due to work schedule constraints and geographic location. Those whose personal preference is studying remotely at their own pace without interruption from classmates present will also benefit from online learning.
On average, online psychology degrees can cost from $25,000 to $40,000 for programs. The difference in tuition cost depends on the school and type of degree earned.
The cost of these degrees range because of the different types of degrees available and how long each may take. Industrial-organizational psychologists earned over $111,000 with a prospective job outlook of 12.3% between 2018 and 2024 according to the Bureau of Labor Statistics. As more industrial-organizational careers are created every year, professionals will need to be trained to take on these jobs as well.
Students seeking experiential opportunities should also explore bachelor's programs that offer internships and supervised field experience for an edge over their competition.
How Long Does It Take to Get a Psychology Degree Online?
The online degree offers some relief for students by allowing them to take shorter courses (requiring fewer long blocks of uninterrupted time), and more self-directed study than many programs offer while still providing quality education.
Earning an online Psychology degree can take about eighteen months or four to six years. To be licensed, these programs have the same training requirements as an on-campus program.
Many online psychology degrees can be obtained in less than the traditional four years most in-person universities offer because online learning is more fast-paced. Licensing requirements are still applicable to online degrees, but many online learners find that their prerequisite classes can be completed more quickly than if they were in person.
The 7 Best Online Degrees in Psychology
There are many institutions ideal for earning an online degree in Psychology. We will discuss the top seven options for obtaining this degree and what sets them apart from all others.
1. Online Psychology Degree from Wheaton College
This program is at an accredited academic institution that offers undergraduate courses and online graduate-level courses through their School of Professional Studies.  It covers all aspects of work within the field, such as counseling and guidance or rehabilitation services. Classes may be taken online with many different start dates throughout the year.
Wheaton College's online degree programs are online and available year-round. The BA in Psychology is a reasonable degree option to consider. It will involve the study of what makes people's minds and behaviors function the way they do. Having a degree in psychology can be excellent preparation for careers serving or investigating human behavior.
Online courses from Wheaton are done in real-time and allow you to interact with instructors through streaming video rather than taped lectures. This streamlines the learning process and helps avoid long periods of silence while instructors scroll through lecture slides.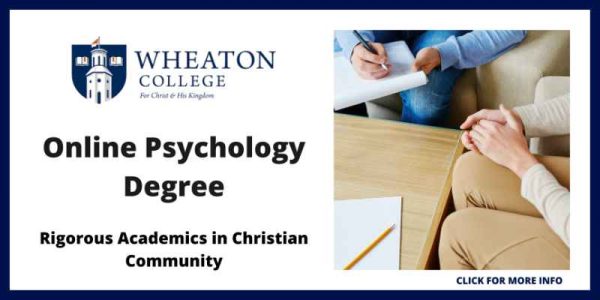 2. Online Psychology Degree from Liberty University
Offers both Bachelor's Degrees (in various concentrations) and Master's Degrees online. Liberty University has over 150 online degree programs taught entirely online, with some classes on campus too!
Liberty University offers an online Bachelor of Science in Psychology to give you a level of flexibility that traditional on-campus studies lack. Liberty courses are 100% online and take eight weeks to complete. By creating your own schedule, you can invest in your psychology education while keeping busy with work or family life.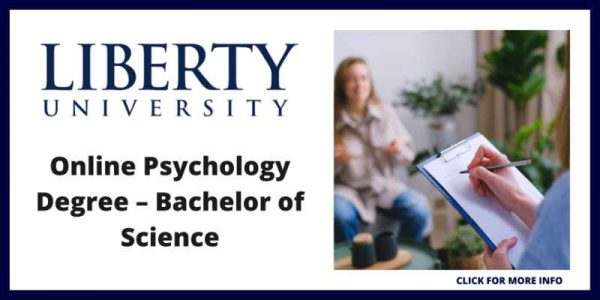 3. Online Psychology Degree from Western Governors University
Western Governors University is the only accredited nonprofit online institution to make this list and is a favorite among many professionals in the field. It offers affordable tuition rates at an all-online school with no residency requirements or exams needed for graduation.
There are two Master's degrees available (MBA and MSN), both of which can be completed entirely online within 18 months if studying full time.  WGU also offers Bachelor's Degrees completion options in Psychology. Students may complete their undergraduate degree through distance learning courses offered entirely online from home with very few in-person requirements.
A degree in psychology can prepare you for a future in many fields including counseling, and more. If you're considering a psychology-related job, then similar healthcare management, human resources, or business management fields may be right for you. WGU offers four online undergraduate degree options that can help prepare you for those careers.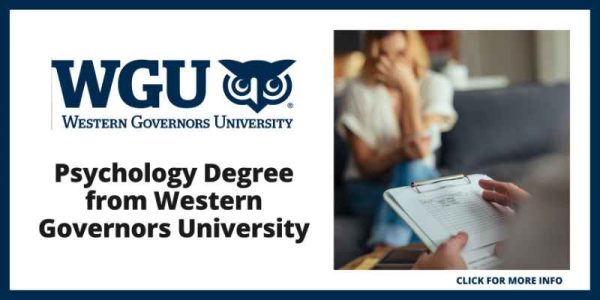 4. Online Psychology Degree From University of Nebraska Lincoln
The University of Nebraska Lincoln offers an online pre-professional undergraduate psychology degree, which can be completed entirely online over four years with a bachelor's completion option available after one year.
There is no shortage of opportunities to work closely with patients on their mental health needs. If you are interested in an online degree program that will prepare you for entry into this type of career, consider one from the University of Nebraska Lincoln.
They offer online bachelor's pre-professional programs in child development and human services management. As part of these courses, students will study online with experts in the field and practical experience working with professionals in those areas.
These degree programs will prepare students for careers as:
Professional counselors
Health care providers
Educators
Social workers
The University of Nebraska Lincoln offers online Bachelor's pre-professional programs along with Master's Degree options such as counseling psychology or school guidance & human services management.
If you want to advance your degree, consider their online Master's programs, which offer various options like psychology or school guidance.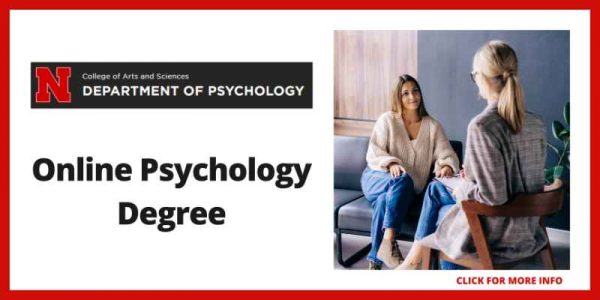 5. Online Psychology Degree from Walden University
Walden University's online BA/BS in psychology program provides an affordable route to earning your Bachelor's Degree and potential career opportunities such as internships at state health facilities. It is also possible to earn a Master of Arts degree while studying from home through this online degree.
Walden University offers:
Doctor of Education (EdD) in Organizational Leadership.
Educational Technology and Digital Learning (the online program is designed for educators working with online learners).
D. in Psychology – Experimental psychopathology (online, requires a master's degree or equivalent from an accredited institution to apply).
The online psychology degrees listed above provide students diverse options to learn about the human mind while at home. When enrolled as part of an online education institute such as university systems and colleges like Walden University, it may be possible to earn your Bachelor's Degree alongside pursuing career opportunities available locally without ever stepping foot on campus.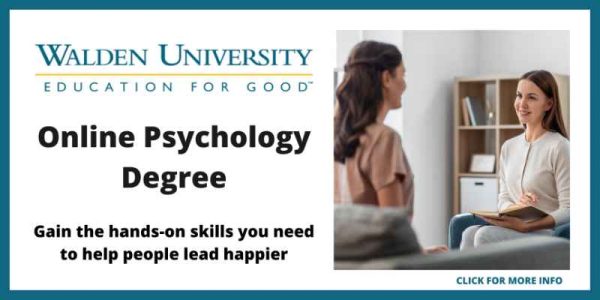 6. Online Psychology Degree from Southern New Hampshire University
Southern New Hampshire University online degree program has been developed explicitly for current working adults who wish to pursue their Bachelor's Degree in psychology or criminal justice online from the comfort of their own homes.
Southern New Hampshire offers online courses that will allow you to complete these programs in just 18 to 24 months.  With online degree programs from Southern New Hampshire, you can get the education that will help ignite your career and change lives.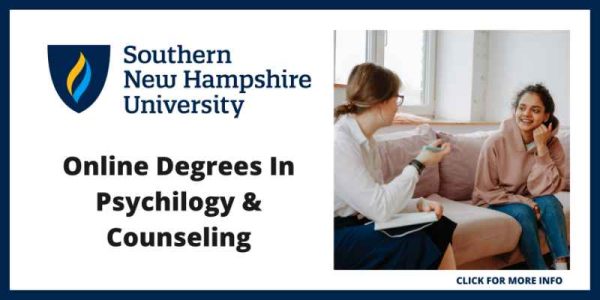 7. Online Psychology Degree from Arizona State University
Arizona State University's online degree program in psychology allows you to explore the human mind and behavior scientifically. With online courses that the American Psychological Association approves, this online psychology Bachelor's Degree will prepare you for graduate studies or careers in:
Clinical
Industrial/organizational
School psychology
Counseling and social work.
Pursuing Arizona State University's online degrees will provide you with practical skills and theoretical knowledge of how people think, feel, and behave throughout their lives. The online degree in Psychology at Arizona State University offers a broad-based curriculum that provides students with the necessary skills to succeed.
An online Associate's Degree is also available under this program, where your coursework can be completed in just two years while focusing on general principles. Credits from associates degrees received at ASU are easily transferable to various other universities.
There are no prerequisites for admission into this online college psychology program, so anyone with a high school diploma or a GED is welcome to apply.
There are online options for students who need an online psychology degree without the hassle of moving far from their current location. All online courses come with a high level of support if you require it while studying at home.
In addition to researching how people develop over time, this online Associate's Degree also prepares you for graduate school where you may pursue higher degrees, including Master's and Ph.D. programs in clinical or counseling psychology, upon completion of 100 credit hours towards your undergraduate studies.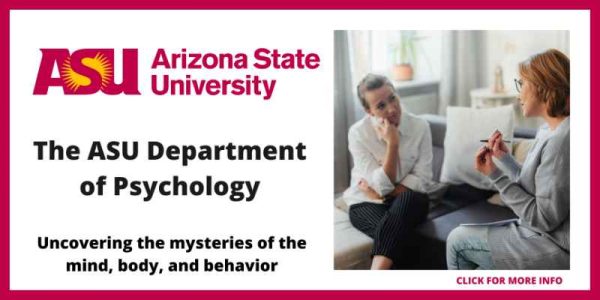 The best online degree programs in psychology cover all areas from clinical to forensic and everything in between. If you're looking for a place that can provide the most comprehensive education, or if you want to study your favorite area of focus, there are many options available.
There are several online degree programs in psychology, and it can be difficult to find the right one. You need to think about your preferred school and which online degrees they offer. You should consider what specialization you might want to pursue in psychology (such as clinical or counseling). This will help you pick the correct courses in your program and determine how much time you'll need to commit to coursework weekly.