Last updated on August 29th, 2023.
Rapid technological advancements have led to a demand for individuals trained in the computer sciences, resulting in a booming industry many students are eager to enter. However, as if choosing from the diverse array of computer science degrees isn't enough, adding the element of online schooling takes the challenge to a whole new level. Finding the best online degree in computer science that best suits your passions and lifestyle can seem like a daunting feat, which is why we're here to help.
In this article, we have compiled a list of the 7 best online degrees programs in the computer sciences, such as:
Each degree listed is chosen based on factors like tuition, total required credits, and available resources.
In addition to these programs, we've also answered some common questions about online computer science degrees, so you make an informed decision about your educational path. Read on for all you need to know about the seven best online degrees in computer science.
Can You Get Your Computer Science Degree Online?
Despite its growth, there are still a number of degrees you can't currently acquire through online programs. Luckily computer science isn't one of them.
Yes, you can acquire a computer science degree online, and countless students worldwide choose this option over in-person classes. In fact, computer science is consistently ranked as one of the most popular online degrees by Forbes, College Census, and other sources.
One reason why computer science is such a popular online degree is that it lends itself particularly well to online learning, considering the most essential piece of equipment is a computer and various downloadable programs. This differs from other degrees that require vast amounts of time in labs using less accessible equipment.
Students can also reap numerous online schooling advantages, such as attending lectures from home or work, progressing at their own pace, and saving money on tuition and commuting costs. There are also several computer science concentrations they can pursue online, including:
Artificial Intelligence and Machine Learning
Security
Data Science/Analytics
Software Development
Software Engineering
Software Systems
Computer Networking
Information Science
Game Design and Development
Algorithms, Combinatorics, and Optimization
Human-Computer Interaction
Computational Biology
Information Systems
Robotics
Cloud Computing
Computer Architecture and Engineering
Fortunately, you can find online programs for nearly all of these concentrations. Together they make up the field of computer science which has an exceptional growth rate projected at 31% for the next ten years. All of this translates to high demand for individuals skilled in computer sciences and a great deal of job security for those already employed.
How Long Does It Take to Get a Computer Science Degree Online?
A common misconception with online schooling is that it will take longer since students have a little more freedom with their pace and workload.
In reality, the determining factors of how long your computer science degree will take online are the degree level you're pursuing and the number of credits you take per semester. If you pursue a bachelor's degree as a full-time student, it will take you four years to complete, just like it would attending in-person. Pursing a higher-level degree or attending part-time will extend the process.
The time frame for completing an online computer science degree is very similar to that of traditional in-person classes in most cases. Each course is assigned a certain number of credits, and those credits are based on the number of hours per week students are expected to work on that class.
Most online computer science degrees at the Bachelor's level require 120-course credits at 15 credits per semester. Typically, an institution recognizes students as enrolled full-time if they take at least 12 credits per semester.
If you are enrolled as a part-time student, the length of time it will take you to complete your computer science degree online will depend on how many credits you take per semester before reaching your institution's degree goal (usually 120 credits).
Students pursuing an online Master's degree in computer science should expect to complete 30 to 36 credits in addition to their undergraduate degree. Therefore, this could take you 1-2 years if you have already finished your undergraduate degree or roughly five years if you have not.
An online doctorate would double your Master's degree expectations with a total of about 60 credits, which would take a full-time student roughly 3-7 years to complete depending on their prior education.
How Much Does Online Computer Science Degree Cost?
A significant perk of attending online programs is that, for the most part, they are significantly cheaper than the traditional in-person approach. Of course, some computer science degree programs can be quite pricy depending on where you go, but most of them are economically accessible, especially with financial aid.
An online degree in computer science can cost anywhere from $15,000 to $80,000 total, depending on the concentration, institution, and student status. Students attending institutions within their state of residency will often yield lower tuition costs than those attending out-of-state.
Degree type is another factor you'll have to consider with cost since most Master's and Doctorate degrees take longer than a Bachelor's and are of higher educational status, resulting in increased tuition costs.
Still, a hefty portion of a degree's overall cost lies with the institution itself. The same degree and concentration can be offered at several institutions, all for varying rates, so be sure to thoroughly research institutions and compare costs before selecting the one you plan to attend.
Who Has the Best Online Computer Science Degree?
Computer science degrees come in a wide range of levels and concentrations offered nationwide. Of course, when you want a degree in this field, you'll undoubtedly search for the best of the best. So, who has the best online computer science degree?
The Bachelor of Science degree in computer science at Southern New Hampshire University is consistently ranked as the best online program for this field. This is attributed to its exemplary degree-specific courses at affordable rates. With a 93% online enrollment, it's safe to say SNHU has online degrees down to a science.  
Students enrolled in SNHU's online program can pursue one of the four concentrations listed below:
Data Analysis
Information Security
Project Management for STEM
Software Engineering
Each concentration requires 120 credits to complete the Bachelor's degree at $320 per credit for a total of $38,400 upon degree completion. Students can expect to use industry-standard software development and testing tools with popular programming languages such as Python, Java, and C++.
These tools, including Eclipse, OpenGL, Cucumber with Maven, and Junit testing, align with industry standards and ensure students are fully prepared to enter the workforce and obtain that crucial first job after graduation.
To help you add on your system developing knowledge, explore the best online certification for web development.
The 7 Best Online Degrees in Computer Science
While Southern New Hampshire University is certainly a strong contender when considering online computer science degree programs, several other institutions also have plenty to offer students pursuing this field. Depending on your concentration of choice, some might be more appropriate for you than SNHU.
Therefore, to provide you with a wide range of legitimate options, here are seven more of the best online degrees programs in computer science. Since we already discussed SNHU, we will be excluding it from our rankings and listing its closest competitors based on factors such as concentrations on offer, cost, resources, and more.
1. Bachelor of Science in Information Technology: Purdue University Global
A close second to SNHU is the Bachelor of Science in Information Technology program offered at Purdue University Global.
Although slightly pricier than some competitors, Purdue University students have the luxury of choosing from six different concentrations, such as:
Game development
Information security and assurance
IT management
Network administration
Programming and software development
Supply chain management and logistics
This gives them more freedom to pursue different focuses as they please until they settle on the one that truly fits their interests. The Bachelor's program at Purdue is 180 credits at $371 per credit for a projected total of $66,780 for the entire program.
The program's unfailing devotion to teaching students the technical knowledge and communication, critical thinking, and creative skills necessary to thrive in the modern workplace renders a strong institution to consider.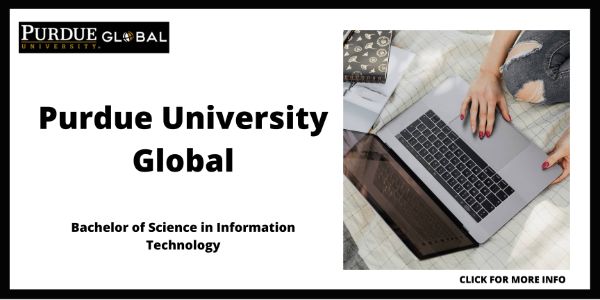 2. Bachelor of Science: Simmons University
Unfortunately for the male readers, you'll have to skip this next institution as Simmons University is exclusively for female students. However, if you identify as female, we strongly recommend putting Simmons university on your list for their online Bachelor of Science in a computer science program.
At Simmons University, students will learn to think critically, logically, and abstractly in order to solve any challenge that comes their way with both a scientific and innovative approach.
To do this, the institution requires graduates to complete courses such as:
Foundations of Information Technology
Introduction to Computer Science
Database Management Systems
Data Structures
Computing Systems
Structure and Organization of Programming Language
Algorithms
Software Engineering
Discrete Mathematics
Each degree requires the completion of 128 credits at $658 per credit for a total of $84,224 upon degree completion. This is certainly a steep rate considering the degree is online, but Simmons University boasts a prestigious reputation with exceptional resources thanks to its above-average funding.
As a result, many female-identifying students deem this institution well worth the investment to acquire their computer science degree.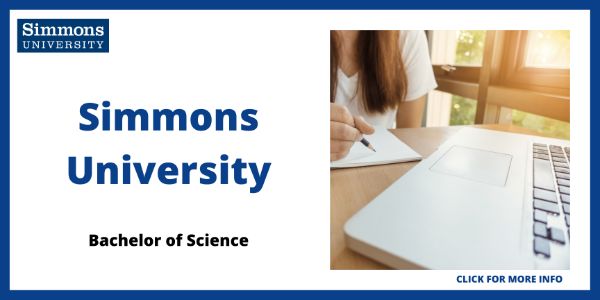 3. Bachelor of Science: Oregon State University
Oregon State University is considered one of the top research universities on the west coast, so if your computer science interests lie more on the research side of things, we strongly suggest you look into this institution.
A fantastic perk of Oregon State University's online program for a Bachelor of Science in computer science requires half the amount of credits most institutions demand upon degree completion. Here, students only need to complete 60-course credits in order to graduate with their degree, which significantly fast tracks their education and career pursuits. Some can finish their degree in as little as one school year versus the typical four or more it takes those at rival institutions.
At $331 (unless you enroll in their online four-year undergraduate computer science degree at $386/credit), the degree costs students a total of $19,860, rendering it one of the most time and cost-efficient institutions on this list by far.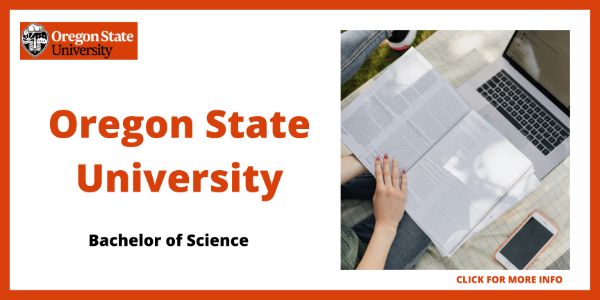 4. Bachelor of Science: University of Illinois at Springfield
Another institution with an exceptionally affordable online computer science degree program is the University of Illinois at Springfield.
The program itself requires students to complete 36-course credits at $362 per credit for a total of $13,032 upon degree completion. This puts UIS as a strong contender with Oregon State University if your ultimate priority is to obtain an education quickly and cheaply.
In addition to cost, another benefit of attending UIS is that they are leaders in online schooling as they were one of the first institutions to provide this educational option. UIS had hosted online courses since 1999, and therefore, had had an exceptional head start on perfecting this form of teaching well before competitors even touched it.
However, there is one obstacle to attending this institution versus others. Before you can apply for the computer science program, you have to fulfill a series of prerequisites, including:
A minimum undergraduate GPA of 2.0 on a 4.0 scale
Two semesters of Java Programming Experience
One semester of each of the following: Calculus, Discrete or Finite Math, and statistics
If you don't have these prerequisites, you can obtain them by attending a UIS program before pursuing a computer science degree.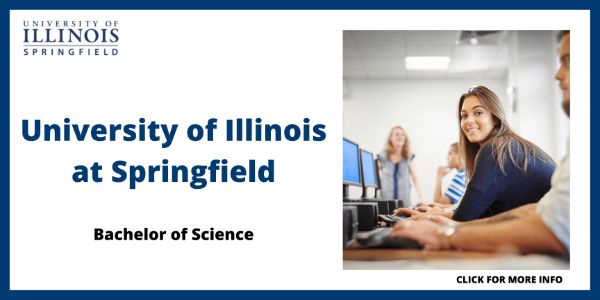 5. Bachelor of Science: Regis University
If you want a quick degree without sacrificing quality, Regis University is an institution you should have on your radar.
At Regis University, students can obtain their computer science Bachelor's degree online through an accelerated program. Classes are held in eight-week formats, and you even have the option of enrolling in their FastForward program, where you would obtain your Bachelor's and Master's degree simultaneously.
While attending Regis University, computer science students can expect to:
develop a broad set of skills and knowledge (ex. programming, data structures, algorithms, database applications, systems security)
graduate with a firm grasp on the foundations of computer science
receive their BS in Computer Science which is one of only two programs in the country both accredited by ABET and can be earned completely online
The program requires the completion of 120 credits at $555 per credit hour for a total of $66,600 upon degree completion. This puts Regis University as one of the priciest institutions on our list, but the quality of education is worth every credit.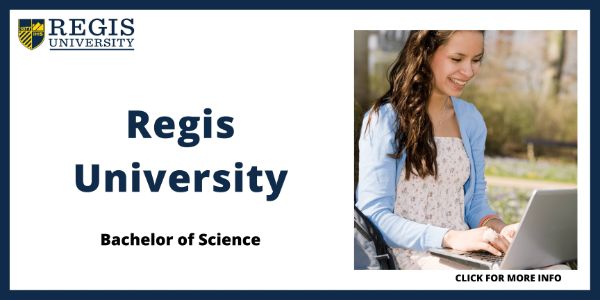 6. Bachelor of Science: Davenport University
Despite being a relatively small institution, Davenport has quite a reputation in the world of online computer science degree programs.
Students have the option of pursuing one of three specialties, which include:
Computer theory and algorithms
Gaming and simulation (not offered online due to the need for special hands-on equipment)
This covers a wide range of industries currently growing at substantial rates within this field. To prepare students for the careers they will inevitably pursue, Davenport University offers an array of courses based on highly relevant topics such as database design, intro to programming, and data communications and networks.
Students must complete the standard 120-course credits at $836 per credit hour for Michigan residents and $565 per credit for non-residents who receive $271 per credit through the Davenport Tuition Grant. Therefore, the degree total upon completion is $100,320 for Michigan residents and $67,800 for non-residents.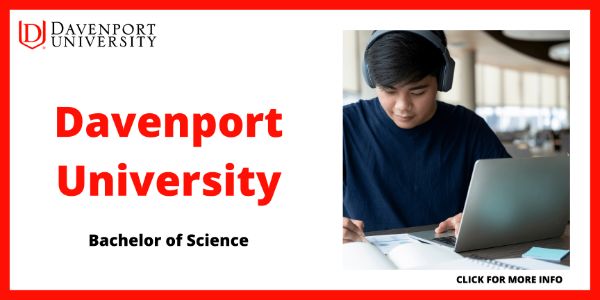 7. Bachelor of Science: University of Florida
Closing our list is none other than the University of Florida, whose computer science program has been accredited by sources such as OnlineU.
This institution is another exceptional option if you're looking for an online computer science program that will offer quality but affordable education you can pursue in your own time.
UF's online tuition costs $129.18 per credit. Students are expected to complete a minimum of 29 credits in foundation coursework, 35 credits in core coursework, and nine credits of major electives for a minimum of 73 electives, meaning the total per program upon completion is about 9,430.14.
This renders UF the cheapest online program for a Bachelor's in computer science on our list, and yet, students here learn the same essential programs and fulfill requirements set by institutions with twice or even three times their tuition cost. If you're looking for a way to obtain a quality education at a budget-friendly cost resulting in minimal student loan debt, UF is the choice for you.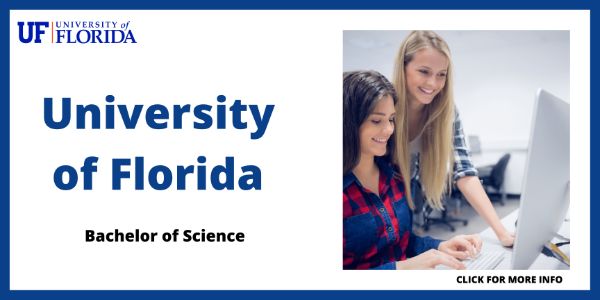 There you have it! The seven (or ultimately eight) best online degree programs for computer science.  If you're wanting to just dip your ties in you can also pursue a Certification in Computer Science.  Ultimately, the things you value and prioritize most in your education are what will truly determine which institution listed above is right for you. Some students value an affordable or accelerated education over prestige or resources, and different programs will provide these to varying degrees.
Alternatively, if you know the programs listed here don't specialize in the concentration you want to pursue, you're better off applying to those that do so you can pursue your interests. The more you stay true to your passions, the easier it will be to navigate and excel in this growing field beyond a college education.