Last updated on November 24th, 2023.
Founder and Director of the School of Positive Transformation, Dr. Itai Ivtzan, believes that if people welcome spirituality and psychology into their lives, they will "become superheroes, and gain super-strengths of awareness, courage, resilience and compassion."
And his passion for this transformation and personal growth sparked his idea to establish the School of Positive Transformation, which uses 100% online education, teaching, training and support to create positive change in peoples' lives.
The School of Positive Transformation invites people and organizations to unlock their highest potential by harnessing mindfulness, resilience and strength. It inspires those eager to learn with its practical tools, trainings and courses that are both simple and effective.
And the school's teaching is backed by contemporary scientific research. In fact, their website claims, "Everything we provide is research-based."
Read on as we review the School of Positive Transformation and discuss the powerful and valuable training you receive from its classes, trainings and career-based paths.
Not only is the education research-based, but the school is also accredited through the Continuing Professional Development (CPD) Certification Service, so students looking to advance their careers can be assured that their superior education that they take away from the school will be recognized and respected worldwide.
The School of Positive Transformation offers a wide variety of enriching and life-changing online classes. For those who are looking for a career change, there are valuable certifications programs. And for those students looking for personal growth, there are transformative programs for them, too. Whether you're going for the career track or personal growth classes, you'll change your life and grow your strength and resiliency. And you'll be able to take that strength and resiliency and use them in all aspects of your life, from work to school to relationships.
Let's first review the School of Positive Transformation's career path programs. These courses will not only transform your life. They'll also give you all of the tools you need to transform the lives of others. They'll allow you to impact others in ways you've never dreamed about.
Online Positive Psychology Practitioner Certificate
You'll change lives when you become a Positive Psychology Practitioner. In this program, you'll learn about positive relationships, positive emotions, love, positive mindfulness, positive organizations, the science of happiness, positive education, positive coaching, meaning and purpose, the power of strengths, everyday heroes, positive health, and altruism. Plus, you'll be taught by some of the most influential positive psychology leaders, who will use cutting-edge, research-based lessons to welcome you into this exciting and emerging field.
The course will offer valuable tools to:
Coaches
Educators
Nurses
Therapists
Yoga Teachers
Mindfulness Teachers
Clinical Psychologists
HR Professionals
Social Workers
And anyone who works with people
The course is made up of 12 modules with additional 2 bonus modules on the PPPC and you can start and finish on your own time. You could complete the course in 12 weeks or spread it out over many months, based on your schedule.
Each module includes:
Three recorded lectures
18 Positive Psychology Activities/Exercises
Readings
Reflection activities
Discussion forum
One happy graduate of the program said, "Run, don't walk, to sign up for the PPPC course! This program is a fantastic way to immerse yourself in the power of positive psychology without feeling overwhelmed."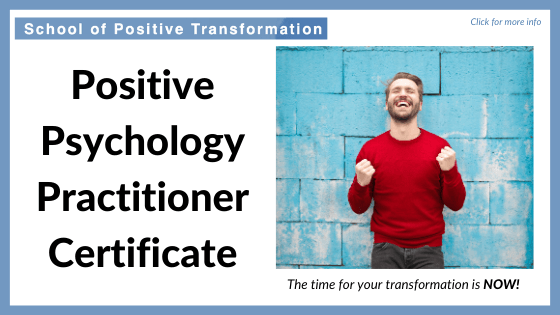 Meditation & Mindfulness Teacher Training
If you dream of imbuing others with a sense of peace and calmness by becoming a meditation teacher, the School of Positive Transformation's online Meditation & Mindfulness Teacher Training certificate is just the thing for you. This training is great for yoga and Pilates teachers, counselors, life coaches, alternative therapists, and health professionals who want to add this ancient art to their services and teachings. And even if you aren't planning to teach meditation, this course is perfect to expand your knowledge and will allow you to enjoy the benefits of meditation to improve your life.
The class includes:
30 training modules
40+ videos
30+ evidence-based scrips
30+ exercises and activities
Reading materials
Downloadable audio meditations
Handouts and worksheets
Over 250 meditation scripts
Its own Facebook group
And not only will you be accredited by the CPD, but you'll received further accreditation through the International Mindfulness and Meditation Alliance, to further show future employers that you have a deep knowledge of meditation. Your accreditations will be recognized throughout the world and will give you the edge that teachers without these valuable accreditations may not have. The accreditations may also allow you to get insurance for your meditation teaching business.
For participants in the class who may be working full time or have other obligations, you'll be able to finish this online course on your own time, when the time is right for you.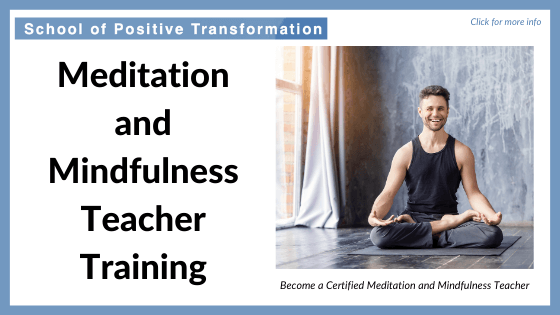 Accredited Certificate in Integrative Coaching
Another fantastic course, for those who want to help others transform their behavior, their mindset and even their own life, the school offers an online Accredited Certificate in Integrative Coaching course.
This class will teach you a variety of different coaching styles so  that you will be able to employ more than one method to work with your clients. Plus, at the end of the course, you'll be awarded with an Accredited Certificate in Integrative Coaching, respected throughout the world. And to go along with that certification, you'll also get your Accredited Award and Coach Training certificate as well as a Continuing Professional Development certificate
The class is perfect for people new to coaching, as well as sports coaches, teachers, business consultants, HR professionals, social workers, fitness and wellness instructors, personal trainers, group facilitators and anyone who wants to guide others in learning, growing and developing.
This fully online course consists of 15 modules that you can finish in as little as 15 weeks, or you can take as long as you need.
The modules you'll be studying are:
Introduction to Coaching
Psychological Foundations
The Coaching Relationship
Preparing to Coach
Toward an Integrated Approach to Coaching
Listening
Communication
Goals
Structure and Process
Relational Coaching
Coaching for Performance
Positive Psychology Coaching
Cognitive Behavioral Coaching
Kickstart Your Coaching Practice
And each module includes:
Three recorded lectures
Practical exercises and activities
Readings
Reflection activities
Discussion forum
With the class, you'll also receive a boost to help you transition from trainee to professional coach with free access to the Association for Coaching's Student Hub. This will let you jump-start your career and get ahead of the competition.
You'll go out into the world knowing you have a skillset and tools needed to create change in your client's lives. And that change could spread throughout the world!
Personal transformation courses
If you think we're done with our review of the School of Positive Transformation, you'll be pleasantly surprised. The school also an amazing array of classes to transform your own life. To begin to live life to the fullest, with more strength and mindfulness that you could have ever imagined.
Positive Mindfulness Program (Mindfulness-Based Flourishing)
If you feel like you lack positivity and mindfulness in your life, we've got just the class for you: the 8-session Positive Mindfulness Program. This valuable program will allow your mindfulness to flourish, bringing happiness and positivity into your existence. You feel more gratitude and will find that your depression, anxiety and stress have lessened, once you've completed the program.
The curriculum includes:
Mindfulness and Self-Awareness
Mindfulness and Positive Emotions
Mindfulness and Self-Compassion
Mindfulness and Strengths
Mindfulness and Autonomy
Mindfulness and Meaning
Mindfulness and Positive Relationships
Mindfulness and Savoring
Guided Meditation Scripts
Whether or not you've graduated from the Meditation and Mindfulness Teacher Training, you'll gain peace, mindfulness and calmness when you purchase the School of Positive Transformation's library of 250 guided meditation scripts.
Topics include:
Metal well-being
Physical Well-being
Personal Growth
Spirituality
Affirmations
And you'll be able to monetize these meditations and use them in your own work, such as coaching, online meditations, YouTube videos, etc.
As you can tell from our review of the School of Positive Transformation, you shouldn't pass up the opportunity to transform your life as well as the lives of your clients, your family and everyone around you.
The School of Positive Transformation offers a whole host of exciting and worthwhile career path courses, all completely online. And these courses carry certification that will boost your reputation worldwide.
But not only can you take career path courses. The school's personal transformation courses will give you insight into your life and allow you to recognize the strength and resiliency you didn't even know you had.
We hope our School of Positive Transformation review will light a spark in you to take the plunge and transform yourself and your career.