Last updated on November 23rd, 2023.
Getting certified as a personal trainer can be the beginning of the best career choice you can have if you are passionate about health, wellness, and fitness. In addition to that, schedules are usually flexible, and you are constantly learning throughout your career. It is not a surprise that getting certified as a personal trainer is popular for many.
Although the certification process is not difficult, it does require commitment and hard work. One must put their efforts into getting certified. Having a certification from an accredited organization will make you stand out from the rest and gain more clientele. Keep reading to find out everything you need to know about becoming a certified personal trainer.
How Difficult Is It to Get Certified as a Personal Trainer?
If becoming a personal trainer is easy and does not require hard work, then people would question all the health and fitness advice those 'personal trainers' give. There are no credible personal training certifiers out there that would certify you in personal training without your commitment and discipline.
The process of becoming a personal trainer is very straightforward. However, it does require serious work and commitment in order for you to study effectively and pass the exam.
The time it takes to prepare, study, and learn all the necessary things to get certified is abundant, though it is not as strenuous as the physical comprehension of this career path. Those who pursue to be certified must spend a significant amount of time in the gym. 
There are a variety of exercises, with forms and postures that personal trainers need to have perfected.  There's also at a minimum a set of personal trainer gear and equipment needed to begin the work.  It's not a lot to get started and you can always build as you learn more forms and techniques to train your clients.  
Check out these awesome personal training certifications online!
Why Do I Need a Certification to Do Personal Training?
Although certifications are not required by law, anyone seeking training and advice from a personal trainer would at least seek one that is certified by a reputable organization. Studying combined with your experience in the gym will make you a highly-skilled and sought-after personal trainer.
Certifications will not only further legitimize your training and education as a personal trainer, but also will help in attracting new clients as well as getting a personal trainer job.
However, you would be surprised by the number of individuals you will come across who claim to be "personal trainers" but are not certified as one. Some self-proclaimed personal trainers' circumstances include:
The individual spends a significant amount of time in the gym; however, is not necessarily an expert
Self-taught from YouTube, books, and magazines, but never pursued certification
Another reason that certifications would help for personal trainers is their valuable knowledge and training that they have accumulated over time. A certified personal trainer will know how to train clients properly, and most importantly, will know how to prevent and even recover any injuries as well as keep their clients safe. 
The 7 Steps to Getting Certified as a Personal Trainer
Generally, there are seven steps that you need to follow in order to become a certified personal trainer. By following the steps listed below, you should be getting your personal trainer's certification in no time. Now, let's dive deeper into what each of these steps entails.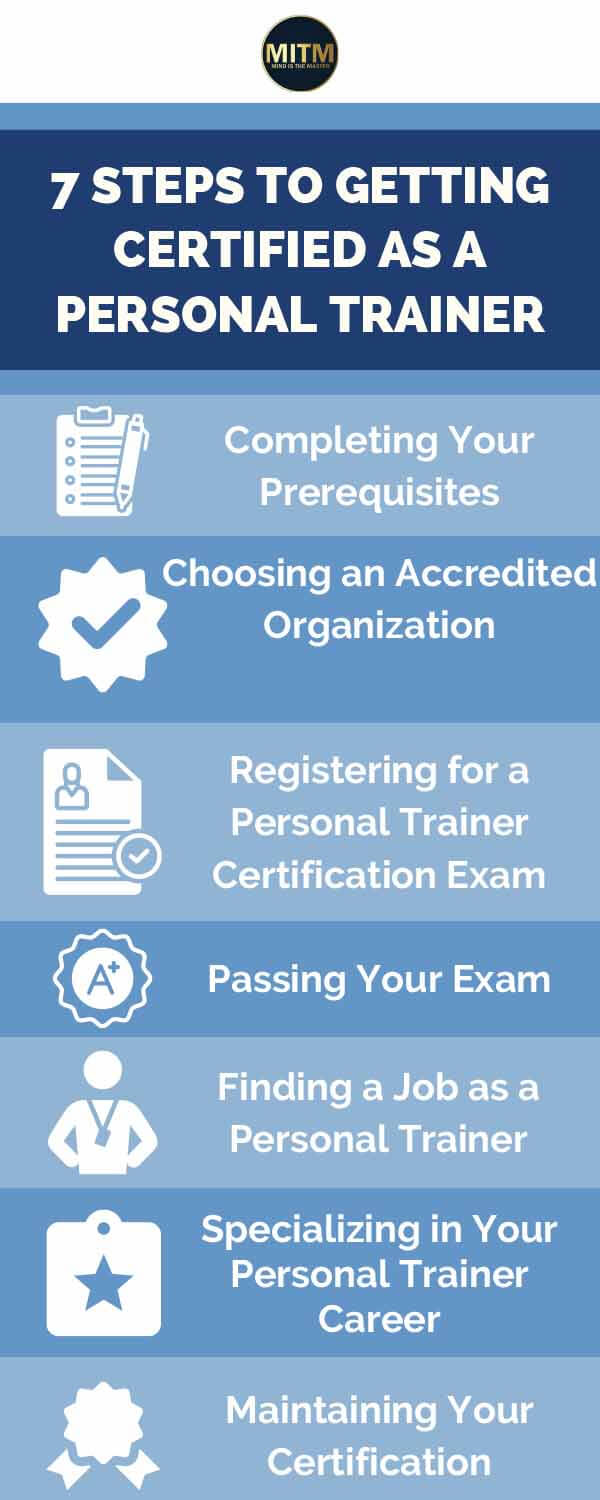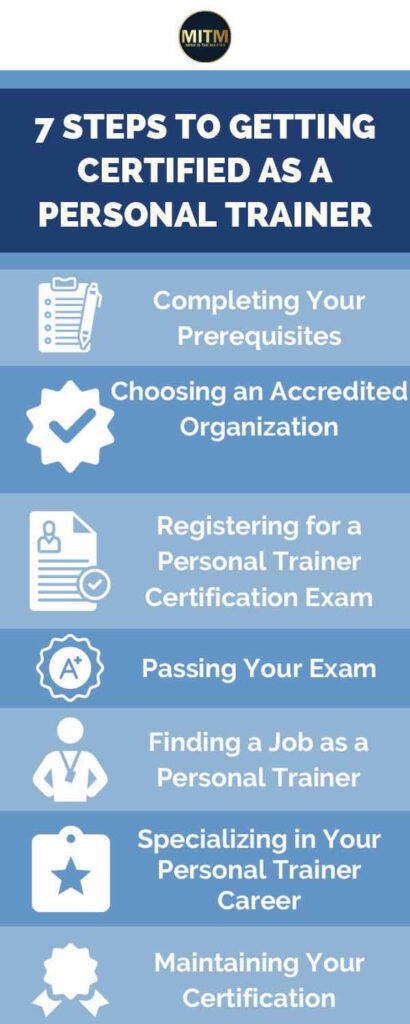 1. Completing Your Prerequisites
Before you can even begin your courses for personal training, you must first check if you have met the three basic requirements:
Are at least the age of 18
Have at least a high school diploma or GED
Are certified in Emergency Cardiac Care, such as Cardiopulmonary Resuscitation (CPR) or in using an Automated External Defibrillator (AED)
For the certification of CPR or AED, many organizations that certify personal trainers can package those together when you decide to pick up their certification course. In addition to picking up the package, many would go to the American Red Cross for the certification.
2. Choosing an Accredited Organization
Once you meet all the basic requirements and qualify to get a personal trainer's certificate, next is picking an accredited organization or institute that can teach you the right materials.
It is crucial to choose an accredited and reputable program because they essentially mean that the accredited organization has been credentialed by top entities, which may include the National Commission for Certifying Agencies (NCCA) and the National Board of Fitness Examiners.
Some examples of certifying organizations with accredited programs according to Personal Trainer EDU include:
American Council on Exercise (ACE)
The National Council for Certified Personal Trainers (NCCPT)
National Exercise & Sports Trainers Association (NESTA)
International Sports Science Association (ISSA)
National Council on Strength & Fitness (NCSF)
National Strength & Conditioning Association (NCSA)
National Federation of Professional Trainers (NFPT)
Aerobics and Fitness Association of America (AFAA)
Despite the several other existing personal trainer program credentialing bodies, the NCCA is considered the best one. Having a certificate from an accredited program does not only mean that you received top-quality training; it also gives you a better chance of getting a personal training job.
(Here are some of the most respected personal training certification around!)
3. Registering for a Personal Trainer Certification Exam
Registering for a personal trainer certification exam is most likely the easier step out of the seven. In this step, you will only need to go online and register your information for a certification exam of your chosen accredited certifying organization.
Upon the completion of registration, you now have two ways to take the exam. The more traditional way is administered in-person at one of the organization's proctoring locations. However, many accredited certifying organizations have begun giving you the option to take your exam online upon registration through a live remote proctor.
The chances you have to pass your exam will highly depend on how you study and how motivated you are to get your certification in personal training.
Some people prefer taking their lessons in-person as they can see specific demonstrations and seep in information better when directly listening to the instructors. In contrast, others prefer the online or self-studying method because they focus more on studying or attending courses alone than in a physical class.
One must be able to meet the requirements in order to pass a final exam and ultimately get certified. Here is a list of studies you are required to have knowledge of in order to pass your exam:
Exercise Science: The study of the movements of the body that contributes to fitness, longevity, health, and holistic wellness.
Nutrition: The knowledge to learn what it means to be eating a healthy and balanced diet, which contributes to the training and exercises of personal trainers.
Physiology: The study of the human body's function in the level of cells, tissues, organ systems, and the body as a whole.
Anatomy: The study of the structure and complex nature of the human body parts and the relationship of those different parts with one another.
Communication: Learning how to establish and maintain a connection between a personal trainer with new and existing clients.
Marketing: Learning the different ways to market your personal training services in order to attract new clients both digitally and non-digitally
Additionally, make sure you have a genuine interest in living a healthy life as well as advocating for people who are seeking a healthy life. You will most likely fail if you do not have an interest in the field. The curiosity within health and physical performance will be the primary driver that is going to push you on your studies, and eventually, pass the test.
Now that you know the best way you can pass your exam and what materials you should have covered, let's move on to the next step.
5. Finding a Job as a Personal Trainer
One of the things you can do is scout a location or gym of your choice. You can begin this immediately, even prior to receiving your certification. Pick which gym suits you.
Below are a few examples of gyms that you can work in:
24/7 Gyms: 24 Hour Fitness, Anytime Fitness
Martial arts gyms in need of strength & condition programs (e.g., MMA gyms)
Gyms in hotels
Specialized gyms: Cross fit, holistic, Olympic lifting
Once you know what type of gym you are interested in working in, spend some time to see how the trainers there operate. Pick up their positives and see what aspects they need to improve. Once you approach a manager for an interview session, not only have they seen you as a familiar face, but now you exactly know what to say.
Another way is to freelance as a personal trainer. Being a personal trainer would sometimes allow you to have more of a flexible schedule compared to others. You can begin your freelancing career by initially offering free sessions in the gym you work out. Once the ball gets rolling, you'll have a set of clients in no time.
Additionally, you can even work alongside the gym you go to. Let's say your local gym manager does not have enough trainers or that they don't have anyone specialized enough. Offer him your contact information if that is the case. This way, the client pays for the membership in the gym while also paying for your training services, double win.
6. Specializing in Your Personal Trainer Career
Being a personal trainer means that you are on a path of constant evolution and learning. In your career, you will start to pick which style of training and practice suits you. Below are examples of specializations as a personal trainer:
Strength & Conditioning
Group Exercise
Crossfit Coach
Military-specific
Olympic Lifting
Calisthenic
Weight Loss
Senior-clients specific
Once you have put time into your career, you will begin to advocate the specific and specialized style you believe in as well as offering them to your clients.
7. Maintaining Your Certification
It is important that once you have received your personal trainer's certification and a job as a personal trainer, you must maintain the standards as one as well as a certification renewal every two years. These requirements are set by the accredited entities, such as the NCCA, ACE, as well as others in the industry.
In terms of maintaining your personal trainer's certification, you are required to earn a total of 20 hours of continuing education credits (also known as 2.0 CECs) every two years. By practicing and enforcing the credit requirements, it helps the accredited organizations to monitor and validate the legitimacy of the personal trainer.
As a professional personal trainer, you must strive to enhance, learn, and develop your practice. This is for the benefit of your clients in order to change their lives safely and effectively.
Follow the aforementioned steps, and you will become a certified personal trainer in no time. The guide cannot stress enough that discipline and hard work is required as going through the certification process involves a lot of studying and experimenting. A master trainer certification can help you to take your knowledge and training to the next level. Additionally, the career as a personal trainer itself requires immense commitment as you will be changing the lives of many.
(Want to study exercise physiology online? Now you can! Check out that link to find out more!)