Last updated on December 2nd, 2023.
You've finished your 200-hour yoga teacher training and may wonder what's next. There's no better time than now to continue your education with (CEU) Yoga Alliance to advance your yoga teaching career. Elevate your yoga teaching practice with a 300-hour teacher training. Designed for those seeking to deepen their knowledge and refine their skills, these top 300-hour programs explore advanced techniques, philosophy, and teaching methodologies, empowering instructors to guide their students on a more profound yogic journey.
The seven best 300-hour yoga teacher trainings online are:
The next step in a yoga teacher's career after completing the 200-hour teacher training is the 300-hour yoga teacher training, certified by the Yoga Alliance. Once you have completed a 300-hour training, you'll be a 500-RYT, meaning you will have studied yoga for at least 500 hours. The 300-hour courses are unique as they will allow you to concentrate on the aspect of yoga that you'd like to focus your teaching on.
The 7 Best 300-hour yoga teacher trainings online
There are plenty of paths that you can take when teaching yoga. And it is okay if you still determine precisely which path you want to take. That's actually what's so great about the 300-hour training. You'll be studying various topics about yoga, and there's sure to be something that catches your eye.
If your goal is to discover the yoga teaching niche that is right for you or if you are looking to expand your yoga teaching knowledge, then you need to find the right 300-hour online yoga teacher training course for you. There's no need to jump at the first course you see. There are many courses out there, each with a different focus.
An abundance of yoga teacher training options
And with more and more yoga teacher training courses moving from in-person to online platforms, it's becoming much more accessible for people with full-time teaching jobs to continue their yoga teacher education. With many online yoga teacher training classes, you can work at your own pace and have a longer time to complete the course.
How do the 200-hour and 300-hour compare?
The 200-hour yoga teacher training program serves as the foundational level of education for aspiring yoga instructors. The 300-hour yoga teacher training is an advanced-level program that builds upon the foundation established in the 200-hour training. It provides a more in-depth exploration of various aspects of yoga, including advanced asanas, sequencing, benefits of pranayama, meditation techniques, yoga philosophy, subtle body anatomy, and therapeutic applications of yoga. The 300-hour training aims to develop teaching skills further and is suitable for individuals seeking to expand their expertise and teach more advanced and specialized yoga classes.
So which are the best 300-hour yoga teacher trainings?
To help you on your way to learning advanced yoga techniques and concepts, we have scoured the internet for the best 300-hour yoga teacher training classes. We've looked at online classes and in-person classes and read every review. These top classes focus on a wide range of yoga niches. We looked at one that focuses on ancient yoga philosophies such as chakras and one that gives its students a vital education in starting and maintaining their yoga business.
We hope the information below is helpful and that it will help you reach your dreams of expanding your yoga practice. 
1. Brett Larkin Yoga Uplifted
Brett Larkin's 300-hour yoga teacher training will give yoga teachers an even stronger background in yoga than they received from their 200-hour training. And the 300-hour teacher training is mixed with the tools needed to become a successful entrepreneur in the wellness industry.
After completing the course, you can register with Yoga Alliance to become a certified 500-hour yoga teacher. You'll come away from the program with a variety of skill sets, including:
Knowledge to choose a business model for your yoga business
Entrepreneurial skills and mindset to charge your clients more, allowing you to make a great living
Already-made lesson plans and class organization so that you can begin teaching online and in person as soon as possible
And, lastly, you'll gain the know-how to meet your lifestyle and revenue goals and will be well on your way to becoming a successful yoga teacher.
At Brett Larkin Yoga's 300-hour yoga teacher training, the class is broken up into modules:
Subtle body systems that will discuss chakras, tantric philosophy, meditation, chanting, and the anatomy of the brain, limbic system, digestive system, and internal organs.
Money, mindset, mantra that will teach confidence, the ability to charge what you're worth, the creation of income goals with action steps, the transformation of your vision into value, and the ability to teach your know-how online.
Body & branding, where you'll learn anatomy, myofascial release techniques, brand building, biomechanics, safe yoga sequences, injury management, and how to find your niche.
Done-for-you content: which gives you templates for yoga, meditation and self-message classes. You'll also receive outlines for Sacred Circles for the Full Moon, New Moon, Abundance, and Chakra. Lastly, you'll receive a template for a yoga and affirmation writing workshop. Use these skills to build your own digital and in-person classes.
Brett Larkin Yoga's classes include online videos, concrete action steps, teaching demonstrations, exercises, and a training manual. FYI, the website doesn't include a price for the class; you'll have to email them for further information.
Reviews (as of September 27, 2023)

"I loved the Uplifted program. While some might not feel an online training is ideal, I feel this training was exceptional. There was a wealth of information and resources and the fact we have lifetime access to all the videos is HUGE. …I loved the teachers and community and would highly recommend it to anyone else!

"

-Steph Jurgens (Yoga Alliance review)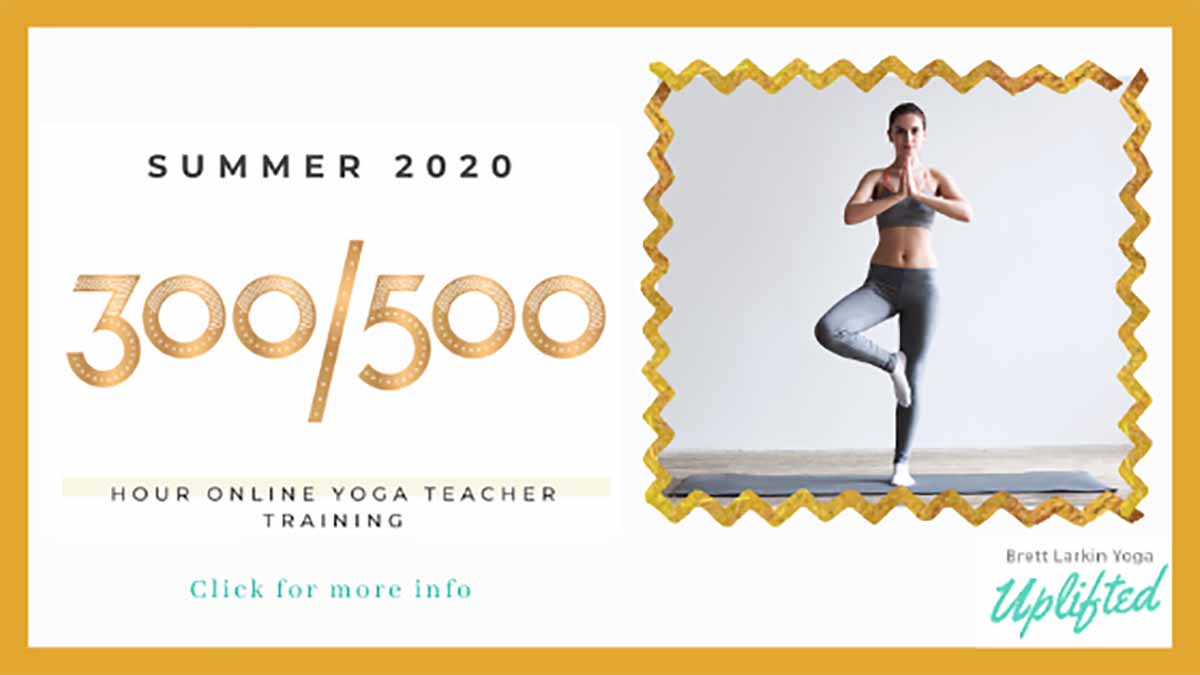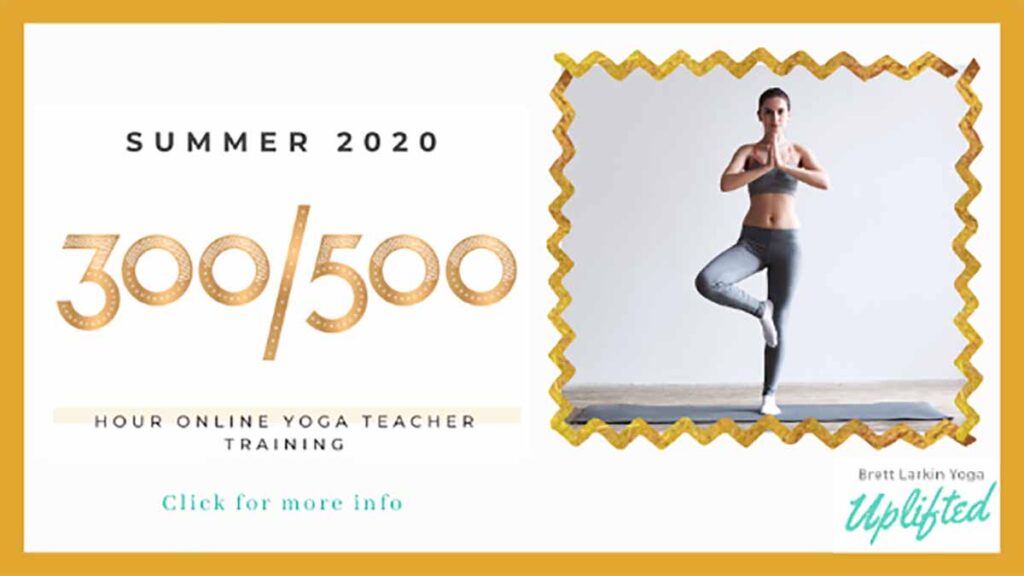 2. YogaRenew: 300-Hour Yoga Teacher Training
YogaRenew, a Registered Yoga School (RYS®) with Yoga Alliance, offers a comprehensive 300-hour online yoga teacher training course that allows RYT-200 students to advance to RYT-500 status upon completion. This course goes beyond the physical asanas, allowing you to expand your yoga knowledge on and off the mat, enabling you to offer more to your students.
The 300-hour yoga teacher training covers a wide range of topics and advanced study areas, including:
Advanced asana study.

Master teaching advanced yoga poses, incorporating modifications and injury considerations for each pose.

Yoga history and ancient texts.

Delve into the history of yoga's journey west and explore ancient texts like the Bhagavad Gita to understand their relevance in modern life.

Understanding different styles.

Learn about the stylistic and structural differences between various genres of yoga, including Hatha, Vinyasa, Yin, Hot, and Kundalini.

Working with injuries and tension.

Develop the skills to modify poses and provide safer guidance to students working through injuries or experiencing tension and compression.
Throughout the course, you'll have access to a supportive online community of graduates and students, weekly live Zoom calls, and mentorship from experienced yoga teachers. You'll also receive learning materials, such as the 8 Limbs of Yoga Workbook, which helps you reflect on each of the eight limbs of yoga as presented in Patanjali's Yoga Sutras. Additionally, there is a Seva Teaching Assignment, allowing you to bring yoga to communities that may not have regular access to it, and a Yoga Sutras Assignment, where you summarize select sutras from Patanjali's "Yoga Sutras" in your own words.
Why we like it
By completing the YogaRenew 300-hour training, you will advance your yoga teaching skills and gain a deeper understanding of yoga philosophy, ethics, meditation, pranayama, and alignment. This program offers a comprehensive learning experience that can elevate your teaching, inspire creativity, and uplift your students in new and profound ways.
Reviews (as of September 27, 2023)

Pro: "I really do recommend this school for yoga teacher training. I did my 200hr with them and now progressed to my 300hr with the same school, and have enrolled in some continued education courses they offer. The course is detailed, easy to follow, comprehensive you lean so much! The support if you make contact with them is great and they respond quickly. I highly recommend them." -Just Me (Google review)

Con: "Overall, the quality and content of this yoga teacher training program met, and in regard to certain aspects, exceeded my expectations. I also thinks it's commendable that the founders are so invested in keeping their courses and certifications so affordable. I do wish it had been a bit easier to contact (plus receive a response from) staff the few times I had questions and/or needed further assistance. But that's really my only minor criticism." -Rachel Werner (Yoga Alliance review)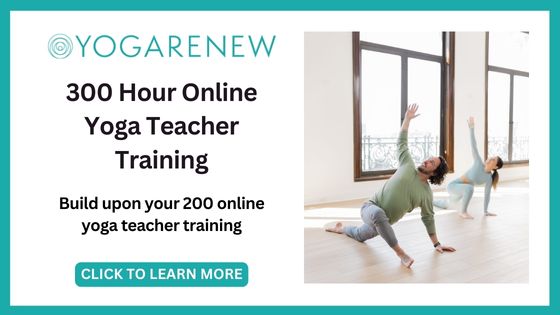 3. Akasha Yoga Academy: 300-Hour Advanced Yoga & Meditation Teacher Training
Welcome to the 300-Hour Advanced Yoga & Meditation Teacher Training from Akasha Yoga Academy. A comprehensive program designed to deepen your understanding and practice of yoga and meditation. Delve into the ancient wisdom of Hatha Yoga, Pranayama, Yin Yoga, Mindfulness, and Meditation as you explore body, mind, and soul. 
This exceptional training, fully certified by Yoga Alliance, empowers aspiring teachers and seasoned practitioners alike to reach new heights in their personal practice and teaching abilities. Prepare to immerse yourself in the rich tapestry of yogic traditions and unlock your inner wisdom.
Learn Advanced Yoga & Meditation in 3 Parts:
Part 1: 100-Hour Advanced Yoga & Meditation Teacher Training

. Participants will embark on a transformative journey into the profound world of Hatha Yoga and Pranayama. This module deeply takes practitioners into the physical postures (asanas) and breath control (Pranayama) techniques. Through expert guidance, students will explore the nuances of each asana, understanding proper alignment, adjustments, and variations to enhance their practice and potential as teachers.

Part 2: 100-Hour Yin Yoga & Self-Inquiry.

The training dives into a serene and meditative practice, perfectly complementing the dynamic aspects of Hatha Yoga explored in Part 1. By immersing themselves in these passive postures, students learn to surrender and open themselves to a deeper level of introspection and self-inquiry.

Part 3: 100-Hour Spiritual Heart Meditation. The final module takes participants on an inward journey to explore the depths of Spiritual Heart Meditation. Centered around the heart chakra (Anahata) concept, this module focuses on connecting with the seat of love, compassion, and spiritual wisdom within. Through dedicated meditation practices, participants will learn to tap into their inner sanctuary of peace and harmony and how to hold space for others & lead meditation groups.
Other things we like:
Engaging live sessions & enriching assignments

Personalized feedback & 1:1 guidance

Buddy system & accountability network

Supportive global community

Lifetime access to all videos, manuals, materials & resources
This 300-hour Advanced Yoga and Meditation Teacher Training offers a comprehensive curriculum that weaves the profound aspects of Hatha Yoga, Pranayama, Yin Yoga, Self Inquiry, and Spiritual Heart Meditation. By the end of the training, participants will experience personal growth and be equipped with the knowledge and expertise to guide others on their transformative journeys toward physical well-being, mental clarity, and spiritual awakening.
Reviews (as of September 27, 2023)

"

The teacher training program was truly one of my best journeys. The teachers and mentors, all beautiful souls, the zoom calls offered twice a day, gave you a feeling of belonging and connected you to other participants around the world. The curriculum was brilliant and sat very well in the online surrounding. I learned so much, and as I still have much to explore, I now have a path, and for me that new path is spiritual. I'm also grateful for the tools I got to teach with confidence and spread the joy and bliss of yoga to others. My heartfelt gratitude to Akasha Yoga Academy and the community."

-Gitta Eriksson RYT 200 (Yoga Alliance)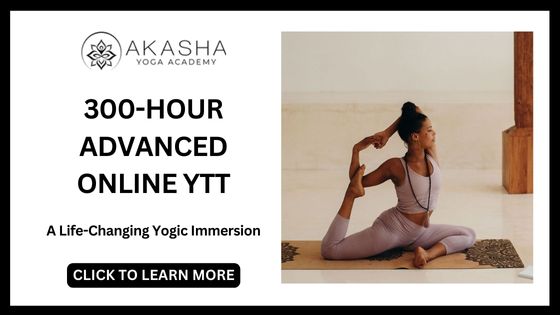 My Vinyasa Practice's 300-hour yoga teacher training can be finished in as little as eight weeks. It's completely online, and when students successfully finish the program, they can certify with Yoga Alliance and begin teaching at the 500-hour level.
Teacher training students must choose 270 hours of courses:
Yoga Nidra – 40 hours
Advanced Sequencing – 20 hours
Ayurveda – 40 hours
Restorative Yoga – 20 hours
Yin Yoga – 20 hours
Adaptive Yoga – 40 hours
Prenatal Yoga – 20 hours
Subtle Bodies – 20 hours
Yoga of Recovery – 40 hours
Pranayama – 40 hours
For the remaining 30 hours, students will work with a mentor teacher.
You will have access to pre-recorded lectures, podcasts, live-stream events, webinars, and more during the course.
Reviews (as of September 27, 2023)

"

I took the 300hrs online teacher training and it was my best choice ever, this training really exceeded my expectations! I have attended many in person trainings, but the knowledge, new skills and support I received from MVP are beyond words. Do not look anywhere else – this is THE place to take your yoga practice and teaching to a whole new level!"

-Angeliki Lalagianni (Google review)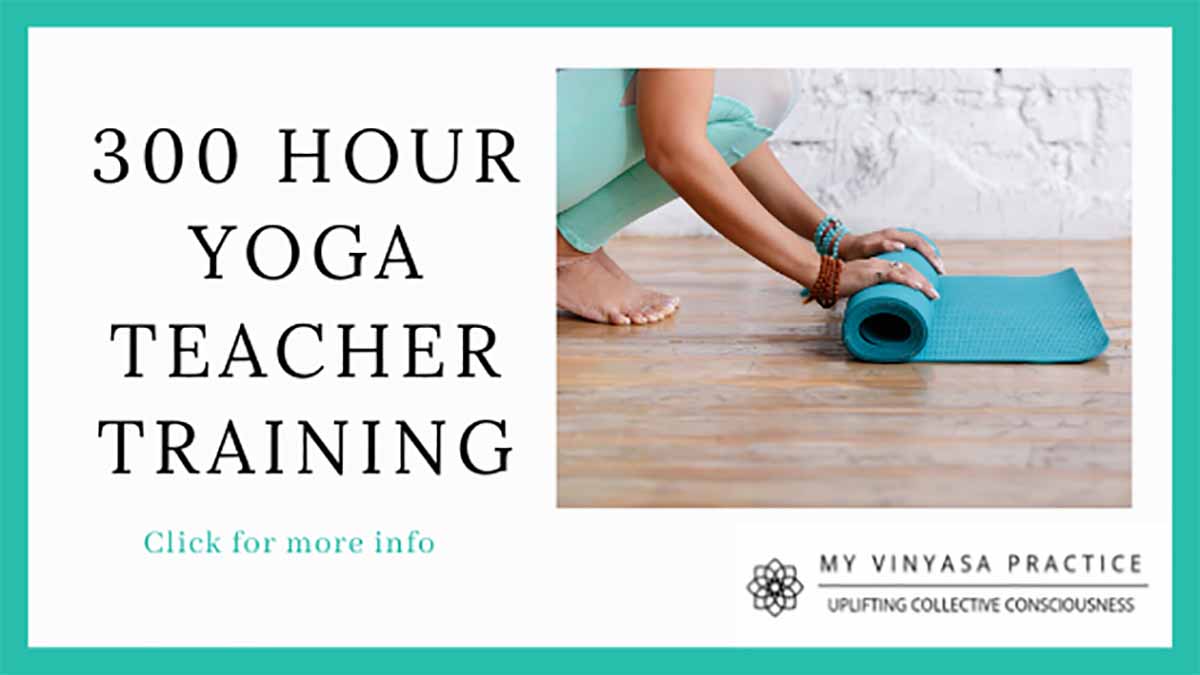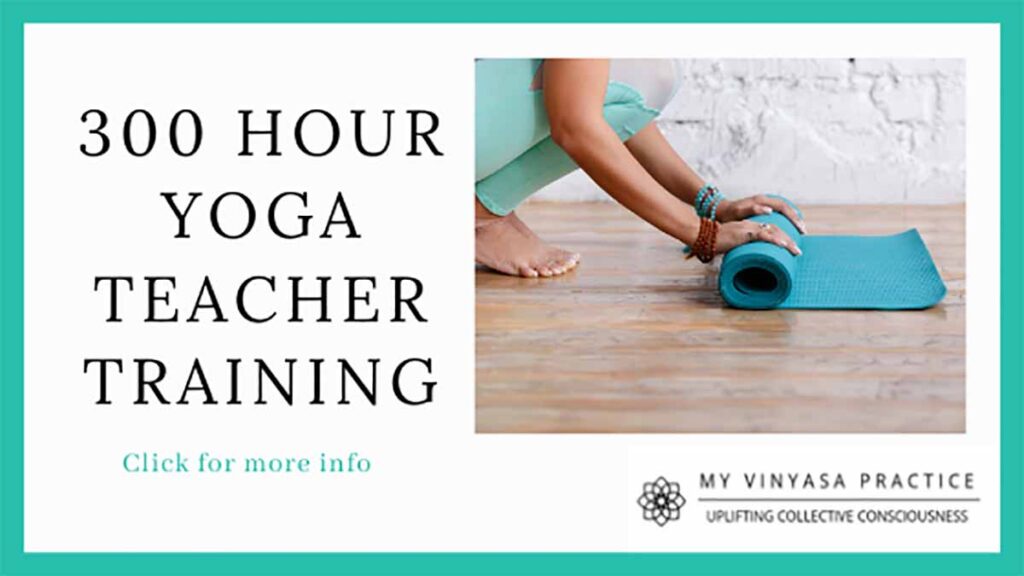 This Spiritual Warrior 300-hour Advanced Yoga Teacher Training is based on the Yoga Farm Ithaca traditional in-person training, and they've truly mastered the digital delivery to provide a completely Online 300-hour Yoga Teacher Training program.
The Spiritual Warrior Training is delivered every Fall; it's a great time to go 'back to school.' Again, this program will be online, and the training classes will be facilitated through live Zoom meetings.  There will also be designated readings and study materials from videos, books, and a thoughtfully designed manual.  Each of these allows for a self-directed study and, best of all, community engagement!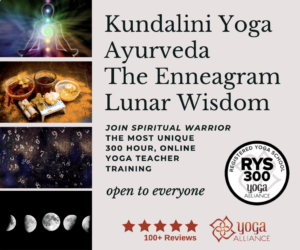 The program is designed for those who have completed 200 yoga training (regardless of your teaching experience) and can be audited by anyone interested in the subject material.
They're a solid brand and program, and I have been very impressed with how quickly they adapted to the move to online YTT offerings and the quality of their teachings and community!
Kundalini Yoga, Ayurveda, Enneagram, and the study of Lunar Cycles will equip you with an essential toolkit for wellbeing. Since Kundalini Yoga is the Yoga of Awareness for Householders, it integrates and activates all areas of your life: family, relationships, and life purpose.
Suppose you've wanted to study Kundalini Yoga, and your classes needed to be a more precise fit for you or the teaching methodology required to align with your learning style. In that case, this program offers a fresh perspective on this ancient practice.
As a Spiritual Warrior, you will shine the light of your love into the darkness of ignorance and transmute it into knowledge. As a Spiritual Warrior, you will liberate yourself from your fears, doubts, closed-mindedness, and limiting beliefs.
Reviews (as of September 27, 2023)

"Yoga Farm is beyond what I ever expected from a YTT. I completed my 200 hour with them and then it was a no-brainer to continue on to complete my 300 hour with them. They not only prepared me to be a teacher in a safe way, I also learned how to be a better human." -Rebecca Mehnert (Yoga Alliance review)

"Beautiful program with qualified, dedicated instructors to give you a holistic approach to living and teaching yoga." -Megan Wells (Yoga Alliance review)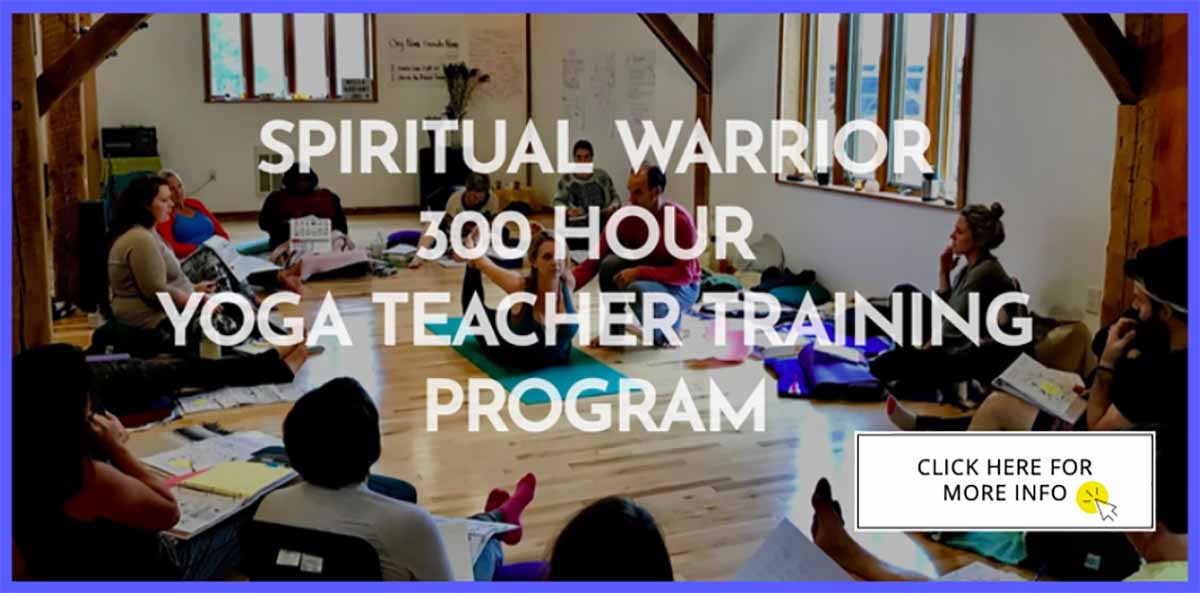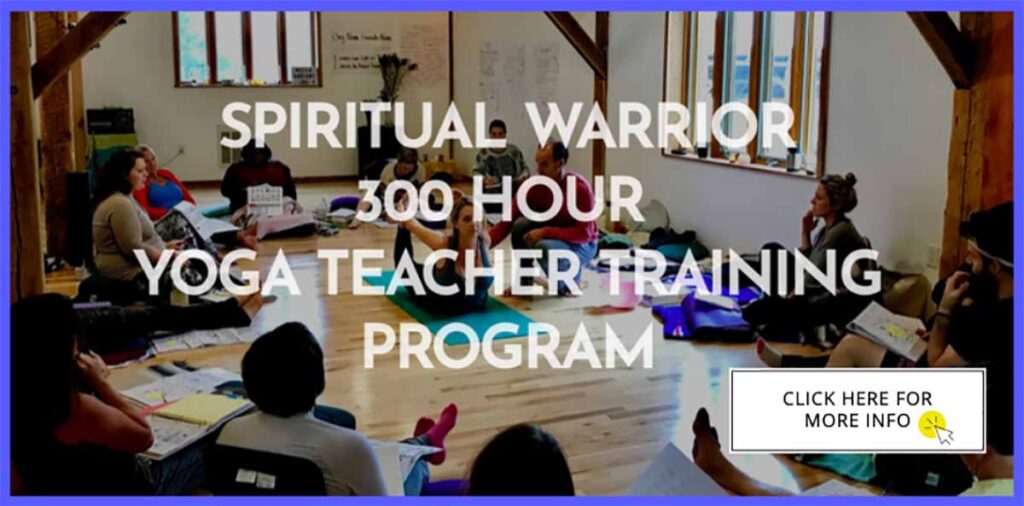 6. The Mazé Method: 300-Hour Teacher Training
If you dream of becoming a skilled and confident yoga instructor, the 300-Hour Teacher Training from The Mazé Method offers a comprehensive learning experience that covers a wide range of studies. Throughout this intensive training, you will explore the art and science of yoga instruction, equipping you with the knowledge and expertise to guide others on their yoga journey.
The curriculum focuses on essential elements such as teaching alignment, anatomy, and kinesiology, providing a solid foundation to create safe and effective yoga classes. You will cover the art of Vinyasa flow and sequencing strategies, mastering the skills to design well-balanced and dynamic sequences that leave a lasting impact on your students. Additionally, you will gain insights into therapeutics and adjustments, empowering you to offer personalized support and guidance to individuals with diverse needs.
Six 50-60 hour modules spanning over nine months
Module 1.

Essential Skills

Module 2.

Anatomy

Module 3.

Philosophy

Module 4.

Sequencing

Module 5.

Vinyasa

Module 6.

Ethics, Leadership & Facilitation
Beyond the physical aspects, The Mazé Method program explores the philosophical and psychological aspects of teaching yoga. You will explore yoga philosophy, ethics, and the impact of body image on students' practice. 
Suggested experience
200 RYT (minimum) with Noah

200 RYT through a comparable school

200 RYT through a bridging program

Willingness to participate in a group process

Ability to give and receive feedback skillfully

Dedication, motivation, and self-directed studentship
Upon completing this program, you will be confident to lead and inspire others on their yoga journey. The individualized and personalized teaching guidance you receive throughout your learning process ensures that you emerge as a well-rounded yoga instructor, ready to embrace the challenges and successes in your yoga career. Enroll now!
Reviews (as of September 27, 2023)

"

This program is amazing. The team there are also very personable. I would recommed this program for anyone who is looking for a well rounded 200 hour program. A more patient & supportive group of instructors you would be hard pressed to find."

-Kaith Vukasinovich RYT 200 (Yoga Alliance review)
7. Santosha Yoga Institute
Santosha Yoga Institute has fully flexible, family-friendly online yoga training. Students can choose their specific learning area while being encouraged to demonstrate their knowledge through fun and accessible assessments and assignments. 
Students can create their own 300 hours from:
Yoga Therapeutics
Ayurveda
Yin Yoga
Yoga Nidra
Pre + Post Natal Yoga 
Meditation Modules
Their Certified 300-Hour Online Yoga Teacher Training provides the knowledge, practice, and skills you need to teach yoga professionally and worldwide. The aim is for students to be comfortable presenting their passion-related abilities in future seminars, retreats, live or online sessions, etc. 
In the program, you'll get online class materials, live classes, pre-recorded Online Yoga Teacher Training Video Module sessions, mentoring, and professional feedback. You'll also have access to a downloadable handbook to guide you through the program. One of the most incredible things about Santosha Yoga Institute is that you'll have a supportive online community that allows you to bond with students and yoga teachers worldwide for a lifetime!
Reviews (as of September 27, 2023)

"

The last 6 months studying with Santosha have been amazing. All of the course work was so interesting and very detailed, a lot of consideration has been put into it and I feel well prepared starting out on my teaching journey. I would highly recommend this course to anyone looking to teach or simply to deepen your own personal practice. It has been truly life changing and I am so thankful to have found this beautiful group of people and teachers. Thank you 🙏🏽."

-Christina Phillips (Google review)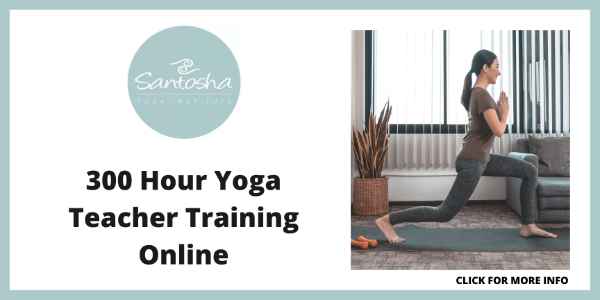 What does the Yoga Alliance require for 300 yoga teacher training?
The Yoga Alliance is a standards organization that certifies yoga teachers so employers and yoga students can rest easy knowing that yoga teachers meet specific qualifications to teach yoga. The organization has created requirements that yoga teacher training schools follow.
The hours you spend attending your online yoga teacher training must be synchronous (real-time interaction with a teacher trainer or other students) or asynchronous (self-paced on a student's own time).
And, when an employer or a client sees your Yoga Alliance certification, they'll know that you have a deep knowledge of all things yoga. They'll be confident that your yoga education will follow an impressive standards list. Thanks to the Yoga Alliance's requirements, you will be an in-demand member of the yoga community.
Requirements for Yoga Alliance's 300-hour yoga teacher training:
Techniques, training, and practice. 50 hours. Much more enhanced teachings about breathing, chanting, mantras, meditations, positions, and other parts of the yoga practice. This must include analytical training and guided practice.

Teaching methodology. 5 hours. This will consist of learning better communication skills and how to establish boundaries. It will also have different teaching styles, marketing, and legal aspects of teaching yoga.

Anatomy and physiology. 15 hours. You'll study human anatomy and physiology, such as systems and organs. But you may also research energy anatomy and physiology, such as chakras. The anatomy information will be applied to the benefits/contraindications and healthy movements.

Yoga philosophy, lifestyle, and ethics for yoga teachers. 30 hours. You'll read traditional Hindu texts, just as you did in your yoga 200-hour course, but you'll take a deeper dive into the philosophies and teachings. You'll learn more about the yoga lifestyle, including the practices of non-violence and karma. There will also be a focus on student relationships and how to serve others.

Practicum: 30 hours. You'll practice teaching, observe other teachers, assist other teachers, and receive teaching feedback.

Remaining hours. Contact hours for teacher training with the course 300-YTT course trainer present, and non-contact hours without the course trainer present. These hours could include attending webinars about yoga-related topics, attending group activities, writing about yoga-related topics, reading about topics related to the course's curriculum, listening online to audio, or watching videos related to the 300-YTT course. You could also spend your hours attending yoga classes; you'll have to evaluate each class in writing or orally so that the classes could count towards your yoga education.
Tips to succeed and complete the 300-hour training
Here are some tips to help you succeed in your yoga teacher training:
Have an established yoga practice; make sure you practice regularly
Practice your breathing and meditation often
Offer to teach your friends and family yoga and meditation; it will be fun, and through teaching others, you will learn more
Practice everything you've learned with your classmates; try out those advanced yoga poses safely with other members of your class
Read and integrate all of the knowledge you've learned in class into your own life
Don't try to coast through the sections on safety.
And if there's something you don't understand, by all means, ask questions!
What to expect from a 300-hour course?
Different courses focus on other aspects of yoga. You may find a program that focuses mainly on alignment and adjustments. Or, there are programs where much of the learning centers around Ayurveda. Others, like discussed above, focus on gaining business skills to be a successful yoga teacher.
But whichever course you choose, you'll advance your yogic education significantly. You'll hone the teaching skills you acquired in your 200-hour teacher training and gain more excellent knowledge of the field of yoga.
Topics you'll focus on in a 300-hour YTT course include:
Sequencing of yoga poses
Teaching a more focused style of yoga for pregnancy, mobility issues, an aging population, toddlers and children, and many more
Theoretical and practical aspects of teaching
Benefits/contraindications of yoga poses, breathing techniques, etc.
Modifications to yoga poses, breathing techniques, etc., for pregnancy, people rehabbing from injury, older adults, and other specific populations
More specific anatomy teachings that you may have learned during your 200-hour yoga teacher training
And, lastly, you'll take a deeper look into yoga values and the proper techniques in teaching your students
It will take a lot of hard work and dedication to succeed in any 300-hour yoga teacher training course. But, with the move to online platforms, it will be easier to get through the class with minimum disruption to your other daily obligations.
Follow Your Yoga Teaching Dreams and Complete the 300-Hour Training
The yoga teaching field is so varied, and there are so many potential niches that you can focus on. You could concentrate on ancient yogic teachings to provide your yoga students with insight into the history of yoga. Or you could instead focus on the adjustment of poses, which will be immensely helpful if you teach non-traditional yoga students, such as senior citizens, disabled people, or even children. Or, you may not be interested in finding a focus or niche when taking a 300-hour yoga teacher training course. You may want a more profound knowledge of yoga, its history, processes, and best business practices for a successful business in the yoga niche.
We hope we have helped you learn about some of the top 300-hour online trainings. Whether you specialize in a specific area of yoga or not, your understanding of yoga will expand, significantly enhancing your teaching abilities. This will improve your student's learning experience and make you a more effective instructor. If you want to advance your career in yoga, please take a moment to explore the courses we've mentioned and select the one that best aligns with your goals.