Last updated on December 2nd, 2023.
With over 36 million participants, yoga has become a prevalent form of exercise in the United States. As people seek flexible wellness solutions, virtual yoga classes offer accessibility, convenience, and diverse options, propelling this trend upward. 
Embarking on an advanced journey in yoga education, 500-hour teacher training programs offer a comprehensive and profound exploration of yogic principles. Going beyond the foundational 200-hour training, these immersive courses go deeper into the art and science of yoga, equipping practitioners with enhanced skills and wisdom.
These are the four best 500-hour yoga teacher training online based on course curriculum, scheduling flexibility, and tuition:
These programs are fully accredited and certified by Yoga Alliance, the largest yoga association in the United States. Graduates who complete these programs are eligible for RYT 500 certification.
Becoming a registered yoga teacher requires a substantial commitment of time and personal resources and being active in the yoga community. Whether the objective is to teach yoga as a full-time profession, start an in-person or online yoga school, or achieve a deeper understanding of yoga, these four online yoga teacher training programs are the best ways to either start your journey or continue education with (CEU) Yoga Alliance after your 200-hour yoga teacher training and take your insights and career to the next level.
What is 500 hour yoga teacher training online?
A 500-hour Yoga Teacher Training Online is an advanced and comprehensive program designed for experienced yoga practitioners and certified 200-hour yoga teachers seeking to deepen their knowledge, skills, and expertise in yoga instruction. This advanced training goes beyond the foundational principles covered in a standard 200-hour program, providing a more in-depth understanding of yoga philosophy, anatomy, alignment, and teaching methodologies. 500-hour courses typically consist of live virtual classes, pre-recorded video modules, interactive workshops, and self-paced study materials, offering flexibility for participants to fit their studies into their schedules.
Advanced postures and meditation techniques
During the 500-hour Yoga Teacher Training Online, participants explore the intricacies of advanced asana (postures), pranayama (breathwork), and meditation techniques. Participants explore the art of sequencing intelligently and creatively to cater to various levels of students, adapting to individual needs. Additionally, participants learn to develop specialized classes for different populations, such as prenatal yoga, yoga for seniors, or yoga therapy for specific ailments. This comprehensive training equips yoga teachers with the tools to confidently guide students through advanced practices while fostering a deeper connection to the essence of yoga.
A higher level of expertise
Completing a 500-hour Yoga Teacher Training Online provides a higher level of expertise and credentials and allows yoga instructors to pursue career opportunities in specialized areas of yoga instruction. Graduates often teach at advanced workshops, retreats, and teacher training programs. They become part of a community of seasoned yoga professionals, engaging in ongoing learning, collaboration, and continuous growth in their yoga journey. Ultimately, this advanced training opens doors for yoga teachers to profoundly impact their students' lives and the broader yoga community.
The Best 500 Hour Yoga Teacher Training Online
The following online yoga teacher training programs offer comprehensive yoga teacher instruction. Each of these online schools has its particular emphasis or specialty. Still, they all provide the foundational knowledge, skills, and in-depth guidance to prepare the next wave of yoga teachers, instructors, and coaches.
You can pursue 200-hour yoga teacher training, 300-hour yoga teacher training, and the 500-hour training mentioned in this article. You will receive a certification from each of these trainings. 
1. Brett Larkin Yoga Uplifted: 500 Hour Yoga Teacher Training Online
Brett Larkin Yoga offers the Uplifted Yoga teacher training program and, as a part of that, the 500-hour Online Yoga Teacher Training.  Brett Larkin is not only the lead instructor and school operator, but she is also a very successful entrepreneur with a strong background in eCommerce and navigating companies through the digital space.  Her ballet and dance background provides a strong foundation upon which she has layered her intensive yoga training.
Brett Larkin has trained with prominent figures in the yoga community, including Yogiraj Alan Finger (co-founder of YogaWorks), Gurmukh, Rod Stryker, and Guru Singh, and her educational travels include several trips to India.  Since earning her yoga teacher credentials, Brett Larkin has produced award-winning yoga instructional videos on YouTube, where she has over 300,000 subscribers.
Program highlights
One of the unique facets of the Uplifted online yoga teacher training program is its emphasis on the business aspect of teaching yoga.  In addition to the comprehensive curriculum that provides world-class and well-rounded yoga studies and yoga teacher training, Brett Larkin's Uplifted program takes it one step further by preparing her students to take their talents and monetize them successfully.
This online yoga teacher training program/business school hybrid encourages graduates to maximize their earning potential, whether it be a studio-based instructor position, an online yoga instruction business, or even a yoga instructor in a corporate setting.  Recognizing the important, yet often ignored, business side of yoga instruction, Ms. Larkin's course focuses on converting yoga proficiency into profit.
Highlights include
Live video calls (bi-weekly) with Uplifted instructors and in-depth pose reviews.
The program consists of four modules designed to be completed in six months.

 

Module 1 focuses on Chakras, meditative techniques, and reflective evaluation.

 

Also included are in-depth anatomy and physiology studies related to yoga.
Module 2 centers around nurturing students' confidence and entrepreneurial spirit, emphasizing starting and operating a profitable online yoga business.
Module 3 tackles various practical aspects of being a successful yoga teacher, including effective sequencing strategies, communication skills, and incorporating myofascial release techniques into yoga instruction.
Module 4 concludes the Uplifted program by preparing students to embark independently, confidently building their business plan and executing their vision.

 

Details include lesson planning and designing templates for running their classes.
Key takeaways
The Uplifted program is ideal for yoga practitioners who want to deepen their yoga knowledge and skill and view it as a career path and primary income source.  Aside from encouraging her students to earn fair compensation for their teaching talents, Brett Larkin empowers them to build a thriving enterprise around their passion for yoga.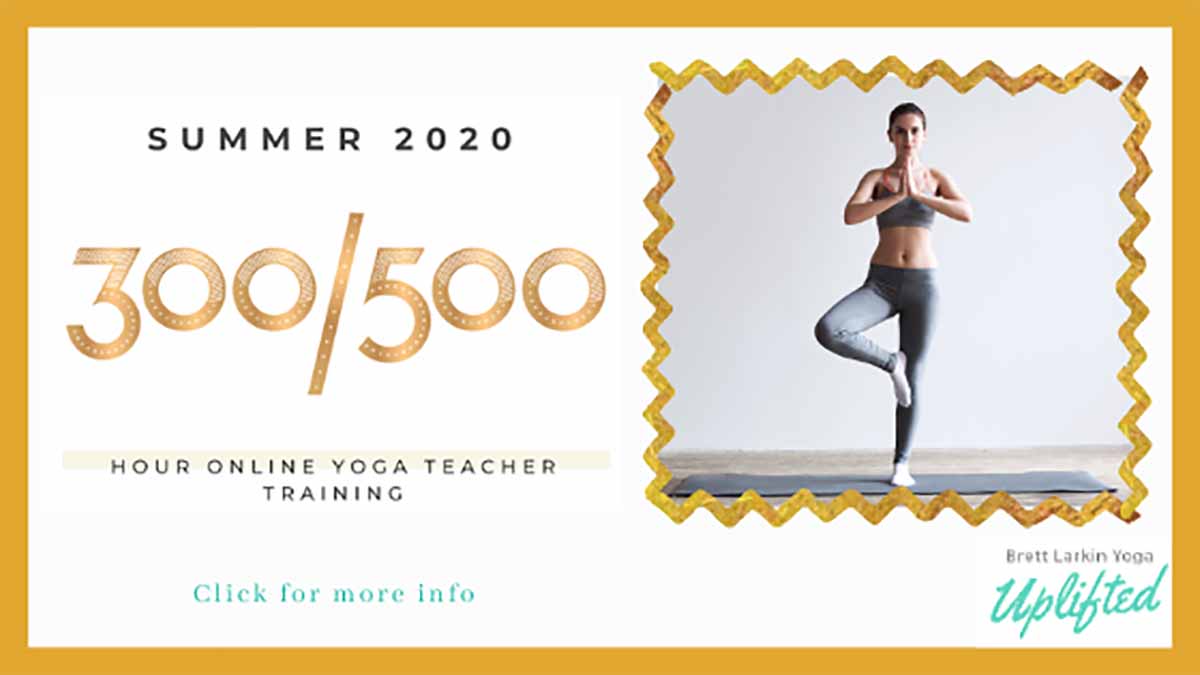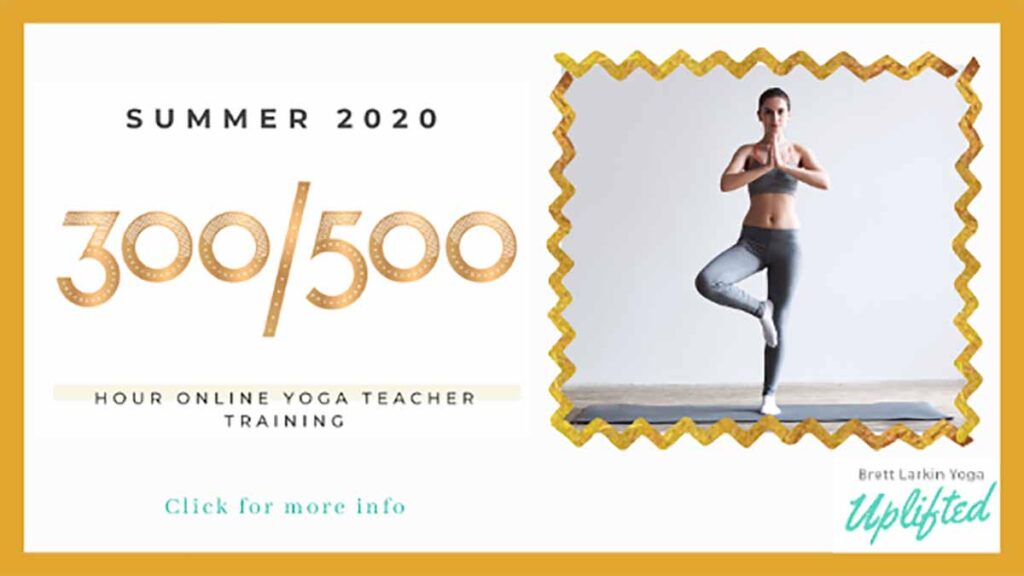 2. My Vinyasa Practice: 500 Hour Yoga Teacher Training Online

Another excellent choice is the 500-hour Online Course offered by My Vinyasa Practice. Michelle Young has practiced yoga for over 15 years. She has an E-RYT 500 certification from Yoga Alliance and a C-IAYT Yoga Therapist certification specializing in eating recovery and cardiac rehabilitation. Aside from her work at Seaton Hospital's cardiac rehabilitation unit, Ms. Young is about to open the doors to her first yoga studio in Texas.  
Program highlights  
This online yoga teacher training program is ideal for aspiring yogis who may not have the time or the resources to enroll in a full-time yoga school or need to juggle job or family obligations around their pursuit of becoming a yoga teacher. It is also an excellent choice for budget-conscious students who cannot afford more expensive courses.
With a learn-at-your-own-pace approach, My Vinyasa Practice's online program features a wealth of digital resources, including pre-recorded videos that can be viewed on-demand, e-books, and podcasts. While the subject matter is as rigorous and intensive as any of the 500 hours of online yoga teacher training programs on this list, Michelle Young's approach offers the most flexibility, particularly with its lifetime access to materials.
Other program highlights include
Rolling admissions to the online program with instant access to all digital resources.
Live office hours with instructors allow students to receive real-time guidance and mentoring throughout the program.
Weekly Zoom meetings are held on Saturdays and Sundays (also recorded for later viewing) for interaction with instructors and peers.
The program consists of two main sections:
Section one. Yoga history, Sutras, dharma and karma, anatomy and physiology, sequencing and cueing, Chakras, meditative practices, and traditional practices to elevate consciousness
Section two. Advanced anatomy, advanced sequencing, restorative yoga, yin yoga, trauma-informed yoga, advanced education on energetic bodies and subtle bodies, development of psychic centers within the body
Key Takeaways
This practical, thoughtfully-composed 500-hour yoga teacher training program takes a no-frills approach to training future yoga teachers. While My Vinyasa Practice's online course may not have the polished video production of the other sites or the same perks as the other programs, it offers a fundamentally sound yoga education that will enable its graduates to pursue their goal of teaching others the art of yoga. For everything you need to know, see My Vinyasa Practice review.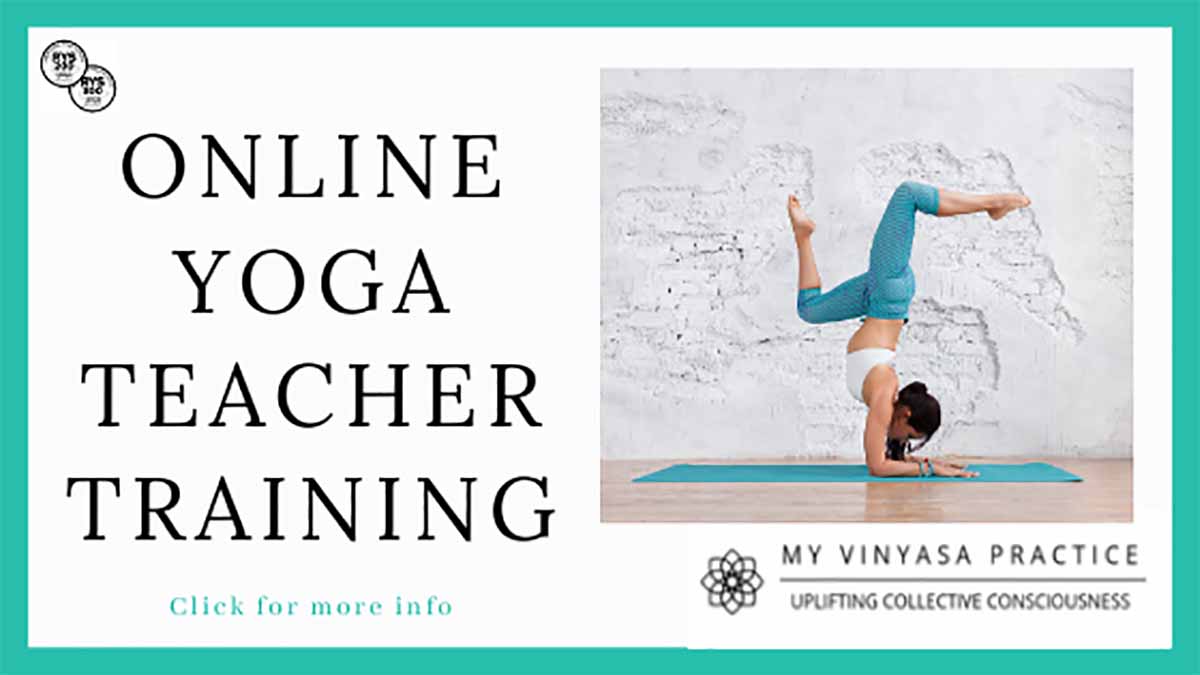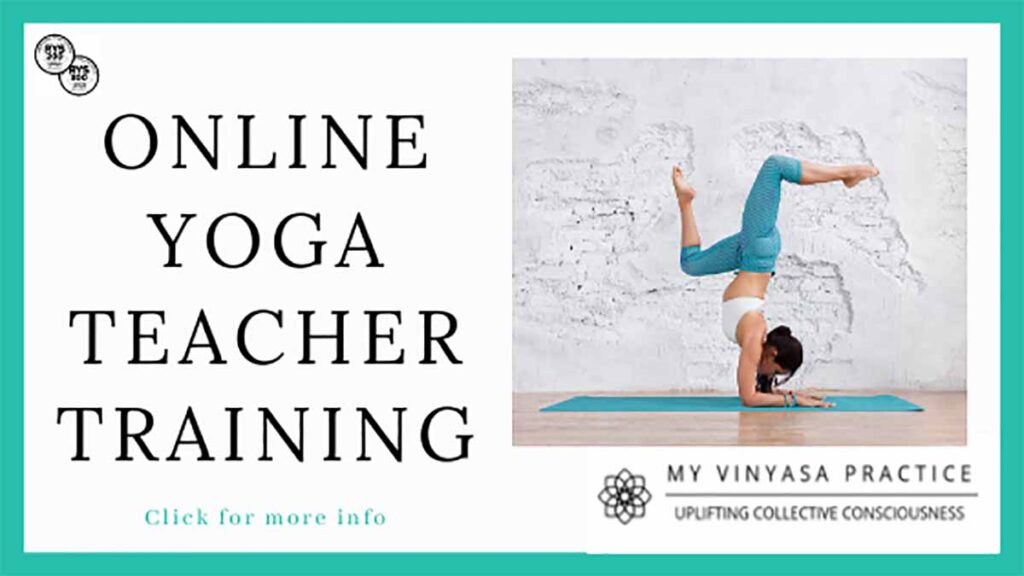 3. Yoga Farm Ithaca: 500 Hour Yoga Teacher Training Online
Unlike the other online yoga teacher training programs, Yoga Farm Ithaca is a nonprofit, 501(c)(3) organization that qualifies as a charity. Yoga Farm is in the city's heart in Ithaca, New York. It conveys a communal feel in its approach to the art of yoga, which carries over to its advanced 300-hour level course, which we had to mention in the review. 
Of course, with the combination and completion of the 200-hour and 300-hour YTTs Yoga Farm Ithaca offers, you will be eligible to register with the Yoga Alliance as an RYT-500 (Registered Yoga Teacher- 500 Hours). You don't have to complete the Yoga Farm Ithaca's 200-hour course, specifically. The 300-hour course can be done in combination with any registered RYS 200.
Inspired by Kundalini yoga and Ayurveda, this hybrid approach teaches advanced yoga techniques with a spiritual mindset. Yoga Farm Ithaca's program teaches the Enneagram system of human development. The Enneagram system is a system that helps individuals understand the specific tendencies and trappings of their ego, as well as revealing to you your most efficient pathway of self-realization based on your particular personality type of the nine types of this system. Enneagram combines traditional wisdom with modern psychology – a powerful tool for understanding ourselves and the people in our lives.
(If you are interested in learning more about Kundalini yoga teacher training online, check out that article)
Yoga Farm's online yoga teacher training focuses on helping teachers learn the art of achieving harmony between the physiological and the psychospiritual realms, with its online classroom setting serving more as a sanctuary than a gym. In addition to promoting the benefits of yoga and training future yoga instructors, Yoga Farm's mission is to provide an accessible healing place for all.
Program highlights
One of the principles of the Yoga Farm teaching style is that there is an inner power in all students, and by tapping into this source of strength and enlightenment, yoga practitioners and teachers alike can be led by their internal guidance system. Students will have a heightened self-awareness upon graduating from Yoga Farm's 300-hour online yoga teacher training program.
Utilizing various yoga methods and techniques and weaving them together uniquely and modernly, Yoga Farm's 300-hour online yoga teacher training program blends the physical requirements with a highly spiritual and meditative approach to create a comprehensive program for body and mind.
More highlights of this yoga training program are
Weekly Zoom yoga classes on various topics:
Professional Essentials & Electives (Enneagram, instinctive Meditation, and others)
Yoga Humanities (history, philosophy, and mythology of yoga)
Kriya Yoga
Yoga Anatomy & Physiology
Professional Essentials (ethics, ceremonial aspects, and entrepreneurship)
Techniques, Training & Practice (Laya, Kriya, and Kundalini yoga)
Spiritual Yoga & Kriya Session
(All classes are recorded and may be viewed on-demand)
Intensive and practical training in the many facets of teaching yoga to others, including developing leadership skills.
Virtual office hours and additional digital resources, including their Online Academy with your course classroom, on-demand video libraries, access to live movement and meditation classes, and group chats to connect with course colleagues.
Key Takeaways
Yoga Farm has named its advanced 300-hour online teacher training programs its Spiritual Warrior class, which is fitting because it demands each student's best physical commitment to bodily yoga training while encouraging the development of mental and spiritual strength from within. Each yoga session is equal parts physical practice, healing, and devotion. Yoga Farm's lead instructors serve as mentors and guides throughout this journey.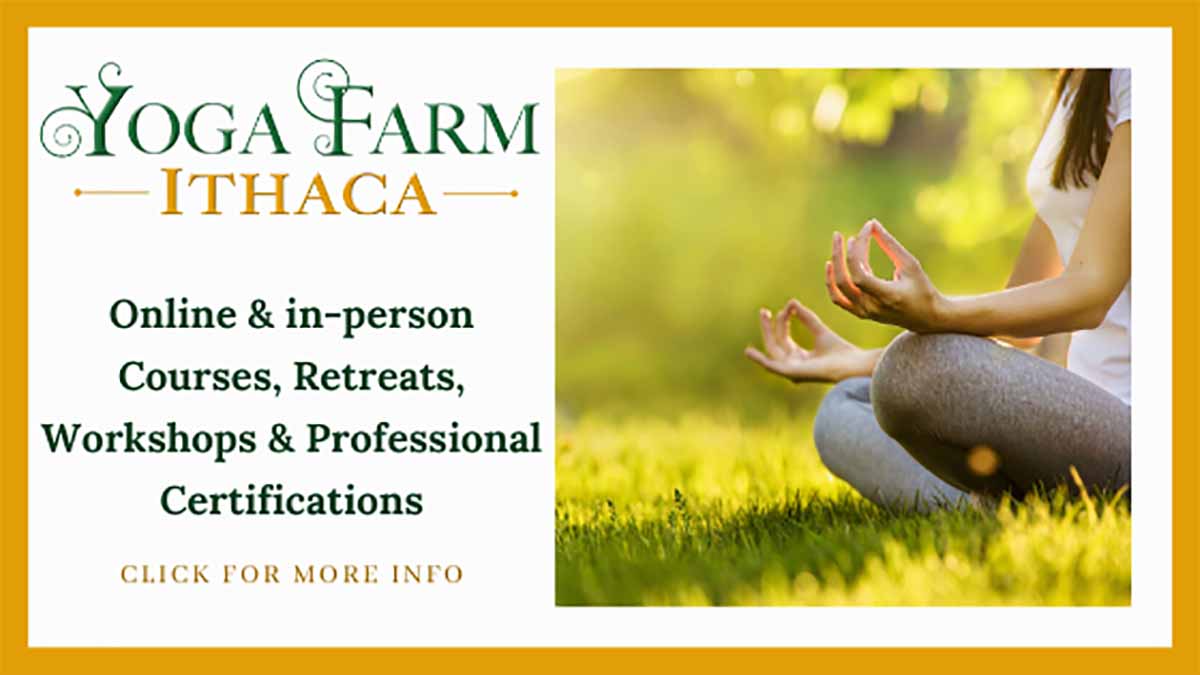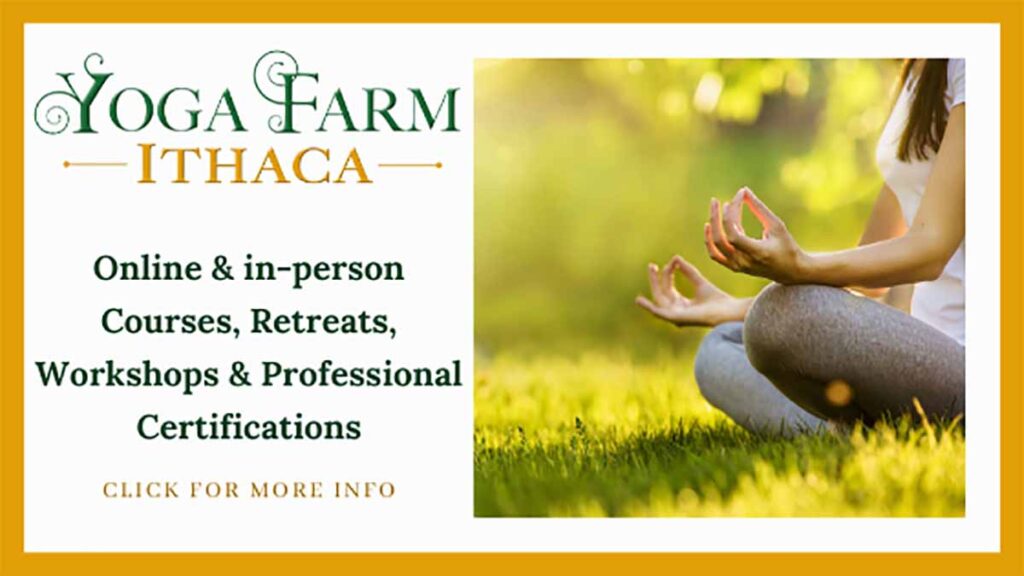 4. YogaRenew: 500 Hour Yoga Teacher Training Online
This program provides a highly structured curriculum that branches into in-depth studies of every aspect of yoga, including its physical, physiological, spiritual, and historical elements. Graduates will have mastered yoga techniques from the significant yoga disciplines and have been thoroughly coached in effectively teaching others. 
Program highlights
YogaRenew has a unique approach that produces well-rounded yoga teachers. For instance, it is one of few yoga teacher training schools that require students to learn basic Sanskrit, the ancient language in which many pertinent texts were initially written. Many of the individual course topics pertain to yoga's philosophical and spiritual roots, which lend a sense of purpose when the physical aspects of yoga are studied.
YogaRenew's program is laid out so that prospective students will know what to expect and enrolled students will know what is expected of them. This online program is designed to be 100% self-paced, with lifetime access to all digital materials upon tuition payment. The site also offers 24/7 support to students, and all resources are available on demand.
Additional highlights of YogaRenew's program include
Students engage in profound studies of the history and philosophy of yoga.
The study of yoga ethics is emphasized, with an in-depth look at yoga's eight limbs (threads of wisdom).
Eight disciplines of yoga are examined, including their methodology and history.
Teachings of anatomy and physiology cover major muscle groups, internal organs, and the nervous system.
Foundational alignments of shoulders, hands, spine, core, knees, and feet, along with the poses that use them, are mastered.
Asanas and bandhas of yoga are studied intensively.
Much time is devoted to developing teaching techniques, including:
Recognizing teaching cues and taking advantage of them
Developing individual class structures
Learning personality-based teaching styles
Yoga sequencing and class themes
Injury adjustments, pose modifications, and hands-on adjustments
Personal development through yoga is encouraged throughout the program.
The practical topics covered in this course include the business aspects of yoga, such as operating a yoga-based business and applying for yoga teaching positions.
Key Takeaways
For students who view yoga as a way of life and not just a hobby or profession, the YogaRenew 500-hour online yoga teacher training program is a perfect fit and a potentially life-altering decision. Graduates of this program will be extremely well-versed in all things yoga. They will be able to teach others how to do yoga and encourage like-minded people to embrace yoga as a lifestyle.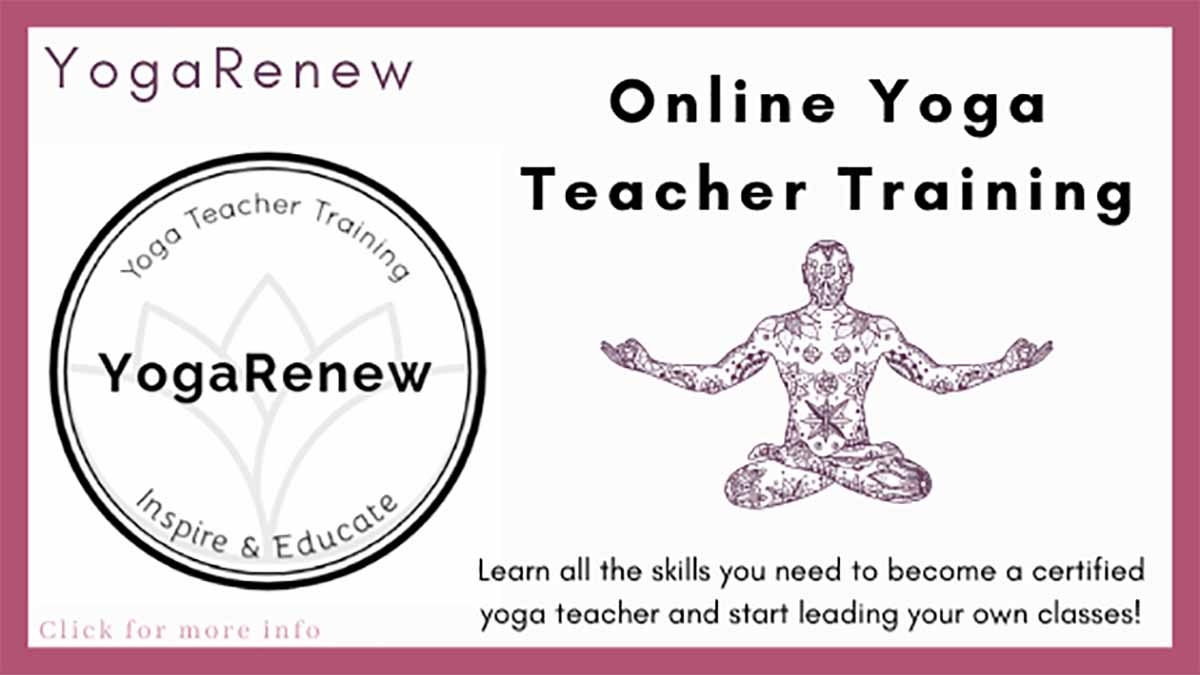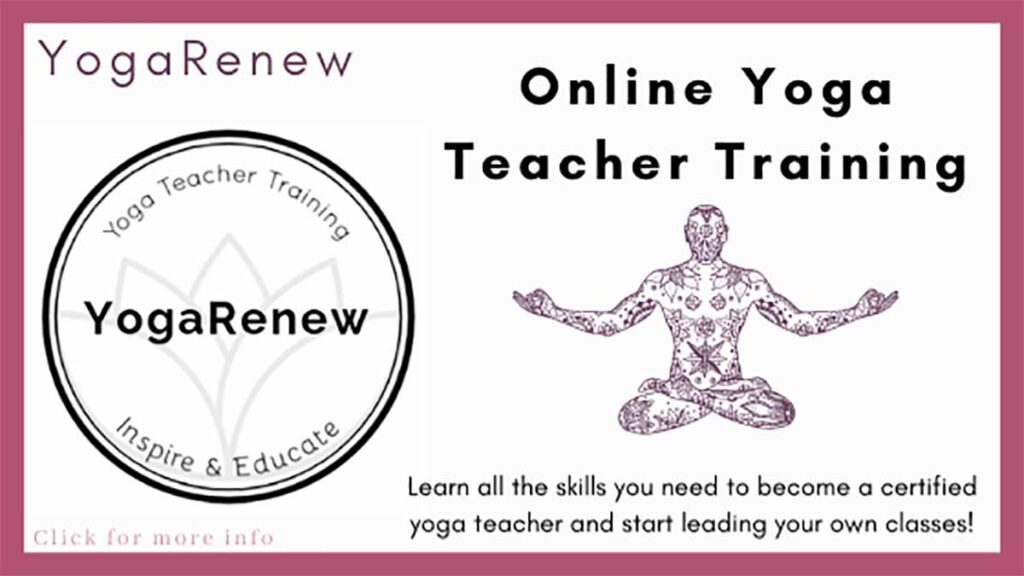 The RYT 500 designation is issued by the Yoga Alliance, a nonprofit 501(c)(6) association dedicated to the yoga community in the United States. One of the stated objectives of the Yoga Alliance is to uphold the "integrity and diversity of the teaching of yoga."  
RYT stands for Registered Yoga Teacher, and the 500 represents the following achievements:
The completion of 500-hour yoga teacher training from a Yoga Alliance-accredited yoga school 
A minimum of 500 hours of teacher training completed 
A minimum of 100 hours of teaching hours logged since completion of the 500-hour program
As the largest professional association catering to the yoga industry in the United States, the Yoga Alliance has certified over 90,000 yoga teachers and accredited over 6,200 yoga schools nationwide.  
Asynchronous and synchronous learning
Yoga Alliance's most up-to-date online 500-hour yoga teacher training standards require students to complete asynchronous and synchronous learning.
Asynchronous learning is self-paced and includes on-demand and pre-recorded sessions.
Synchronous learning is facilitated in real-time. It's live virtual instruction, such as live webinars, live chats, and live trainer feedback.
Competency testing
Yoga Alliance also requires competency testing to ensure teacher trainees understand the material before they are awarded a certification.
What are the 500 hour standards?
To ensure uniformity in the substance and methodology of training future generations of yoga teachers in yoga schools across the U.S., the Yoga Alliance has instituted a structured system of requirements that must be satisfied before issuing a 500-hour certificate. These requirements are spread across five education categories and have a specified minimum number of training hours.
The five education categories are:
Techniques, training, and practice (150 minimum hours) – This category can include (but is not limited to) topics such as asanas, pranayamas, chanting, meditation, and other traditional yoga techniques. Regarding the allocation of the 150 minimum hours, there must be an equal emphasis on mastering, teaching, and practicing the methods in a class setting.
Teaching methodology (30 minimum hours) – This category focuses on training students to become teachers by honing their communication and observation skills, providing detailed guidance on recognizing teaching cues, learning how to correct students, how to demonstrate techniques, and many other skills needed to become an effective yoga teacher.
Anatomy and physiology (35 minimum hours) – Among the topics typically addressed in this category are human anatomy and physiology (as they relate to yoga), muscle groups and internal organs, and the nervous system. This category can also include yoga concepts such as chakras and Nadis.

 
Yoga philosophy, lifestyle, and ethics (60 minimum hours) – Topics covered in this category include yoga philosophies, the history of yoga, and the study of ancient texts. Most yoga schools offer courses examining dharma and karma and the concept of non-violence. An essential (and required) topic is ethical discussions relating to teacher-student relationships.
Practicum (40 minimum hours) – This is part of 500-hour yoga teacher training where the student truly transitions into a teacher, with hands-on experience in leading classes, assisting other teachers, closely observing peer student-teachers with a critical eye, and perhaps most importantly, receiving constructive commentary and coaching from course instructors and mentors.
Once a yoga school has complied with the minimum hour requirements in the prescribed education categories, it may offer additional or elective educational courses regarding its particular focus, brand, identity, or specialization. Elective courses will allow yoga teacher trainees to focus on a specific type of yoga, such as adaptive yoga, or incorporate ancient traditions, such as Ayurveda, into their teachings.
Concluding Thoughts on the Best 500-Hour Yoga Teacher Training Online
In the realm of yoga teaching, the pursuit of excellence never ceases. The best 500-hour yoga teacher training programs are beacons of this commitment to continual growth. With their emphasis on refinement, deepening wisdom, and fostering a truly transformative experience, these programs elevate teaching skills and inspire a profound personal journey. Aspiring instructors who embark on this path open themselves to a world of possibilities, where their practice evolves into a finely tuned instrument, ready to guide others toward physical, mental, and spiritual well-being. 
The journey from student to teacher is a sacred one, and the best 500-hour training programs honor that journey by nurturing a community of skilled, compassionate, and enlightened yoga practitioners poised to shape the future of this ancient practice. Suppose you want to harness your passion for yoga into a sustainable career and rewarding endeavor. In that case, these four online 500-hour yoga teacher training programs are the best way to start a new personal journey.