Last updated on December 1st, 2023.
Meditation has become one of the simplest and yet most effective ways to relieve stress and anxiety and improve overall quality of life. It may be that you're already a meditation practitioner, or this could be your first time looking into the practice. These courses are great at introducing the basics of meditation to improve your overall practice.
The courses outlined in this article are the best online beginner meditation courses available. The benefits of meditation are endless, and it has been used to improve concentration and focus and reduce anxiety. Meditation is an incredible practice that has stood the test of time, and its teachings have been passed down from generation to generation. And while many claim that they do not have enough time for a wellness exercise like meditation, the truth is that meditation does not take much time. 
So, if you want to adventure into meditation, you're in luck. Below, we have listed the best meditation courses online for beginners that you can do anywhere and on your own time. We'll highlight some beginner meditation courses and end with the more advanced ones. The complete list is just below, with descriptions to understand each course better.
These are the 7 Best Beginners Meditation Courses Online:
mindbodygreen: The Essential Guide To Meditation
Sura Flow: Beginners Meditation Teacher Training
MasterClass: Jon Kabat-Zinn Teaches Mindfulness and Meditation

My Vinyasa Practice

: Meditation Certification

The Whole Health Project

: Trauma-Aware Meditation Teacher Training

Loka Yoga School: Online Meditation Training
Santosha Yoga Institute: 50-Hour Online Meditation Training
The Best Meditation Courses Online for Beginners
First, we will start with the beginner courses that introduce people to meditation and everything surrounding it. These courses often cover simple breathing techniques, yoga poses, and equipment – if needed. So, let's get into the first online course without further ado.
1. mindbodygreen: The Essential Guide To Meditation
The Essential Guide To Meditation is the perfect resource if you've been curious about meditation or seeking to deepen your practice. This course, offered by mindbodygreen, and taught by meditation guru Charlie Knowles, provides a wide array of meditation techniques, ensuring that you find the one that resonates best with you. From mindfulness meditation to loving-kindness meditation and more, you'll explore every available meditation.
One of the most significant advantages of this course is its versatility. You'll gain access to a range of meditation exercises that can be practiced anytime, anywhere. Whether at home, at work, or on the go, these exercises will help you find moments of calm and focus amidst the chaos of daily life. Say goodbye to stress and anxiety as you cultivate your attention and awareness, becoming more present and alive every moment.
What's included
Six modules and 44 video lessons

A comprehensive guide to every type of meditation

Meditation exercises that you can use anytime, anywhere

The practical steps necessary to become the change you wish to see in the world

Lifetime access to stream from your computer, phone or tablet
Class Outline
Meditation Basics.

9 lessons

Awareness (Open Monitoring).

12 lessons

Focused Concentration.

Seven lessons

Self-Discovery & Transcending.

6 lessons

Energy (Physical & Breath).

Seven lessons

Integration.

Three lessons
Whether you're a beginner or just looking to expand your meditation practice, this guide offers something for everyone. Your path to a more balanced and peaceful life begins here.
2. Sura Flow: Beginners Meditation Teacher Training
In Sura Flow's course on Beginners Meditation Teacher Training, you'll learn how to experience stress relief benefits. Find calm, focus, and clarity in less than 5 minutes daily!
This course includes
Instructional videos for beginners
Three daily journal prompts
21 Daily guided meditations
Sura has put together a series of Meditation tools to get you started on your practice.  The course also includes 15 Relaxation techniques that will be taught throughout.  In total, you keep over 4 hours of guided meditation videos for life.
Topics Covered
You'll cover everything from engaging with your breath and focusing your mind to relaxing your emotions.  Sura teaches you how to "return to nature's way" by observing your mind and affirming your inherent wholeness.
Time for the course. 21 days
Sections. 22
Course Access. Unlimited

 

Upon completion. A jumpstart into meditation practice for life!
Instructor. Sura
Course contents. videos, audio, and documents
Web browser-based. Yes
Price. $197 (subject to change)

 
3. MasterClass: Jon Kabat-Zinn Teaches Mindfulness and Meditation
In his enlightening class, mindfulness expert Jon Kabat-Zinn offers a comprehensive MasterClass to incorporate meditation into your daily life to enhance your overall well-being. With an emphasis on cultivating mindfulness, reducing stress, and finding inner peace through meditation and movement, Jon's teachings are a roadmap to improved health and happiness. His approach meets you where you are, making it accessible and beneficial for beginners and experienced practitioners.
Jon Kabat-Zinn demystifies mindfulness by highlighting its universal nature and role as a way of being rather than a mere activity. He introduces foundational principles like non-judging, patience, and beginner's mind, urging individuals to embrace acceptance and non-striving. Throughout the class, he debunks common misconceptions about meditation and offers practical advice on maintaining focus and dealing with a wandering mind. He explores various forms of meditation, including seated and lying-down meditations, demonstrating how each can contribute to heightened awareness and self-discovery.
This class looks at the scientific aspects of mindfulness, showcasing its potential to modify genes, reduce inflammation, and slow the aging process. Jon Kabat-Zinn emphasizes the importance of bringing mindfulness into everyday activities, such as yoga and exercise, to create a holistic practice. Jon's teachings are a valuable resource for anyone seeking the benefits of mindfulness, ultimately enabling them to make the most of being alive.
4. My Vinyasa Practice: Meditation Certification
My Vinyasa Practice is a place where you can grow and evolve. This online meditation course differentiates itself by offering meditation knowledge and a complete understanding of the context and meaning behind meditation. Such as the yogic science, mindfulness, physiology, and philosophy that makeup meditation. 
In My Vinyasa Practice's Online Meditation Training', you can experience a comprehensive course with the unique opportunity to study at your own pace and lifetime access to the course! 
This course is made up of 6 sections:
Meditation Certification | Level 1
Mindfulness Meditations
Guided Meditation
Dharma Talks
Incorporating Complementary Modalities
Ethics
Business
This course provides a fantastic meditation community support group and a training guide for teachers.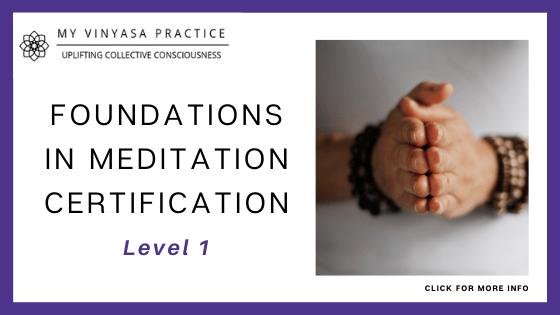 5. The Whole Health Project: Trauma Aware Meditation Teacher Training
The Whole Health Project's 35-Hour Trauma Aware Meditation Teacher Training is designed to support you, deepen your meditation practice, and learn how to teach others confidently. This Yoga Alliance certified (YACEP) training includes the free addition of their 10-hour Trauma Aware Facilitation Training, so you can safely and competently support a wide range of students.
This training is for you if:
You desire to understand the fundamentals of ancient wisdom put into context for our modern-day climate

You are looking for a step-by-step approach to being able to guide both new and experienced meditators alike

You are passionate about deepening your practice so you can share from a place of direct experience and insight

You desire to have a broader perspective on the roots and relevance of meditation in the modern world

You are looking for a trauma-aware approach to teaching to make your teachings more accessible, safer, and more inclusive
Even though this is a self-paced course, every question you have gets answered through their monthly live Q&A calls & the student's online forum. Sign up today for as little as $82/month. And if you want to add Breath Coaching or Yin Yoga teaching to your repertoire, we also offer practitioner bundles. 
Sign up for our Trauma Aware Meditation Teacher Training, Yin Yoga Teacher Training, and Breath Coach Training to receive an even more significant discount on all three trainings.
Practitioner Bundles: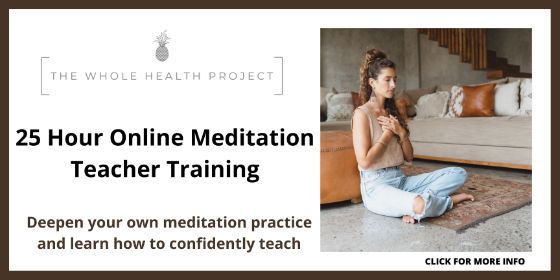 6. Loka Yoga School: Online Meditation Training
Loka Yoga School is a place where science meets spirituality. Here, you can discover and evolve. In Loka Yoga, you have a unique opportunity to study and practice in a setting that differentiates itself by offering not only yogic practices but also by providing the correct understanding, history, traditions, context, and meaning of yogic science, meditation, history, physiology, and philosophy. Their team comprises practitioners wholly committed to their fields of expertise.
In Loka Yoga's 'Online Meditation Training,' you can experience comprehensive 10-hour training with expert teachers and self-paced video lectures and presentations. This course has a collection of guided meditations and a 'Meditation Buffet' of over 25 techniques to discover what is right for you!
This course provides a fantastic meditation community support group and a meditation teacher training guide. Loka Yoga School is also happy to say that this Online Meditation Course is internationally certified by Yoga Alliance!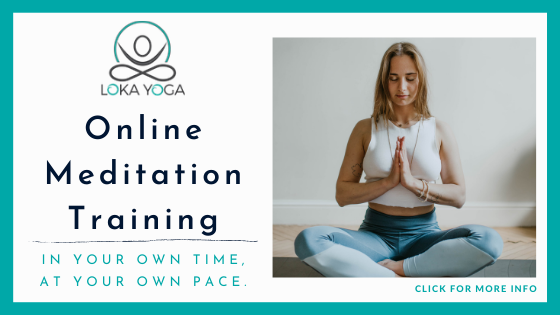 7. Santosha Yoga Institute: 50 Hour Online Meditation Training
Santosha Yoga Institute's Online Meditation Teacher Training course is a profoundly enriching way to learn to teach Meditation online. In this 50-hour Meditation Teacher Training course, you can practice, share, and teach meditation for classes, workshops, and retreats. After completing this course, you will be qualified to teach meditation to clients, students, and yoga studios since it's a Registered Yoga Alliance Course! The good news is that you can complete your Meditation Training from the comfort of your own home and at your own pace but fully supported by your teachers! 
In this course, you will learn about the philosophy and principles behind meditation, you'll learn to guide your students through meditation practices, you'll deepen your meditation practice, and you'll experience and share the benefits of a variety of meditation practices. Deepening your practice and skills in guiding Meditation has the potential to be a rewarding and fulfilling path for any Yoga Teacher. Sharing the meditation practice is a joy and a privilege, significantly adding to your Yoga Teaching toolkit.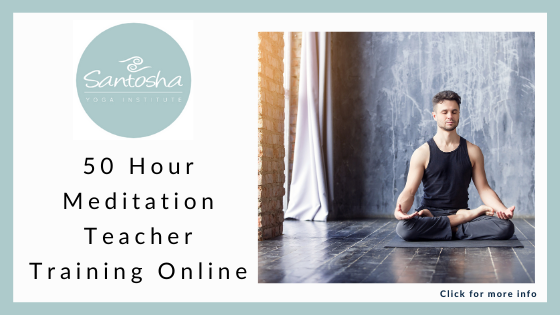 How do I meditate for the first time?
Meditation is an incredible form of exercise that allows you to calm yourself and live a significantly happier life. However, despite looking considerably easy, meditation is anything but. You must consider various factors when meditating and specific rules that make the practice much more effective. 
And while the most effective way to learn meditation as a beginner is to invest in a course, here are a few tips to help you get started:
Sit or lie comfortably; sitting on a cushion is often very helpful.

 

Next, close your eyes or use a sleeping mask to help reduce what you see.

 

Breathe naturally while ensuring that you do not control your breathing in any way.

 

Finally, focus on your breathing and body movement. Feel various parts of your body as they move in unison. And if you start getting distracted, bring your mind back by focusing on breathing.

 
How much do meditation teachers earn?
Becoming a meditation instructor is often hard work. That's why it's good to know that hard work pays off. Mindfulness instructors can earn a good living by focusing on a single craft. Most instructors can earn between $1,000 and $2,600 every month. However, it is essential to note that most instructors do this when working with significant institutes and with considerable experience and training. Newer coaches may receive a lot less due to not having much field experience. 
How do I become a certified meditation instructor?
Becoming a certified meditation instructor revolves around you learning about the practice through specific training to become an instructor. Seeing how you will need more than just knowledge about mindfulness meditation to teach students, specific courses out there will teach you everything you need to know. 
You can move on to an advanced course after taking a beginner course. Or you can take a comprehensive course that covers both beginner and advanced training, preparing you to guide your first class. 
You will find beginner, advanced, and comprehensive courses in the list above. You can choose any course that fits your needs the best, as all of them are trusted courses that offer proper certification.
Online meditation training, whether to become a meditation instructor or out of curiosity, is an incredible practice that helps your body and mind in various ways. It helps build a bridge between the mind and body, and being able to teach another person how to build that bridge can be an incredible experience. So whether you are looking to make a profession out of mindfulness meditation or need help to balance out your emotions, our courses are just the thing for you.