Last updated on December 8th, 2023.
BetterHelp online counseling services recognizes that mental wellness entails more than the absence of mental illness – it's a vital part of a person's total health. If your mind isn't in a healthy state, the rest of your body will be affected too. Counseling is one of the most effective strategies to address the root of mental illness. Sessions with psychologists can help identify the root of the problem and natural ways to deal with it.
BetterHelp is an online counseling service for dealing with:
Anxiety
Depression
Chatting with a counselor
Seeking an expert therapist
BetterHelp offers licensed therapists, and additionally texting therapy is also available.
Chatting with a therapist online can assist you in determining how to deal with negative ideas and feelings while also helping you make positive changes. People affected by traumatic events in their lives and those who have a mental health problem can benefit from counseling. Walk through this article to learn more about BetterHelp's processes and experienced counselors and discover more about how they can help you make a positive difference in your life.
As a digital publisher, we may receive compensation from BetterHelp, Online Therapy, Talkspace or similar programs if you purchase products or services through the links provided.
What is BetterHelp Online Counseling?
Alon Matas and Danny Bragonier founded BetterHelp in 2013 and acquired by Teladoc, Inc in 2015. Alon Matas is an ad tech who battled a mental disorder himself, which led to developing this online platform to help people who need counseling but do not receive it.
BetterHelp is an online site that offers mental health treatments directly to consumers. BetterHelp is the world's largest counseling service, providing a web-built program that helps patients receive consultation from their counselors through online aids like:
Live video chat
Online chat
Messaging services
Web-based engagement and phone and text contact are used to deliver online counseling and therapy services.
Most people desperately need the type of counseling that online platforms like BetterHelp provide. According to the CDC, by summer 2020, 40 percent of the adult population in America were suffering from mental health issues or substance misuse concerns due to the pandemic. Those who were hit particularly hard by the pandemic include:
Young adults
Essential workers
Caregivers
A conversation with a therapist can be beneficial to everyone. No matter who we are, we all confront challenges in our lives, hindering our enjoyment or creating hurdles as we work toward our objectives. Sometimes it is best to talk to someone about my problems. BetterHelp therapists are all well equipped to assist you in your quest for personal growth.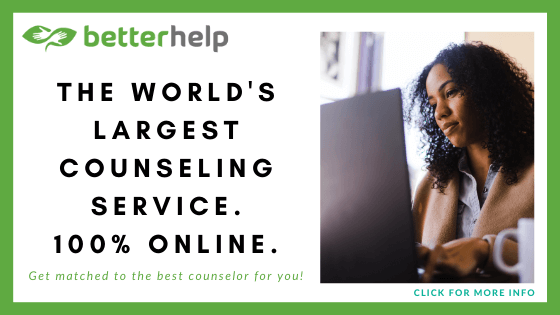 BetterHelp is a legitimate, reputable firm that is a leader in online counseling with many delighted clients. It serves as an online counseling platform for over one million patients with 21,000 qualified therapists.
Most people prefer BetterHelp's online platform over the conventional face to face counseling model because:
It is a safe platform, maintaining confidentiality.
They get the advantage of receiving therapy from the comfort of one's own home
BetterHelp ensures complete adherence with HIPAA regulations
For some people, online counseling is more affordable than in-person treatment.
Of the possibility of anonymity
It has high standard therapists.
It is user friendly
BetterHelp's specialty is focused on its certified and qualified therapists. Even though Teladoc, Inc. purchased BetterHelp, It follows strict therapist intake procedures and maintains its quality of care.
How Much Does BetterHelp Cost Per Month?
At BetterHelp, you can get connected with a qualified and trained mental health expert without having to pay a lot of money. BetterHelp charges $60-$80 a week (billed monthly) for online counseling, depending on your therapist's availability and your preferences.
BetterHelp's fees are typically a lot less expensive than going to a face-to-face appointment. Traditional treatment sessions cost between $75 and $150 per session. With BetterHelp, there is no hidden price, and the charges are clearly stated. You can concentrate on getting the help you require.
The BetterHelp pricing structure is based on the frequency with which you renew your subscription. In other words, the longer you stay with BetterHelp, the less you pay.
BetterHelp's plans all offer unlimited text messaging as well as live:
And when you're ready, you can end your subscription at any time, for any reason.
If you're worried about paying these prices, there are also a variety of financial aid alternatives available. BetterHelp's customer service staff can assist you in learning more about additional support for online mental health resources. The BetterHelp platform is flexible to your particular financial demands so you can maintain your mental health.
How Does BetterHelp Pay Their Counselors?
The earning potential of BetterHelp counselors is limitless. A therapist working at BetterHelp can make $30 per hour plus bonuses. It is up to you how much money you make, but you can make a full-time living using the BetterHelp platform compared to other online counselor occupations.
BetterHelp does not reveal the payment amount to any counselors interested in joining their team until the onboarding process has begun. However, you are free to discuss the wage structure as part of your fact-finding process. Unlike other platforms, BetterHelp pays its counselors on an engagement basis rather than hourly. Compensation is distributed based on how often counselors engage in meaningful conversations with their clients in engagement-based compensation schemes.
Counselor-client interactions on the BetterHelp platform can take a variety of forms.
Asynchronous chats
Direct conversations
Journaling
Live phone calls
Live video sessions
Worksheet assignments
And other interactions are all considered engagements
Counselors are not paid through the platform for their services.
The Engagement Based Model and Counselor Success
The counselor's participation in the engagement-based model payment process is basic once they have signed up for BetterHelp and have been onboarded. Because they get paid for each client engagement, the more frequently they check in with their clients and schedule sessions, the more money they will receive. Counselors that are more forward-thinking in their approach to their clients' treatment are usually more effective on the platform than others.
Counselors determine the depth of their pay based on the quality and quantity of meaningful engagements with new and existing clients under the engagement-based pay model. In fact, counselors who are proactive about connecting with and consistently communicating with clients are highly successful.
How Does Enrolling With BetterHelp Work?
According to the World Health Organization (WHO), it is critical to look after your mental health as it is an integral aspect of human nature. BetterHelp works by facilitating open communication between you and your therapist through the use of technology. You can:
Text your counselor during the day
Book a live chat with them
Calendar a phone call with them
Schedule a video session with them
The procedure is simple and starts with a brief questionnaire on the BetterHelp website to learn more about why you're seeking therapy and what your preferences are in terms of:
Schedule
Therapist gender
Therapist race
Other criteria
It takes roughly 24 hours for you to get matched with a therapist. Once matched, however, you can begin immediately exchanging texts.
Upon signing up, you will receive an email instantly informing you of your therapist's name and providing you with a link to their profile. Your counselor will respond to you with a message telling you what to expect in terms of communication frequency (they respond to all messages within 24 hours) and asking you to share your family history, any personal details, and goals for working together.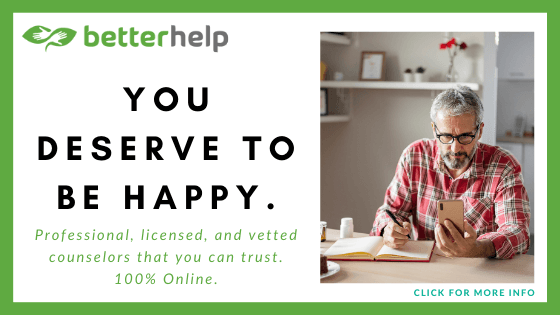 How Do I Get Started With BetterHelp Online Counseling?
The BetterHelp setup procedure is quick and straightforward. It calls on you to answer few questions about what you are looking for in your therapist, followed by payment of your first month of therapy.
Getting started with BetterHelp is easy, and the website itself guides you through every step. Completing the surveys and being matched with a therapist takes about 15 minutes.
Your therapist will send you an automatic welcome message asking for more information. After you send your response, the page prompts you to proceed with the payment, which might be disappointing, and it might be a waste of time if you follow the whole procedure and then refuse to pay. But fortunately, BetterHelp stores your message, so you won't lose it if you decide to pay later.
Let BetterHelp know about your ability to pay for therapy. They will offer alternatives, and in some cases, BetterHelp will help you get a free trial.
If you are a mental health professional and need to take some continuing education courses, you should check out the best courses for continuing education for mental health professionals.
Following the Actual Enrollment Process
Below are detailed explanations for each step in BetterHelp's enrolment process:
Step 1: Answer the questionnaire
BetterHelp uses the initial questionnaire to analyze your issue and match you with your therapist. Questions related to how you are feeling psychologically are all included in the questionnaire.
Step 2: Create an account
BetterHelp provides you the option of signing up using accounts like Facebook, Google, etc. You can also sign up using your email address. You'll receive an email with a verification number that you must input on the BetterHelp website.
Step 3: Decide what qualities you want in a counselor.
Make it clear to BetterHelp what you expect from your therapist. You can detail your preferences in various categories like age, gender, etc.
During this step, you will also choose the therapy that you want based on what you expect from your therapist's expertise, such as (but not limited to):
Addiction
Anorexia nervosa
Coaching for executives and professionals
Depression
It's about the family.
Parenting
Self-esteem and motivation
Sleep disturbances
Finally, you'll be asked to give a brief description of what brought you to BetterHelp.
(Looking for a way to combat depression? Check out yoga poses to help with depression!)
Step 4: Get matched with a therapist
BetterHelp matches you with your therapist based on your answers provided in the questionnaire section. Keep in mind that BetterHelp may not be able to meet all of your requests but will endeavor to find the greatest fit. If you don't think the therapist you've been paired with is who you want, you can ask for change at any point.
Step 5: Contact your appointed counselor or therapist to confirm
You receive an automated message from BetterHelp and your therapist for further details.
At this time, you will be asked to pay. After receiving the message, proceed with the payment. BetterHelp saves the messages if the payment is paused and can be resumed anytime you come back.
When it comes to online or teletherapy, there are many advantages. BetterHelp is a cost-effective and easy choice for individuals who prefer to communicate over the phone or via video call. And their text-based technique is a simple way to get comfortable with the process if you've never been to in-person counseling before.
Review your counselor selections on the internet and find the right counselor for you, whether you like to be in person, over the phone, or through the unlimited messaging service. Their mobile app is simple to use, and switching therapists is easy if the first match doesn't feel right for your needs. In this instance, the counselor should be able to steer you in the appropriate direction.
When you're ready, BetterHelp's clinical social workers and mental health professionals can help you; simply sign up and get started.