Last updated on September 25th, 2023.
If the morning salty sea air is something you look forward to smelling while warming up for a Yoga class, then Byron Bay, Australia, is the best place to practice. Byron bay has multiple locations to practice Yoga, and these five are the best in the city. In addition, Byron Bay is filled with Yoga instructors and courses offered in classrooms and on the beach. 
The 5 Best Places for Yoga Teaching in Byron Bay are: 
There is something for everyone in Byron Bay. Whether a specialty topic is needed, such as feminine Yoga or the general two-hundred-hour training, it can be found in Byron Bay. Byron Bay is home to several unique styles of Yoga for every purpose imaginable. Byron Bay is a place that is home to many Yoga instructors but could always use another. 
Teaching Yoga to Beautiful Byron Bay
According to Quora user Ric Richardson, Byron Bay is rumored to be one of the most picturesque places in the world. Byron bay has numerous places to enjoy a crisp morning or relaxing sunset and stunning cafés to enjoy the backdrops in. Unfortunately, Byron Bay is one of the more expensive areas of Australia to live in, centered in New South Wales. 
The Most Popular Things to Do in Byron Bay are:
Yoga on the Beach
Surfing
The Cape Byron Walking Track
How Much do Yoga Teachers Make per Class in Byron Bay?
Teaching yoga in Byron Bay will gross a practitioner anywhere from forty-one thousand to sixty-one thousand Australian dollars. The current exchange rate is sixty cents U.S. to one dollar Australian, or forty percent lower after the exchange rate. Therefore, the equivalent pay in American dollars would be about twenty-five thousand dollars per year U.S. 
Is There a Demand for Yoga Teachers in Byron Bay?
There is room in the market in Byron Bay for more yoga instructors to teach the craft they love. Yoga instructors are unique in practice, like martial arts and fitness instructors. The limitations are based on the instructor's knowledge of the skill and ability to gain a following based on social aspects. Referrals are the best way to earn business in Byron Bay.
The 5 Best Yoga Teacher Training in Byron Bay
Byron Bay is home to more than one hundred places to learn Yoga. In addition, there are locations based out of people's homes and on the beach. Each class holds its own unique cultural influence on the Byron Bay area. Like most physical fitness businesses, the more clientele an instructor has, the better of an instructor they are roomers to be; here are the five best Yoga Teacher Training in Byron Bay.
1. Santosha Yoga is a Getaway Experience Like No Other
Santosha Yoga Institute offers base training in Byron Bay, Sri Lanka, and Bali. The courses are also offered online if you cannot attend in person. Gain more knowledge on a fourteen-day journey to becoming a certified yoga teacher. Santosha Yoga provides a variety of teaching methods over the fourteen-day retreat. In addition, Santosha Yoga includes lifetime access to their one hundred hours of online training in the course. 
The Most Talked About Teachings Include:
Yoga Massage
Ayurveda
Trauma Sensitive Teachings
Mental Wellness
2023 + 2024 Byron Bay Level 1 Course Dates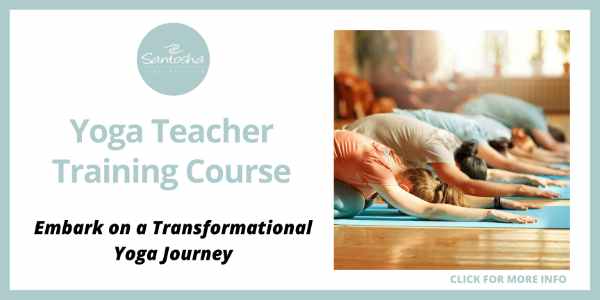 2. Barefoot Yoga School is Internationally Recognized; "Where Science Meets Spirituality."
Barefoot Yoga offers part-time learning courses and even a lite fifty-hour refresher course. Being in smaller groups allows the instruction to be personalized and dive deep into the understanding of the teachings. Individual focus is allowed more at Barefoot Yoga, offering a higher education quality than in similar schools. 
Barefoot Yoga School offers guests luxury accommodations and even foundation courses for beginners. The concept of individual focus is lived at the Barefoot Yoga School, as focusing on smaller groups is prevalent in enjoying this experience. Outdoor activities during the course occur in various gorgeous Bryon Bay settings.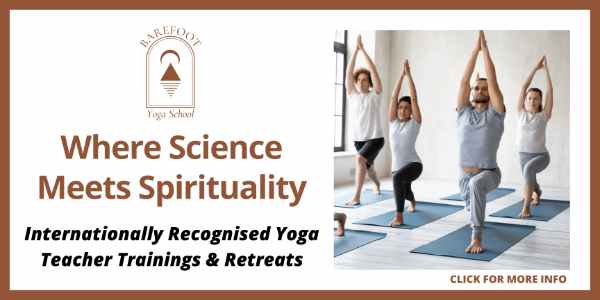 3. Byron Yoga Centre Offers Residential and Specialty Yoga Courses
The Byron Bay Yoga Centre offers various retreats for various prices. The center provides two main schedules: twelve or twenty days. The courses range from the three-part class, which includes residential training, or the two-part class. In addition, the center provides the meal and stay accommodations making the retreat an enjoyable experience. 
Staying with the group for the entire twenty days (meaning, at most times, a person will be in the presence of at least one group member) could leave some feeling homesick for some alone time; however, the schedule is so busy the time just flies by. Each day consists of fourteen hours of activities, including meals and lectures alike.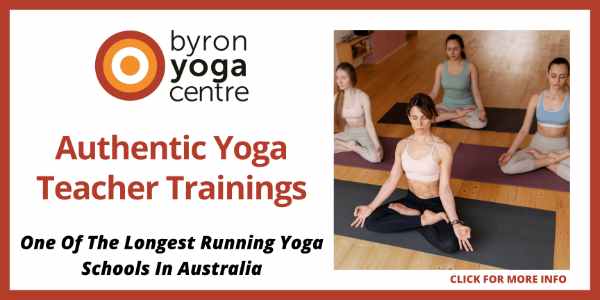 4. Bamboo Yoga School Offers Information About the Framework and Breathwork
Bamboo Yoga School teaches the philosophy behind meditation, sutra, and more. The courses range from a mix of technique and philosophy in practice. This facility offers a flexible learning style, making all classes available at your leisure. For instance, a person could attend a level one class on any day it is offered before moving on to a level two class. 
The More Studied Topics Are:
Yogic Meditation
Breathwork & Meditation
Koshas & Tattwas
Prayayama
Mantra
Teaching Skills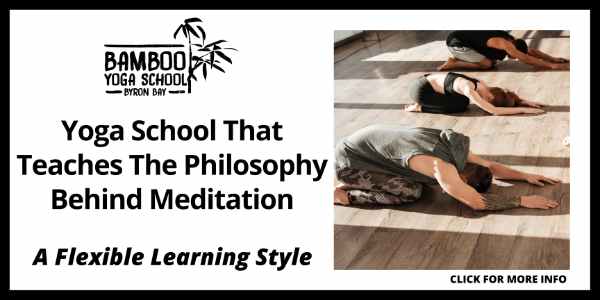 5. Bliss Baby Yoga is Centered Around Helping the Ladies
Feminine Yoga is the specialty that Bliss Baby Yoga teaches. Having both a variety of online courses as well as in-person classes, Bliss Baby Yoga is the perfect place to learn feminine Yoga. Styles Such as Fertile Bloom and Dark Moon Classical for specific issues are just some of the unique and individual classes in which Bliss Baby Yoga specializes. 
Bliss Baby Yoga also offers books and individual teachings on a particular topic. This way, a quick refresher course on a subject or expanded knowledge is only a click away. In addition, the Bliss Baby Yoga classes offer prenatal, pregnancy, and even restorative yoga knowledge.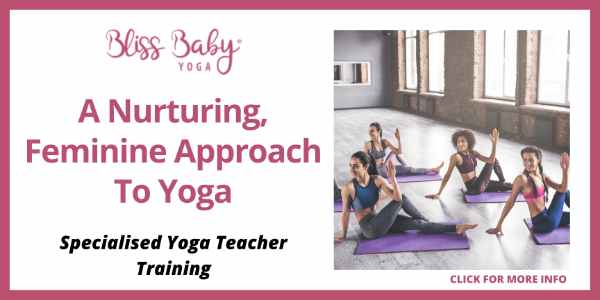 Byron Bay Should Be Named Byron Stay
No matter which style of Yoga is taught, there is room for various teaching methods and combinations available to teach in Byron Bay. This beauty is slowly gaining traction as one of the best vacation gems in the world. With so much to offer in terms of scenery and natural backdrops, it is no wonder Byron Bay is on fellow instructors' minds.