Last updated on November 24th, 2023.
A child mental health care consultant is someone who helps assess children when their mental health may be compromised or when families need help. This job can be crucial to a child's mental health development. Child mental health consultants can assess children post trauma or events in life, or they can even work with children to prevent negative mental health outcomes.
There are quite a few career paths you can choose from if you decide to make the step to becoming a child mental health consultant. Some of these jobs include a behavioral health consultant for the state you live in, you can work for an independent behavioral company, you can work for a non profit organization, you can work for the hospital, you can work for a community center, you can work for a school, and you can have your own independent practice. These are a few of many options you can work with this role.
Continue reading the article below to talk about these career path options and to decide if one may be a good role for you.
What is a Child Mental Health Consultant?
A mental health consultant works closely with families to assess mental health issues and to offer help and assistance. A child mental health consultant can be helpful when a child is having behavioral issues or if there has been trauma in the family. If a child has undergone a serious event or traumatizing event, it can shape the child for the rest of their life.
It is important when needed for a child mental health consultant to step in when something unusual is happening in a child's behavior. If parent's see a change in behavior, eating habits, or if a change has happened in the child's life, they may seek out guidance from a child mental health consultant.
Check out the 3 best early childhood mental health certifications in that article!
What Does a Child Mental Health Consultant Do?
A child mental health consultant works closely with children and families to assess mental health related topics and issues. They assess the child and see if there are any behavioral or mental health related issues that need to be addressed. Many mental health consultants work closely with psychiatrists and doctors to work together on diagnosis, medication compliance, etc.
A child mental health consultant can meet daily, weekly, monthly, or as needed depending on the client. This role can be through a non profit program, a doctor's office, a hospital, a mental health care facility, etc. If thinking about becoming a child mental health care consultant, the following are job options that you can choose from.
7 Career Paths For a Child Mental Health Consultant
1. Behavioral Health Consultant for the State
One option you have is to be a behavioral health consultant for the state that you live in. When working for the state, you are contracted by the state and work with children that may be referred by their schools counselors, part of a low income program, etc.
When doing this job, you are going to be assessing children that are part of a home of parents that may have been arrested for drug use, battery, etc. It is your job to assess and report their mental health status and to check back in with their social worker. Many times when children have parents that have been abusing drugs, abusing the kids, etc. it can take a major tool on the mental health of children.
2. Working for a Behavioral Healthcare Company
There are independent behavioral healthcare companies that work with either children, adults, or both. These companies are usually contracted with certain health insurance companies to offer assistance and guidance to families as they need. Look up companies in your area hiring and see what they specialize in to see if it would be a fit for you.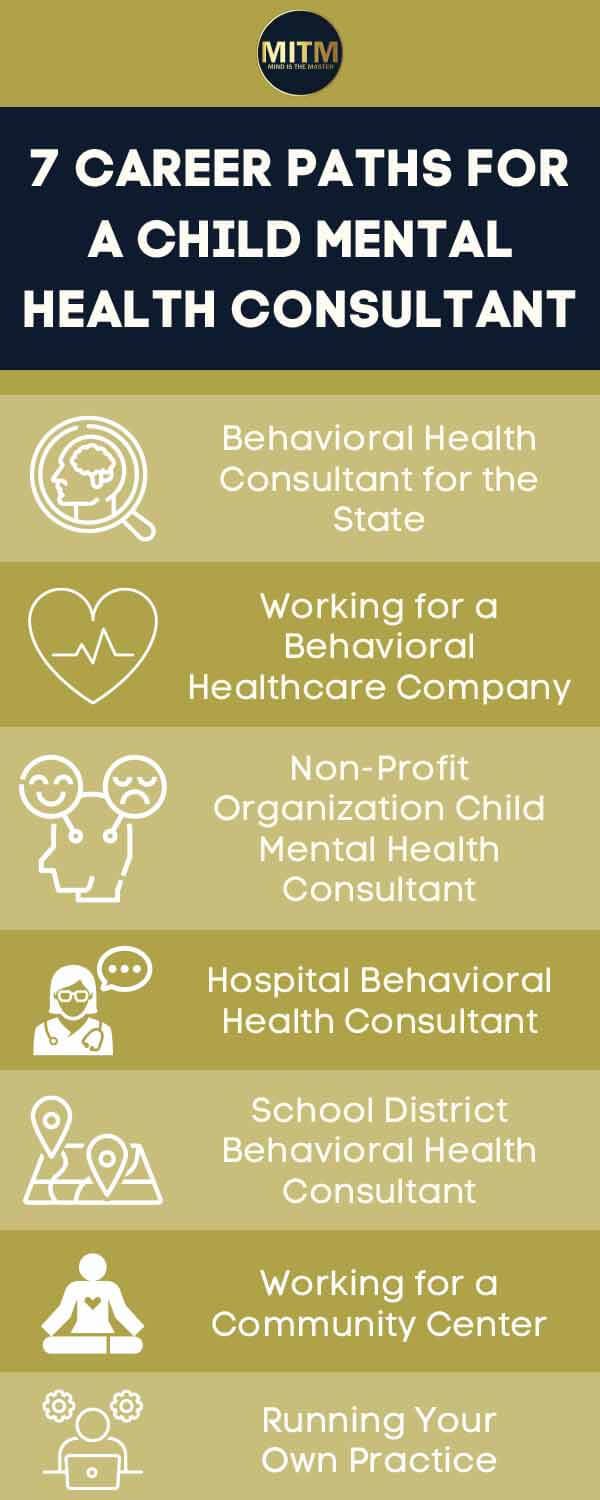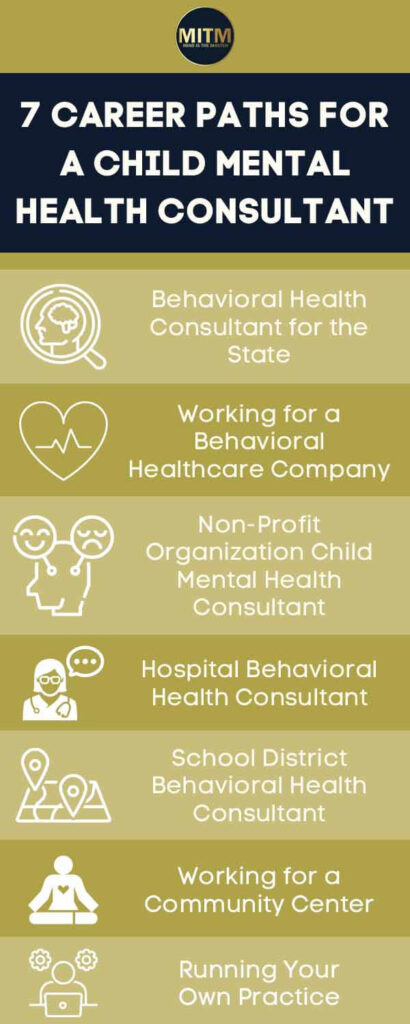 3. Non Profit Organization Child Mental Health Consultant
Many non profit organizations offer mental health care services for children in need. Once non-profit organization that hires child mental health consultants is United Way. United Way works off donations to help families in need in your community.
4. Hospital Behavioral Health Consultant
Hospitals offer both child and adult behavioral health consultants. These jobs are usually on the psych floor and assess children or adults that have been brought in for behavioral health issues.
A behavioral health consultant in a hospital, you assist patients in addressing and improving their behavior problems. As a behavioral health and developmental expert, your responsibilities include evaluating each patient's health and developmental requirements.
Finally creating a treatment plan for each patient to reduce bad habits and encourage good choices. You will also be able to monitor the patient's reaction to therapy and make modifications as needed as the patient progresses.
5. School District Behavioral Health Consultant
Behavioral health describes the connection between behaviors and the health and well-being of the body. This would include behaviors such as eating habits and exercising and how they impact the physical or mental health of students.
The school system has behavioral health consultants as needed. If there are behavioral issues with children in class, they may contact the school district behavioral health consultant to intervene.
6. Working for a Community Center
Community centers such as the YMCA hire child mental health consultants. This is another community program that assesses the children that spend time there and contact the behavioral health consultant when needed.
Providing support for patients as well as their families is also part of being a behavioral health consultant in a community center.  By helping to increase awareness of topics that improve physical and mental health for patients. 
7. Running Your Own Practice
It is also possible to establish a clienttell and work from home as a behavior healthcare specialist. To do this, I would recommend working for someone else or establishing a friendship with other mental health care providers prior for work and referrals.
Also, it is important to know that with prior experience in a work space, the chances of getting more patients and the professionalism of your work increases. 
So, without further ado, if you want to become a child mental health care consultant read on below on how to get started!
If this sounds like the job for you, here is how to get started on the process to become a child mental health care consultant. Here are the things you need:
A Bachelor's Degree: Firstly, you do need a bachelor's degree for an accredited University. This degree needs to be in Social Work, Child Psychology or Counseling. Many also have aMaster's degree but it is not required.
Check if there is an hours qualification: Some jobs may require you to shadow a mental health professional for a certain amount of hours before hire. Check with the specific role or job for exact requirements.
Complete CE's every 2 years to maintain licence: Continuing education courses are needed for most all healthcare jobs. This job requires you to complete them every two years to maintain up to date and be able to work without pause or relapse in employment. Check your state's requirements for completion.
Those who want to work as a licensed professional mental health counselor for children  must be committed to obtaining licensure via education, experience, and testing. And it is also very beneficial to have the patience and attention a child needs. 
A child clinical mental health counselor's salary is comparable to that of other counseling occupations around the country. And it is a very rewarding job, apart from the good salary it can guarantee, most individuals become counselors to assist others rather than to get wealthy.
Finally, being a counselor pays well enough to live comfortably, especially if you've earned expertise and established yourself in your industry. There are plenty of job opportunities for the role, which is expected to continue to increase in the future. 
"Changing the Conversation around Mental Illness." United Way Worldwide, 9 Oct. 2018, Click Here
"Tutorial 6 · Recognizing and Supporting the Social and Emotional Health of Young Children Birth to Age Five Programs." What Is the Mental Health Consultant's Role?, Click Here