Last updated on November 29th, 2023.
Mental health issues can take root very early in life, and those who work with infants, young children, and their families don't always feel prepared. In these cases, a certification in early childhood mental health might be just what they need.
The mental health of infants and young children is the foundation for healthy, long-term growth. A certification in early childhood mental health can help teachers, practitioners, social workers, and caregivers by teaching them how to look for and deal with situations that could hinder a child's healthy emotional and social development.
The 3 Best Early Childhood Mental Health Certifications are:
People who work with babies and young children do a very important job. They help children learn basic skills that they will use as they grow up. Getting certifications can be a great way to best serve the families you work with and stay up to date on the knowledge within your field. We've put together a list of the top three certification programs in early childhood mental health.
What Is Infant and Early Childhood Mental Health?
When we talk about Infant and Early Childhood Mental Health (IECMH), we are talking about the emotional and mental health and well-being of very young children and the people who care for them. It usually refers to how well a child grows socially and emotionally from the time they are born to the time they are about five years old.
This typically includes things like a child's ability to:
have warm and responsive relationships with caregivers
make friends with other people
explore the world and learn
communicate with others effectively
express and regulate their emotions
play with other kids their age
Infant and early childhood mental health is the foundation for healthy, long-term growth. Every second in the first few years of life, more than one million new brain connections are made. In order to avoid or treat mental health problems in very young children and their families, education in infant and early childhood mental health is essential.
IECMH also refers to the full range of services and supports needed to promote healthy development, prevent mental health problems, and treat disorders of the brain. This helps children and caregivers be happy and healthy by providing social and emotional support and resources. It also helps build responsive relationships and can help identify different behavioral challenges before they become big problems.
Why Pursue a Certification in Early Childhood Mental Health?
95% to 142% of children from birth to 5 years old have problems with their emotions or behavior. If these disorders go untreated, they can have a negative impact on every part of a child's development and how well the child can do in school and in life.
A certification in early childhood mental health helps people get better jobs in a lot of different fields that help young kids and their families. IECMH education can help you as an early childhood professional by teaching you to spot and address situations that could harm children's healthy emotional development.
In studies, IECMHC has been shown to help children improve their social skills and emotional functioning, encourage healthy relationships, minimize challenging behaviors, cut down the number of suspensions and expulsions, and improve classroom performance.
These programs are good for people who work in prevention and intervention in groups or alone, as well as people who work with expectant parents, infants, young children, and families in a wide range of fields. In addition, supervisors and administrators in child and family-focused programs and other fields will also be included. This includes early learning facilities, home visiting services, doula care, early intervention, mental health consultants, health care providers, and more.
One recent study found that 93 percent of teachers are concerned about their students' mental health needs, but 85 percent said they need more training in this area. As schools and childcare facilities start to add mental health education to in-service trainings, having a certification in infant and early childhood mental health will put you one step ahead.
Check out the different career paths as a childhood mental health consultant in that article!
Job Outlook for Childhood Mental Health Consultant
The job outlook for child development and mental health careers, in general, isn't set in stone as an education in these fields can lead to a wide range of jobs. However, according to the U.S. Bureau of Labor Statistics, job opportunities in mental health are expected to grow by 23% from 2020 to 2030, which is a lot faster than the average for all jobs.
BLS also states that job growth for preschool and childcare centers is expected to be 18%, which is faster than the national average. Preschools and the people who run them are going to be in high demand for a long time.
The 3 Best Early Childhood Mental Health Certifications
Those who hold an early childhood mental health certification work in a wide range of settings and roles with infants, young children, and their families. To be better prepared to serve those in their profession, practitioners should use the principles of infant and early childhood mental health (IECMH) in their work and professional skills.
However, finding a good, accredited certification program isn't always easy—especially if you've got a lot going on already. If you're interested in getting a certification in early childhood mental health, our top 3 certification programs in early childhood mental health are listed below. 
1. Child Development: Behavior and Mental Health Certification from Stanford University
The Child Development: Behavior and Mental Health certification is a brief online course created by Stanford Center for Health Education child development specialists that gives early childhood professionals a practical, science-based way to help kids be happier and healthier.
Students look at practical, science-based ways to encourage a child's intrinsic learning ability, as well as positive behavioral discipline tactics to prevent and manage youngsters acting out, over the course of six weeks. The program also looks at the effects of parenting and emphasizes the significance of a child's social relationships with adults and peers.
This online course is designed to help people who work with kids in schools or hospitals. While working in medical or healthcare jobs like doctors, pediatric specialists, therapists, and social workers, these professionals will learn the skills and information they need to help a child grow and learn. Those working with children, such as teachers, parents, caregivers, and school counselors, will be able to learn about effective child-rearing techniques and developmental milestones.
Each person who takes this course will leave with a clear, in-depth idea about what they can do to help and encourage a child's social, emotional, and physical growth. Some of the topics covered include:
Diverse factors that lead to positive growth
Taking care of a child's mental health
Developmental milestones that happen from birth to when they start going to school
What different challenging behaviors mean and how to respond
Building peer connections
Skills to identify and support mental-health concerns
Key information about the importance of social connections
The parenting experience
As you work through the weekly modules of this online short course, you'll learn practical, science-based ways to help a child have a healthy mind and build good relationships with other people.
Price: $1,500 USD
Duration: 6 weeks
Commitment: 6-8 hours per week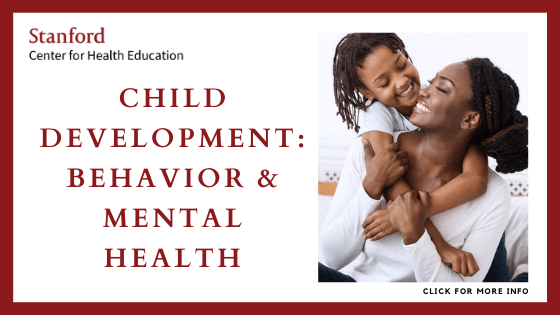 2. Early Childhood Mental Health Graduate Certificate from Charlotte School of Social Work
If you have a bachelor's degree and work or want to work with young children and their families, you can get a Graduate Certificate in Early Childhood Mental Health (ECMH) from UNC Charlotte.
This program is for people who want to learn more about how to help young people with mental health problems. It is a post-baccalaureate certificate program jointly run by the University of North Carolina Charlotte's School of Social Work and the Department of Special Education and Child Development that looks at the growing need for mental health services for children from birth to five years old.
Those seeking certification from UNC need an undergraduate degree from a college or university in a human services field. These fields include early childhood special education, pediatrics and allied health, psychology and social work. People who are already enrolled in a graduate program in human service at UNC Charlotte can also apply to the ECMH certificate program.
If you want to get a certificate, you must take at least 15 graduate-level courses, including four core courses and one elective course.  Most classes are held in the evening, but this can change. It also doesn't matter what order you take the courses.
Some of the topics covered in the program include:
Early childhood mental health 
How social, cognitive, and communication development in young children all work together
Positive social and communication skills for young children, their parents, and other caregivers in a wide range of situations
Child developmental theory
How the social environment and the structure of the brain in the first few years of life affect how later people work
The best ways to help young children who are having trouble communicating and behaving in inclusive settings
Appropriate intervention plans for children with disabilities
Contextual framework of the family as a system
Developing family support and intervention plans
Price: Tuition starts at $240.94 per credit hour for in-state residents
Duration: Currently, the course requires 15 graduate credit hours. However, the ECMH Graduate Certificate is set to be offered fully online as a two-semester, 12 credit program starting in Fall 2022.
Commitment: Students can take one or several classes at a time. However, the program must be complete within five years of the start date.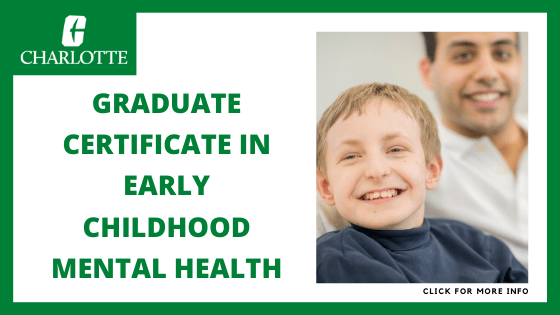 3. Infant and Early Childhood Mental Health Certificate Program from Erikson Institute
The Infant and Early Childhood Mental Health Certificate Program is a graduate-level online certificate program from Erikson Institute. Within the program, you will learn how to help parents and kids who are having trouble with each other, as well as how to work with young kids who have social and emotional problems and their caregivers.
The program was designed for professionals who already have a lot of experience in child development, infant/family, or context about how to talk to a family member about mental health, and want to learn more and improve their work. Students must have at least three years of experience working with babies, toddlers, and their families, or a mental health license.
Some of these individuals include licensed mental health clinicians, early intervention specialists, administrators, or family support workers. Those who also work in health care or are in the field of early childhood development could also benefit from this course. 
By getting this certificate, students will learn more about the whole child, from how they think to their experiences and beliefs. Some of the topics covered in the program include:
A historical, theoretical, and empirical overview of the field of infant mental health
The different definitions and parameters of infant mental health
The evolution of the concept from early infant psychiatry
Theories of social development
Understanding parent/child relationships
Approaches to developmental intervention with young children with social/emotional, behavioral, and developmental concerns
Children's individual differences in sensory, motor, and reactivity
Common behavior problems and regulatory issues
Screening for social/emotional/behavior problems
Parent/infant psychotherapy
Price: $13,950 or $775 per credit hour
Erikson gives more than $2 million in scholarships and grants to students in our degree and certificate programs each year to help them pay for school. The Infant Mental Health Certificate Program Scholarship, which is worth 25% of tuition, will be given to a small group of students. Students who get the scholarship will have to pay the rest of the tuition and fees, as well as any extra tuition for prerequisite courses.
Duration: 18 credit hours
Commitment: Two years
Erikson Institute takes applications all the time. So, students who want to apply for any of the academic terms or programs can do so all year long.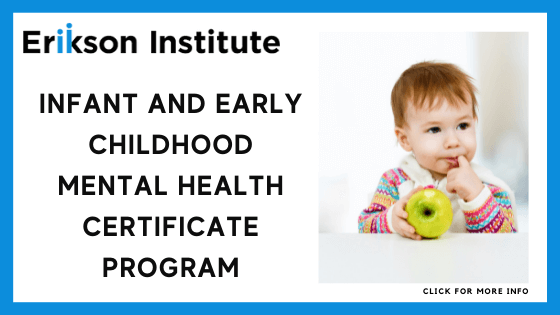 While not easy, the job of those working with young kids is essential. As the number of young people with mental health problems grows, it is important for these professionals to be able to use the right techniques to identify and/or address the social and emotional needs of children.
If you want to learn more about early childhood mental health education or get a certification, we hope our suggestions have helped you find courses and programs that will work for you.