Last updated on September 21st, 2023.
In today's dynamic business landscape, aspiring and seasoned entrepreneurs need to equip themselves with the knowledge and skills required to thrive in business. Online entrepreneur courses have emerged as invaluable resources, offering a flexible and accessible way to gain expertise in various aspects of entrepreneurship. These courses cover a wide spectrum of topics, ranging from foundational business principles and startup strategies to advanced marketing techniques and innovative growth strategies. By enrolling in the best entrepreneur courses online, individuals can tap into a wealth of practical insights, real-world case studies, and expert guidance, all while tailoring their learning to fit their schedules and preferences. Whether you're contemplating your first venture or aiming to refine your entrepreneurial prowess, these courses can serve as a transformative stepping stone towards achieving your business aspirations.
What is the best course for entrepreneurship?
Curating a definitive list of the top 7 online entrepreneurship courses can be a daunting task, given the multitude of exceptional options available. Each course offers a unique blend of insights and expertise, making the selection process an exciting journey of discovery and growth. Here is a sneak peak before we get into the whole list:
Read on for an in-depth look at each class and see the advantages of these unique and enriching programs.
Embarking on a journey to bolster your entrepreneurial acumen and lay the groundwork for your own future business? Look no further than Encubate 's tailored course, designed to guide entrepreneurs through a step-by-step process aligning business goals with personal and career aspirations. This flexible course adapts to your schedule and preferences, granting you 24/7 access from any device, wherever you choose to work on your business plans.
Structured into eight dynamic modules, Encubate's curriculum draws from the expertise of prestigious enterprises, top experts, and successful entrepreneurs worldwide. These adaptive modules encompass crucial stages like self-discovery, ideation, prototype development, market testing, team building, financial planning, and more. Microlearning content enhances understanding, while practical exercises and continuous feedback solidify knowledge.
Encubate doesn't leave you to navigate this journey alone. It fosters a supportive digital community, allowing budding entrepreneurs to network, gain feedback, connect with mentors, and more. By the end of the course, participants emerge with a refined sense of competitive advantage, honed problem-solving skills, heightened innovativeness, and a solid grasp of essential business concepts and tools. This transformative experience equips aspiring entrepreneurs with a comprehensive business concept, validated market offering, financial forecasts, and a compelling business proposal.
Highlights
Tailored for entrepreneurs, Encubate's course guides you through aligning business goals with personal aspirations, all while adapting to your schedule.
The curriculum features eight adaptive modules, covering stages from self-discovery to financial planning, bolstered by practical exercises and continuous feedback.
Encubate fosters a supportive digital community, offering networking opportunities, mentorship, and a wealth of knowledge from successful entrepreneurs.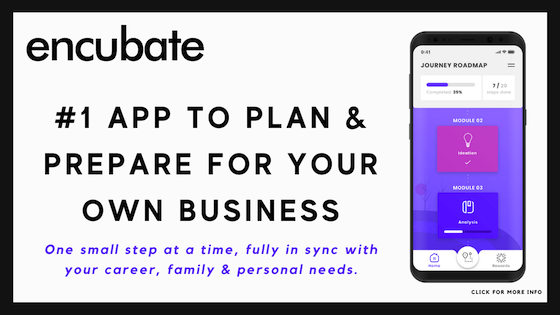 Contemplating the viability of launching your concept? Pondering the opportune moment to transition from your nine-to-five to pursue your startup venture? This comprehensive course is meticulously designed to address every facet of initiating and managing a startup enterprise.
100 Steps 2 Start-Up serves as an invaluable resource to guide you in transforming your idea into a functional business. Created and led by Dr. Sean Wise, an esteemed educator and bestselling author, the course provides an accessible, step-by-step approach.
The program offers a user-friendly journey through each stage of the startup process, supplemented by an array of supplementary materials. With a wealth of over 100 instructional videos, 80 actionable worksheets, and 80+ video guides for worksheet completion, the course delivers a holistic learning experience.
What we like about it
Developed and instructed by award-winning teacher and bestselling author, Dr. Sean Wise.
Comprehensive program guiding you through the intricacies of launching a startup, from idea validation to revenue generation.
Abundant resources including 100+ instructional videos, 80+ worksheets, and guided completion videos.
A few highlights
Identifying lucrative opportunities and penetrating markets effectively.
Validating your concept prior to committing resources.
Establishing a robust market presence and achieving sustained growth.
Generating revenue and devising strategies for scaling your business.
This course is an investment of $295, offering a worthwhile opportunity to gain expertise from a renowned expert. Moreover, the course extends special pricing options for student groups, classes, or bulk purchases through direct contact. As a testament to its efficacy, the program guarantees a full refund if you are unable to successfully initiate your business using the methods taught.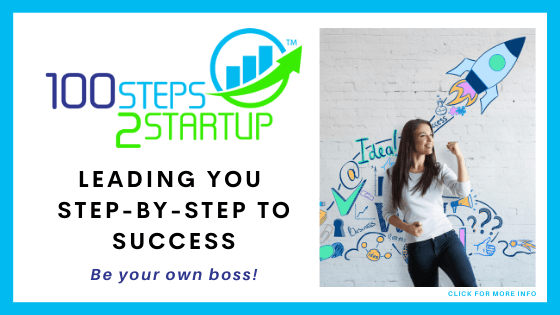 Babson College EDX course, "Entrepreneurial Operations: Launching a Start-up," delves into the foundational aspects of entrepreneurial operations, offered by Babson University as a segment of the comprehensive Entrepreneurial Mindset and Leadership certificate program.
Course highlights:
Gain insights into the core principles of entrepreneurial operations.
Explore operations-related concepts through lecture notes, readings, and case studies.
Cover topics such as operational role in entrepreneurial goals, operations-oriented mindset development, utilizing the Value Chain Canvas for operational analysis, managing operational risk in startup pursuits, and interpreting operational metrics.
Taught by Jennifer Bailey, Assistant Professor at Babson College, the course spans four weeks, demanding a weekly study commitment of 4 to 6 hours, a vital investment for aspiring entrepreneurs. Conducted in English at an intermediate level, this course can be audited for free, or a verified certificate can be obtained for $149 through the EDX platform.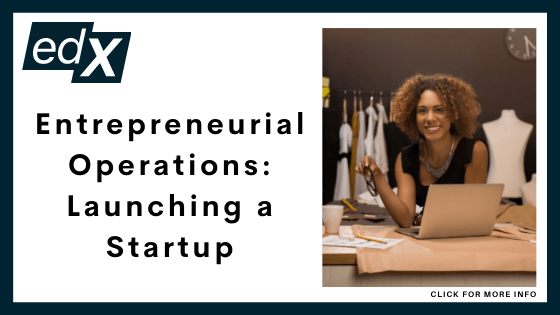 4. Oxford Entrepreneurship: Venture Finance Program
The Oxford Entrepreneurship: Venture Finance Program stands as a UK CPD-certified course that holds immense value for individuals affiliated with professional bodies in the United Kingdom. Delivering a comprehensive learning experience encompassing approximately 80 hours of study, this program delves deeply into the realm of venture finance, equipping participants with valuable insights and knowledge.
With a laser focus on tackling the common hurdles faced by startups, such as funding challenges and the intricacies of managing venture financing risks, the program boasts a rich curriculum guided by industry experts and faculty members from the prestigious Saïd Business School at the University of Oxford. The course adopts a dual approach, examining venture financing dynamics from both entrepreneurs' and investors' standpoints. By doing so, it provides participants with a holistic comprehension of the intricacies involved in venture finance.
Is this for you?
Aspiring or current entrepreneurs aiming to grasp a comprehensive understanding of venture capital financing.
Investors seeking entry into the venture capital sector and aiming to analyze diverse funding opportunities.
Individuals with a foundational grasp of financial concepts or business acumen, desiring to elevate their expertise in venture finance.
Why we like it
In-depth exploration of venture financing through the lens of both entrepreneurs and investors.
Acquisition of practical skills to navigate the funding process, assess project valuations, and formulate financial projections for fundraising.
Networking prospects within a global cohort comprising entrepreneurs, investors, and venture capitalists.
Guidance provided by esteemed industry experts and distinguished faculty from the Saïd Business School.
The program extends over 8 weeks (excluding orientation), is certified by the UK CPD Certification Service, and requires approximately 80 hours of engagement. Priced at $2,852, which can be paid in two monthly installments, successful completion grants participants access to exclusive resources and events through the official Oxford Executive Education Alumni group on LinkedIn and 2U's Career Engagement Network.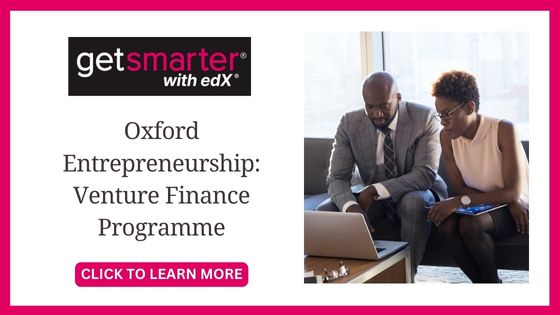 5. Massachusets Institute of Technology EDX
Are you looking to gain an understanding of the market? This course, called Entrepreneurship 101: Who is Your Customer, by Massachusets Institute of Technology EDX, will teach you about different market analysis styles and customer research methods.
If you want a course that really focuses on growing a group of target customers, this entrepreneurship certificate can give you what you're looking for. Specifically, this course is intended to provide students the skills to:
Identify a business opportunity that isn't being met.
See if your idea can work and analyze the market.
Understand the risks and rewards you're taking by going on an entrepreneurial venture.
Leverage experiments to add credibility to your project and develop a business strategy.
Discover the vital money-making decisions entrepreneurs must make during the early stages of a start-up.
Learn how to find investors and understand funding methods.
This introductory course is geared towards scientists and engineers looking to commercialize new technologies, entrepreneurs who are looking to build a new product line, and policymakers. It is ten weeks long and takes about 2-4 hours of dedication per week. The recommended prerequisite for this course is You Can Innovate: User Innovation & Entrepreneurship.
This program is taught by Bill Aulet and Erdin Beshimov, in addition to various professors from MIT. You can audit this course for free, or you can buy it for a verified certificate on the EDX website for $49.00.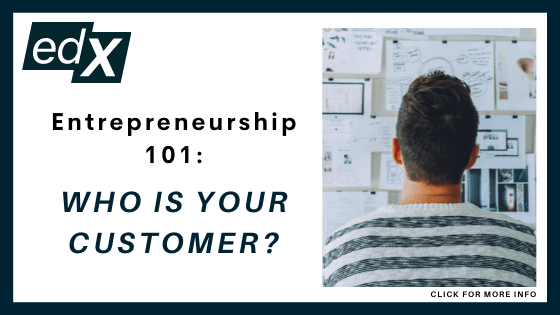 6. Wharton Entrepreneurship Coursera
This five-course series is offered by the Wharton Business School offered by Coursera and it's called Entrepreneurship Specialization.
This startup-focused course is intended to help users gain skills in growth strategies, branding, strategic management, marketing, and finance. This series is designed to teach you how to launch, grow, and finance your business, step-by-step.
The class helps to sharpen your skills needed for an entrepreneurship career so that you can go on to either create a new business or find room for growth within an existing organization.
This course is taught in English at the introductory level and takes about six months to complete if students dedicate 2 hours per week to their studies. The five courses available in this specialization are as follows:
Entrepreneurship 1: Developing the Opportunity
This class is designed to focus on connecting ideas to business opportunities as well as figuring out whether or not you or your ideas can actually work in the context of entrepreneurship.
The class teaches you how to test and validate your idea as well as how to create prototypes. It can also help you figure out if entrepreneurship is right for you. This course can help you prepare for getting ready to launch your start-up.
Entrepreneurship 2: Launching Your Start-Up
This class can help you take the prototype and vision of your opportunity to the next level by creating structure in the form of a small business organization. Learn to create a scalable business model and to identify the different necessary steps of creating a start-up.
Here you can figure out when to pivot, when to quit your day job, and fully immerse yourself in your start-up, and how to build and manage a team.
You can also learn how to build professional services, an external network, and a strategy. Goals for this course include navigating legal aspects, managing and directing a team, and preparing to work with growth strategies.
Entrepreneurship 3: Growth Strategies
This course is designed to help you navigate scaling in your start-up and balance growing your start-up quickly with growing it effectively. You'll learn effective marketing practices like public relations, search engine optimization, and pricing.
You'll learn how to develop and retain talent, as well as how to outline a plan of expansion to begin to work on financing and profitability in your organization.
Entrepreneurship 4: Financing and Profitability
In this class, you'll learn about a variety of financing options that you must decide from when building your start-up. Explore a variety of financing models like bootstrapping, organic growth, and debt and risk capital.
You'll also learn about the different types of investors that can work with your business, which include angels, venture capital, and crowdfunding. You'll become familiar with terms and term sheets, exit modes, and different exit strategies as well as which one will be best for you.
Successful students of this course should leave being able to visualize success and the financial path to success clearly. Students should also be ready to work on their capstone project, where they will be able to get feedback on pitches and can even get the chance to pitch to investors.
Wharton Entrepreneurship Capstone
This course is a Capstone project during which you'll assemble a pitch deck that includes key deliverables (customer needs, concept description, financials, etc.). You will also get the chance to review your peers' projects using a rubric and practice applying the skills you've learned to learn how to evaluate potential investments.
High-scoring students will be introduced to VC firms within Wharton Entrepreneurship's network. This course not only provides certification but a chance to network and immediately apply what you've learned to your field of interest.
You can choose to take some or all of these courses as well as take them in any order you feel like, so if you happen to need skills in one specific part of the series, you can focus solely on that topic.
Students in this course tend to see success as a direct result of taking this course.
83% of students who successfully completed this course started a new career, and 33% got a pay increase or promotion.
7. Harvard University EDX
This certificate from Harvard University EDX is called "Entrepreneurship in Emerging Economies," and focuses on teaching students to innovate ways to make an impact on complex social problems and emerging economies.
Offered by Harvard University and taught by Harvard Business School professor Tarun Khanna, the course is six weeks long, requires no prerequisites, and is taught in English. Students are expected to put in about 3-5 hours of effort a week into the course.
The class allows students to analyze complex social problems using interdisciplinary educational methods. Students will learn about how to understand the history of attempts at addressing these problems as well as identify where entrepreneurs can place their efforts within the market.
This course focuses on using the creative process of individuals to come up with new entrepreneurial systems that have a unique approach. This course juxtaposes business-related topics like financing and branding with measuring social value in the institutionally compromised settings of emerging markets.
The class emphasizes the importance of diversity, knowing the sector you're appealing to, and knowing the geographic limitations to develop a way of thinking with a bias-to-action. In this course, you'll learn how to:
Be aware of entrepreneurial opportunities in fast-growing emerging markets.
Understand the conceptual framework behind pursuing these opportunities to position yourself for success.
Appreciate opportunities for entrepreneurial ventures from multiple contexts.
You can audit this course for free on edx.org, or you can add a verified certificate for $125.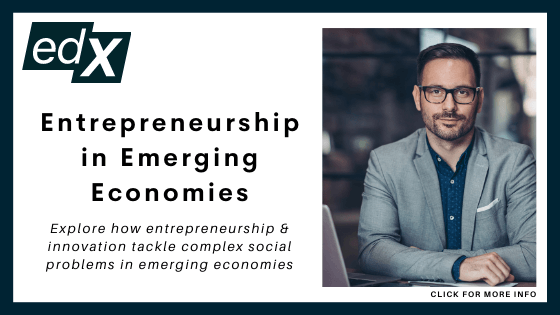 What can I do with a certificate in entrepreneurship?
While some employers are used to engaging with potential hires who have taken a more traditional approach in their education, online certificates are a way of demonstrating a specialized interest in the subject at hand.
While a certificate in entrepreneurship might not necessarily be a requirement of any job position, there are many ways you can do with a certificate in entrepreneurship. Not only can you work in freelance and even start your own business, but you can gain confidence and a credential to put on a resume.
Evidence suggests that students who complete these courses believe their experience led to:
Personal betterment
Improved their professional life
Increased confidence in leadership
Increased knowledge of business terminology
Impressive resumes
Certifications also give you the chance to access education from some of the best institutions in the world like MIT and Harvard. If you don't have the time or resources to get a college education, completing online courses for certificates can be a great way to continue advancing your career.
Is an entrepreneurship certificate worth it?
So, you might be wondering if an entrepreneurship certificate is actually worth it. We tend to ask the same question about college degrees. While they can cost anywhere from $10 to $5000 or more, even the most expensive certificates are only a fraction of the cost of a college education.
Although an online certificate cannot replace a college degree, it certainly gives students who complete the course confidence to pursue a particular career path. Students who take certificate courses often do so with a specific goal in mind and focus on what they want to learn.
Additionally, keep in mind how different all of the courses we discussed are. Everyone who takes these courses is going to have different goals in mind. The most beneficial class for you will:
Be the right difficulty level. Some courses are geared toward beginners, while other classes will be taught at an intermediate or difficult level. Depending on how much you want to be challenged, the perfect course for you might not be the same difficulty level as someone else.

Teach you about the subject matter you're looking to gain an in-depth understanding of. Do you want to gain an understanding of finances in particular? Or are you looking for more of a general overview of entrepreneurship? Every course covers different content, so you should make sure you know precisely what you want to learn to find the right direction for you.

Fit your budget. While some courses can be audited for free, and a certificate of completion is just an additional cost, others are more expensive and can only be accessed after purchase. So, if you're looking to learn educational content and aren't focusing on earning a certificate of completion, consider some of the free options available to you. If getting a certificate is what is going to push your career forward, think more carefully about paid options.

Be a good fit for your schedule. Some courses are flexible and can be taken at any time, while others begin and end at strict times and must be completed according to the pace of the course. Additionally, some courses require a more substantial time commitment and are a heavier workload, so consider these factors when you're evaluating a healthy work/life balance.
Other factors to include are what language the course is taught in, what kind of materials you would prefer to learn from, the cost because often an entrepreneur is starting with little to no money, what type of networking results you want to see from taking the course, and what successful students have to say about the course.
So, with all of this in mind, earning a certificate through a course in entrepreneurship can be worth it if you have specific goals in mind that do not strictly require a certain level of a college education. They have specific advantages as educational tools and are very accessible.
(If you loved those entreprenuership courses, you will love this list of best masterclass classes!)
How long is an entrepreneurship degree?
Earning a college education in entrepreneurship can take from 2 years for an associate's degree to 6 years or more to complete an MBA program. Pursuing this path can come with tuition costs from $10,000 to $100,000, depending on the degree level and school of choice.
In addition to these upfront costs, fees, textbooks, travel, and the time dedication of school adds to the financial burden of college. While earning a degree can be the right choice for some, others might want or need more flexibility in their educational experience.
If you're one of those people, earning a certificate online can give you the chance to specialize your skills quickly and in ways that will directly connect with what you'll do beyond the degree.
These courses are all very different from each other. While the right decision for your future educational goals is about you, if you are looking into certificates for entrepreneurship, know that there is one for whatever your needs are. Education in today's age extends beyond college and can help you gain specific access to a deeper understanding of entrepreneurship.
How long is an entrepreneurship degree?
The duration of an entrepreneurship degree can vary based on the level of study and the educational institution offering the program. Generally, a bachelor's degree in entrepreneurship typically takes around three to four years of full-time study to complete, while a master's degree in entrepreneurship may range from one to two years. Doctoral programs, intended for those pursuing advanced research and academic careers, often span three to five years or more. It's important for prospective students to consider their career goals, academic interests, and time commitments when choosing the appropriate level of entrepreneurship education to pursue.