Last updated on December 2nd, 2023.
Teaching yoga to children is a rewarding profession that can profoundly impact young students and their parents. "Children naturally engage in physical play. They learn by exploring their body—its movements and capabilities—and its relationship to others and the outside world. Incorporating movement and physical activity into formal education settings has been shown to reduce student stress and improve health and academic outcomes." Source: Getting on the Mat: Teachers and Students Engaging in Yoga Together 
Unlike the typical office job, it involves active and engaging practices. Selecting the right training program is crucial to becoming a skilled yoga instructor for children.
Here are six top online courses for aspiring kid's yoga teachers:
Keep reading to learn about the top training courses for teaching kids yoga.
How do you become a kid's yoga instructor?
Kid's yoga teacher training courses teach instructors all they need to know to feel confident guiding kids through different poses and principles of yoga. Before becoming a children's yoga instructor, please consider where you want to teach. Is there a school, daycare, or yoga studio that offers classes to kids that you might like to apply to? If so, the first thing you should do is research the studio's requirements for hiring instructors. Each yoga studio, children's daycare facility, and school will have different requirements for hiring a yoga instructor. While some yoga studios may not have specific certification requirements for teaching, obtaining a certification from a reputable yoga organization to teach kid's yoga is highly recommended.
How do you think you should start?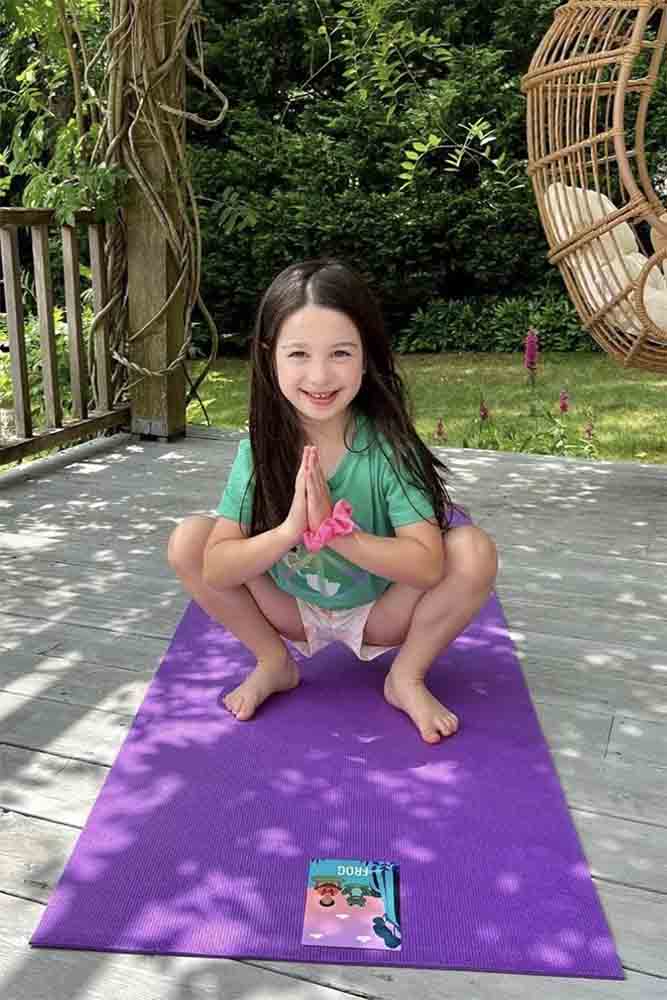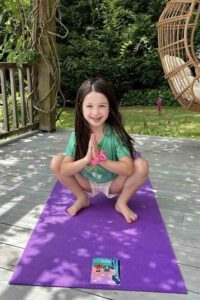 People interested in becoming children's yoga instructors often start by getting their feet wet and teaching yoga to kids at a nearby studio or school. It is common for new yoga teachers to seek more training to deepen their knowledge. Therefore, it may be a good idea to teach kids yoga at a studio for a while, and once you are ready to take your instruction skills to the next level, sign up for an intensive kid's yoga teacher training course.
Training online
Online kid's yoga certifications and training allow teachers to learn from expert yoga instructors nationwide. A traditional 200-hour or 95-hour training course can be time-consuming and requires much effort and study. The intensity of these courses makes online options very popular as they allow students to complete the course on time and at a steady pace over multiple weeks or even months. Once you complete a course certification, you can register with well-regarded organizations like Yoga Alliance as a registered children's yoga teacher. This boosts your credibility and makes you more appealing to yoga studios and anyone looking to hire a kid's yoga teacher.
What are the Yoga Alliance requirements to teach yoga to kids?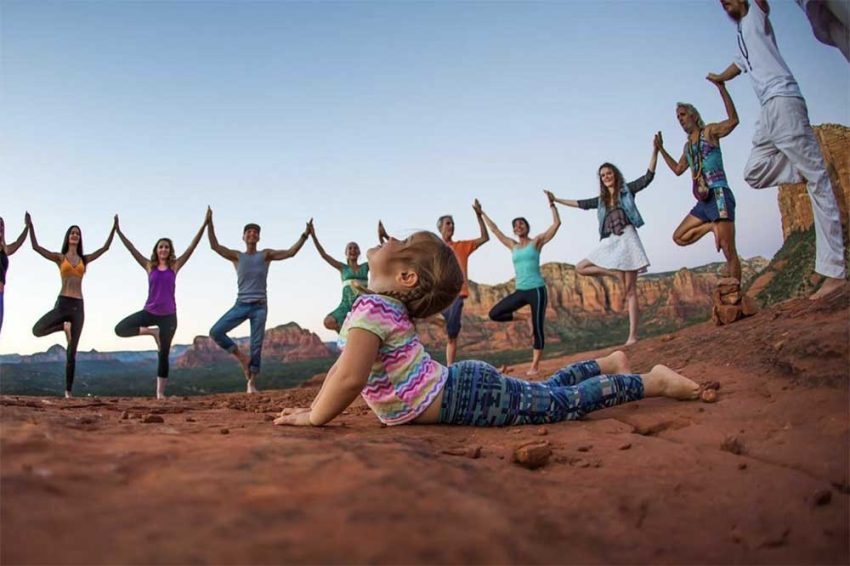 Yoga Alliance is the premier nonprofit association representing yoga teachers and students. If you are planning to become certified to teach yoga to kids, there are a few requirements that you must meet, according to Yoga Alliance.
The first step to obtaining a certification is to complete two major training courses. These are the two courses that you will need:
200-hour training with a registered yoga school
95-hour teacher training with a registered Children's Yoga School
Once you have completed the necessary training, you can register with the Yoga Alliance as a children's yoga teacher. After completing your training, you must complete and submit 30 hours of teaching to Yoga Alliance. After you have completed these steps, you will certified to teach yoga to kids.
The 6 Best Kid's Yoga Teacher Training Online
After setting your sights on what you want to achieve and where you want to teach as a kid's yoga instructor, it's finally time to decide which online training course to register for. Once you start looking at the different courses and their curriculums, timelines, and prices, you will want to ask yourself some questions to decide which training course is best for you. 
Here are some typical questions:
Does your ideal course include supervised teaching hours?
What resources does the course have to refer back to once you start teaching children?
What is your budget for your online training course?
Do you want to learn from any specific yoga experts or instructors?
These are only a few possible questions to remember while deciding which kid's yoga training you plan to pursue. As a kid's yoga instructor, you want to ensure each step in your training and certification journey helps you feel even more confident about teaching your students.
Below are some of the top children's yoga teacher training courses. Whether you are a complete beginner or an experienced instructor, these courses provide everything you need to become a great instructor.
1. My Vinyasa Practice: 95 Hour Children's Yoga Certification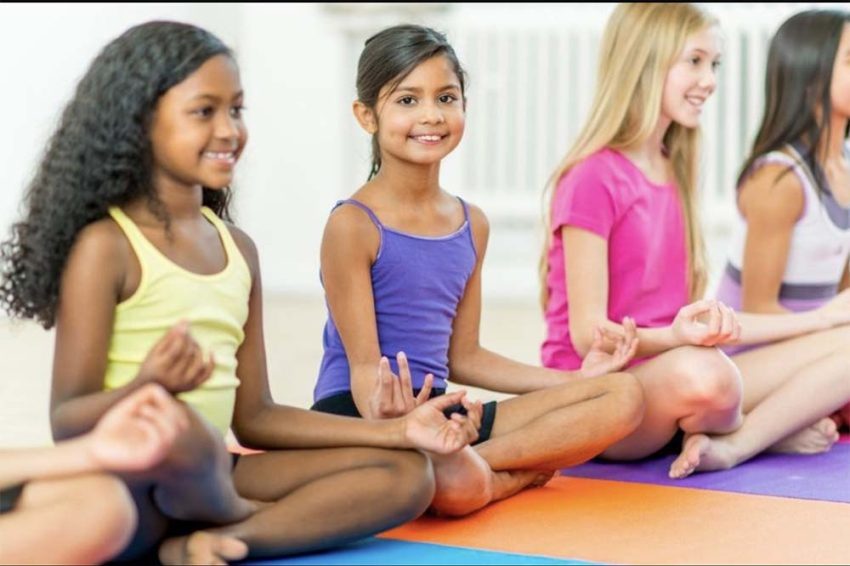 If you are passionate about yoga and want to make a difference in young lives, the 95-Hour Children's Yoga Certification from My Vinyasa Practice is your gateway. This course will equip you with the knowledge and skills to become a nurturing and inspiring instructor. You will uncover the profound benefits children can experience from practicing yoga, from improved focus to enhanced emotional intelligence. 
Explore best practices for children of all ages, including age-specific techniques, children of ages 2-4, 5-7, 8-10, and 11-13 years old, ensuring you can cater to each developmental stage with creativity and compassion. This will help to ensure that your classes are inclusive and supportive for every child. 
With insights into children's brain development, subtle anatomy, ayurvedic stages of life, and the children's wellness wheel, you'll learn to nurture empathy, connection, and overall well-being among young yogis. This course also offers self-care practices for teachers.
What is included:
Accreditation and the use of 

Yoga Alliance's credential RCYT

Pre-recorded lectures and written content

Recorded practices with your instructor

Children's yoga training manual

Guided relaxation and scripts

Access to prepared class plans and sequences

Worksheets

Practicum observation videos

Practice teaching prompts

Journal prompts and skills practice
Suppose you want to nurture young souls and make a lasting impact on future generations. In that case, My Vinyasa Practice course provides a rewarding path to becoming certified to teach children's yoga.
2. YogaRenew: Children's Yoga Teacher Training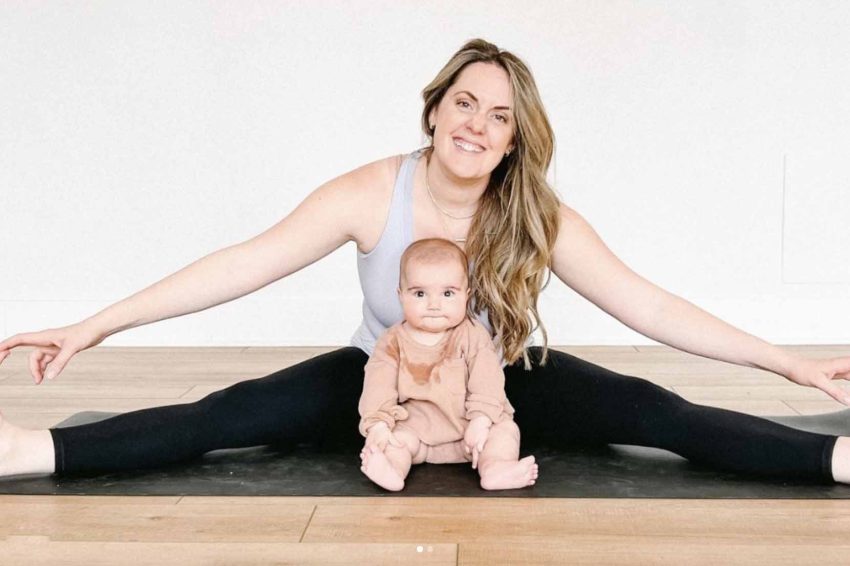 Enroll in the Children's Yoga Teacher Training by YogaRenew and gain the necessary skills and resources to establish a solid foundation to teach a children's yoga class. This course empowers you to learn and practice at your own pace, all from the comfort of your home. If you have considered a career as a kid's yoga teacher, now is the perfect time to embark on this journey. Teaching yoga to kids can significantly enhance their mental and physical well-being. Understanding child development and the significance of social and emotional learning can positively impact the children you teach as early as three years old.
Here are some key benefits of YogaRenew's kid's yoga course:
Discover the profound connection between movement and the well-being of adolescent 

Master guided breathing exercises using child-friendly language that is easily understood 

Over 50 kid's yoga poses, including their names, alignment, and effective teaching cues 

Unleash your creativity by crafting engaging yoga games that will captivate and delight children throughout your classes 

Unlock the art of storytelling and acquire a repertoire of captivating tales to share in your sessions 

Access essential tools to plan, develop, and launch your children's yoga business.
Join their online course today and embark on a rewarding journey of sharing the transformative power of yoga with children.
3. Santosha Yoga Institute: Online Children's & Teen's Yoga Teacher Training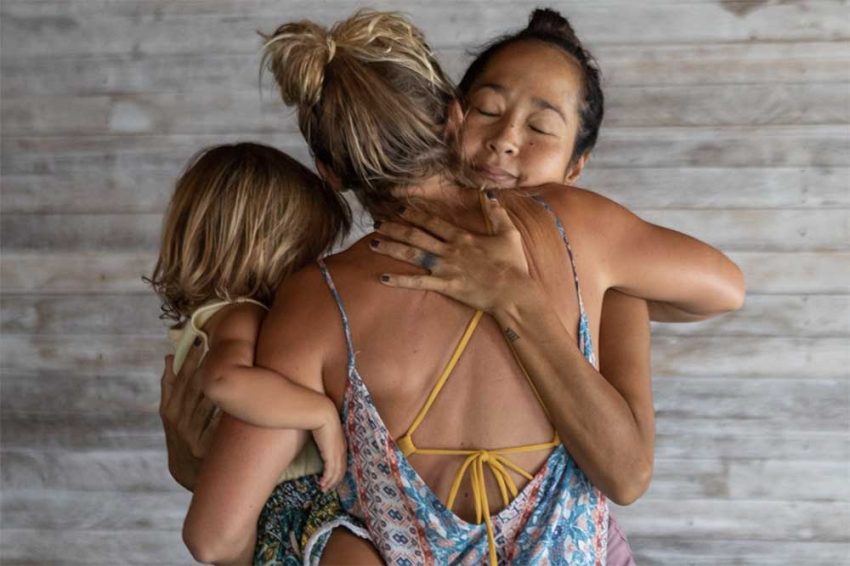 The Santosha Yoga Institute has provided classes, training, and retreats for almost 14 years. They are dedicated to making yoga certifications and teachings fun and fulfilling for everyone passionate about yoga. Thousands of yoga teachers have graduated from Santosha Yoga Institute, and many have pursued careers as instructors.
This course by Santosha teaches its students how to lead classes and show children how to perform yoga postures. It also covers meditation practices and teaching skills needed to guide your future students safely while having fun.
You will also learn how to plan classes with a flow of sequences and other teaching methods appropriate for children of all ages. This interactive training course helps you connect with the mind and attitude of a child so that you can lead them through a yoga class with confidence and joy.
Here are some benefits of getting your yoga teaching training for kids with Santosha:
Take the class online at your own pace
Taught by yoga experts with 14+ years of teaching experience
Includes interactive workshops and classes
4. Loka Yoga School: Children & Teens Mindfulness & Yoga Teacher Training
Look no further than Loka Yoga's 80-hour Children & Teens Yoga and Mindfulness teacher training, and learn from experts in an internationally certified, Yoga Alliance accredited program. At the heart of this course is the commitment to educating and growing oneself, prioritizing emotional intelligence, self-confidence, resilience, community awareness, and values. 
Children are not immune to challenges such as stress, anxiety, poor focus, behavioral issues, and more. Through professionally recorded videos, lectures, presentations, and reading material, you will gain a comprehensive understanding of how yoga and mindfulness can enhance children's lives. 
Throughout this training, you will:
Master safe and effective ways to teach yoga to children and teens aged 3 to 17, as well as children with special needs or varying capabilities

Explore breathing practices, postures, and yoga for the classroom

Gain insights into emotion management, focus activities, relaxation techniques, and foundational anatomy and physiology

Practice sun salutations and Patanjali's 8 Limbs of Yoga, review discussion points and practices to increase mindfulness, and iterate on partner poses and age-appropriate games

Learn at your own pace
Whether you are an adult aspiring to teach yoga to the younger generation, a therapist, educator, parent, certified yoga teacher, entrepreneur, or simply someone eager to invest in personal growth, this training holds actual value. Join this internationally recognized training to enhance your skills and positively contribute to future generations' well-being.
5. Little Flower Yoga: Children's Yoga & Mindfulness Teacher Training Program
Little Flower Yoga is dedicated to helping children thrive through yoga and mindfulness practices. Since 2006, this organization has provided engaging yoga practice and mindfulness services to schools, helping kids and their teachers incorporate these skills and practices in the classroom.
Little Flower Yoga offers a Children's Yoga Teacher Training Program that deepens your yoga practice to prepare you to teach future students. Other certifications often focus on keeping children entertained and engaged, incorporating worksheets, crafts, and games into your yoga classes. This particular course focuses on the emotional and educational elements of teaching children yoga.
Through this course, you will learn various skills, like effectively integrating yoga mindfulness into your classes, teaching compassion and other behavior management tactics, and deepening your yoga practice.
Here are some positives of the Little Flower Kid's Yoga Course:
Gain a deeper understanding of child development and behavior
Participate in a well-structured and creative course meant to keep you engaged
Work entirely at your own pace
Certified by Yoga Alliance
6. Yoga Education Institute: Online Kid's Yoga Teacher Training Program
The Yoga Education Institute is a registered Yoga Alliance School. Many of their courses guide students through the requirements to become registered yoga instructors. They have digital and in-person requirements for becoming a registered kid's yoga teacher. Their kid's yoga teacher training program can be completed entirely online, but they offer in-person workshops and modules students can incorporate into their courses.
Benefits of this course include:
Budget-friendly price with a money-back guarantee after two months
Includes continuing education credits along with the certificate of completion
Accredited by Yoga Alliance
What is the average salary for a children's yoga teacher?
The average salary for a children's yoga instructor is between $63,629 and the national average hourly pay is $31. Yoga teachers often work part-time between studios, schools, and daycares to teach enough weekly classes.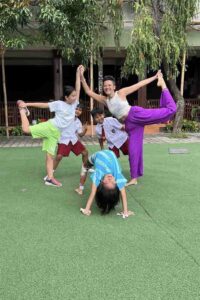 The salary of a children's yoga instructor can vary depending on a few essential factors. These factors include:
Location. A studio with higher class fees will pay more in a busy metropolitan area than in a rural area with smaller classes.
Certification. Being certified in children's yoga isn't always a requirement, but having more credentials can allow you to charge a higher hourly rate.
Recurring vs. one-time sessions. Many yoga teachers charge significantly more for a single class than they do for their weekly class that occurs consistently.
Young Yoga Masters recommends starting your hourly rate at $40/hour. After establishing your reputation and networking within the yoga community to show your strengths, you will likely be able to start charging a higher rate. After getting many teaching hours under your belt, you will have grown in experience and expertise, giving you the leverage you need to charge a higher hourly rate.
Just remember that the learning never stops. There will always be new poses, techniques to master, and styles to understand. Reading, absorbing, growing, and repeating the process is essential!
Concluding Thoughts on the Best Kid's Yoga Teacher Training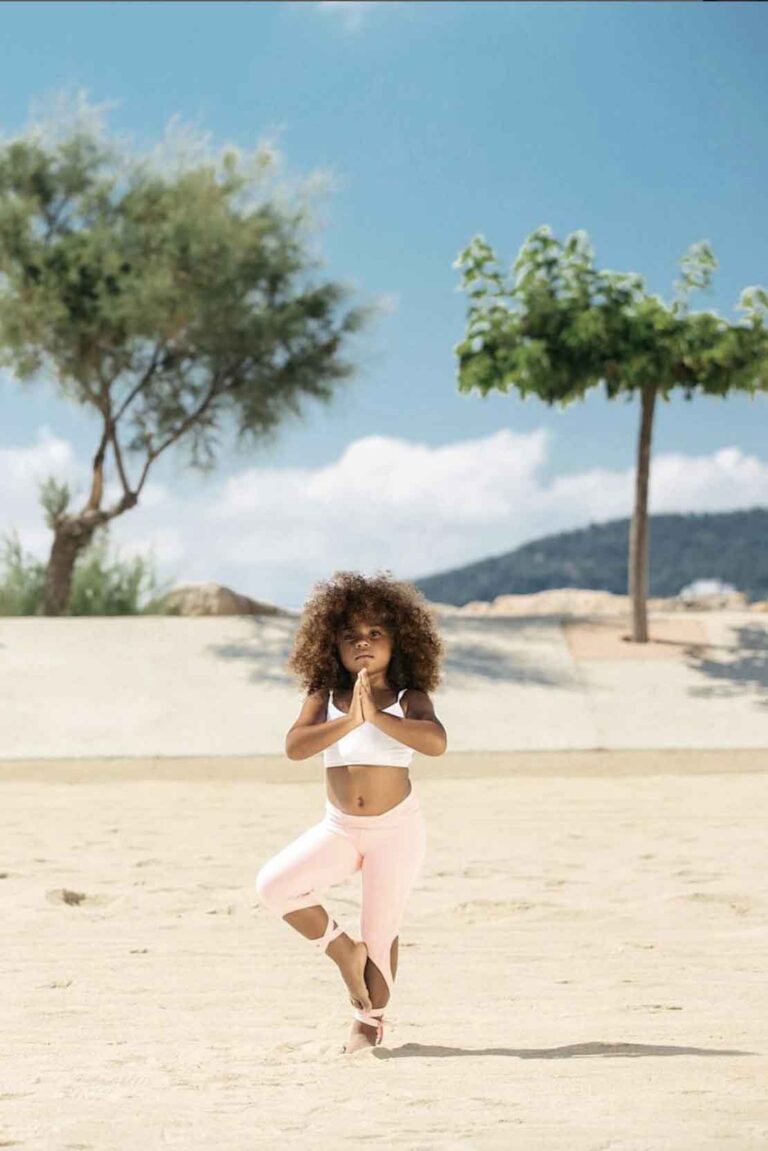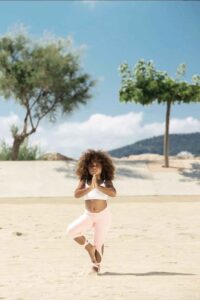 Becoming a kid's yoga teacher is such a rewarding and fun journey. It is a profession that only a few people know about, but more and more teachers are completing training every day, bringing new perspectives and personalities to the yoga community.
Remember that choosing the proper certification or training course is a big step after deciding on your goals as a kid's yoga teacher. Also, once you have completed your training course, register with Yoga Alliance as a registered children's yoga instructor. Having a community of yoga instructors and students who all care about the profession is a great way to network and feel supported by other people passionate about kid's yoga, just like you.