Last updated on November 14th, 2023.
With the rise of modern technology and the increasing popularity and necessity of online schooling, students are finding themselves left to study by themselves. For some, solitude increases productivity, while for others, this isolation can make it easy to avoid looking altogether or bring a productive study session to an unexpected halt when the student gets stuck. Luckily, they only need to join an online study room to solve these issues.
This article will discuss the trend of online study rooms and what they can do for students worldwide. You can read on to learn about the three best online study rooms.
How Can I Study Together Online?
Studying can be a stressful process in and of itself, let alone the added pressure of either not comprehending what you need to research or simply lacking all motivation even to start. Many people find it easier to hold themselves accountable for learning and avoid getting confused as frequently when they aren't alone.
However, how can you study with others if you're trying to stay out of public spheres or find yourself in a late-night study session? The answer is online.
The modern student can study online with individuals worldwide who might be the same age or grade level, look at the same material, or share their need for a more social studying atmosphere. This is usually accomplished by joining an established online study room or creating your own virtual study space using the platform of your choice.
If you want to study online with a specific group of friends or fellow students, your best option is to create your online study room using platforms such as:
Many of these sources are free and frequently used by companies and other groups to hold conference calls or host video meetings. All you and your friends have to do is download the programs and join, and then one individual will "host" the room and invite others to the private virtual space.
From there, people can communicate using a virtual chatbox, cameras, and microphones to converse more straightforwardly and personably.
If you don't have any specific individuals to study with and don't mind studying with strangers, you'll want to opt for an online study room instead.
What is a Virtual Study Room?
Before we delve too deeply into the benefits of using virtual study rooms for students and which websites are best, we should define what these online spheres entail.
In essence, a virtual study room is an online platform that allows individuals worldwide to use their respective electronic device, typically a laptop, computer, or mobile device, to join a virtual meeting room (VMR) hosted by a cloud service or the study room's company. There they can collaborate with other students for a productive study session.
Although the goal of all virtual study rooms is the same, they can function differently depending on what website you are using. For instance, some sites will filter students into whatever study room has space without being overwhelmed, while others are a bit more organized with their sorting.
Instead, they will also give the student a series of questions regarding their age, grade level, the material they are studying, and more to better match them to a specific room where they will share these traits with other students.
There are also websites that will have a tutor or counselor overseeing the study room for additional support and to function as a moderator in times of student misconduct.
Ultimately, virtual study rooms aim to give students an online sphere where they can study in a social atmosphere while having resources available for help or insight regarding their study material.
Are Virtual Study Rooms Safe?
It stands to reason that because virtual study rooms are relatively new and unheard of, people hesitate regarding their safety. Considering the risk countless online websites can pose to a person's electronic device regarding viruses and stealing personal information, these concerns aren't unfounded.
We can confidently state that virtual study rooms are entirely safe for users if they choose a reputable website.
Research the hosting company first before entering or registering on any virtual study room website. Ensure that the website has protective measures to ensure your personal information and anything on your electronic device won't be affected by the host or anyone in the study room.
Additionally, most reputable sites will have a moderator and some way for students to report an incident if any user fails to follow codes of conduct as dictated by the owners of the virtual study room.
Suppose you are still concerned about your safety after checking these measures. In that case, some students will feel safer if they intentionally refrain from using video cameras or microphones in virtual study rooms. Instead, they opt for any chat box communications available when they want to connect with other students.
The 3 Best Online Study Rooms
Online study rooms are an exceptional educational tool students can use to their advantage to motivate themselves to study and stay productive. However, when searching for online study rooms to join, it isn't uncommon for students to come across a website or two that seems subpar and potentially unsafe. There are also a limited number of renowned virtual study room websites, considering how recently these collaborative spheres have been established.
Therefore, we've selected our top three best online study rooms for your safety and study efficiency. These websites include:
Study Gang
Study Together
Study Stream
Each site has its unique way of sorting students and offers different benefits. Still, they all share that they are safe online spaces for students and are run by reputable individuals dedicated to providing these students with the best social and educational outlet possible.
If you need help deciding which website out of these three you'd like to try, please don't hesitate to let me know. We invite you to continue reading as we delve into each of them individually and discuss their most significant advantages and how they compare to the other options listed here.
The first virtual study room we recommend is Study Gang, a free online community dedicated to empowering students by providing a sense of accountability when studying and increasing productivity by 200-300%.
Students must register on the site using their name, email address, and phone numbers and establish a username and password. The website protects all personal information, and none of it is displayed when you're in the virtual rooms, name included.
After creating an account, students are placed into a specific study room based on their class level or what competitive exam they are studying for. From there, they can use a video camera or share their screen as they reap the benefits of online study rooms.
Some female students might appreciate Study Gang's "female study partner(s)" feature, which ensures that women who choose this option are only placed in online study rooms with other women.
A new feature Study Gang is working on that can be enjoyed by all users is the AI-powered study plans that will use data submitted by thousands of students to create effective and customized study plans better to prepare students for their course material or upcoming tests.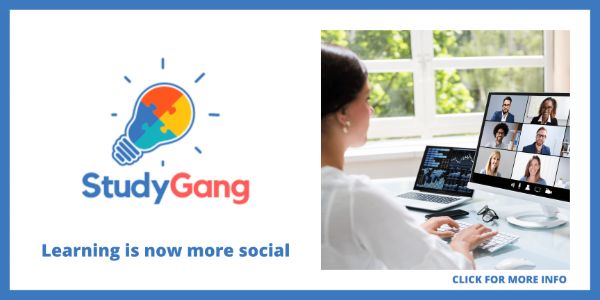 A popular online study room website with exceptional reviews is Study Together. Thousands of students in over 160 countries use this website to have productive study sessions surrounded by a community of individuals who share the same goal.
With Study Together, students can make their website account to join rooms or use a Discord account if preferred.
From there, users establish a session goal, simply an achievable goal for themselves regarding what they want to accomplish in this study session. This might entail completing an assignment, understanding a concept, starting a project, etc.
Setting a session goal ensures you enter your study session with a clear purpose and leave with a sense of accomplishment. Students can also set daily, weekly, or long-term goals to help them stay productive throughout a period, like a semester or the entire school year.
In addition to this helpful feature, students can also use other advantageous options on Study Together, including:
25-minute or 50-minute timed sessions with 10-minute breaks to prevent mental overloading
Screen share or camera use for accountability
Silent self-study where users can study using only timers
Private studying for one on 1 study sessions
Group studying in private rooms with 3-10 students
Utilizing these features to the fullest will reap significant results for a student's productivity and learning, rendering Study Together one of the best online study room websites available.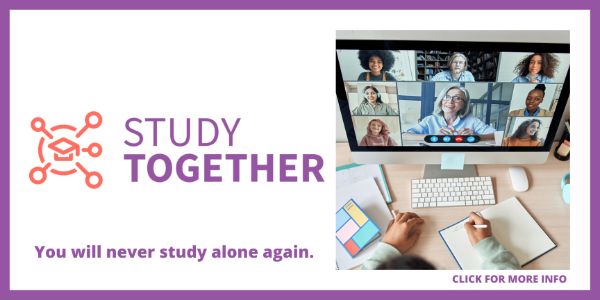 The final virtual study room recommendation we have is Study Stream. This community is trendy and one of the most renowned online study rooms, as seen by its 370K+ members.
With Study Together, students can connect with other users worldwide 24/7, so study session is always early enough for you to enter and find other students in your shoes.
Using Study Stream is free, and students have two options for how they'd like to join their study room, either through registering for their Focus Room or joining via a Discord account. Once these accounts are set up, Study Stream recommends users watch their live onboarding sessions hosted every weekday at 3 pm BST, which explains everything you need to know about how the website works.
Afterward, you can join millions of students found in over 180 countries in one of Study Stream's many virtual study rooms.
Suppose you find you're still having difficulty focusing even when you're in these rooms and have the social accountability of other students to help. In that case, you might benefit from Study Stream's weekly mindfulness sessions. These can help reduce study and life-related stress so students can clear their minds, calm their anxiety, and return to studying feeling refreshed and optimistic.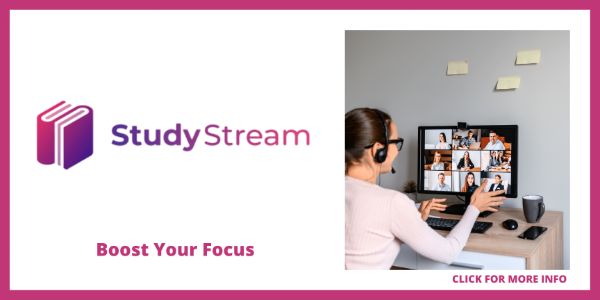 Online study rooms might be a recent educational tool, but more is needed to reflect how beneficial these sites can be for students. Thousands of people worldwide find online study rooms exceptionally helpful in motivating them to be productive and ensuring some party is holding them accountable when studying. It provides a similar community and atmosphere as a school library from the comfort of your home, and many are available 24/7 to fit any busy student's schedule.
So, the next time you need clarification about course material or more time on much overdue studying, consider signing up for one of the three online study room websites we recommended here. We promise you'll be happy with the results.