Last updated on August 29th, 2023.
Public notaries are always in demand. With excellent pay and benefits, it makes sense to explore public notary certifications online, where you can study for your certification in the comfort of your home and on your own time.
The best public notary certification courses will be found in the individual's state of legal domicile. To become a certified public notary online, one will need to complete courses and training in Public Notary Certification while meeting all of their state requirements and passing any examinations.
If you are interested in becoming a public notary, you will need help to find the best certification course online. This article will explore five of the best online public notary certification programs and what it means to be a public notary.
A public notary is an individual who has earned certification through the state they work and reside in as a civil servant. They are appointed by the local state government. This individual oversees the signing of important documents and verifies the identities of those signing.
Most states require you to reside and work within your legal state of residency as a notary public. So, if you are seeking to become an online public notary, you will be limited to the states that accept virtual notarization.
What Does a Public Notary Do?
A public notary has a variety of duties. The public notary:
Witnesses the signing of legal documents
Verifies the signers' identities
Makes sure those who are signing understand the document being signed
Ensures that the parties signing are willing to sign
The notary will then stamp the document.
The public notary oversees the signing of all legal documents to protect individuals and businesses from fraudulent transactions. Remote online notaries perform the same duties as in-person notaries via live video conference with the involved parties.
What States Allow Online Notary?
26 states fully recognize online notarization of legal documents. 20 other states are allowing online notaries on an emergency basis. An online notary is called a remote online notary, or a RON.
As our world moves more toward electronic files and digital signatures, the necessity for remote online notarization is becoming commonplace for those doing business across the world.
Many states now recognize the need for and legality of remote online notaries. Here is a list of the states that accept RONs as legally binding:
Alaska
Arizona
Colorado
Florida
Idaho
Indiana
Iowa
Kentucky
Maryland
Michigan
Minnesota
Missouri
Montana
Nebraska
Nevada
North Dakota
Ohio
Oklahoma
Pennsylvania
Tennessee
Texas
Utah
Virginia
Wisconsin
Wyoming
Only five states have not yet passed a RON legislation bill. The rest of the states have passed an emergency RON bill since the start of the 2020 Covid-19 pandemic. Many of these states have laws requiring the public notary to be a resident of their state.
The 5 Best Public Notary Certifications Online
Of the online courses offered for notary certifications online, these are the best:
National Notary Association
Academy of Notaries Public
American Society of Notaries
Notary Class Online
EZ Notary Class
These are great online courses for those in every state, including California.
Did you know that different states require different degrees of education to become a public notary? California is more rigorous in what they expect from their public notary. Therefore, finding a course that adheres to California standards is in everyone's best interest.
1. National Notary Association
The National Notary Association offers public notary courses with certification for any state. They have been serving notaries since 1957, and they are the nation's leader in education and training for notary services.
With the National Notary Association, you will be able to choose from a live seminar or an online course. They are both offered at $185 for the California requirement course. If you live in another state, just type your state or zip code into the search bar.
The National Notary Association online course will include:
A 90-minute live review and exam that you schedule at your convenience
Complete training online
Interactive lessons and experience-based examples
Ensures you will pass the exam on the first try
Once you choose a package, you will be directed to upload a photo of yourself and live scan fingerprinting. This will cost $115 for California residents. You can buy all of your necessities through the NNA. The National Notary Association also provides training in loan signing certification.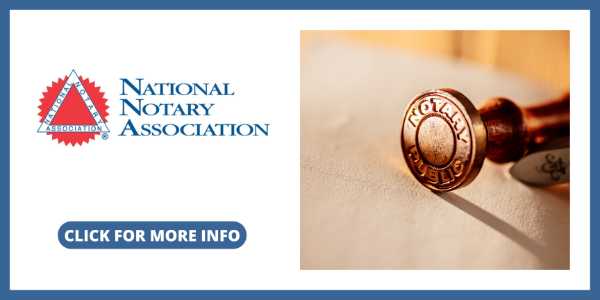 2. Academy of Notaries Public
Academy of Notaries Public offers both online and in-person classes. They include the California six-hour certification course and the three-hour recertification course, while also adhering to the state standards of other states.
Courses are delivered to your email inbox right after registering and paying for the chosen course. You can access your coursework through any device. Learning can occur through video and audio commentary or reading along while listening to music.
Academy of Notaries Public offers:
A $15,000 surety bond
PSI Notary Seal
Choice of E&O Insurance from $15,000 to $100,000.
Course selections range in price from $205 to $409. The $409 course has an optional journal with the six- audio course.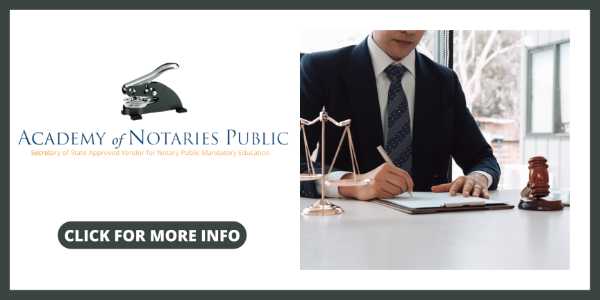 3. American Society of Notaries
The American Society of Notaries offers courses for any state including those, such as California, that require six hours of educational training and a passed exam. They were established in 1965 and are the first nonprofit association for notaries.
Online tuition costs at the American Society of Notaries will vary by state. For basic public notary training, it is $25. However, if you live in California, the price will be $55. To find your state, click on the state that pertains to you.
This online course will give you all the necessary education to pass the California certification exam. You will be able to log in to your coursework from any device for up to 14 days after purchase.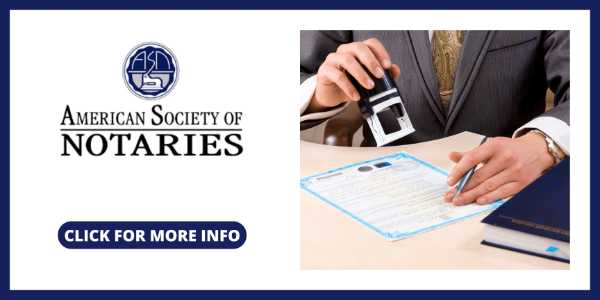 Notary Class Online offers a six-hour course to become a certified public notary. This course is approved by the secretary of state. Notary Class Online courses can be taken completely from home with a computer and internet service.
The online course is $49.97. Once registered, you will begin classes online. The six-hour course is divided into 12 sections. You will be given a final exam at the end of the course. You must maintain a 70% to pass the course. Notary Class Online allows multiple tries until you pass the test.
EZ Notary Class is another great choice for public notary education. It is a California-certified notary course that includes loan signing agent certification. EZ Notary Class guarantees you will pass the state certification test.
EZ Notary Class course is offered for $79. In this course, you will:
Study online through short videos that you can rewatch anytime you want.
Study while driving with the 30-minute complete course audio version.
Use the Notary Study Guide PDF to reinforce what you are learning through reading.
With two years of full access, you will be able to complete the course on your schedule.
EZ Notary Class provides you with printable proof of completion certificate. It is the only online notary course that includes certification in loan signing as well state certification in public notary.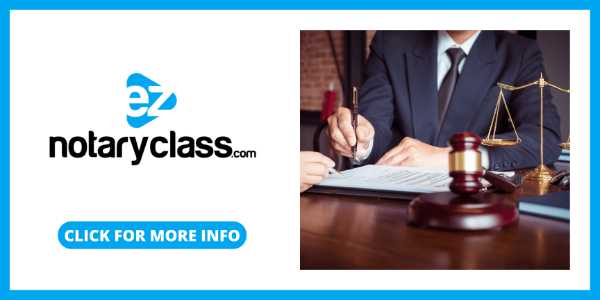 Final Thoughts On Getting a Public Notary Certification Online
Becoming a public notary is a great step toward making more money and a brighter future for yourself. Before you sign up for any online course, look into your state's regulations to ensure that you choose the right program for you. Formal writing and professionalism is also play important role with this field so take a glance on Best Online Writing Courses to get better with how you are on paper.
Some states do not require any formal training. However, it is in your best interest to seek out the education needed to be knowledgeable in the field.