Last updated on November 13th, 2023.
It is possible to get bored of running or jogging outside because you want to avoid seeing or meeting people or prefer to go indoors. Either way, spin classes are what could rescue you from the outside. The spin class combines amazing music and motivation from your instructor to ensure you burn as many calories as you're willing to burn. Spin class includes pedaling on a stationary bike as the instructor guides you on a visualization method, helping you feel like you're outside working out in nature. 
Spin classes have become more popular and on-demand as everyone wants to burn their calories and look their best without having to work out outside. Every spin class needs either a hardcore instructor who will show no mercy, a gentle one who is mindful and guides them, or a combination of both, which is up to you to decide. Since spinning is getting more popular, it's only logical to have more certified spin instructors to help people who want to exercise their bodies. There are fantastic spin instructor certifications online that you can start today and be ready to teach.
How do you become a spin instructor online?
The most common way to earn a spin certification online is by signing up for a spin or indoor cycling course. You will go through the training, and upon completion and passing your exams, you'll get a certificate that allows you to be a spin instructor in most studios. Of course, this means that not all studios will accept you because others need you to take extra courses like CPR. 
Here are some steps that will help you become a spin instructor: 
Learn the basics of spin class.

You can learn more by enrolling in various spin classes. By joining a spin class, you will familiarize yourself with this exercise method and learn different teaching styles from these instructors. 

Build your endurance.

 It would be best to build your endurance to teach a spin class. To do this, you need to start exercising. You can begin kickboxing, lifting weights, or other exercise forms to help you become stronger. 

Familiarize yourself with various equipment needed in spin class.

As an indoor spin instructor, you must understand the function and use of every equipment in class. For example, you need to get familiar with different types of bikes used in spin class and their parts so you can tweak them for students to match their height—understanding how additional bikes work can help you adjust them to the intensity you want them to have. 

Look out for training programs.

 You can look at various indoor cycling instructor courses offered online. If you don't want an online course, visit a desirable studio and check if a spin course is provided. 

Pursue a certification. 

A certificate allows you to train in indoor cycling classes. Some studios require extra certifications, such as CPR, while others don't. So, you can pursue spin classes and other health-related certifications. 

Prepare for an audition.

If you've been called to audition at a studio, you must prepare to impress. Most auditions need you to devise a routine for an entire class, typically 45 minutes long. So, you'll need music and a routine that you've thoroughly practiced.

Always practice.

Ride your indoor bicycle often to improve your existing skills. You can also attend classes run by other instructors to get inspiration. 
How much does it cost to get spin certified?
When taking a program to get certified as a spin instructor, expect to spend anywhere between $69.99 to $799. These prices depend on the program.
How long does it take to get spin certified?
Earning your spin certificate takes different amounts of time, which depends entirely on the institution you'll be joining. Some only take a few hours, and you've already earned your certificate, while others take somewhere between four weeks to a couple of months. Those that take too long depend entirely on how many hours a day you participate in spin class training. For example, if an institution offers training once a week for 2 hours, it will take longer to complete your course. But most online courses are straightforward; if you put all your effort into them, you'll be done in a few days or hours. 
Is it hard to become a spin instructor?
Becoming a spin instructor may seem difficult if you've never stepped foot in spin class. But once you take a spin certification, everything will seem more manageable. An indoor cycling certificate isn't all you need to teach a spin class because you also need endurance. You can gain endurance by practicing spinning every day so you can get yourself up to speed. For example, if you have four classes a day, you'll need to be able to keep up with these classes because you must teach all of them, and teaching also means participating by riding your bike. 
At first, teaching multiple spin classes may seem like a lot. But with time, you will fall in love with the process and show up every day, helping your students attain their fitness goals by encouraging them, even if this means changing out of sweaty clothes after every spin class so you can get into the next one. 
How much do spin instructors earn?
The amount a spin instructor earns depends on the studio teaching these classes. For example, spin instructors can make between $11 to $52 per hour. As a spin instructor, you may make more or even less than this range because it solely depends on the studio you work at and the traffic you get. The more the students, the better the pay. 
On a national average, a spin instructor can earn an average salary of $58,422 per annum. To calculate this per hour, it turns out to be around $29. 
The 5 Best Spin Instructor Certifications Online
Embark on a journey to become a certified spin instructor with the five best online certifications. These comprehensive programs provide the knowledge, skills, and expertise to lead exhilarating and practical indoor cycling classes, catering to participants of all fitness levels and backgrounds. Whether you're an aspiring instructor or a seasoned fitness professional looking to expand your repertoire, these certifications will equip you with the tools to inspire and motivate riders in the dynamic world of indoor cycling.
1. ISSA Certified Indoor Cycling Instructor Certification
International Sports Sciences Association is an institution that has been around for over 30 years with a mission to bring exercise and healthy living to everyone through education and community. ISSA aims to help 100 million individuals begin their journey to a healthy lifestyle by 2030. ISSA provides a certification allowing you to work in most studios as it is a recognized institution. 
This program includes ebooks, 30 extra videos to give in-depth knowledge of the craft, and a free NCCPT-accredited exam. This ISSA course will teach you how to lead classes that vary in size, cycling nutrition, and the effects of cycling on the body. You can pay your course fees through 6-monthly payments or 12-monthly payments. The self-paced program allows you to tackle it at your own pace. 
After earning this certificate, you must get 20 hours of continuing education every two years to sharpen your skills and renew your spin instructor certification.  Click here to see our full review of ISSA Spin Instructor Certification.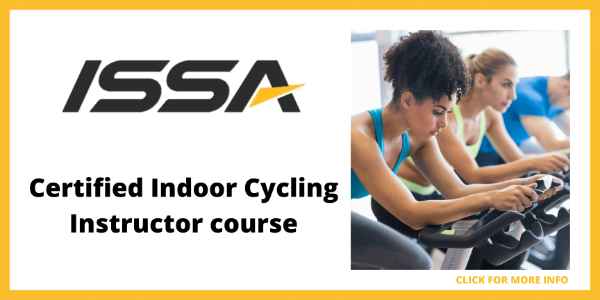 2. ASFA's Online Cycling Instructor Certification
American Sports & Fitness Association's motto is the online resource for fitness professionals. ASFA aims to provide quality testing and help trainers with continued education needs. They offer different prices for varying certifications, from one year to a lifetime certification. Since the online program is self-study, you can pursue the training at your own pace. After earning your certification, you must renew it once a year unless it's a lifetime certification. You'll have at least one continued education class pre-approved by ASFA in both cases. 
All the resources you need to pursue this program will be available to you upon purchase of the course. Once you've completed your studies and are ready to take a course, the institution guarantees you'll only pay for the course you've passed. This program will teach cycling anatomy, fitness, group exercises, and cycling science.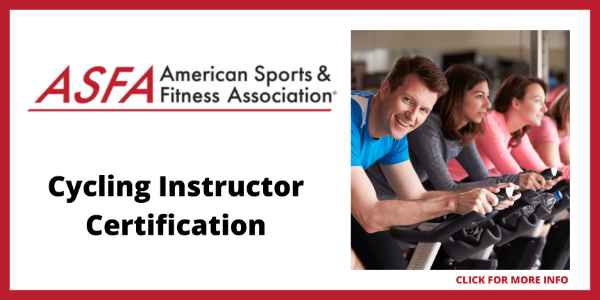 3. AFAA Certified Indoor Cycling Instructor Certification
For over 35 years, The Aerobics and Fitness Association of America has been certifying personal trainers. They aim to inspire people through movement. AFAA was the first to develop standardized personal trainers and fitness instructors' guidelines. By pursuing this online program, you will self-pace yourself and take it for as long as you need. 
AFAA teaches the GEAR approach: goals, energy, accountability, and results. You will learn how to be an outstanding spin instructor. You will get lessons on designing and delivering a fantastic program with great music, coaching, and motivation. AFAA also offers knowledge on cycling physiology, so you can put everything together to create a great class. 
After earning your certification through AFAA, you must take 15 continuing education units every two years to keep your certification relevant. Continuing education is a fantastic opportunity for teachers to keep up with the industry's evolution, and you need it.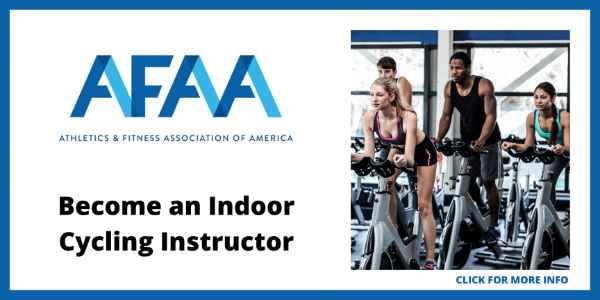 4. Spinning Instructor Certification
Spinning.com has certified over 250,000 instructors in the art of spinning. They started offering spin certification in 1995, which shows excellent expertise on their side. When choosing to study their course, you'll need to pick from four of them. Each course builds off the previous one, aiming to create a rockstar. 
You can take their spin course online, in-person, or virtual. Either way, you'll pay the same price. If you decide to pursue an online course, you'll do self-study. A virtual or live class will take 9 hours, and you must take the assessment within 30 days. 
By pursuing this program, you'll learn about bike safety, proper riding positions, and more tricks to get the most out of a spin class. You must take 14 hours of continued education every two years to obtain recertification.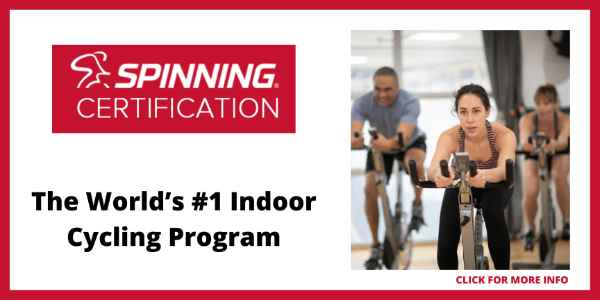 5. NETA's Indoor Group Cycling Certification
The National Exercise Trainers Association has certified fitness and health instructors for over 40 years; hence, they know what they're doing. They're a non-profit organization that offers in-depth, inclusive, and interactive training programs. 
This program will teach you how to set up correctly, set up a room for cycling practice, and what to do with broken equipment. You'll also learn anatomy, physiology, terminology, and tips to motivate and coach a class. After earning this certification, you'll need to take ten continuing education hours, and 6 of those need to be in NETA's workshops or home study.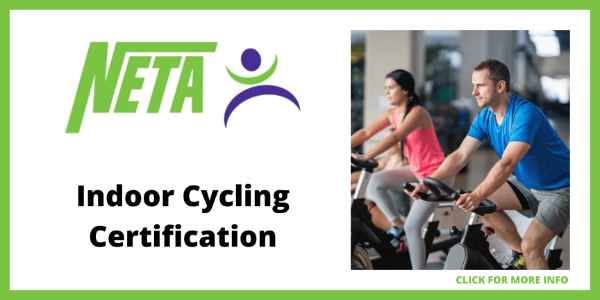 Final Thoughts on the Best Spin Instructor Certifications Online
Spinning as a form of exercise is seen to rise in demand over the coming years. If you're a fitness instructor, it is best to add turning to your list of training so you can teach your students everything they need to learn to keep fit. The above course is among the best spin courses you can find online. Recognized institutions offer them; you'll be accepted in most studios and gyms.