Last updated on September 26th, 2023.
Bolsters are a common tool used in yoga to help individuals stay stable and comfortable throughout their session. While these pillow-like objects might seem simple, they are monumental for supplying anatomical support that can help with performing postures properly, prevent the overexertion of certain muscles, and, consequentially, reduce the chances of injury. This is why finding the perfect yoga bolster is crucial, and the best options can be found on Amazon.
The five top yoga bolsters we recommend that can be found on Amazon include:
Retrospec Sequoia Yoga Bolster Pillow
Manduka Enlight Yoga Bolster
Bean Products Yoga Bolster
YogaAccessories Supportive Rectangular Cotton Yoga Bolster
Brentwood Home Crystal Cove Yoga Bolster
In this article, we will describe the exceptional features and designs of each Amazon yoga bolster option so you can better determine which suits you and your needs best. As you read, you'll also learn the answers to several commonly asked question relating to yoga bolsters, such as what they are, how to choose them, and what size and shape is best.
If you're new to yoga, you might be in the midst of gathering the essential tools you need to get through a purposeful session comfortably and successfully. These tools probably include a yoga mat, yoga attire, and yoga blocks to name a few. But what is a yoga bolster, and do you really need one?
A yoga bolster is essentially a pillow designed specifically for yoga (more commonly, restorative yoga) and used for a multitude of reasons, including, but not limited to:
Providing comfort while stretching or performing poses
Providing support while stretching or performing poses to improve performance and prevent injury
Increase stretching ability during restorative postures and deep breathing exercises
Easing the transition from one pose to the next
In essence, these popular accessories are there to aid individuals in whatever yoga-based goals they may have, from relaxation to support to restoration, and so on.
Most will use them to make their yoga space more inviting or as a more comfortable alternative to the typically hard yoga blocks. Others will use them strictly to improve their position performance, alter poses to make them poses more adaptive, and/or reduce strain on certain body parts and prevent injury by providing necessary support.
The possibilities are nearly endless, making this a highly versatile tool that you'll find in nearly every yoga practicing space.
How Do I Choose a Yoga Bolster?
While most yoga bolsters are essentially the same when it comes to their overall design (every option is basically a fluff-filled pillow) they can vary in their size, shape, materials, and other aspects that can make it difficult to determine which is the best option for you, specifically.
The best way to go about choosing a yoga bolster is to have a clear idea of what needs this bolster must fill, and then opting for the size, shape, materials, etc. that match these needs best. You will also want to consider your size and what poses you perform most frequently.
Most yoga bolsters will fall under one of four categories:
To make matters simple, Pranayama bolsters are intended to be used exclusively for pranayama breathing exercises to help generate gentle lung expansion and deep breathing. These are typically long, thin, rectangular bolsters that provide sufficient spinal and lumbar support, which allow the user's chest to open fully. If you are searching for a bolster specifically for pranayama yoga, this is the option for you.
We'll discuss how to choose from specific shapes and sizes in the sections below.
What Size Yoga Bolster is Best?
Determining the best yoga bolster size for you is going to be overtly subjective, as it will depend on your body type and measurements, as well as what poses you intend to use it for.
That being said, most yogis and other yoga professionals recommend investing in the size that provides the most support. This usually translates to bolsters that are as wide, if not wider, than your chest, and long enough to perform your intended poses (this might be long enough for you to sit on for an Easy Pose or long enough to extend from your head to your tailbone; it all depends on your needs).
If you're looking for a compact bolster that you can easily take to various locations, you might want to invest in a Junior sized bolster or a short, lean or round bolster. Combine your new yoga bolster with one the best yoga mats on the market.
Is a Round or Rectangular Yoga Bolster Better?
Unfortunately, the theme of subjectivity continues. In an ideal world, you would have one of each type in your yoga space, but we understand why you might be wary to have multiple bolsters around.
In the end, you'll have to choose the shape that suits your needs best. Rectangular bolsters have a flatter surface and a lower heigh, making them ideal for poses where you need a stable surface area and the ability to fold your body deeper into forwarding bends.
Comparatively, round bolsters are larger in diameter and taller in height, making them ideal for poses where you're prioritizing breathing, as they will help open your chest fully while providing ample support. They're also best for poses when you need to be a lot of lift or if you're a naturally tall individual.
The 5 Best Yoga Bolsters on Amazon
Now that you know what qualities and features you're looking for in your new yoga bolster, let's look at the list of our top recommendations.
As stated previously, the five best yoga bolsters you can purchase with ease on Amazon are:
Below, we have provided a brief description of each option to make the decision process easier for you.
Retrospec Sequoia Yoga Bolster Pillow
Starting off our list is this round yoga bolster by Retrospec Sequoia. Offered in six stunning colors, this bolster is perfect for individuals who need a relatively tall and round bolster for meditation, tension relief, spinal support, and more. The cover is 100% cotton for blissful comfort and its overall dimensions measure 28″ x 10″ x 10″.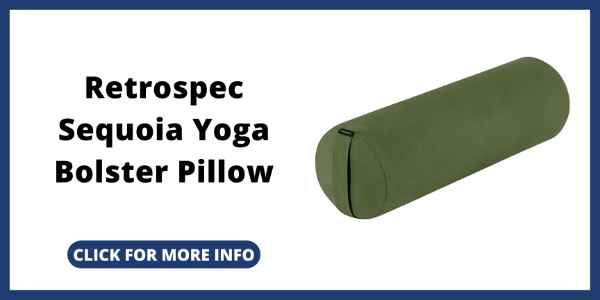 Manduka Enlight Yoga Bolster
If you're in need of a long, lean yoga bolster, then this option from Manduka Enlight will fulfill all your needs and more. This bolster is made with a firm microfiber cushion interior to provide maximum support while boasting a micro-fiber cover with a suede-like feel for exterior comfort perfect to practice yoga chitta critti nidorha. The thunder-colored option has a machine-washable cover and measures 27" x 9" x 6".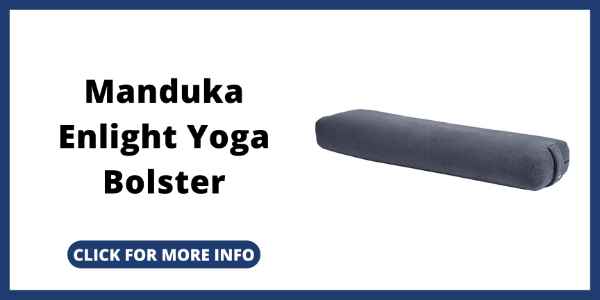 Bean Products Yoga Bolster
An exceptional eco-friendly bolster we think everyone should have in their studios is this studio grade rectangular bolster from Bean Products. Not only can you choose from a wide selection of colors, but you can also choose your preferred fabric material: cotton, hemp, or vinyl. Inside, is a studio grade foam core surrounded by a cotton batting for a supportive but cushioned effect that's perfect for yoga Nidra to promote flexibility, relaxation, and alignment. The bolster's dimensions 25" x 12" x 6".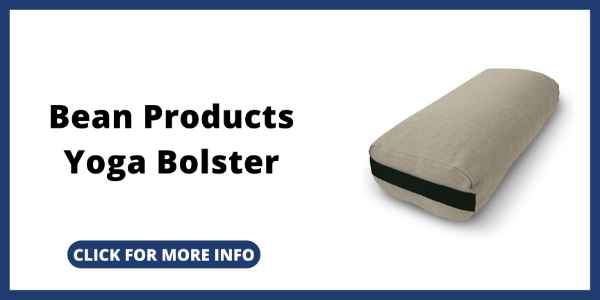 YogaAccessories Supportive Rectangular Cotton Yoga Bolster
Most yoga bolsters are at least $50, which is why we thought it best to list this bolster by YogaAccessories as our most budget-friendly recommendation. This bolster comes in twelve vibrant colors and is rectangular in shape. Its outer cover is made of 100% cotton and the overall bolster measures 24" x 6" x 12" meaning it matches the measurements of most of our previously listings for a fraction of the cost.
Brentwood Home Crystal Cove Yoga Bolster
Anyone searching for a yoga bolster that is as stylish as it is comfortable and supportive will be thrilled to own this stunning rectangular yoga bolster from Brentwood Home. Featuring a stunning, modern design, the removable cover is machine-washable and made of Oeko-Tex certified organic cotton.
Another unique feature of this option is that it's filled wit buckwheat rather than foam, which allows users to easily alter the bolster's firmness and height. However, this does make it a bit heavier than other options with an overall weight of 12 pounds despite the comparable dimensions of 25″ x 11″ x 6″.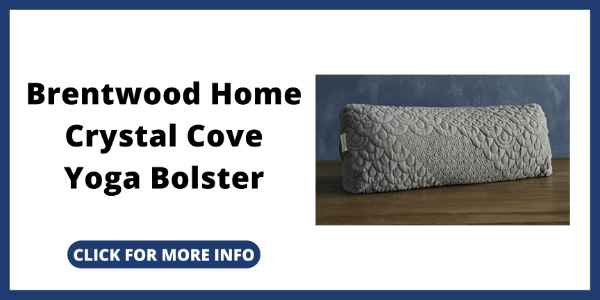 We guarantee that the yoga bolsters listed will service you well throughout your yoga sessions but remember that they are not all made equal. Make sure before you purchase a yoga bolster that you consider its intended use so you can find one with the perfect shape, size, and firmness while also suiting your physical dimensions.
This might take some trial and error, and it's likely you'll find yourself purchasing multiple bolsters for different purposes, but the positive effect they will have on your sessions will make the effort worthwhile.