Last updated on September 22nd, 2023.
If you're excited by the prospect of helping others without physically managing their wellbeing, then a degree in healthcare management might seem promising to you. Even so, healthcare management careers aren't as easily identifiable as traditional healthcare careers such as doctors or nurses, so you might be scratching your head wondering what things you can do with a healthcare management degree.
With a Healthcare Management Degree, you gain the benefits of a growing industry and a competitive salary. Depending on the level of education you get with this degree, you can choose between various management or administrative careers. You can expect to be involved in a lot of overseeing and directing.
A degree in healthcare management can grant you a birds-eye-view perspective of healthcare that can be incredibly rewarding. With your degree, you'll find yourself having many directions you can take your career in, all of which have varying salaries and responsibilities. Still, it's essential to know if a degree in healthcare management is worth it.
What Do You Do with a Healthcare Management Degree?
A healthcare management degree provides a mix of healthcare and business. Behind the compassionate doctors, nurses, and healthcare staff that care for patients' lives, is the hospital. To positively impact the lives of people who use the hospital's services, it must be effectively managed, just like any other business.
With a healthcare management degree, in one way or another, you're making sure that everyone in the hospital is pulling their weight and always working in the best interest of the people they serve. 
Healthcare management can be broken down into two related but distinct career paths. There are healthcare management and healthcare administration, both of which serve their own unique purposes towards the business of healthcare. They are often used interchangeably, but they generally have different sets of responsibilities.
(It is never a bad idea to start with an entry level job in healthcare management!)
Healthcare Administration
Healthcare administration refers to the management of staff within the compounds of an institution or hospital. Administrators also are primarily responsible for handling finances and budgeting of a team/hospital, and they make sure that all regulations are being adhered to. Individuals interested in the administration side of healthcare management need to know how to manage behavior within organizations. They especially need to understand the importance of following the laws/regulations in place for healthcare.
Administrators are responsible for instilling that responsibility in the healthcare workers of their respective establishment's team. They are also responsible for setting schedules for their staff. They must keep in constant touch with doctors, nurses, and patients and promptly respond to their concerns. They recommend techniques to keep the costs of running the hospital as efficiently as possible, and they do their fair share of reporting.
Healthcare managers are individuals at the top of the healthcare bureaucratic pyramid. They are the executives/head of staff for any medical establishment. They are responsible for improving the quality and efficiency of healthcare services. They do a lot of financial management, especially regarding the healthcare facility and patient billings. Healthcare managers have a lot of responsibilities, so the job requires a fair deal of multitasking.
The difference between management and administration is that administrators handle staffing, ensuring that staff behavior is appropriate and following regulations.
Managers handle all the financial costs of the establishment. Managers are responsible for addressing issues that will affect the entire hospital, so they often develop strategies for hospital staff to adhere to.
5 Legit Things You Can Do with a Healthcare Management Degree
A healthcare degree isn't for show and has many practical applications that can bolster your career and paycheck. And thankfully, nowadays you can get a healthcare management certificate online as well! While the options that you have with a degree in healthcare management are practically endless, here are just a few things that you can do: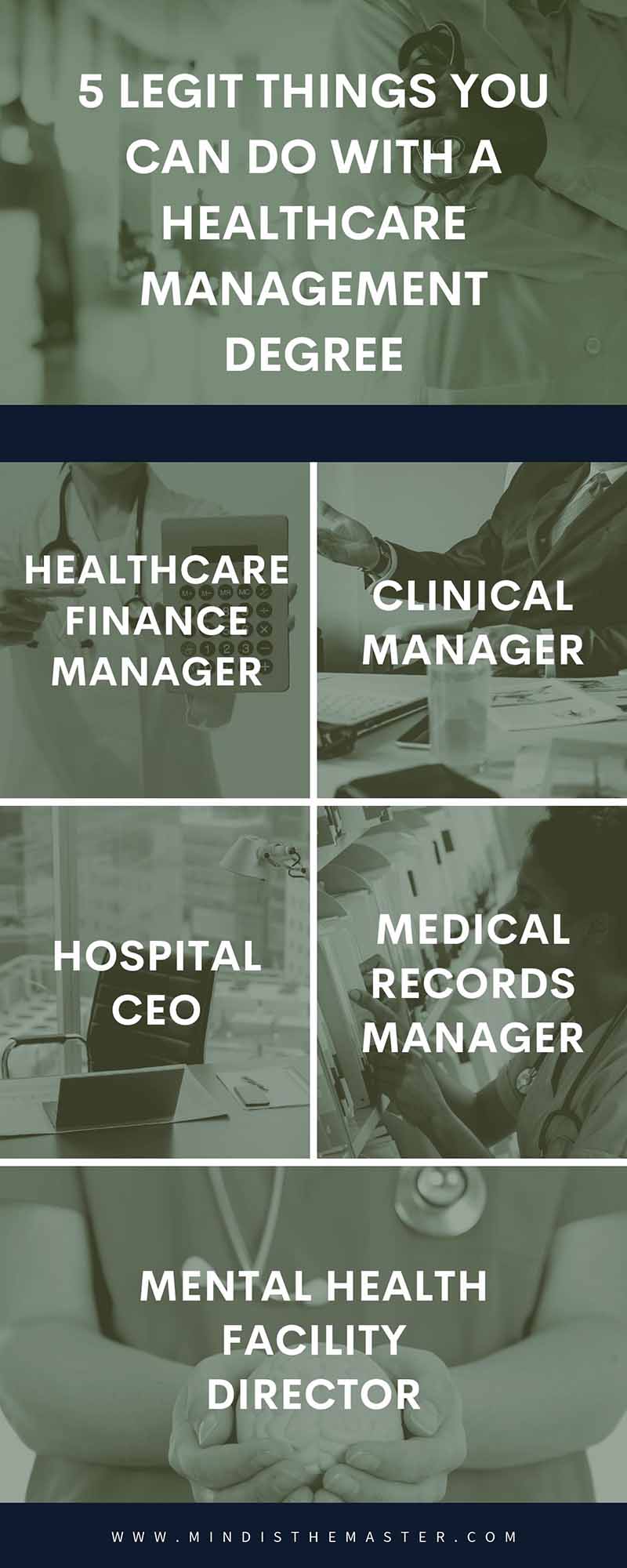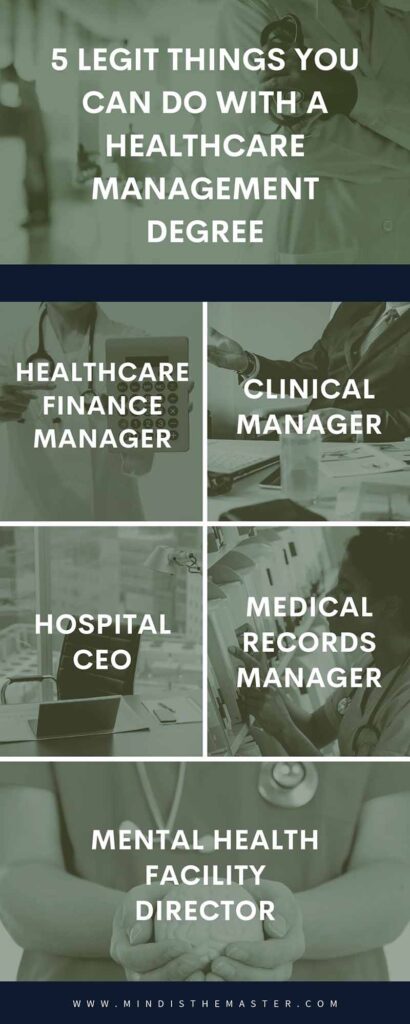 1. Healthcare Finance Manager
A healthcare finance manager manages the daily financial operations of the hospital or clinic. Specifically, they mostly do financial analyzing and reporting of the cash flow of their respective establishments. They plan cash management strategies and try to get their establishment to implement their financial goals. They oversee the financial reporting of the building and provide financial support to various departments.
In addition, they develop short and long-term objectives to help their organization through the accounting cycle, all while following any laws or regulations in place. A healthcare finance manager is a top job in the industry and requires an advanced degree with years of experience. An MBA program with the necessary emphasis on healthcare management can give you the knowledge employers are seeking.
With a bachelor's in healthcare management, you can find yourself in an in-demand career such as clinical management.
Clinical managers are a type of medical and health services manager who works in administration and medicine. Their job is to make sure that their establishment runs smoothly without problems.
Specifically, clinical managers manage staff at the professional, clinical, administrative, and clerical levels. They manage recruitment, develop policies and directives, and make purchasing decisions. They are responsible for developing and appraising staff and handling communications on behalf of their establishment.
Clinical managers should have excellent communication skills because they are always in contact with staff and other professionals. They should be good at being organized and delegating responsibilities so that their clinic runs as smoothly as possible.
At the highest level of administration, individuals with a healthcare management degree and ambition to spare can become a hospital CEO.
While doctors are about making an immediate change to one patient at a time, hospital CEOs are big picture workers who can make systemic changes to hospital routines. Naturally, hospital CEOs handle the brunt of responsibility; they must ensure that the hospital runs well.
Hospital CEOs ensure that their hospital runs well by maintaining the financial health of the establishment. They are responsible for recruiting skilled leaders into senior management positions within the hospital. They must develop relationships with stakeholders, their board of directors, medical staff, and even patients at times.
4. Medical Records Manager
A person who becomes a medical records manager is responsible for ensuring that all medical records in the facility are secured, whether that information is electronic or physical.
They are responsible for ensuring that the information provided to them is both complete and accurate and only available for viewing by authorized personnel in the staff. It's a logistical job that requires a propensity for double-checking and an utmost adherence to confidentiality.
Medical records managers manage and collect data regarding their establishment. They also keep up to date on any new regulations enacted by government-funded programs and are responsible for delivering the information and ramifications to any hospital staff.
5. Mental Health Facility Director
Like clinical managers, mental health facility directors manage their facility's operations, but instead in a mental health care establishment.
Mental health facility directors possess a wide range of responsibilities. They assure the quality of the services being offered, make sure that health care regulations are always being properly adhered to, supervise employees, and do a lot of communicating with other government branches within the facility.
And if you are interested in going deeper into mental health, you can also become a certified mental health counselor. Plus, you can find out how much a mental health counselor makes here!
How Much Do You Make with a Healthcare Management Degree?
Healthcare management attracts a range of salaries and is dependent on a couple of different factors. With a minimum of 4 years needed to get a bachelor's degree in healthcare management, you can expect to be earning an entry-level salary of $45,000, which may seem like it's on the lower end of the spectrum.
However, healthcare management degrees offer different career choices and options; therefore, the salaries you could potentially be earning also range, even at entry-level. With the same bachelor's degree, there are related jobs for similar qualifications that allow you to make between $60,000 and $90,000. 
Like many careers, your career options and earning potential can reach new heights if you consider pursuing higher education. Individuals with at least a master's degree in healthcare management can expect to be presented with not only new leadership opportunities but also the chance to reach an even higher ceiling of earnings.
If you obtain a doctorate in healthcare management, then you can anticipate reaching the 1% of earnings this career has to offer that wouldn't be possible with just a bachelor's or master's degree. A doctorate in healthcare management can earn you up to $207,000 annually.
In addition, the potential pay you earn can vary widely based on the state you're hired in. For example, with a master's degree in healthcare management, you can expect to be earning a salary of $94,160 or $45.27 an hour in the state of Alabama. In California, due to the increased cost of living, you can expect to earn $133,040 a year or $63.96 an hour.
Is a Healthcare Management Degree Worth It?
Healthcare is often viewed as a prestigious career path with a myriad of job opportunities lined up anywhere. There will always be a need for doctors and nurses and practitioners, and there will always be people who need help. So, there's undoubtedly a sense of security in pursuing these more traditional careers.
A healthcare management degree presents the opportunity for people to work in health without getting excessively involved in subjects such as math, biology, chemistry, and more that are required to walk the path of becoming a licensed professional.
With a healthcare management degree, you get the benefits of working in a hospital without having to go through years of schooling before getting started. With a four-year degree, you can practically jump into the workforce, whereas people who are going to medical school cannot.
You also get the added benefit of being able to pursue higher education and work at the same time if you want to get into more higher paying career paths quickly.
Finally, a healthcare management degree offers you a career with numerous growth opportunities. You don't ever have to worry about stagnating in your career, as there will always be opportunities for you to try your hand in different aspects of management or administration in a hospital. 
Healthcare management is a rapidly growing industry and is attracting more people by the day. It is especially attractive to those who have no interest in going through nearly a decade of schooling and internship to finally be able to practice.
With a healthcare management degree, you can enjoy having the flexibility of choosing how your career looks because of all the job options available. These jobs have the potential to pay particularly well and can have very competitive entry-level salaries. If your paycheck doesn't satisfy you, you at least have the freedom to advance within your career by pursuing even higher education, such as working toward a master's or doctorate.