Last updated on September 26th, 2023.
When you are trying to focus on your poses and master your movements in a yoga class, the last thing you want is to have to worry about your yoga top staying in place. Many who practice yoga have experienced this very issue because not all yoga tops are made equally. A common question among yoga practitioners is: what high-quality yoga tops are available that will not ride up?
Five of the best and most recommended yoga tops that do not ride up include:
These tops are comfortable and reliable, so wearers do not have to constantly yank them down.
There are different factors that make a great yoga top. To choose a great yoga top, you will need to know how to check yoga tops for length and reliability. Read on to learn all about the five best yoga tops that will not ride up. Learn what makes these specific yoga tops fabulous enough to stay in place even during an intensive session.
What Makes a Great Yoga Top?
The qualities of a great yoga top depend partially on the style of yoga you practice and personal preference. Not every yoga top will work perfectly for all styles of yoga. Casual yoga does not require the same kind of top as more intensive yoga such as hot yoga, and vice versa.
However, there are some general guidelines you can follow when it comes to determining what exactly makes a great yoga top. Ensure your yoga top meets the following requirements:
The right fit
Breathability
Supportive
Flexible
A great yoga top should meet all of the above criteria. Regardless of your preferred style of yoga, be it hot yoga, casual yoga, or intensive yoga, you will need a top that provides you with the proper fit and support so that it does not ride up.
A Great Yoga Top Has a Good Fit
A great yoga top should be snug or fitted but not too tight or restricting to movement. Look for narrow, form-fitting, or ribbed tops or tanks. These tops do a better job of staying in place during various movements that occur during a yoga session.
While choosing a fitted top over a loose one will lower the chances of frequent adjustment during a yoga class or session, it is also important not to choose a top that is too tight. Otherwise, it is also likely to ride up.
A Great Yoga Top Should Be Breathable
There are several different types of yoga tops available in all sizes, styles and made of various fabrics. A great yoga top should be breathable enough to keep you as cool as possible during whatever type of yoga you practice.
When looking for breathable fabrics, avoid cotton or cotton blends. These materials tend to trap moisture, which can leave you hot, sweaty, and uncomfortable during a yoga session.
Instead, opt for more performance-friendly fabrics when you search for your yoga tops. Look for tops made of materials such as spandex or nylon. Many yoga tops are also made with sweat and moisture-wicking components for added comfort and breathability.
A Great Yoga Top Should Be Supportive
What makes a great yoga top will depend on the person, the type of yoga practiced, and personal preference. Different bodies require different levels of support during workouts. Luckily, the variety in yoga tops offers options for nearly all body types. Whether you require more or less support in a yoga top, you have options.
Yoga tops come with all types of structures.
Some tops are made with extra fabric at the top.
Some yoga tops have built-in shelf bras.
Others have built-in or removable cups for added support.
Ribbed, ruched, and fitted tops also provide additional support and fit options when it comes to yoga tops.
A Great Yoga Top Should Be Flexible
Any great yoga top will have the right fit, breathability, and flexibility for your needs. Certain fabrics are more flexible than others, so look for yoga tops made of stretchy or elastic material. This includes Lycra, Spandex, and others which will retain their shape even during movement to provide coverage, support, and prevent sagging.
Flexible enough to move with you, look for tops made of stretchy/elastic material, such as Lycra or Spandex, that will retain their shape and prevent sagging. This will prevent these tops from riding up.
A Great Yoga Top Will Be the Right Length
Depending on your body type and yoga style, certain top lengths will work better than others. Usually, length can come down to personal preference, but the incorrect yoga top length will cause that annoying riding up.
More intensive yoga, for example, will most likely require a longer top. Hip length is a good size to prevent tops from riding up and distracting you from a workout or yoga session.
The 5 Best Yoga Tops That Don't Ride Up
There are many different styles of yoga tops available. Tank tops, t-shirts, fitted, loose, long, short—it can be difficult to decipher which will hold up during a yoga session and which are really only good for looking cute. Some yoga tops that might look super cute might ride up during a session.
Luckily, there are plenty of wonderful options for yoga tops that do not ride up. Below are five of the best. Take a look at the five best yoga tops that do not ride up, even during an intensive session.
1. Lululemon Cool Racerback
By far, one of the top-rated and most recommended yoga tops that will not ride up is the Lululemon Cool Racerback. This tank top features a narrow racerback strap that helps it stay in place during movement.
This top is made of both Lycra and Lululemon's Nulu fabric, which contains sweat-wicking and stretches four ways. You will stay cool and dry while getting a workout.
Always stylish, Lululemon has made this top available in a variety of beautiful colors:
Pink Lemonade
Alpine White
Washed Grape Leaf
Ice Breaker
Washed Chianti
Frosted Mulberry
Ice Grey
With a snug fit and hip length, this tank's reported performance from customers holds up even during more intense sessions, making it our number one pick for yoga tops that don't ride up.
Of course Lululemon has branched into Yoga Mats and Blocks as well!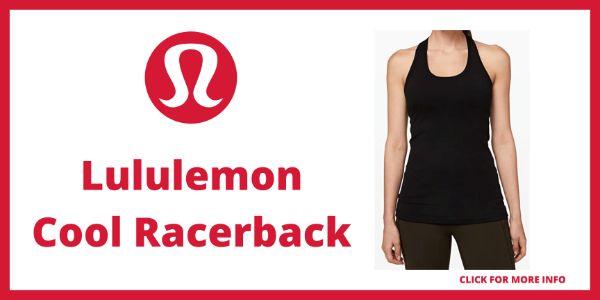 2. Alo Yoga Women's Cover Tank
This yoga tank offers a similar alternative to our first pick with comparable performance.  The functional style of the front-wrap and jersey stretch fabric make for a useful and comfortable top through all of your asanas.  
The Alo Yoga Women's Cover Tank is made to flow without hugging too tightly and riding up.  The materials are a lighter rayon and spandex.  This tank will allow you to focus on yoga without distraction.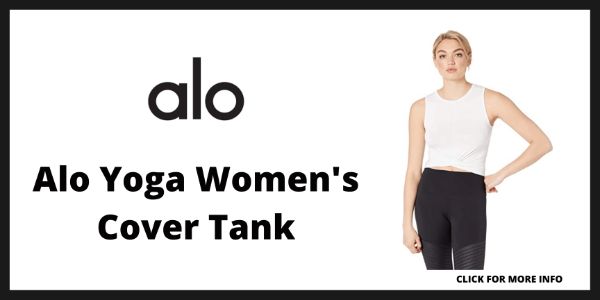 3. Athleta Speedlight Tank
This fitted racerback is designed specifically for medium- to high-intensity exercise, and many customers have recommended it as a great yoga top that does not ride up. This tank's racerback design also allows for unrestricted movement.
Its stretchy, seamless fabric offers a great deal of benefits for yoga practitioners who value comfort and practicality.
The material is soft.
The construction is supportive.
The fabric is breathable and sweat-wicking.
In addition, this tank features hem-grippers on the inside to ensure it will stay in place even during intense yoga sessions and poses. It also contains ruching on the sides for a more flattering, textured look.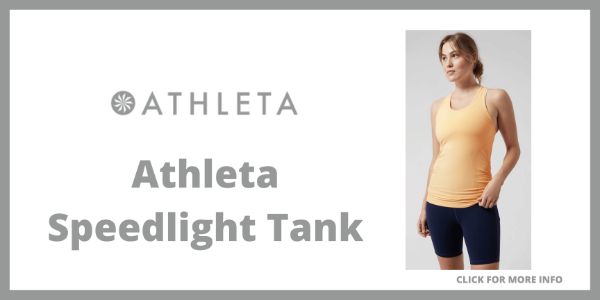 The Verana Top from Prana is made with a compressive Chakara performance stretch jersey and features a criss-cross detail on the back straps. It also has an interior shelf bra for added support.
This yoga top is made from the following flexible, comfortable materials:
Due to its versatility, the Verana top is great for yoga of all types, including higher intensity sessions. Its fitted design ensures it will stay put without being restrictive to movement. It is loose enough to be comfortable and lightweight without being so loose that it will ride up.
This yoga top comes in a variety of soothing colors like forest green, iced aqua, toasted terracotta, moonlight, and carmine pink.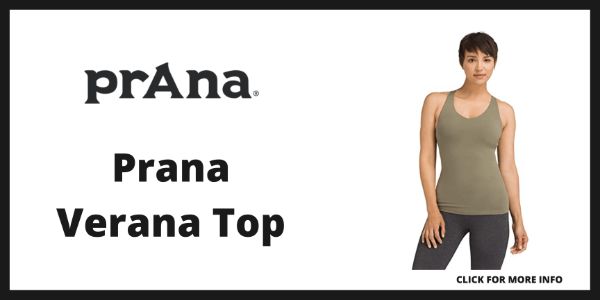 5. Lululemon Power Y Tank
Unsurprisingly, Lululemon makes it onto the list again. Another of the most user-recommended yoga tops that do not ride up is the Lululemon Power Y Tank.
With narrow straps and a thin, Y-shaped racerback, this snug-fitting top also features sweat-wicking and four-way stretch Luon fabric. It also has a shelf bra built in for added support. As with other Lululemon yoga tops, the Power Y tank comes in a variety of stylish colors:
White
Bordeaux Drama
Black
Pipe Dream Blue
Like our other picks, this top fits snugly and is hip length. Made with nylon and Lycra, it's a flexible yet fitting top that is great for yoga of all types. Because of the thin straps and lightweight material, it is a great workout tank for yoga sessions that might get hot and sweaty.
If need some yoga pants for women to match your top, that article is perfect for you!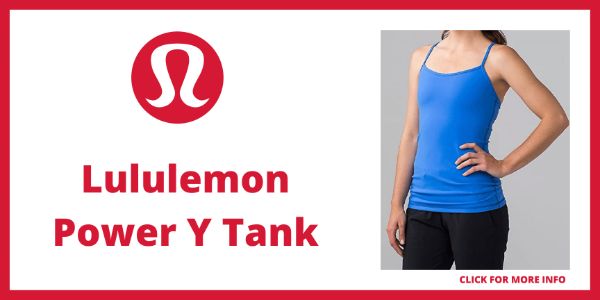 How Do I Check for a Long Length with Yoga Tops?
When looking for a yoga top that will not ride up, length is a key factor. You want to be able to choose yoga tops with the proper length to ensure you will not have to worry about your tops riding up during your yoga sessions. The longer the top, the less chance it has of riding up and revealing your midsection or disrupting your yoga session by requiring frequent adjustment.
Shorter or boxier tops work great for other types of exercise but are not often the best choice for yoga. These can include the following styles below.
Crop tops
Sports bras
Loose t-shirts
When checking for length in yoga tops, your first indicator will be the picture of the yoga top on the packaging or on the model. Most yoga tops for sale online are worn by models or mannequins, so check where the hemline or bottom of the shirt sits. Long yoga tops should be at least hip length.
Yoga is meant to be a healthy method of exercise, peace, and mindfulness. This can be difficult when you are constantly having to adjust your clothing or pull down your top, so it keeps you covered during a class or session. Luckily, there are some great yoga tops that do not ride up, some of which we detailed above.
A great yoga top should be well-fitting, breathable, flexible, and suited to your preferred yoga style. From Lululemon and Prana to Naani and Athleta, there are several brands that make high-quality yoga tops that will stay put even during intensive sessions. Our list offers some good options so you can focus on your workout instead of your clothes.
For all the best yoga pants, mats, tops and blocks on Amazon, check out that link!