Last updated on September 26th, 2023.
Yoga mats made by Alo are great for getting through even the most challenging yoga sessions. You will feel yourself get lighter and lighter when you are stretching on the mat. 
The Alo Warrior mat is the most popular Alo mat on the market. It was built for serious students and beginners, as it does not discriminate in quality and consistency. You can get the mat in all different colors to put you in a positive, uplifting mood.  
Alo yoga mats are all made from the same biodegradable, ethically sourced materials. If you want to know more about Alo yoga mats, check out this article. 
What is so Great About Alo?
Alo Yoga is a renowned yoga apparel brand that has gained popularity for several reasons:
High-Quality Products: Alo Yoga is known for producing high-quality yoga apparel and accessories that are designed to be both stylish and functional. Their products are often praised for their durability, comfort, and performance.

Fashionable Designs: Alo Yoga is celebrated for its trendy and fashionable designs. Their yoga wear incorporates contemporary styles, vibrant colors, and unique patterns, appealing to those seeking both comfort and fashion-forward activewear.

Commitment to Sustainability: Alo Yoga emphasizes sustainability and environmental responsibility. They strive to use eco-friendly materials and practices, such as recycled materials, low-impact dyes, and ethical sourcing, in an effort to reduce their ecological footprint.

Focus on Functionality: Alo Yoga's products are crafted with the needs of yogis in mind. They prioritize functionality, ensuring that their apparel and accessories offer the necessary features, such as moisture-wicking, breathability, and flexibility, to enhance the yoga experience.
It is the combination of these factors—quality, style, sustainability, functionality, and community—that has contributed to Alo Yoga's reputation and appeal among yoga enthusiasts and fitness-conscious individuals.
Which Country is Alo From?
Alo Yoga is an American-based company. It was founded in Los Angeles, California, in 2007. 
There are several things you want to take into consideration when choosing a yoga mat. You want the right fit for your body shape, style, and experience. Alo yoga mats are high in quality, as they fit like a glove for all yoga teachers and yogi masters. Alo's quality assurance teams are always looking to improve their products to make them highly functioning and practical for every type of yoga practice. 
The purpose of a yoga mat is to help guide you in your journey toward ultimate health and well-being. Alo yoga mats are perfect for this, as they are put through laborious testing before hitting the market. Alo Yoga has a mission to create quality pieces you can get the most use out of. Alo yoga is an excellent company with a vision focused on giving the customer a positive experience. 
What Type of Yoga Mat is Best?
It can be challenging to discover the right yoga mat, as there are a lot of factors you need to consider. There are some standard guidelines you should stick to when choosing a yoga mat that suits your needs:
Eco-friendliness

Material

Overall style

Price range 

Stickiness

Texture

Thickness
The yoga mat you choose should keep you stable in poses and be storable and portable to take with you to class and anywhere you want to travel. You also want a yoga mat that will suit the style of yoga you practice. 
You want a yoga mat with cushioning to ensure you do not get injured during your practice. If you want an enduring yoga mat that will stand the test of time, try a mat made from PVC, which has the most give compared to other mats. The Alo Yoga Warrior mat has a reputation for being one of the best yoga mats out there. 
The yoga mat you select should reflect your personal style and goals. You do not want to pick a cheap mat if you want to get serious about yoga. Yoga is meant to be practiced on a well-made mat. You should always opt for a mat you feel most comfortable with. 
Sticky mats can keep you from sliding all over the place. Eco-friendly mats tend to be on the higher end price-wise. The last thing you should consider is your mat's color and print. Pick a color you like because if it is a good mat, you will likely have it for a long time.   
Why Are Alo Yoga Mats So Popular?
The Alo Yoga Mats are popular because of the Alo Yoga Warrior Mat. Alo creates long-lasting, stylish, and well-designed yoga mats and apparel. The grip of the mats is impressive. You feel grounded and supported throughout your yoga session. Celebrities like Kendall Jenner swear by this brand, and with such celebrity endorsements, it is a brand that people feel they can trust.
Alo Yoga uses materials that last and are quality. They are great for stretching and practicing yoga. Alo yoga is not just yoga mats; they also have apparel and the fitness platform Alo Moves. The materials made from the mat are high in quality. They are eco-friendly and come in gorgeous colors. If you want to invest in a good mat, the Alo yoga mat is the best pick.
What Are Alo Yoga Mats Made Out Of?
Alo yoga mats are roomy and comfortable. They are cushioned for joint support and are anti-odor, slip-free, and dry. Alo Yoga mats:
Formaldehyde, Non-toxic, and PVC free

Luxe matte finish with an oversized design

Made from ethically sourced rubber 

Various colors to choose from  
The most popular Alo mat is the Warrior Mat, which weighs about 8 pounds and is half a centimeter thick. It is made from natural, non-toxic black rubber with a non-slip cushioned base. The mat grips the surface well and lies flat on the floor. 
Alo also makes a travel mat, which is super light and made of natural rubber, weighing about 6 pounds. All Alo yoga mats are 100 percent non-toxic, biodegradable, responsibly resourced materials, and dry wicking. All Alo yoga mats are made with the same material. Most Alo yoga mats are made with hideous chemicals, but Alo mats do not carry any chemical odor of any kind.  
What is the Material of Alo Yoga Mat?
The Alo Yoga Warrior Mat features an all-natural rubber bottom and an antimicrobial bacteria-resistant polyurethane leather top. According to Leafscore's article on yoga mat toxins, all-natural rubber mats are renowned for their excellent grip, making them a desirable choice for practitioners.
Alo Yoga is a popular yoga apparel brand known for its stylish and high-quality products. all-natural rubber mat is designed to create a magical yoga experience. With its spacious surface, optimal cushioning for joint support, and antimicrobial properties, it ensures a clean and hygienic practice. The mat's slip-free grip remains reliable, whether wet or dry, enhancing stability during poses. Not only is it 100% non-toxic, but it is also biodegradable and responsibly sourced, reflecting our commitment to the well-being of our planet. Remember, yoga is all about deep breathing and mindfulness.
The Best Alo Yoga Mats Out There
Alo yoga mats are put through rigorous testing. The mission of Alo yoga is to provide top-quality products for the avid yoga student. Alo Yoga Warrior mats are among the best in the business. There are a few Alo yoga mats that are considered to be the best:
The Alo Warrior Mat will help you stay grounded and feel like you are practicing yoga while floating on a cloud. You will feel the grip even when you are in the most challenging positions. The Alo Yoga Warrior Mat is a highly acclaimed yoga mat that has gained popularity among yoga practitioners. Designed with functionality and performance in mind, this mat offers a superb practice experience. This yoga mat is the best-selling Alo yoga mat for its durability and reliability. The Warrior Mat features a combination of high-quality materials, including an all-natural rubber bottom and an antimicrobial bacteria-resistant polyurethane leather top. This unique construction provides excellent grip and traction, ensuring stability and preventing slippage during poses. Whether you're practicing a vigorous Vinyasa flow or a gentle Yin session, the Warrior Mat offers the perfect balance of cushioning and support to protect your joints and enhance your comfort. Its generous size allows for ample space, accommodating a range of movements and providing freedom to explore different yoga poses. Additionally, the mat's antimicrobial properties help maintain a clean and hygienic surface, promoting a healthy practice environment. With its durability and long-lasting performance, the Alo Yoga Warrior Mat is a reliable companion for yogis of all levels seeking a high-quality mat for their practice.
In addition to its functional benefits, the Alo Yoga Warrior Mat showcases a sleek and stylish design. It is made of all-natural rubber that is PVC-free and formaldehyde free.  Available in a variety of colors from hot pink to honeydew, this mat allows you to express your personal style while on the mat. The combination of aesthetic appeal and performance features makes the Warrior Mat a favorite among yoga enthusiasts. Alo Yoga's commitment to sustainability is also evident in the mat's construction, as it is made from responsibly sourced materials. With its exceptional grip, cushioning, durability, and stylish design, the Alo Yoga Warrior Mat is an excellent choice for practitioners seeking a top-notch yoga mat that supports their practice while reflecting their individuality.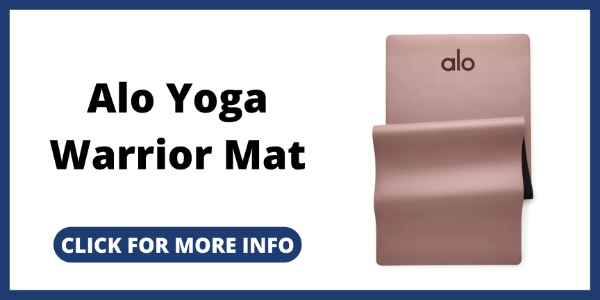 2. Alo Chakra Warrior Mat
Align and balance your chakras on the amazing Alo Chakra Warrior Mat. This luxurious and advanced yoga mat designed to enhance your practice with better alignment. It features an asana-guiding grid etched onto its surface, providing a textured guide to help you align your poses correctly. Based on Alo Yoga's renowned Warrior Mat, this Chakra Alignment Mat ensures a no-slip grip, whether your hands or the mat are wet or dry.
The mat is equipped with a natural rubber backing that offers the ideal amount of cushioning for comfort and joint support during your practice. Its dry-wicking surface effectively draws moisture away, keeping the mat dry and preventing any slipperiness caused by perspiration. Additionally, the Chakra Warrior mat is designed to be anti-odor, maintaining a fresh and clean practice environment.
With the combination of its textured alignment grid, non-slip properties, cushioned rubber backing, and anti-odor features, the Alo Yoga Chakra Warrior mat provides a supportive and hygienic surface for your yoga practice. It is a high-quality mat designed to elevate your alignment and overall yoga experience.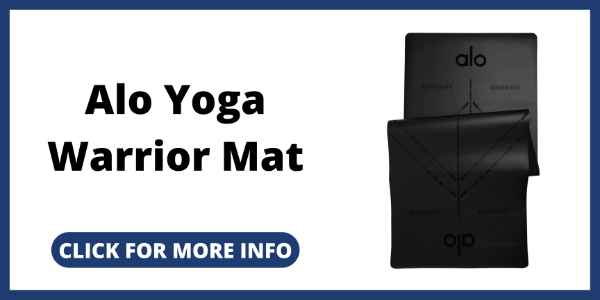 Alo Yoga Warrior Mat Vs. Alo Chakra Warrior Mat
When comparing the Alo Yoga Warrior Mat to the Alo Chakra Warrior Mat, both mats offer excellent quality and performance. The Warrior Mat, known for its durability and exceptional grip, provides reliable stability and traction during yoga practice. On the other hand, the Chakra Warrior Mat incorporates an asana-guiding grid etched into its surface, allowing for enhanced alignment. While both mats offer cushioning and support, the Chakra Warrior Mat's alignment grid provides an additional visual aid to help yogis maintain proper positioning. Ultimately, the choice between the two mats depends on individual preferences. If grip and durability are primary concerns, the Warrior Mat is a solid choice. However, if alignment guidance is a priority, the Chakra Warrior Mat offers the added benefit of the asana-guiding grid.
Are the Alo Yoga Mats Worth It?
The Alo Yoga Warrior mat stands out as an excellent choice for yoga practitioners, justifying its cost with its outstanding features and performance. One of its notable strengths is its exceptional grip, providing a reliable and slip-free surface for various yoga practices, even when hands or the mat are wet. The mat's high-quality construction ensures durability, allowing it to withstand regular use and maintain its performance over time. Additionally, the Warrior mat offers optimal cushioning, striking the right balance between comfort and support for joints during poses. This feature is particularly beneficial for individuals with sensitive joints or those who prefer extra padding. Furthermore, the mat's antimicrobial properties and moisture-wicking surface contribute to a hygienic and fresh practice environment. With its combination of grip, durability, cushioning, and hygiene features, the Alo Yoga Warrior mat presents itself as a top-tier option that offers long-term value and enhances the overall yoga experience, making it well worth the investment.
Final Thoughts on Alo Yoga Mats
Alo Yoga mats are widely regarded as great options for yoga practitioners for several reasons. First and foremost, they are known for their exceptional quality and durability, ensuring long-lasting performance and value. Whether it's the popular Warrior Mat or other models, Alo Yoga mats are designed with a focus on functionality, providing excellent grip and stability during yoga poses, whether the mat is wet or dry. 
Alo Yoga mats also offer a range of features tailored to enhance the yoga experience. These include alignment guides, antimicrobial properties, cushioned support, and moisture-wicking surfaces to keep the mat fresh and slip-free. Furthermore, Alo Yoga demonstrates a commitment to sustainability by utilizing eco-friendly materials and ethical manufacturing practices, making their mats a choice aligned with environmental values. Overall, Alo Yoga mats combine style, functionality, durability, and sustainability, making them a top choice for yoga enthusiasts seeking high-quality mats that support their practice and contribute to a positive yoga experience. You cannot beat the Alo Warrior mat when practicing different types of yoga.