Last updated on December 5th, 2023.
Astrology and horoscopes are some of the most intricate parts of our culture. Some people follow their horoscopes so closely that it becomes a religion to them, and others don't even know their zodiac sign. If you want to learn more and get certified astrology, these online courses can help!
What are the four best astrology certification courses? Here are some of the best courses and schools to get certified in astrology:
If you're in the business of tarot card readings or other fortune-telling rituals, being certified can help your business start, grow, and thrive.
Where can I learn astrology online?
You might be surprised, but there are several different places and ways to learn about astrology online—even if you don't know anything about astrology!
If you don't know anything about astrology, you probably don't want to start by jumping into an entire certification course. You can find plenty of helpful information on Google and YouTube to introduce you to the study.
If you're looking to learn over time, you can even check out TV shows and movies that center around astrology. It's more common than you think; many popular shows draw from astrology without directly mentioning it. After becoming certified, you'll start noticing this!
The best part about learning online is that you can learn from anywhere you want! You can take notes from a desk at home, watch course videos while relaxing outside, and even complete schoolwork without leaving your bed. 
There are plenty of options regarding which program to pick, and there are benefits for each of these programs. That's why we've created this guide for you!
The 4 Best Astrology Certification or Certificate Courses Online
Are you looking for the best astrology courses available online? You've come to the right place! These 5 programs are excellent choices for learning as much as you can about astrology—the best part is that you can even get certified after these courses.
A certification lets you make more money in your astrology career. You'll improve at what you do, and people will naturally trust you more. Let's look at four options you can complete online to gain this certification.
1. Karni Zor's Holistic Astrology School: Becoming a Certified Astrologer
The Holistic Astrology School offers an intense study of astrology in its comprehensive course. You'll have access to and learn everything the Holistic Astrology School provides, from the beginning classes to the master-level teachings. 
Karni Zor is one of the foremost leading authorities on Astrology. She has been practicing for over 20 years, has written multiple books, and developed a comprehensive Personal Astrology Chart. Additionally, she has created her own Astrology Cards, which have been translated into seven different languages and distributed worldwide. Karni is a world-renowned speaker and lecturer and conducts Astrology workshops and courses globally.
Here are all the classes that you'll gain access to with this unique course:
Astrology Step 1 – Making and Understanding Charts

The Astrologer's Ethics

Learning Astrology Step 2: Sun-signs, Moon-signs and Rising Signs

Learning Astrology Step 3: Reading the Persona – Mercury, Venus, and Mars

Learning Astrology Step 4: The Elaborated Persona Reading

Astrology Step 5: The Astrological Houses

Special Features of the Chart

The Progressed Chart

Astrology and Reincarnation

Combined Astrological Charts
All of these courses are self-paced and ready to start whenever you are. You'll also keep access to them forever, so it's a great way to have backup material to brush up on through your professional years. 
If you're only looking to take a specific course, then that's an option as well! Here are the breakdowns of each course:
Astrology Step 1 – making and understanding charts.

How the planets, signs, astrological houses, the ascendant, and mid-heaven work together to produce an astrological chart

The Astrologer's ethics.

Learn how to serve your clients best and what happens to the energy around you in a reading

Learning Astrology step 2: sun, moon, and rising signs.

Sun-signs, Moon-signs, rising suns, the Sun, the Moon, the Ascendant, astronomy, mythology, and esoteric meaning.

Learning Astrology step 3: reading the persona – Mercury, Venus, and Mars.

Interpret astrological persona readings based on Mercury, Venus, and Mars; astronomy; mythology; esoteric meaning

Learning Astrology step 4: the elaborated persona reading. Learn about Jupiter, Saturn, Uranus, Neptune, and Pluto to use them in chart readings, astronomy, mythology, relationships between celestial bodies, natal charts
Astrology step 5: the Astrological houses. Understanding the following things in a natal chart based on the 12 houses: potential, finance, health, relationships, and vocation. (Check out this article for the astrology houses and their meanings!)
Special features of the chart. 

Chiron, the galaxy center, the Asteroid Belt, the part of fortune, mid-heaven

The progressed chart. 

How charts change over years, mid-heaven, producing and reading the progressed chart

Astrology and reincarnation.

True and South Node, more profound meanings of Saturn, the Draconic chart

Combined Astrological charts. 

Producing charts for more than one person at a time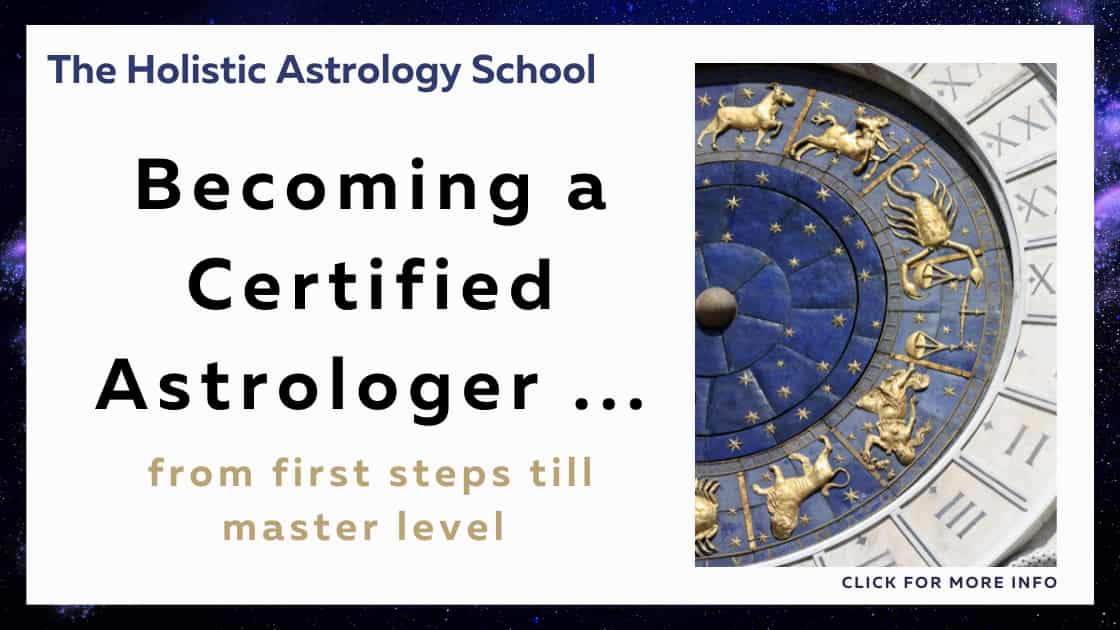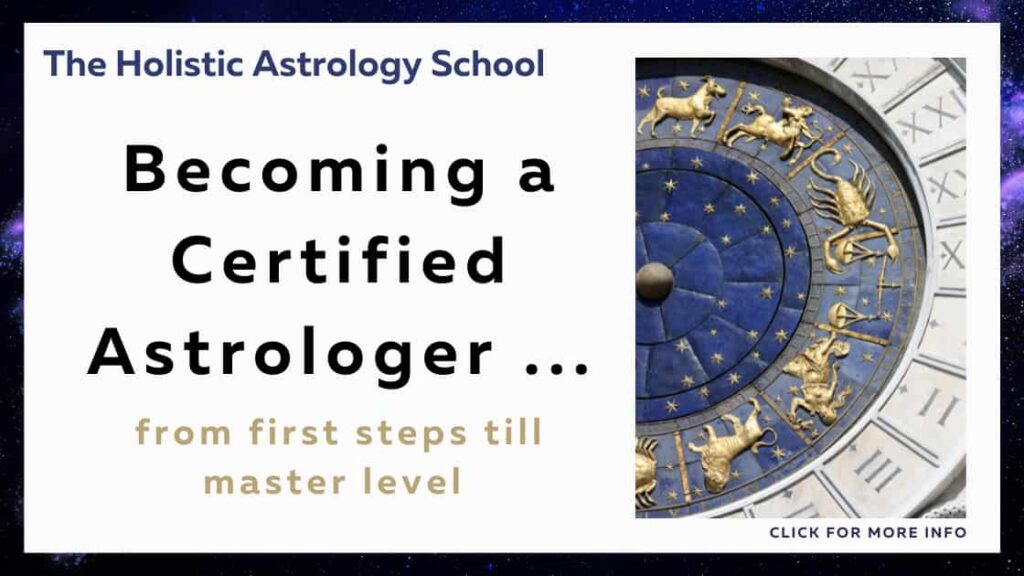 2. Annie Botticelli: Become a Certified Professional Astrologer - Mastery Course
In this program by Annie Botticelli, Become a Certified Professional Astrologer – Mastery Course, you will learn everything you need to become a successful astrologer. Annie Botticelli is an internationally renowned YouTube personality with a successful career as an astrologer and self-development business mentor. She brings 25 years of diverse experience as a successful spirit-prenuer, trainer of astrologers and coaches, a teacher of practical magic, and a visionary author of Planetology: How to Align with the Natural Rhythms of the Universe. 
In her course, you will learn deeply about
The 5 Foundations of Astrology

Signs, houses, planets, transits, aspects

The Anatomy of a Chart Reading

Charts – natal, p

rogressed, s

olar, s

olar return, t

ransit, s

ynastry

Moon cycles

Using the ephemeris 

Retrograde planets – in transit, natal, and progressed charts

Major planetary cycles

How to read a horoscope chart

Astrological timing – business launches and other timing

North and South nodes
You can share, practice, and elevate your skills in this 12-month course by gaining the experience and expertise necessary to begin your astrology practice. Reach your certification in 8 months of the primary course curriculum plus four months of bonus content. In this way, students can start earning money well before finishing the curriculum.
Course benefits:
Set at your own pace and easily accessible online

Organized with step-by-step modules and video classes available to you with helpful visual aids to anchor in your learning

Course materials are downloadable with lifetime access for your continued growth

1-year access to the forum, where your learning comes to life, and you can pose questions and learn from them
By completing this course, you will get a certificate of completion and everything you need to use astrology as a powerful self-development tool for you and the people around you. One of the most notable parts of Annie's course is that you'll benefit from someone who's been an entrepreneur, and that experience is brought to the class. It's also baked into the certification process, so you leave the course equipped and confident to charge money for readings, knowing that you deliver a comprehensive, accurate, and usable reading that will help your clients in wonderful ways.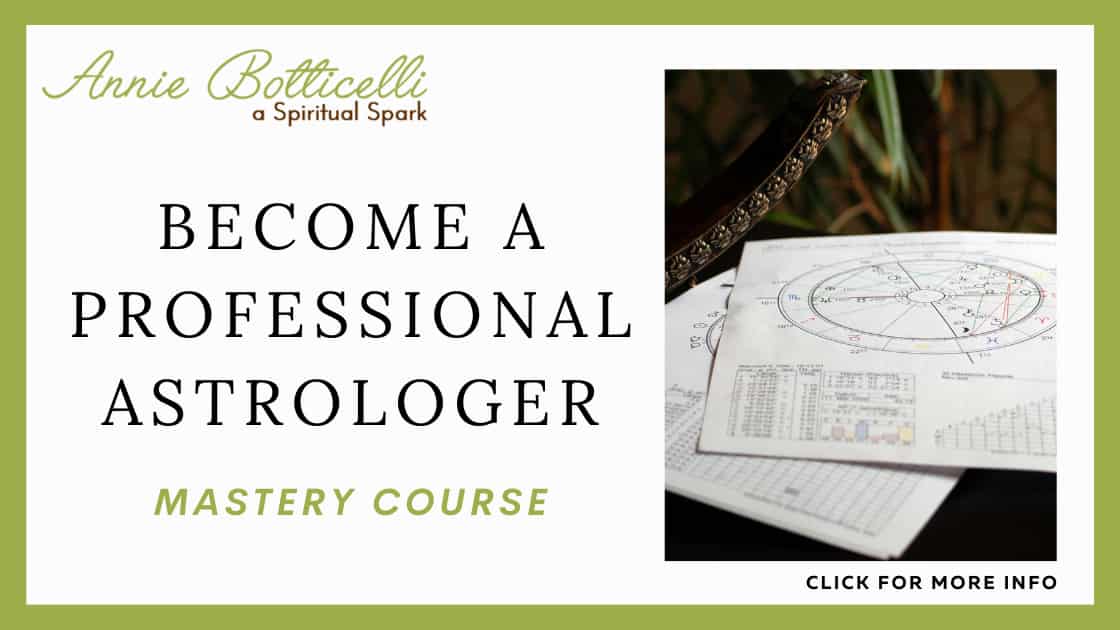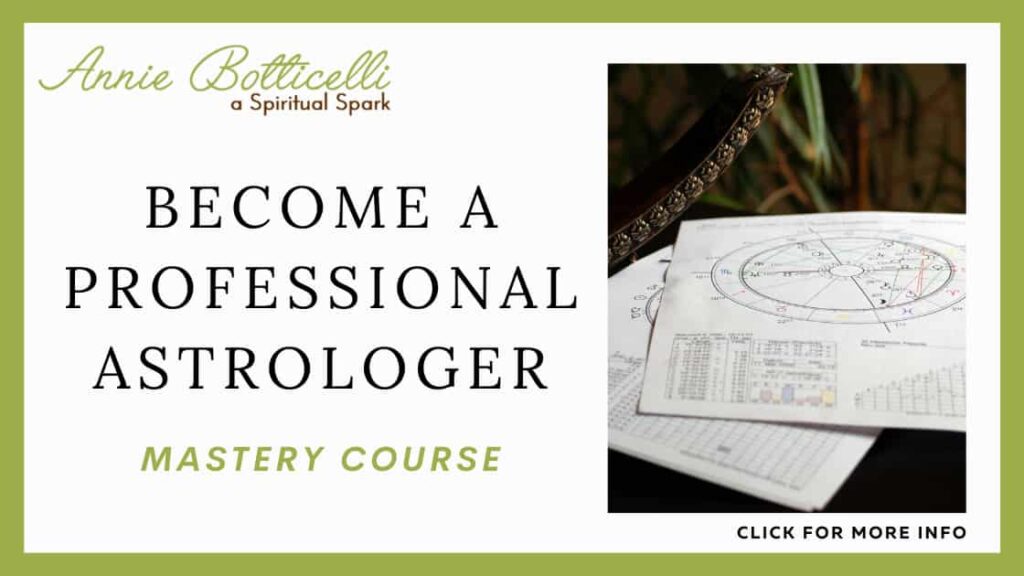 3. Astrology University: Professional Astrologer Training and Certification
If you're looking for an advanced astrology training program, you can't go wrong with this course offered by Astrology University. The school allows you to gain hands-on mentoring experience and an opportunity to learn from experienced astrologers. Not to mention, you get access to a guided curriculum that will enable you to advance your skills and knowledge of the field.
If you want to become a professional astrologer, the school offers a 4-year program that includes training and certification. This program is one of the most comprehensive in the industry, and it is designed to help students become well-rounded astrologers. 
Throughout the study, you will learn about different types of astrology, natal charts, horoscopes, and much more. 
The school also offers a robust support system for its students – they have an active student community that allows you to expand your network and experience astrology through other people's perspectives.
In addition to the comprehensive course, the university offers other shorter courses as well. These are great for individuals who don't have much time to commit or for people who would like to supplement their coursework.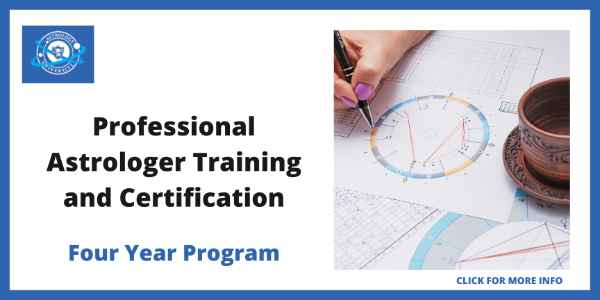 4. Rebecca Gordon Astrology: Beginner's Astrology - Master Your Birth Chart
Learn all about the wonderful and vast world of astrology in this course with Rebecca Gordon. You will learn to read a birth chart, optimize your potential by charting planetary cycles, and become your astrologer. In addition to the certification course, Rebecca offers a series of other great courses focusing on health and relationships.  
This course will walk you through everything you need to know about astrology. You will start by learning about the origins of astrology and why it's essential. Then, you will learn about the sun, moon, and planets as they relate to your personality. You will then learn in detail about each of the planets and their meanings. After the course, you will have the necessary skills to read charts for yourself and others. 
This 12-week course is divided into 12 modules that include the following:
History of Astrology
Sacred Language of Astrology
The Sun and Moon in Relation
The Inner Planets and Personality
 Attraction with Mars and Venus
Jupiter and Saturn
Uranus -Liberation of the Soul
Neptune – Divine Inspiration
Pluto and the Nodes – Pathway of the Soul
Interpreting with Aspects
The Soul of the Chart
Astrological Reading
This course is all done live through Zoom classes. With each class, you will be given readings, videos, and homework assignments to facilitate your learning. There is also a Q&A board where you can share your questions and assignments and support the other students. 
The course itself is $1,200 and the certification track $1,600, but the certification track includes these additional features:
Monthly office hours with Rebecca
Assigned teacher for study halls
Exclusive content and add-ons (workshops and more)
Certification Exam and feedback from Rebecca Gordon
Graduate from the Rebecca Gordon School of Astrology
Lifetime access to the school portal and all media
This beginner's course on astrology will prepare you to read charts and optimize your life based on the signs and planets. Become an astrologer today and sign up!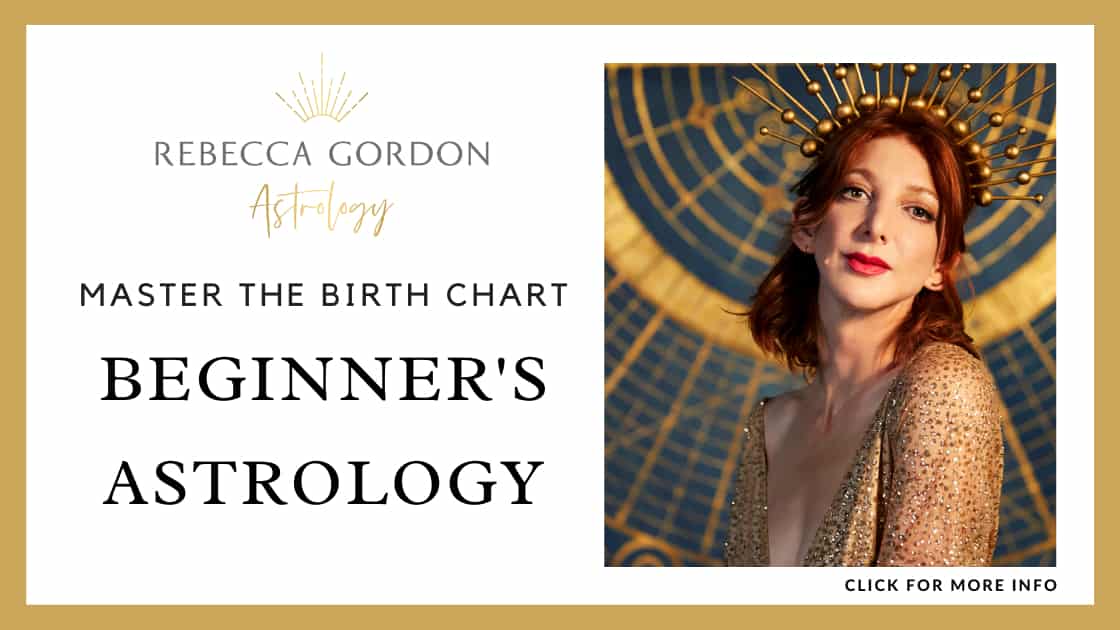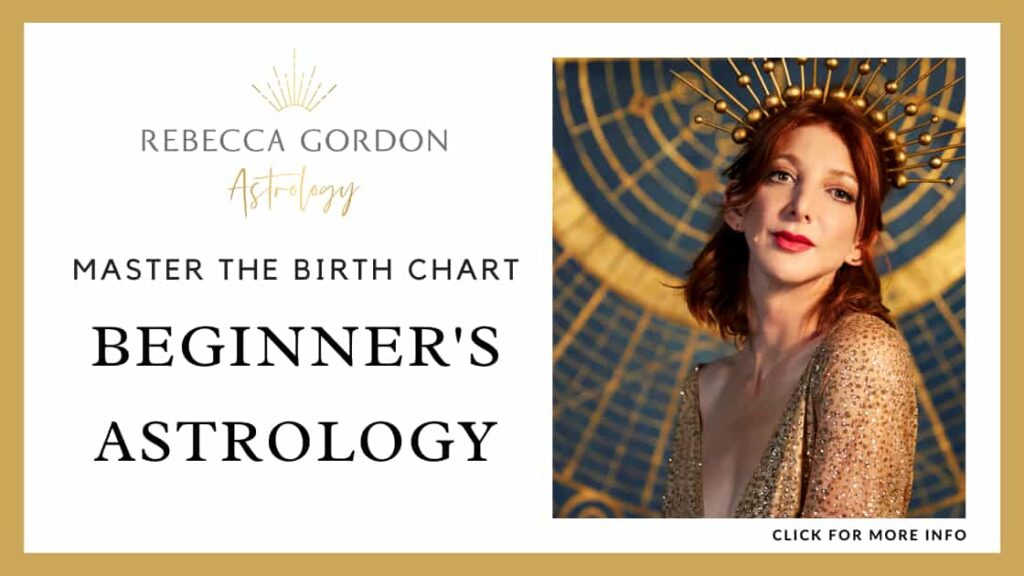 How long does it take to learn astrology?
Several factors will influence how long it can take to learn astrology. These include the course format (self-paced or webinar-based), your prior astrology knowledge, your depth of interest in the subject, and your study habits.
The duration of your astrology learning journey is closely tied to the course format. Self-paced online courses offer flexibility but require self-discipline to stay on track. On the other hand, webinar-based classes, which involve interactions with professors and peers, can keep you motivated but typically demand more time.
Your existing knowledge of astrology also plays a role. Beginners starting from scratch will take longer than those with some familiarity, such as knowing zodiac signs. A genuine passion for astrology can accelerate your learning, turning it into an enjoyable hobby rather than a tedious task.
Learning astrology can be quicker if you focus on practical skills like chart production and tarot card reading. However, for a deeper understanding of the underlying mythology and principles, more time and critical thinking are necessary.
Your aptitude for studying matters as well. Individuals still in an academic mindset or consistently engaging their minds may find astrology easier to grasp. Conversely, if it has been a long time since you engaged in formal learning, it may take longer to learn astrology.
In summary, the duration of your astrology studies is influenced by course format, prior knowledge, passion, study habits, and cognitive readiness for learning.
Is astrology hard to learn?
While astrology isn't necessarily difficult to learn, it's also not easy to grasp. Popular culture movements have historically looked down upon astrology, and so there may be some things that you may need to unlearn when you begin studying the stars.
However, opening your mind up and earnestly trying to learn will give you a world of opportunities for learning anything, astrology included. Astrology is something that people tend to feel strongly about if they're studying it, and that passion will only help you along the way.
If you find astrology difficult, then don't worry! You're not the first person to have a hard time. The best part about these online courses is that you have constant access to teachers and resources to help you understand what you're learning. 
Even if you're struggling with the resources available, you can get answers to almost any questions you have via the internet. There are plenty of ways you can succeed at studying astrology, even if it's difficult in the beginning.
Studying astrology is also a lifelong process. While you might grasp concepts exceptionally well initially, you'll only grow in knowledge as you practice readings and learn more about trusting the universe through life itself. Don't worry about early struggles; you'll only get wiser as you get older.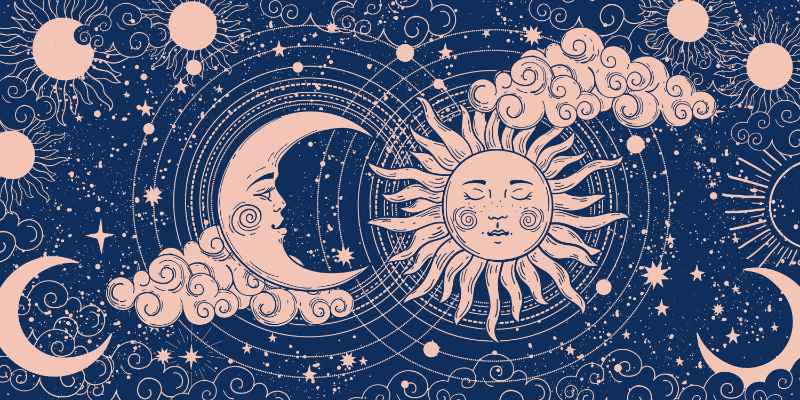 What religion is Astrology based on?
Astrology is not tethered to any religion, just as no religion is exclusively based on astronomy. Nevertheless, references to astrology can be found in various religious teachings, including Christianity and Buddhism.
If we reflect on history, we can see that humanity long relied on the stars for essential aspects of life, such as navigation and the development of calendars. The stars served as guiding lights in an era without any modern technology.
It may be challenging to imagine now, but stars once illuminated the night sky in a spectacular display. Even on cloudy nights, their brilliance was not easily dimmed. This has changed over time as cities have caused tremendous air pollution, and it can be hard to view stars without traveling hundreds of miles away from a city. 
It was only natural for humans to seek guidance from the stars in navigating the complexities of life. So, it makes sense that the presence of astrologers dates back thousands of years, albeit in forms that may differ from contemporary practice.
We can see common threads in the astrology used within religions with similar origins. Stars often hold significance in many religious histories, and it's only recently in the grand scope of human history that some view astrology as heretical.
Stars are an integral part of the universe that surrounds us. While they pertain to aspects beyond the reach of our physical senses, they remain an essential part of our environment. And so, it makes sense that Astrology aligns with the beliefs of most religions despite certain subsets within specific religions strongly opposing astrology.
Final Thoughts on Achieving a Astrology Certification Through an Online Course
Astrology is the complex study of the stars and draws on elements from psychology, astronomy, philosophy, and mythology. Studying astrology can be as complex or as simple as you'd like to make it, and online courses give you a very easy way to get started. Hopefully, you'll find the above information helpful in finding the right course. If you'd like to dig more into the field before taking a course, check out our article on what astrologers do. To start with a beginner's course, check out our beginner astrology courses. 
Any of these programs listed will give you a great understanding of astrology and how you can use it in your daily life. You can even use astrology practically, whether as a yoga teacher or a fortune teller. We hope this information was helpful in your quest to learn more and possibly become an astrologer!