Last updated on October 17th, 2023.
When you think "meditation teacher," there's an image that comes to mind of a long-bearded sage sitting cross-legged in a temple in a rainforest in the middle of nowhere. But nowadays, this is not the case. Of course, there are still such stereotypes that exist, but you will have to travel far and wide to find them. Nowadays, anyone can be a meditation teacher. That goes from your favorite waitress to that newspaper boy. Meditation is a powerful tool that helps you reduce stress, increase calmness, clarity, and happiness.
Becoming a guided meditation instructor requires training and learning because you will learn to lead your students into a calming and relaxing state using either an off the cuff or memorized guided meditation script.  There are many kinds of scripts so scour through to see which is best suited for your style.  If you're looking for some great resources to help learn and develop your teacher skills see below.
The Best Online Resources to Become a Guided Meditation Instructor are:
It can be difficult to keep the chatter from your mind even while you sleep. Meditating helps you pay attention to this chatter which will eventually help you master your thoughts and know how to control your thoughts to keep away negative thoughts. Once you master this ancient and sacred practice, you don't have to practice for hours to be a teacher; online resources can help you become a guided meditation instructor.
What is Guided Meditation?
Guided meditation is when the narrator or teacher walks you through how to meditate, what to expect of your mind and body when meditating, and how you can apply meditation in your life. Meditation achieves a relaxed state of concentration invoked and led by another party. Guided meditation can be done in person by a yoga instructor, religious guide, or online.
During a guided meditation, the instructor will guide you to relax various parts and muscles of your body and then lead you through mental images and visualizations to achieve various healings. Guided meditation can take a few minutes upto a few hours. The amount of time you meditate doesn't matter. What matters is achieving mental, physical, emotional healing and stress relief.
What does a guided meditation instructor do?
A meditation teacher is your best shot when starting if you seek mental clarity through meditation. A meditation teacher teaches a combination of breathing and concentration that helps achieve relaxation. As a meditation teacher, your role is to be a calm spiritual well-being cheerleader. A teacher can either do one-on-one meditation classes or conduct group classes guiding many people.
As a meditation instructor, it's your role to create a nice calm environment for your students so they can relax. The moment you can make your students feel relaxed, they will better discover deeper levels of their minds and hearts. Another way to ensure you make the class feel casual and relaxed is by dressing up casually. Being a guided meditation instructor isn't one of those jobs where you dress up in a suit and tie and go to work. You can even wear sweatpants, a t-shirt, and sneakers to work and be comfortable while also making the students feel at ease.
How do I become a guided meditation instructor?
There isn't a better time to become a guided meditation instructor than now. Meditation and mindfulness are becoming the fastest growing health movements in America alone. Becoming a certified meditation instructor is the best way to take advantage of this ever-growing industry while you help others.
If you want to become a meditation instructor, the first step would be to study. Please do your research, and find out as much information as possible on the subject before diving deeper into it. Get to know the different types of meditation practices that exist. You can take a class, talk to an expert while you keep practicing. Finding information on meditation and trying the different types is very easy. You can get some meditation practice from apps and find classes online to attend and learn a little bit more.
To become a teacher, you need to be a student for a long while. For you to teach others this ancient practice, you've got to have your practice perfected. Put aside a few minutes in your daily routine to practice. For example, you could set aside 20 minutes every morning or night to practice meditation. Choosing a time that works for you and sticking by it is the best thing you could do for yourself. You can also attend meditation retreats and interact with the meditation community to learn more. The more you practice meditation and the different styles that exist, the more you will learn about yourself, navigate your practice and know-how to handle your future students.
3. Share your gift with others.
It can be intimidating teaching others, but you shouldn't shy away. You can start teaching a meditation class with people you know, like friends and family. They will make you comfortable and prepare you for an audience. They will also give you pointers here and there. Work on getting a soothing tone to bring about relaxation. Always ensure you speak too. Once you are comfortable teaching the few people you know, you can now widen your horizon and start a meditation class online or pre-record and publish it online. Sharing this gist with others will help you learn on the job and refine yourself to become a guided meditation instructor.
4 Online Resources to Become a Guided Meditation Instructor
Becoming a guided meditation instructor is easy, and most people can do it. But becoming a certified meditation instructor is something different. It means that you will have more experience and learn things people that haven't gone to a class can't know. Attending an online or physical class while also honing your practice will boost you to become the best-guided meditation instructor anyone can find out there. Below, we have put together the best online meditation courses you can take to perfect your role as a guide for others to start to meditate.
1. School of Positive Transformation
This institution is a home for people who want to improve the world. All teachings of theirs are based on positive scientific research. They turn the research into positive tools to help better other people's lives. They do this by inserting these tools into courses and classes to help people.
The School of Positive Transformation offers courses like Accredited Coaching, Positive Psychology and Meditation, and Mindfulness Teacher Training, among other courses. If you're looking to become a guided meditation instructor, you can take Meditation and Mindfulness Teacher Training. At the end of the course, you will get a certification to get the practice and knowledge required to be an instructor.
You will become a competent meditation teacher by the end of your coursework. This course is perfect for people already practicing meditation, yogis, therapists, pilates teachers, and others working in the wellness industry. Suppose you feel like you want to include meditation practice and methods in your career. You can also join this course to expand your knowledge on meditation, even if you are not looking to teach meditation.
If you join the course to learn meditation for your practice, you will get a great foundation for your practice and enjoy the many benefits of meditation. The coursework includes over 40 videos, 30 guided meditations, exercises, and activities. You can take the course for as long as you need to graduate. There's no rush.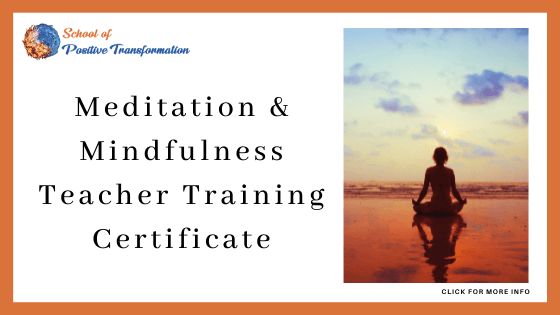 2. The Whole Health Project: Trauma Aware Meditation Teacher Training
The Whole Health Project's 35-Hour Trauma Aware Meditation Teacher Training is designed to support you, deepen your own meditation practice, and learn how to confidently teach others. This Yoga Alliance certified (YACEP) training includes the free addition of their 10-hour Trauma Aware Facilitation Training, so you can safely and competently support a wide range of students.
This training is for you if:
You desire to understand the fundamentals of ancient wisdom put into context for our modern day climate

You are looking for a step by step approach to be able to guide both new and experienced meditators alike

You are passionate about deepening your own practice so you can share from a place of direct experience and insight

You desire to have a wider perspective on the roots and relevance of meditation in the modern world

You are looking for a trauma aware approach to teaching, to make your teachings more accessible, safer and more inclusive
Even though this is a self paced course, every question you have gets answered through their monthly live Q&A calls and the students online forum. Sign up today for as little as $82/month. And if you are desiring to add Breath Coaching or Yin Yoga teaching to your repertoire they also offer practitioner bundles. 
Sign up for their Trauma Aware Meditation Teacher Training along with their Yin Yoga Teacher Training and/or Breath Coach Training to receive an even bigger discount on all three trainings.
Practitioner Bundles: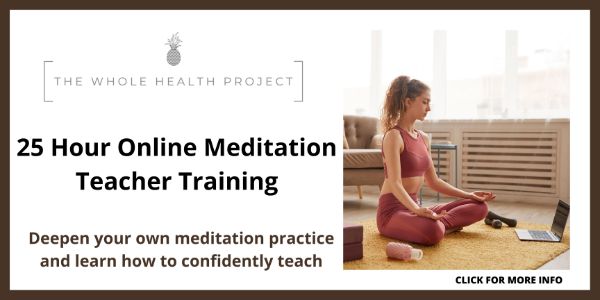 My Vinyasa Practice offers online and in-person courses if you're in Austin. Since they're registered with Yoga Alliance, they offer yoga courses and meditation. To immerse yourself, even more, you could join their workshops either online or in person.
The institution offers courses that mostly include yoga. You can even find one that pairs meditation and yoga. But if you're looking to learn meditation alone either to advance your career or otherwise, there is a Foundations in Meditation Certification. This program will help you get an introduction to meditation, like techniques and foundational tools necessary to achieve meditative states. You will also learn to visualize, let go, and non-attachment about meditation. You will learn how to be a compassionate teacher too.
These teachings are great for wellness practitioners (start that journey by becoming a certified wellness coach through online study) who would like to add meditation as part of their tools in helping clients or meditation teachers. You can get 75 Continuing Education hours if you're already a registered yoga teacher as a bonus. Once you start the course, you will have unlimited access to it. This means that you can always return to it for reference even years later.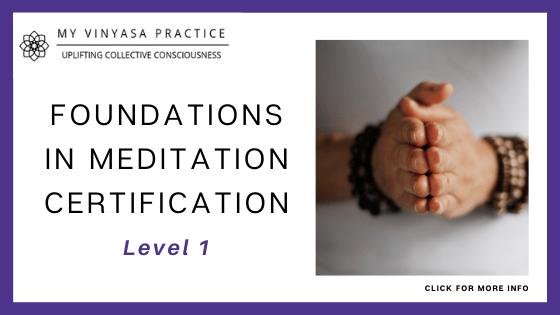 Sura Flow is a softer model of meditation founded by Sura. It involves three steps; relax, intend, and listen. Sura Flow is founded on the belief that there is no right or wrong way to meditate. Not in the posture or in controlling your mind. It is a creative meditation approach that integrates coaching, meditation, and energy healing. By relaxing, practitioners can tap into their inner knowledge, easily bringing about life-changing insights.
The institution has online courses like Energy Healing Techniques for Beginners, Meditation for Anxiety, Meditation for Families, and Meditation for Sleep, among other forms of meditation courses. If you are looking to be a teacher, the course, Meditation Coach Training would be your best shot.
You will learn different types of meditation, different ways to practice, meditate consistently, and the benefits of meditation. You will need to invest around 8-10 hours a week, 2 hour long weekly webinars, and other exercises, including Q&A sessions every week. You will also learn four meditation techniques to develop your daily practice and your future students, and as a bonus, also learn four approaches to energy healing. Most meditation courses don't teach energy health, and Sura Flow is unique in this aspect.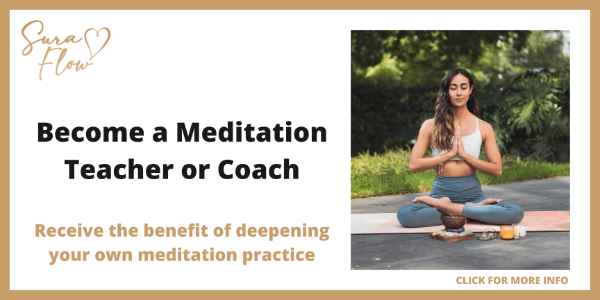 There isn't much you need besides a good certification and passion for becoming a guided meditation instructor. A meditation instructor is a job that requires a lot of passion and dedication. The certifications will ensure you get work wherever you want and get the knowledge you might not already have from your private practice. Once you take these online courses, you can finally merge your skills with your career. When you become a guided meditation instructor, you help change other people's lives and help embrace happiness and bliss.