Last updated on September 30th, 2023.
If you've been contemplating a career as a breathing coach, you've landed in the perfect spot. This article, initially written in March 2021, continues to undergo constant updates and provides a wealth of information regarding the various facets of pursuing certification and becoming a professional breathwork teacher.
Within the realm of breathwork, numerous techniques exist, each capable of offering substantial benefits to one's physical, mental, and emotional well-being. However, when it comes to breathwork training courses, the choices can be overwhelming. To assist you in your journey, we have assembled some of the top certifications for becoming a breathwork teacher:
NeuroDynamic Breathwork: Facilitator Training
The Whole Health Project: Trauma Aware Breath Coach Online Training
The Breath of Gold: Breathwork Facilitator Program
Loka Yoga School: Online Breathwork Teacher Training
Oxygen Advantage®

: Functional Breathing Instructor Training

My Vinyasa Practice: Pranayama Certification
White Tiger Qigong: Breathwork Mastery Course & Teacher Training
The Peaceful Warriors: The Subtle Body, Breathwork, Pranayama and Meditation
Full Circle Yoga: Breathwork Facilitator Course
Applied Yoga: Breath Work, Diaphragm Mechanics and Conscious Relaxation
The increasing demands of our daily lives have led to a surge in the popularity of breathwork. In this article, we'll get into the some of the best breathwork teacher training programs available today, hopefully aiding you in finding the perfect one for your needs.
What is a breathing coach certification?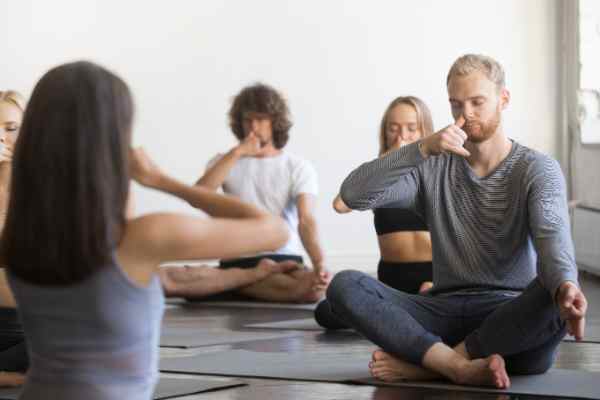 What's the average salary of a breathing coach?
There are many factors that go into how much a breathing coach makes, but salaries can range anywhere from $37,500 and $75,500 per year. 
The 11 Best Breathwork Teacher Training Certifications
Earning a breathing coach certificate entails completing breathwork teacher training courses. Typically, these courses are available online, though some institutions offer in-person training. The total length of each program can vary, ranging from a few days to several months. There are even some expert level programs out there that take can take 1-2 years.
In our contemporary society, we often overlook the significance of proper breathing. It may seem unusual, given that we automatically breathe 24/7, having done so without conscious thought throughout our lives. However, research over time has demonstrated that mastering correct breathing techniques can have a profoundly positive impact on our well-being.
The practice of breathwork has deep historical roots and is evident in numerous traditions and cultures, including Hinduism and yoga. In yoga, the breath plays a pivotal role, serving to guide the body, sharpen the mind, and relax the muscles.
Acquiring a breathing coach certification can equip individuals with valuable skills and knowledge including:
Understanding the mechanics of breathing
Mastery of correct breathing techniques
Integration of deep breathing for relaxation
The ability to instruct and guide others in the practice of breathwork
Let's explore, in-depth, the best breathwork teacher training courses to show you what each of them has to offer. 
1. NeuroDynamic Breathwork: Facilitator Training
The NeuroDynamic Breathwork Facilitator Training is a groundbreaking initiative like no other. What sets the NeuroDynamic Breathwork program apart from the rest is its commitment to live instruction, with sessions available three Saturdays per month. Most of the program's sessions are personally taught by core platform facilitators, including the founder and innovator of NeuroDynamic Breathwork, Michael Stone.
He believes that once we understand how our mind works, we can use it as a tool to experience real freedom – freedom from our past, freedom from self-limiting beliefs, and freedom from our unconscious blocks which are getting in the way of creating our desired future. Students have access to a level of expertise and guidance that is unparalleled in the field. Stone is one of the world's most experienced online breathwork workshop facilitators with over a thousand in the books. Learning by doing is a fundamental principle of this program.
It offers a robust, science based breathwork modality, that equips you to become a confident breathwork facilitator and empowers you to be a better, more conscious human being.
Course overview
Breathwork foundations. Explores the evolution of breathwork and the underlying scientific principles. Also examines the diverse techniques within contemporary breathwork and illuminates how to incorporate breathwork into a holistic well-being regimen.
Key facilitation skills. Addresses the flexibility of contraindications in breathwork, and explores the various experiences participants may encounter during training
Leading workshops. Outlines the essential steps in organizing a breathwork. session, covering everything from initial planning and advertising to creating a safe emotional space.
Breathwork music. The program teaches how to construct a scientifically designed music sets to enhance the breathwork experience. This synergy between breathwork and carefully curated music creates an experience that is truly unique.
Communicating about breathwork. Provides strategies for effectively communicating with the public about breathwork, addressing common questions, and supporting participants dealing with "last-minute resistance" to breathwork sessions.
Integrity. Explores the concept of ethics in breathwork facilitation, emphasizing its significance in enhancing one's capacity to conduct workshops with integrity.
Personal development. Teaches participants how to become aware of and remove unconscious blocks, and to effectively manage their emotional states to allow them to be able to hold a safe, sacred space for their breathers' growth and expansion.
Practice sessions. Students are required to conduct a minimum of six online and two in-person breathwork sessions, collaborating with study partners for support and feedback.
Business strategies. Participants are given information on how to start a breathwork business, giving them the benefit of Stone's personal experience in launching startups.
NeuroDynamic's training offers a unique combination of live guidance, a deep curriculum, world-class trainers, and a strong emphasis on personal development. Graduates not only gain the skills to confidently facilitate breathwork but also undergo a paradigm shift that enables them to navigate life from a higher level of comprehension. If you're seeking personal and professional growth, this program offers an extraordinary opportunity to transform your life and make a positive impact on others.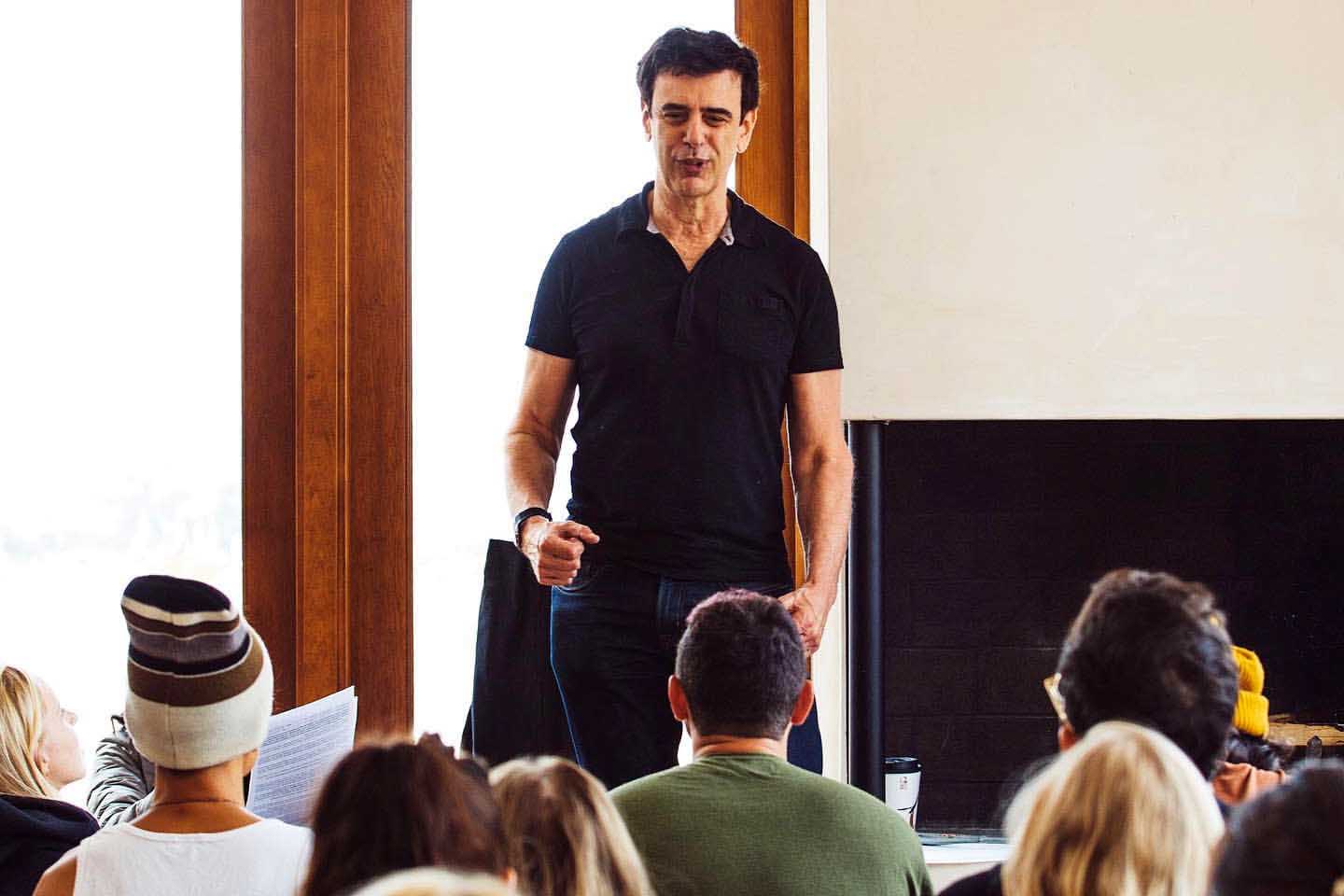 Jon Paul Crimi's breathwork teacher training course is available entirely online. It not only equips you with the essential tools to assist others in their healing journey but also offers an opportunity for personal healing.
Begin with a Five-Day Emotional Detox
You are likely to  experience transformation as you move through this training.
You will gain the ability to share  the power of breathwork with others.
The exercises in this course, combined with breathwork, can create massive transformation even if you have prior experience breathwork.
Continue with Basics and One on One Training
This part of the course teaches you how to guide someone through a breathwork session step by step.
You will also learn how to navigate through problems and issues if they arise.
This course focuses on one technique to produce optimal results in a short amount of time.
Complete the journey with How to lead Couples and Groups
This portion of the course will help you with your ability to speak to groups.
You will also learn the tools for how to help couples heal their relationship.
For this particular breathwork teacher training certification, there are four different ways to go about completing the course
If you would like to take this course, you will need to have the money ready to purchase this course because  payment plans are not offered.
There is also a no refund policy in place for this course, so you must be sure this is the course you want to take before purchasing it.
 The way to obtain a certificate for this teacher training is by completing the Basics and One on One Course, and How to lead Couples and Groups Course.
This is a fantastic course to take! It provides you with all of the knowledge necessary to become an amazing breathwork coach, and you get unlimited lifetime access to the course after you purchase it.
Not only does this course teach you a lot, but you do not need to have any previous knowledge of breathwork before beginning this journey.
You can take as much time as you need to complete this course, whether it be a few days, a few weeks, or a few months.
You can take a look at a full Jon Paul Crimi Breathwork Review in that article!
Reviews (as of September 29, 2023)

"Highly recommend!  Jon Paul is leader in the field of Breathwork.  Allow yourself to experience a fascinating experience on the cutting edge of health and wellness. 

"

-Matthew B (Yelp review)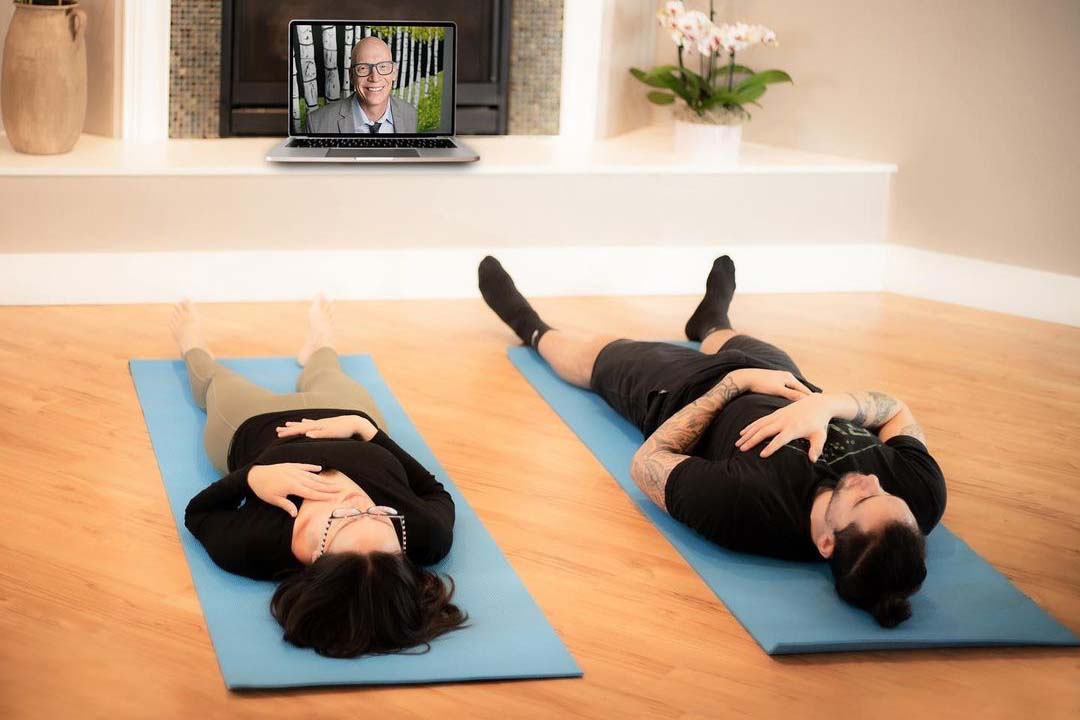 3. The Whole Health Project: Trauma Aware Breath Coach Online Training
The Whole Health Project presents an immersive Trauma Aware Breath Coach Online Training program, which spans 25 hours and adopts a comprehensive, science-backed, holistic approach to breathwork including an additional free 10-hour Trauma Aware Facilitation Training co-facilitated with Clinical Psychologist, Lic. Begoña Garcia. This training caters to those who wish to enhance their personal breath practice while gaining a trauma-informed approach to support clients in overcoming various physical, mental, and emotional hurdles.
This Yoga Alliance International (YACEP) registered training is for anyone desiring to deepen their own breath practice and who are looking for a trauma aware approach to support their clients to overcome numerous physical, mental & emotional challenges.
The breath coach training sets itself apart by providing a practical and supportive method of breathwork, free from unnecessary complexities. Its aim is to be inclusive and uncomplicated, allowing people of all ages to reap its benefits, from young children to centenarians. While the training can be completed at one's own pace, participants have the opportunity to seek guidance through monthly live Q&A sessions and an online forum, fostering interaction and the exchange of valuable insights among students.
If you desire an impactful and transformative training experience that is both affordable (for as little as $82/month) and supportive, allowing you to empower your clients with the profound healing potential of the breath, then the Trauma Aware Breath Coach Online Training is the ideal choice.
And if you are desiring to add Yin Yoga or Meditation teaching to your repertoire they also offer practitioner bundles. By enrolling in the Trauma Aware Breath Coach Training in conjunction with the Meditation Teacher Training and/or Yin Teacher Training, you can qualify for a substantial discount on all three programs.
Practitioner Bundles:
Reviews (as of September 29, 2023)

"Lucy and Rachel have offered an accessible, engaging, and content-rich breath coaching program. I found the course content really interesting and Lucy and Rachel offer a wealth of knowledge and expertise."

–

Morgan B (Direct review)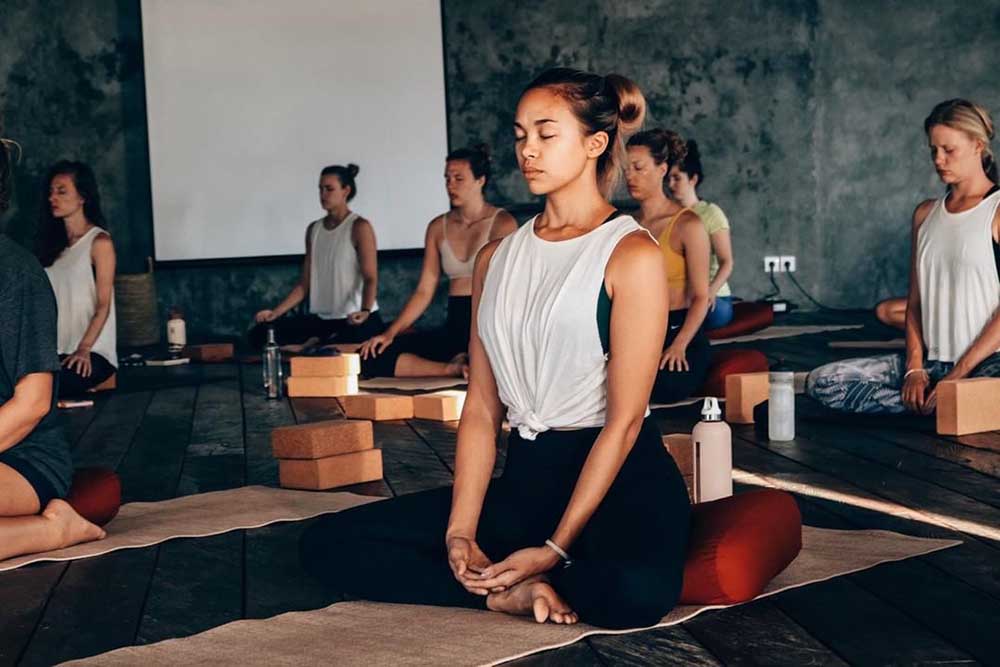 4. The Breath of Gold: Breathwork Facilitator Program
The Breath of Gold Breathwork Facilitator Program is a trauma-informed, accredited Breathwork Certification created by Adrienne Rivera. It is Yoga Alliance Continuing Education Approved. 
It features guest teachings from various important experts, including therapists, doctors, lawyers, and a neuroscientist. It is the only breathwork certification program out there that teaches both the important medical and scientific teachings of breathwork and the neuroscience of breathwork–what happens in the brain during breathwork. 
It's a hybrid course that is partially go-at-your-own-pace and partially live online. Students have constant opportunities to practice teaching breathwork; continuous feedback and breathwork experiences are there to deepen students' own breathwork practices and their experiences teaching others.
This certification is best for mastering the circular connected breathing technique and also learning to lead all 14 styles of Pranayama.
We recommend this program because:
It's recognized as a Continuing Education Provider through the Yoga Alliance. 

You learn every type of breathwork in the training. 

You get hands-on experience with the founder, Adrienne, and real-time feedback as you develop your facilitation skills.
Click the button below to see the detailed curriculum and to book a call to see if it's the right fit for you.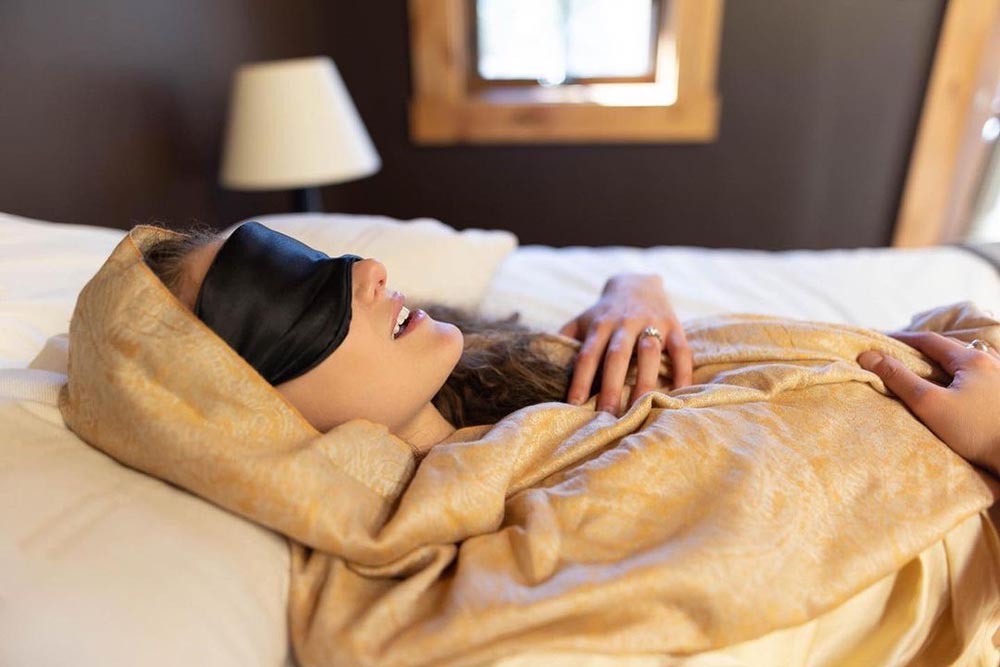 5. Loka Yoga School: Online Breathwork Teacher Training
Loka Yoga School's Online Breathwork Teacher Training offers in-depth understanding and comprehensive teachings on the most transformational breathwork techniques. During this 20-hour training, you'll learn 24 life-changing breathing techniques. This course is completely self-paced, so students can learn at their own pace and on their own schedule. The course is internationally certified and accredited with Yoga Alliance.
Get 20$ off from this course with the discount code: THEMINDINSTHEMASTER   
Loka Yoga School's Breathwork Training includes guidance and teachings on how to facilitate a Breathwork class. It is all-inclusive, so graduates will be able to lead all of the breathwork techniques following completion of the training.  As you learn all the techniques to become a breathwork teacher, you are reducing stress, increasing performance, and improving your own mental clarity too!
The Online Breathwork Training course comes in 3 different options: 
The Complete Experience – including Yin Yoga Teacher Training + Breathwork Teacher Training + Meditation Teacher Training 

Breathwork Teacher Training + Yin Yoga Teacher Training

Breathwork Teacher Training + Meditation Teacher Training
All three options include free lifetime access
Joining this awesome journey with Loka Yoga School is an opportunity to connect, feel and heal!  Discover, experience and gain knowledge and life skills in the fundamentals of the breath.  This training will help participants to improve and maintain their physical and mental health.  Join Loka Yoga School for a unique opportunity to discover breath empowerment. 
Reviews (as of September 29, 2023)

"…If you're on the fence about whether or not Loka is right for you, please do yourself a favor and just do it. It was easily the best gift I have ever given myself and I will never be the same because of it. If I had to do it a million times over, I would choose Loka Yoga School every single time

."

-Megan M. (Trip Advisor review)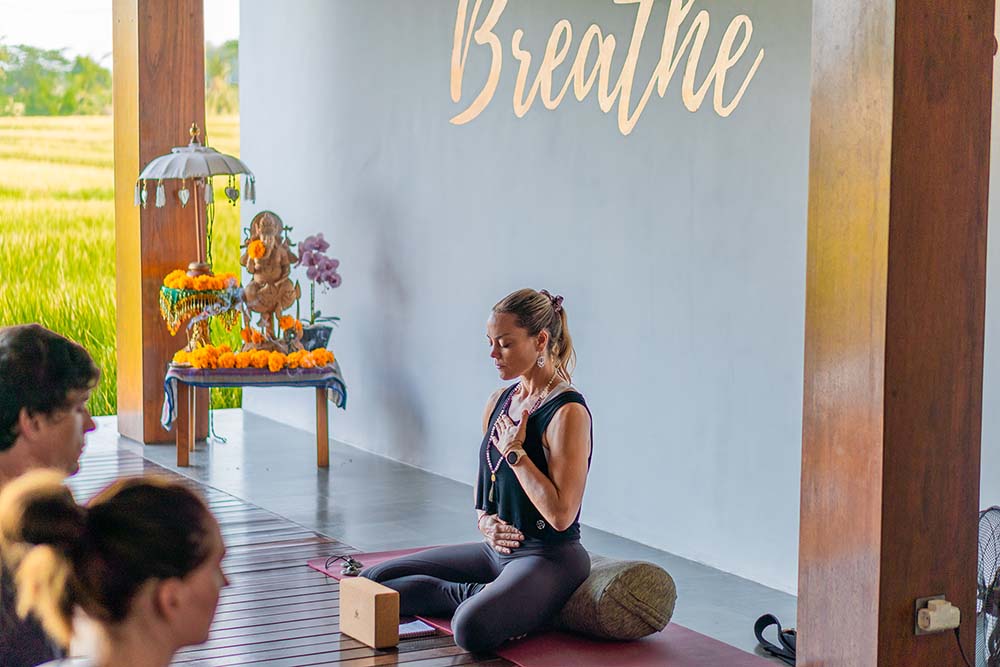 6. Oxygen Advantage®: Functional Breathing Instructor Training
If you have a passion for improving sports performance, health, and overall well-being through the power of breath, becoming a certified Oxygen Advantage® Functional Breathing Coach could be the perfect path for you. This comprehensive online breath coaching program offers valuable insights and practical techniques to optimize performance, quality of sleep, boost energy and focus, reduce anxiety, and address various health concerns. The Invincible Breathing Instructor Training takes a scientific and accessible approach to functional breathing, allowing coaches to inspire and support clients based on their individual needs.
You will learn how to optimize breathing patterns across three dimensions
The biochemical dimension.

normalize blood carbon dioxide levels

The biomechanical dimension.

improve the strength and function of the diaphragm

Cadence or coherent breathing.

achieve optimal nervous system balance and blood gas exchange
Another essential skill you acquire is the ability to teach exercises that decongest the nose and establish nasal breathing. Nasal breathing plays a crucial role in optimizing oxygen uptake, reducing stress, and improving overall respiratory function.
Completing the program involves watching online tutorials and studying course materials, which typically takes around 100 hours. Most instructors successfully pass their certification exam within one to three months of registration, earning their certificate in Functional Breathing from Oxygen Advantage®.
This course is $395, and with the certification in hand you'll be making a positive impact on the lives of your students, clients, or patients. Whether you aim to support athletes in their performance goals, guide individuals toward better sleep and stress management, aid in weight loss and lifestyle changes, or enhance overall longevity, Oxygen Advantage® Functional Breathing Coach certification sets you on a fulfilling journey through the simple yet transformative power of breath.
Read more about their other programs in our Oxygen Advantage® Review!
7. My Vinyasa Practice: Pranayama Certification
My Vinyasa Practice has developed a Pranayama Certification course that is yoga centric, providing in-depth knowledge and practices to confidently instruct, as well as incorporate Breathwork into yoga sessions or independently in Breathwork classes.
One of the reasons we love what My Vinyasa Practice does is because they are knowledgeable, have engaged staff and are constantly producing highly rated certifications.  
Topics covered in their course: 
The anatomy of Breathwork

The breath as a function of communication

Overview of the nervous system

Breath for regulation
Master the art of breath work today and join My Vinyasa Practice's Pranayama Certification course!
Reviews (as of September 29, 2023)

"My Vinyasa Practice changed my life. MVP is absolutely the best and ONLY yoga studio and/or training/certification body I would ever recommend, and I am an RYT500, RCYT with the Yoga Alliance.

"

-Bomb Yoga Mom (Google review)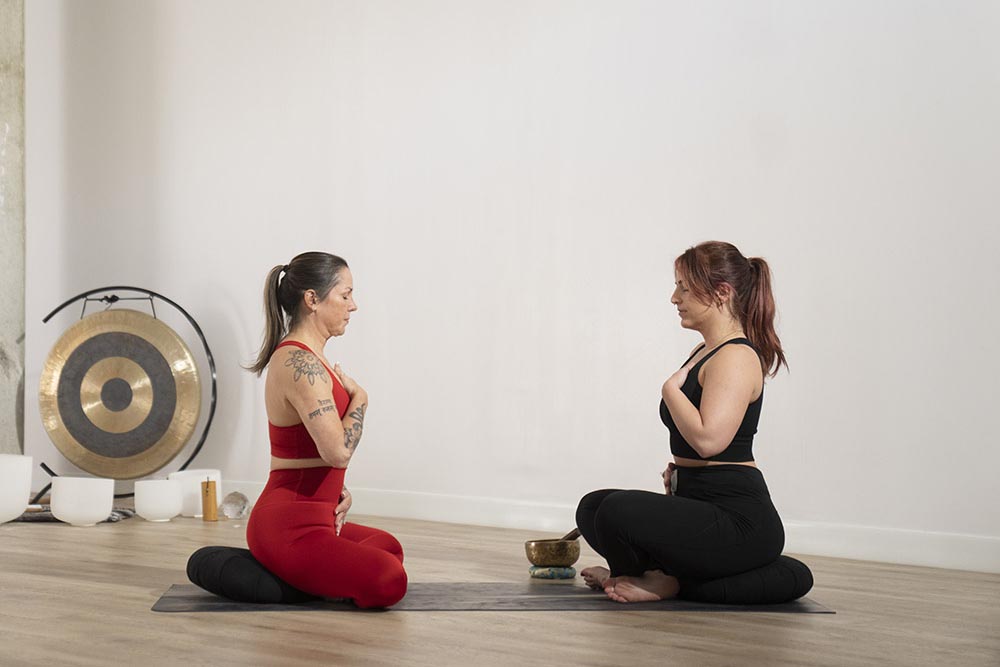 8. White Tiger Qigong: Breathwork Mastery Course & Teacher Training
At White Tiger Qigong, you'll experience an integrated system that unites ancient Eastern mind and body movement practices with the latest discoveries in neuroscience and sports science. This powerful combination is designed to harmonize your body and mind, fostering mobility, mindfulness, and unlocking your peak performance potential.
Experience the perfect fusion of ancient breathwork techniques and cutting-edge science with the White Tiger Breathwork Mastery Course & Teacher Training. This program aims to alleviate chronic stress symptoms, enabling you to tap into your full potential and achieve higher levels of well-being.
At every level of this comprehensive course, you'll witness remarkable improvements in various aspects of your life, and you can also select from individual levels to achieve at your own pace.

Starting with Level 1 – The Foundations.

Delve deep into the theory, science, and fundamentals of Qigong breathing. Master eight foundational breathing exercises, understand Qigong breathing theory, and even learn to hack your nervous system for improved health.

Level 2 – Neuroscience. Takes you further into complex Qigong Breathwork techniques and introduces the fascinating neuroscience of breathing. Discover 13 advanced breathing techniques and explore the meditative state using bi-neural beats.
Progressing to Level 3 – Advanced.

You'll unlock the potential to use Qigong Breathing as alternative medicine, applying cutting-edge research from fascia science to create natural remedies for stress and trauma. Learn from the world-renowned fascia expert, Chris Kummer, in a comprehensive course dedicated to the Fascia of the Respiratory System.

Level 4 – Master. The Online Teacher Training Masterclass opens the path to become a certified White Tiger Qigong Breathwork Facilitator. Share your knowledge and skills, educate, inspire, and help others cultivate a deep healing breathwork practice with the aid of modern teaching techniques used by professional educators.
Whenever you join a White Tiger Qigong training or purchase a product, a portion of all proceeds will be donated to protecting the rainforests and wild animals in Borneo, Indonesia with the Borneo Nature Foundation. 
Join all levels to unlock the full potential of this transformative course. You will learn how to teach Qigong breathing techniques, handle different class sizes, and embark on a fulfilling career as a certified White Tiger Qigong Breathwork Facilitator. Don't miss the chance to make a positive impact on your life and the lives of others!
Reviews (as of September 29, 2023)

"I have been teaching yoga for almost twenty years and during this time I have continued to question, develop my knowledge, and embody the practices to reveal the five pathways of yoga…

I learnt White Tiger Medical Qi Gong with Tevia and in doing so he was able to transcend 'time' and impart the original essence of these Qi Gong movements to his students. This is rare and in terms of health, longevity, and quality of life it is priceless. The teacher passes the teachings to the student, and it is then up to the students to practice and embody these practices. Thank you Tevia and to all the teachers before you." -Megan W (Direct review)
9. The Peaceful Warriors: The Subtle Body, Breathwork, Pranayama and Meditation
Embark on The Peaceful Warriors' accredited 20-hour course, officially recognized by Yoga Alliance. This transformative program aims to enlighten and motivate yoga students to explore the profound intricacies of the human body and mind, transcending the mere physical realm. Delve into the subtler aspects, the energetic and "quasi material" dimensions of our being, where the body, mind, and consciousness intertwine, bridging the gap between the purely physical and the purely spiritual.
Moreover, this course serves as an introduction to traditional meditation and breathwork techniques and practices, adding further depth and richness to your understanding of the mind-body connection.
Experience The Peaceful Warriors' Yoga Alliance accredited 20-hour course, meticulously crafted to inspire and educate yoga students. Delve beyond the superficial and tangible aspects of the human body and mind, and uncover the profound subtleties that lie within – the energetic and "quasi-material" dimensions. This journey will take you to the juncture where the physical and spiritual intertwine, revealing the intricate connections of our consciousness. Go at your own pace, and fit the online training wherever your schedule allows.
Through this training you will be given
YACEP Yoga Alliance Certification

Five preathwork/pranayama tutorials including philosophy, application, and benefits

One 2-hour audio masterclass covering: introduction to prana; what is prana, the five koshas, the five primary vayus, and the primary nadis

One 2-hour masterclass covering the chakra system 

Access to personal chakra test 

One 2-hour masterclass on the philosophy of pain and mindfulness

One 1-hour masterclass covering the endocrine system 

Six guided meditation practices (including yoga nidra)

Two sound healing sessions

One-to-one feedback from the senior lead teachers 

Access to the peaceful warriors virtual community of students, graduates, teachers, and experts from all over the world.
Why we love it
In addition to this enlightening exploration, the course introduces you to traditional meditation and breathwork techniques, providing you with valuable practices to nurture your mind-body connection. Uncover the transformative power of these ancient practices and embrace a holistic approach to well-being.
Use code MITM25OFF for 25% off at checkout on The Peaceful Warriors' website.

Reviews (as of September 27, 2023)

"This experience with The peaceful warrior was extraordinary, transforming and professionalizing. I came away with a lot of skills, information and I feel ready to teach.
All the teachers know what they are talking about and are very supportive.
The program is complete with interesting workshops.
At the end of the course, we stay in touch to get involved in teaching yoga
I recommend this course with my eyes closed

."

-Deborah T (Google review)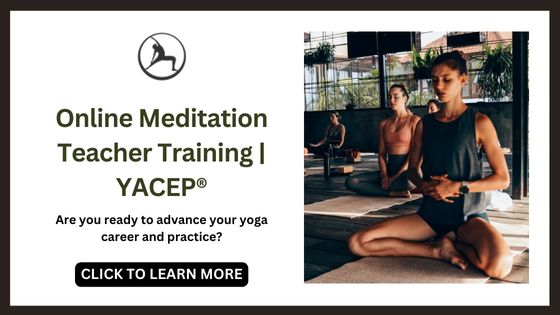 10. Full Circle Yoga: Breathwork Facilitator Course
Experience the Breathwork Mastery Course, offered by Full Circle Yoga School, and unlock the incredible power of your breath! This transformative online program is specially designed for those seeking to become skilled breathwork facilitators. Whether you're a seasoned practitioner or new to the world of breathwork, this comprehensive course will take you on a journey of self-discovery, healing, and personal growth.
Through 30 modules, you'll pursue the anatomy and mechanics of breath, exploring its deep relationship to overall well-being. Guided by experienced instructors, you'll learn various diaphragmatic and advanced pranayama breathwork techniques. This course will enable you to tap into limitless potential for relaxation, clarity, and expanded awareness.
Key features
30 power packed modules.

Comprehensive learning materials to master the art of breathwork facilitation.

Same day support.

Get the help you need whenever you need it.

Unlimited lifetime course access.

Continue to grow and refine your skills at your own pace.

E-RYT 500 trained teacher.

Learn from experienced instructors with extensive knowledge in the field.

20+ breathwork Styles:

Acquire a diverse set of techniques to guide others on their breathwork journeys.

The ability to teach multiple styles.

Empower your future students with a wide range of techniques.
What you'll experience
Trauma integration.

Use breathwork to support healing and recovery from past experiences.

Nervous system regulation.

Discover how breath can positively impact the nervous system.

Boosted immune system.

Harness the breath's potential to enhance your body's defenses.

Super charged energy levels.

Experience a newfound vitality and vigor.

Elevated mood and life.

Discover how breathwork can uplift your emotional well-being.

Strengthened intuition.

Cultivate a deeper connection with your inner wisdom.

Less stress, anxiety, and depression.

Utilize breathwork to reduce the burdens of modern life.
Upon completing the course, you'll be equipped with the skills to facilitate breathwork sessions for others, supporting them in accessing their true potential for growth and transformation. Embark on this life-changing journey and become a certified breathwork facilitator.
Unleash the true potential within yourself and guide others on their path to healing, transformation, and empowerment. Training begins as soon as you are ready to register!
Reviews (as of September 29, 2023)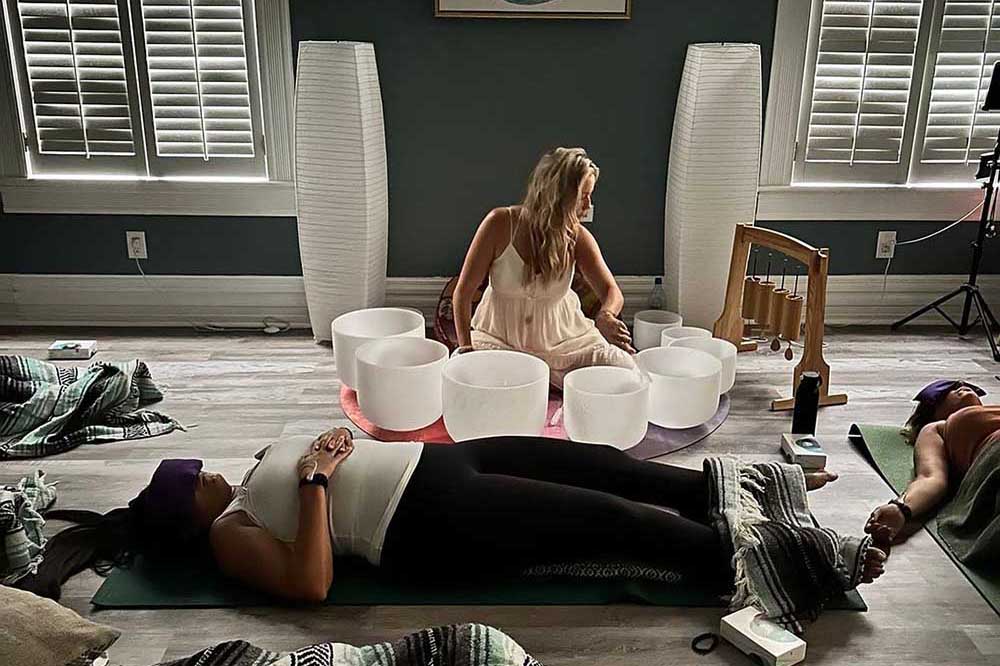 11. Applied Yoga: Breath Work, Diaphragm Mechanics and Conscious Relaxation
Calling all yoga teachers and movement professionals! The Applied Yoga Breathwork Course, by Jory Serota, offers a unique and in-depth advanced training that delves into the foundation of all yogic pranayama. Jory has 20+ years of experience in kinesiology and various disciplines, including competitive sports, and he's a sought-after NeuroKinetic Therapy Instructor. 
This one-of-a-kind program equips individuals with a new toolkit to effectively work with pain, dysfunction, and hypertension, elevating their expertise to new heights. The Applied Yoga Breathwork Course is an exceptional opportunity to expand your horizons as a professional in the field of yoga and movement. Through a strong emphasis on awareness and conscious relaxation, participants will learn to breathe properly, harness the full functionality of the diaphragm, and deepen their experiences in both yoga and life.
Course Outline
Pranayama/Conscious relaxation.

Lay the groundwork with foundational pranayama techniques and conscious relaxation practices, fostering a deeper connection between the breath, body, and mind.

Shallow diaphragmatic breath.

Master the art of using the diaphragm to its full functionality, cultivating better control over breath patterns and enhancing overall respiratory efficiency.

Deep diaphragmatic breath.

Building on the foundation, participants explore deep diaphragmatic breathing techniques, which promote relaxation, reduce stress, and activate the parasympathetic nervous system.

Deep diaphragmatic breath 2.0.

Dive even deeper into advanced diaphragmatic breathing practices, refining your ability to utilize the breath as a potent tool for healing and rejuvenation.

Seated breath work visualization.

Discover the power of visualization in breathwork, unlocking a realm of possibilities to enhance meditative states and inner awareness.

Bringing breath to Asana.

Learn how to integrate breath seamlessly into your yoga asana practice, harnessing its transformative potential to access different parts of the body and deepen stretches.

Restorative Practice.

Explore the restorative aspects of breathwork and restorative yoga poses, fostering energy renewal, and promoting overall well-being.
For $247, by the end of the Applied Yoga Breathwork Course, participants will not only have honed their expertise in pranayama but will also have gained valuable insights into the diaphragm's significance. This certification program is designed to empower participants to become exceptional yoga teachers and practitioners, enabling them to create a profound impact on their students' lives and their own yoga journey. Embrace this unique opportunity to master the breath and take your career to new heights!
What's the best next step for seeking a job as a breathing coach?
After finishing one of these breathwork teacher training courses, you will then have a chance to find a job as a breathwork coach. You can teach breathwork in different settings like online and offline sessions, private sessions, group sessions, and workshops.
Your very first step after completing one of these breathwork teacher training courses should be to set up a breathwork session and invite people to join.
With all of the high quality information about the best breathwork teacher training courses listed in this article, it should be a bit easier for you to get started as a breathwork coach. Because of the many benefits of breathwork, becoming a breathwork trainer can be extremely fulfilling.
Whether you want to become a breathing coach or are already a breathing coach and just want to learn more about the techniques, breathwork training courses are well worth the time and money.