Last updated on September 26th, 2023.
Coaching is the art of helping someone learn something instead of teaching them. More people have become aware of their need for either a wellness coach or a health coach in recent decades. Even though people use these terms interchangeably, these terms mean different things, and the roles of these two types of coaches differ immensely. The main difference between health coaching and coaching is in the name. A health coach majors on health issues, while a wellness coach majors on general wellness.
Coaches are great at helping people achieve their goals or get back on reaching these goals. For example, if you are stressed because of your weight and keep thinking about healthy eating and exercise but have neither the drive nor the consistency to attain your health goals, you can hire a health coach to help push you in the right direction. But let's say you need to get a grip and manage your mental and emotional health better; you will instead hire a wellness coach to help you with that.
Even though both coaches can work in the same environment, such as a hospital, they perform different roles, and that's why there is a need for both of them. The health and wellness field is currently quite promising, and many people are getting into the industry as coaches. To get into the industry, it's best to understand the difference between health coaching and wellness coaching so you can choose the career path that best suits your desires.
Quick definitions: Health Coach vs. Wellness Coaching
Even though both coaches lead their clients to better living, the difference comes in the objectives they pursue.
A wellness coach covers all aspects of a client's personal life to ensure improvement to the optimal level of living. A wellness coach will provide general assistance and counsel for the client to develop strategies that will improve all the aspects of their life. A wellness coach covers clients' general wellbeing by focusing on mental, physical, emotional, and spiritual aspects of the clients' life. Simply put, a wellness coach helps their client improve all areas of personal wellness.
On the other hand, a health coach puts effort into helping a client establish long-term health. A health coach can help a client meet specific health goals, or general ones, which will help the client attain a robust physical condition. Health coaches help people make healthy choices and strategies to combat a sedentary or inactive life. The top quest of health coaches is habit change that will result in a healthy lifestyle. In general, an online health coach or physical helps change behavior, helps the client realize a healthy way of living, and encourages them to be less sedentary and get a little movement every day.
Types of careers each coaching certification can pursue
The difference in work areas between a wellness coach and a health coach is the institution's definition of "health" and "wellness." Otherwise, these two different coaches work in the same environment most of the time. Both coaches can be employed in workplaces like hospitals, schools, universities, wellness centers, medical centers, food stores, and corporations.
Even though these coaches work in the same environment, they perform different roles. There are roles only a health coach can perform and ones that only a wellness coach can perform.
The 5 Key Differences Between Health Coaching and Wellness Coaching
As a health coach, you will have to concern yourself with your client's health; this means you will help your clients achieve the healthiest lifestyle they can and maintain it. That is why a health coach can help one lose weight or gain weight, quit smoking or drinking, and make healthy dietary choices. They even help people who don't get much exercise daily find a routine to involve some movement to ensure they meet their health goals. Find the 7 main things a health coach covers to have an idea of they focus on.
On the other hand, a wellness coach doesn't deal with a specific area of focus. As a wellness coach, you will help your clients generally improve their lives and living conditions. This improvement will be personal, and other aspects of life like emotional, mental, physical, and spiritual will improve. A wellness coach generally ensures their client follows a path that leads to their wellbeing in the long run.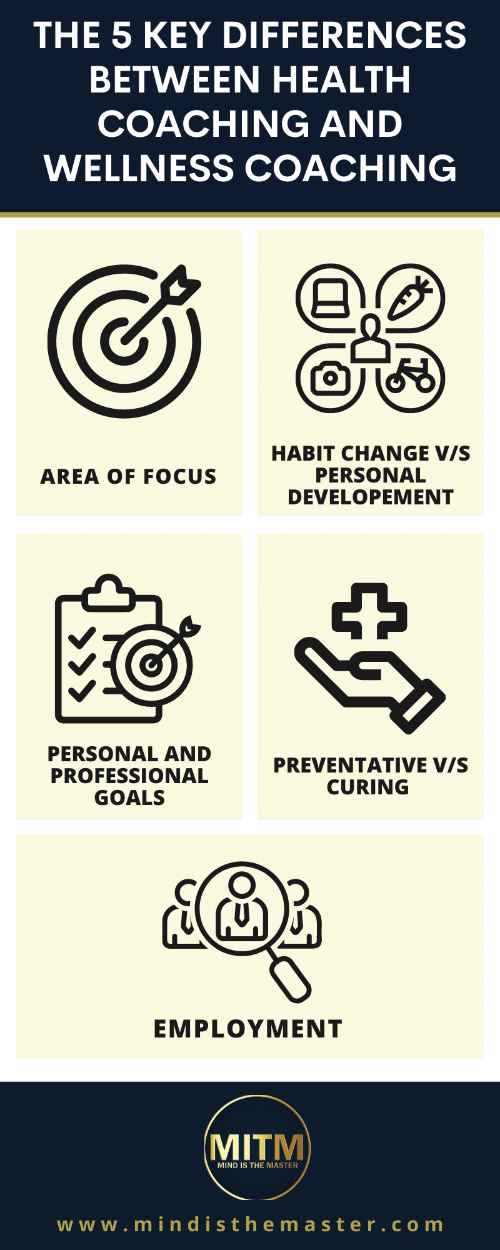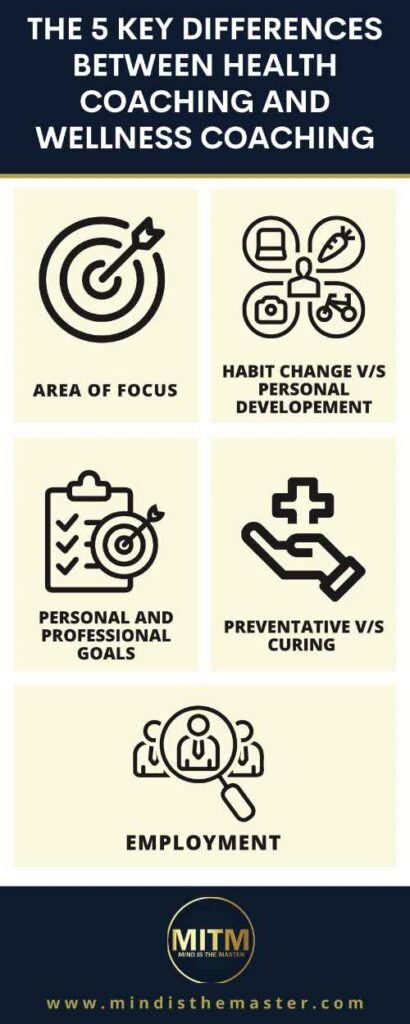 2. Habit change versus personal development
As a health coach, you will have to help your clients break bad habits and take up healthier habits to improve their lives. For example, health coaches work with people struggling with alcohol or smoking. These habits are persistent, and the coach has to ensure they help the client learn a better way to cope with their problems that don't involve the bad habits they used to. The habits a health coach helps clients break are not only drug addictions. They could also be unhealthy eating habits and lifestyles. Suppose one wants to lose weight by adopting a new diet and exercising. In that case, the health coach will have to help the client adopt these new habits instead of the old ones and ensure the client can maintain this healthy way of living that could ultimately result in a longer, healthier lifespan.
A wellness coach, on the other hand, majors in personal development. Let's say one is dealing with deep mental and emotional issues; the best person to help them out is a wellness coach. A wellness coach will help them learn how to deal with emotions and conquer stress to live a better life. Even though some wellness coach roles overlap with those of a health coach, they still have roles that they do not share. Because even though a wellness coach can help a client with habit change in case they need it, they also help in personal development, which is a bit out of proportion with what a health coach does.
3. Your personal and professional goals
Health and wellness is a growing industry, and whichever way you choose to go, you will get employment. But to choose one of the coaching paths, you'll have to decide the specific issue you'd like to deal with. For example, if you want to help people with their general life issues, a wellness coaching career will suit you better. But if you would prefer to help clients with their health concerns, you'll be better off taking a health coach program. Whichever way you choose to pursue, keep in mind that your role as a coach is to guide your clients to their goals but not hand in the solution.
4. Preventative versus curing
A health coach comes into someone's life when they need help losing weight or stopping a certain habit from escalating. Their main role is to lead the client in the right direction, ensure they meet their goals, and live their lives better. Most wellness coaches help people adopt better eating habits, lose weight, stop smoking, quit drinking, among other disastrous behaviors. They help lead these individuals in the right direction to live healthier and better lives.
On the other hand, a wellness coach comes into place to help their client prevent certain actions from happening. For example, when one is overly stressed out, this can often lead to depression, lack of productivity, lack of enthusiasm generally in life, among other symptoms. At this point is when one hires a wellness coach. The role of a wellness coach in such a situation is to ensure that the client can cater to their own emotional, mental, physical, and spiritual needs. A wellness coach also helps their clients learn to deal with stress in whichever way they relate. For example, someone spiritual can be taught how to meditate, journal, or other creative methods to help reduce stress and manage it better.
Even though a health coach and a wellness coach can work in the same institutions, like schools, universities, community clinics, and medical centers, an institution may prefer to employ wellness or health depending on the types of programs they wish to adopt. For example, an institution that helps people recover from various addictions will hire a health coach over a wellness coach. But let's say someone needs more motivation in their life to get things done and develop a routine. A wellness coach will be the best person to consult.
How to get started as either a Health or Wellness Coach
The first step to securing a career as a wellness coach or health coaching is getting the necessary education. Currently, many institutions offer these certifications, and you can take these courses online, get certified and begin your practice, or get employed. Even though certification isn't a prerequisite for employment, it is better to have it because most places require certification for you to be considered for employment. There are more steps to help you start as a health or wellness coach.
First off, do your research.
There is lots of information online that you should make good use of; start researching more about what each coach does. You can even look for reviews online from health coaches who just completed the courses and get to know whether what you expect is what you'll get. Don't rush the process. Ensure the coaching you eventually pursue aligns with your passion. If the point of studying coaching is to start a personal practice, consult with other entrepreneurs and get to know what it's like for them and if it's something you're ready to pursue.
Everyone has a preference for what they'd like to study and how far they'd like to go. Decide whether you want to go for a bachelor's degree or certification. This decision relies solely on your needs. Going for a bachelor's is great if you're looking to secure employment in a big corporation or teach the course yourself. Degrees in traditional known universities tend to be overpriced. But if you would like to work in an academic setting or pair this degree with another, that's the best choice. Otherwise, if you're looking to launch your own business, this might not be the right path to take. It doesn't matter which path you choose; always ensure the institution you pursue your certification is accredited by International Coaching Federation or similar organizations. This accreditation makes your certification valid.
Decide on the amount of training you need
If you're looking to get employed after the certification, you might be comfortable taking a course that only covers wellness topics, health topics, or coaching topics. But if you want to start your practice, it might be wise to take a course that will teach your coaching in your field and how to run the business of coaching. Business training will help you get your roots in coaching, and right after the certification and some little practice, you will be able to start your practice and help others improve their lives.
Both coaches are great tools today despite the difference between health coaching and wellness coaching. Today, many people need help staying on the right path to achieve their goals or even get back on that path. If you choose to pursue either health or wellness coaching, you'll be a very instrumental person in someone's life, maybe even changing their life forever. Coaching is a job that requires passion. Ensure you have it because it is a big part of the job.