Last updated on December 7th, 2023.
With a long history of over a thousand years, hatha yoga is one of the most inclusive forms. Its adaptability makes hatha popular with students and teachers of all skill levels. Chances are that when most people think of yoga, Hatha is the one that comes to mind with its mindful pace and deliberate process.
There are plenty of resources and options to take online hatha yoga classes. What about if you are interested in a hatha yoga teacher training? It might be easier than you think.
In recent years, the yoga teacher training landscape has evolved significantly to offer more inclusive and accessible yoga teacher training courses online. These new online options allow a wider demographic of students to deepen their practice and pursue their goal of becoming certified hatha yoga teachers.
The foundations of hatha yoga trace back thousands of years. It emphasizes the proper execution of asanas (poses) and mastery of pranayama (breathing techniques), pairing the two together intentionally.
While individual styles may vary, hatha yoga teaches that correct body alignment is paramount, no matter the asana. Breath control is equally essential in executing hatha yoga poses. As a result, the flow of hatha yoga sequences from one pose to the next is very methodical and deliberate.
Together, asanas and pranayama form the pillars of hatha yoga. When done regularly, these ancient practices can yield life-changing mental, physical, and spiritual benefits. Some of these benefits include:
Enhanced emotional well-being
Increased mindfulness
The wonderful thing about practicing yoga is that you can experience these benefits at home, in a studio, or via hatha yoga classes online. No matter your method of practice, yoga has the power to enhance your life in significant ways.
How is hatha yoga different from other styles?
In a broad sense, any form of yoga incorporating poses and emphasizing breathing techniques is a branch of the hatha yoga tree. All modern forms of yoga stemmed from the classical hatha yoga style and developed within the last century.
Although these contemporary styles came from hatha, they differ significantly in practice.
For starters, hatha yoga moves at a mindful pace, ensuring the practice gives each pose the appropriate time and attention to achieve perfect body alignment. The slower pace also lets practitioners maintain proper breath awareness throughout the session.
It is common for hatha yogis to perform postures that work toward a peak pose and then wind down into meditative routines. While not easy by any stretch (no pun intended), hatha yoga is suitable for people of all skill levels, and routines can cater to the needs of each practitioner.
For comparison, here is a look at how other popular forms of yoga differ from hatha:
Ashtanga: This is one of the more rigorous forms of yoga with a fast pace from one posture to the next. Unlike hatha, this form of yoga adheres to a set sequence of poses that never changes.
Bikram: Of all the forms of contemporary yoga, Bikram may be the most recognizable by name. Similar to Ashtanga, Bikram yoga contains a set number of poses and adds the challenge of practicing in a heated studio space.
Iyengar: Another form of yoga that emphasizes proper body alignment during poses and one of the few disciplines that encourage the use of props (e.g., blocks, straps, chairs, blankets, cushions) to aid in proper positioning.
Restorative: As its name suggests, the primary objectives of this style are to heal, rejuvenate, and relax. Yoga props like blankets, bolsters, and blocks are essential to achieve maximum comfort in restorative yoga.
Vinyasa: With its smooth pace and flowing transitions between poses, vinyasa is one of the most popular forms of yoga today, particularly among those who want a good workout.
The common thread shared by all forms of yoga is improving physical health through regular activity and enhancing mental well-being through breathing techniques and meditation. Each discipline achieves these objectives uniquely; in this regard, Hatha may be the most accommodating and inclusive.
What makes hatha yoga appealing to a broad swath of practitioners is its adaptability to any skill level. Beginners will appreciate its patient, deliberate approach, while advanced yogis can incorporate more challenging poses into their routines.
Hatha may be the form of yoga that typically comes to mind when most people, non-yogis included, think of yoga. With its graceful movements and thoughtful execution, hatha is physical and mental serenity at its finest.
That's why many first-time yoga teachers choose a certification program based on hatha yoga traditions. Nowadays, there are many excellent online hatha yoga teacher training programs, making the practice more accessible than ever. Here, we'll introduce you to 7 of the best online hatha yoga certification options.
The 7 Best Hatha Yoga Teacher Training Online
Below, we will dive into more details about these terrific schools, but here is a quick snapshot of the best yoga teacher training courses online:
Online hatha yoga teacher training programs allow students to become masters of their craft at a pace that best suits their busy schedules. After all, not everyone can jet off to a distant location for a fully immersive retreat-style hatha yoga training – and not everyone wants to!
There are many reasons to consider completing your yoga teacher training courses online, including cost-effectiveness, scheduling convenience, and flexibility in working through course material.
Choosing a hatha yoga online teacher training is a big commitment, so we've done some of the research for you here! For each online hatha yoga teacher training listed below, you'll find an overview of the program, essential details, and a recent review.
Now, let's dive into our top 7 picks for the best yoga teacher training courses online. Soon, you'll be one step closer to choosing a hatha teacher training course and beginning your journey as a hatha yoga instructor!
1. The Peaceful Warriors: 200-Hour Online YTT Pathway
For practicing yoga teachers and hatha yoga enthusiasts alike, this intensive hatha yoga certification online course from The Peaceful Warriors Yoga School is a comprehensive module focusing on hatha and vinyasa disciplines.
This hatha yoga training is 100% online, making it ideal for those who wish to deepen their knowledge and earn their hatha yoga certification at their own pace. The course contains eight distinct modules delving into yoga history and philosophy, anatomy, energetic principles, and various aspects of teaching.
The most extensive module of The Peaceful Warriors' online teacher training is 80 hours dedicated to hatha and vinyasa practice. You'll get to refine your hatha yoga training with skills like intelligent sequencing and peak pose deconstruction.
Stand-out program details we love:
Sample hatha sequences to serve as templates
18 hours of pre-recorded hatha-specific instructional videos
Teaching techniques for group settings and diverse demographics
Explores different sequencing strategies
All modules are Yoga Alliance-approved and can be purchased separately for continuing education (CE) credits
Price
When paid in full, the 200-hour hatha yoga teacher training course costs $1,200. Payment plan options are also available, in 3 payments of $450 each or six payments of $250.
However, if you're already a certified teacher and simply want to refine your teaching methods, you can purchase the 80-hour Hatha & Vinyasa Practice & Sequencing Course Module independently for $550.
As a bonus: Use code MITM25OFF for 25% off at checkout on The Peaceful Warriors' website!
Recent Review:
"No words can describe my training with TPW, but i'll [sic] try. I had high expectations before the training and TPW exceeded my expectations drastically. I was so glad that I ended up choosing TPW for this journey of my life. I learnt so much and met the most wonderful and beautiful people, from the other students to our teachers. The support, energy, sense of belonging, knowledge, tiring flows that you get were so magical, and I wouldn't have traded them for the world!" -Lea Kordahi (Google review)
Whether taken as a stand-alone class or as part of Peaceful Warriors Yoga School's 200-hour comprehensive Online YTT Pathway bundle, this online hatha yoga course gives participants many practical and creative tools to support them as a hatha yoga instructor.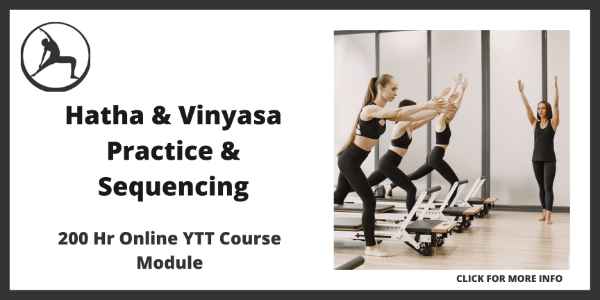 Instructor Jess Rose's Movement Wisdom Yoga is a comprehensive online 200-hour yoga Teacher Training that seamlessly merges modern movement science with ancient yogic wisdom.
This program offers more than just online hatha yoga classes. You'll emerge from this training fluent in four distinct styles of yoga – hatha, vinyasa, yin, and restorative – while gaining access to Jess's expert insights and vital cues that will unlock poses you once thought were beyond your reach.
Becoming a hatha yoga teacher requires the experience of physical practice and yoga anatomy, in addition to studying yoga philosophy and a commitment to personal development. Jess's Movement Wisdom Yoga online training program covers all the bases with prerecorded classes and video lectures, journaling exercises, and reviews.
Stand-out program details we love:
Comprehensive curriculum breaking down teaching methods and emphasizing personal growth
Virtual workshops on sequencing, cueing, and assisting
Versatility and fluency in four styles of yoga – hatha, vinyasa, yin, and restorative
Structured training developed by a professional educator
Flexible schedule for self-paced learning, allowing up to 1 year to complete the course
Price
To become a certified hatha yoga instructor through Movement Wisdom Yoga costs $945, with payment plans available. They also offer a no-risk guarantee: if you decide it isn't for you within seven days of starting the program, you'll receive a full refund.
Recent Review:
"Taking the 200hr YTT with Movement Wisdom by Jess Rose Yoga was life-changing. This course gave me the tools for self-discovery, discipline, and a new awareness and zest for life. The drip format of the program is excellent. Using this format does keep you accountable for your learning and helps to stay on track." -Jaime Sims (Yoga Alliance review)
Jess Rose's unique methods, approach, and positive energy make this online hatha yoga teacher training a powerfully transformative experience – not just for your hatha yoga training but also for your personal life.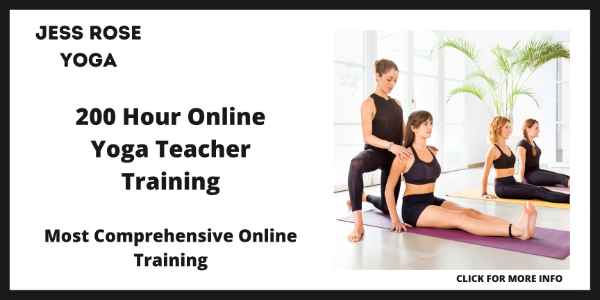 3. Brett Larkin Yoga Uplifted: 200-Hour Online Yoga Teacher Training
Of all the types of yoga practiced today, hatha yoga is among the most widespread. With its emphasis on proper form and breathing, many view Hatha as a gateway to other, more specialized forms of this ancient art.
That foundational concept makes the Brett Larkin Yoga Uplifted online hatha yoga teacher training course a stand-out program. The Brett Larkin hatha yoga training tailors to future instructors seeking a well-rounded mastery of practicing and teaching yoga.
As a facilitator, Brett sets the gold standard for yoga teacher training courses online. She's built a strong community of highly trained teachers since 2015. You can complete your hatha yoga certification with the interactive Uplifted course in just four months; however, if life gets busy, you can take up to 18 months to complete the program.
Stand-out program details we love:
Emphasis on teaching yoga in the digital age and practical business tips for running a yoga enterprise
100 hours of pre-recorded studio-quality instructional videos
Lifetime access to online resources
Module-based curriculum supports flexible learning to fit your daily schedule.
Interactive peer study groups
Price
$2850, Offers interest-free payment plans for up to 12 months
Recent Review:
"Exciting curriculum, knowledgeable trainers, loads of valuable content. Well organized, and just the right combination of theory and practical experience. After completing the training I feel confident to teach Hatha / Vinyasa classes." -Marta Janus (Yoga Alliance review)
With a graduation rate of 96%, Brett Larkin's Yoga Uplifted online hatha yoga teacher training program trains students to become industry leaders and provides the infrastructure and support system to see them embark confidently on their journey.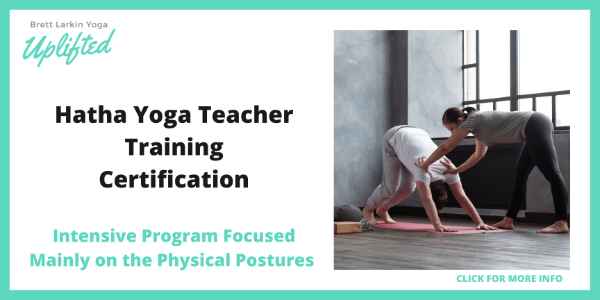 4. DoYogaWithMe: 200-Hour Yoga Teacher Training Certification
Veteran yogi and author Rachel Scott heads up the exception team at DoYogaWithMe, offering a comprehensive and transformational 200-hour Yoga Teacher Training online program.
The curriculum strikes a perfect balance between profound coursework in philosophy, anatomy, and history and practical skill-building exercises, ensuring that graduates are well-equipped to step into the role of a hatha yoga instructor.
Participants have the option of self-paced learning, but the founders highly recommend signing up for the training as part of a cohort group. In this model, students become part of a global community of yogis advancing their hatha yoga training.
This hatha teacher training program is unique in its structure, developed by a professional instructional designer with expertise in online education. You'll complete your hatha yoga training in 3 phases: 75 hours in 15 weeks, followed by Phase 2, 85 hours over 17 weeks. Finally, you'll complete the final 40 hours in a live retreat held throughout two long weekends.
Stand-out program details we love:
Flexible pacing with the options of self-study or with a peer group
6-day live online retreat
Live sessions with faculty to get personalized feedback on your Asana practice
Cohort group meetings to build community and connect with faculty
Unlimited access to DoYogaWithMe's extensive on-demand streaming platform with over 1,000 yoga classes and 100 guided meditations
Price
Register for DoYogaWithMe's full hatha yoga certification online for $2400 or 6 monthly payments of $405.
Recent Review:
"My husband and I decided to start practicing yoga together during the first COVID lockdown. A friend suggested we try David's classes on YouTube, and we found our way to the website that way. We subscribed and committed to daily yoga. I studied with DYWM and got certified to teach yoga six months ago. I am loving my teaching, and still do yoga daily online with DYWM." -Elizabeth Wartluft (Google review)
Getting your hatha yoga certification online doesn't have to be a solo experience with DoYogaWithMe's unique cohort-learning model. It's an unparalleled opportunity to deepen your love and practice of yoga while gaining the skills and confidence to become a proficient hatha yoga teacher.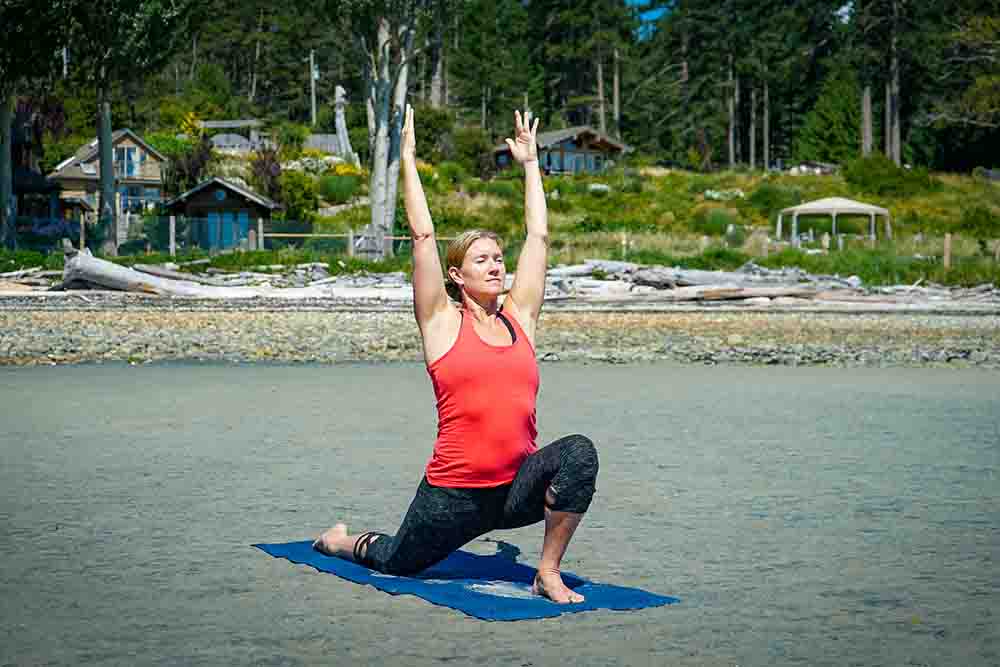 5. My Vinyasa Practice: 200-Hour Hatha Yoga Teacher Training
Don't let the name confuse you – My Vinyasa Practice is another fabulous online hatha yoga teacher training option! This program is rooted in traditional concepts and philosophies and appeals to yogis seeking a classical approach to learning the ways of hatha yoga.
Students who complete My Vinyasa Practice's 200-hour hatha yoga teacher training online can expect to be well-rounded yoga professionals, expertly trained in the fundamentals of hatha yoga and deeply grounded in its core principles.
This hatha teacher training program is self-paced and 100% online for a flexible and convenient learning experience. However, participants receive personalized coaching and have access to one-on-one support from instructors at every stage.
Stand-out program details we love:
Offers a strong foundation of yoga history and philosophy
Completely self-paced learning with the option of tuning in to live lectures via Zoom on topics ranging from yoga business to inclusion and diversity.
Access to an extensive online resource center, including a catalog containing over 3,000 hours of video content
Teaching skills emphasize empathy, inclusive language, and trauma-informed techniques
Price
MyVinyasa offers their hatha yoga online teacher training for a sale price of $425 (originally listed at $850).
Recent Reviews:
"I got my 200 hr YTT through MVP through a scholarship they offered called Yoga for Black Wellness and without that opportunity I am not sure that I would be teaching today. Although it was all virtual, it felt like it was in person. I have been teaching for over two years and currently going back through MVP for my 300YTT. My intention is to then move into the Yoga Therapy Program with them. I can't say enough about the resources, support and education that I have received and continue to receive through MVP!" -Christabelle Walker (Google review)
"Loved the experience! Lovely and competent teachers! Some of the video content had poor volume, especially when speaking from far in the room. Some modules were less clear in terms of explanations than other ones depending on the teacher, but I feel like the newer versions of the modules were much clearer. Overall very good training in my opinion, I would recommend it." -Cassandra Drouin (Yoga Alliance review)
A genuinely exceptional hatha yoga teacher possesses a deep understanding of the foundational principles of yoga. The philosophical and historical focus of MyVinyasa's 200-hour yoga teacher training makes this a top-level choice for receiving your hatha yoga certification online.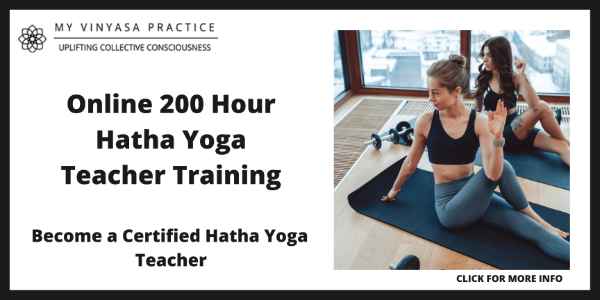 6. Santosha Yoga Institute: Certified Online Yoga Teacher Training
Santosha Yoga Institute's RYT-200 online hatha yoga teacher training program is a 100% online offering that provides an in-depth study of the pillars of hatha yoga: postures (asanas), breathing (pranayama), and meditation. With its self-paced format, this comprehensive course prepares yogis to lead classes and groups upon graduation.
This program features live online hatha yoga classes to foster an interactive environment between course facilitators and participants. One of the exciting aspects of the Santosha Yoga Institute hatha yoga teacher training online program is that with an international student body participating in the live sessions, enrolling in this course is also an opportunity to meet fellow yogis worldwide.
Even after earning your hatha yoga certification, you'll remain a part of the Santosha "family," with lifetime access to monthly Zoom mentoring sessions and a vast community of alumni for support and networking. Those resources are invaluable for any new hatha yoga instructor starting their teaching journey.
Stand-out program details we love:
Self-paced, module-based learning with completion possible in as little as one month
Optional live classes and access recorded sessions at any time and frequency
Well-rounded course material, including modules on mental and emotional health, therapeutic applications, philosophy, yoga business
Live mentoring and practice teaching sessions to hone your skills
An online solid community of alumni and access to group mentoring sessions even after graduating
Price
Sign up for Santosha Yoga Institute's online hatha yoga teacher training for AUD 1490 ($958) paid in full or AUD 1590 ($1022) paid in 5 installments of $318 ($204) each.
Recent Review:
"Amazing online experience – RYT 200 course. So much detail, content, inspiration, competence and love from every single member of the school. Definitely recommended to those that like me didn't think it was possible to receive so much from an online version of the learning process. Teachers at Santosha made feel part of a loving family and I can't wait to continue growing and sharing more knowledge and love with them. I feel blessed!" – Ilaria Mereu (Google review)
If you like the idea of doing an online hatha yoga teacher training but worry that you might be lonely doing all your learning from home, a program like Santosha's, with a robust and active community aspect, could be an excellent choice!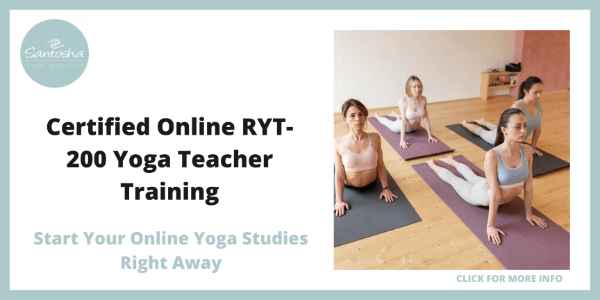 7. Akasha Yoga Academy: 80-Hour Online Hatha and Pranayama Training
The 80-hour Online Hatha and Pranayama Training from Akasha Yoga Academy is an advanced hatha yoga training meant to deepen your connection to yoga and enhance your teaching.
It combines the ancient practices of hatha yoga and pranayama, offering a profound exploration of breath and the energetic aspects of yoga. Additionally, you'll dive deep into the foundations of hatha yoga, specifically the Hatha Yoga Pradipika, then demystify all the modern lineages of yoga that stem from hatha.
In this dynamic program, you will up-level your practice and gain mastery over inversions, arm balances, and even handstands. These empowering elements will take your yoga journey to thrilling new heights, both physically and mentally.
Stand-out program details we love:
Focus on the authentic origins of classical hatha yoga and deepen your historical knowledge by examining ancient scripture.
The pranayama breath-focused aspect of this program strengthens all other practice styles.
Explores the intricacies of arm balances to build strength and confidence.
Learn advanced pranayama practices, such as Bhastrika, Shitali, and Surya Bhedana.
Price
This advanced hatha yoga training course with Akasha Yoga Academy is $600, or a 3-month payment plan of $220 each.
Recent Review:
"My experience with Akasha Yoga Academy has been life-changing. The course content is outstanding: it's authentic, transformative (physically, mentally, spiritually), built on solid traditions, but still extremely relevant in our modern world. I have learned so much about Yoga and, at the same time, about myself. That said, it's mostly the teachers, the mentors, and the community that make this training unique. I continuously felt the support and love of all these wonderful souls that have been part of my journey. I honestly couldn't recommend this YTT enough. Thank you, Akasha!" -Silvia Andreozzi (Google review)
Akasha Yoga Academy offers this advanced pranayama and hatha yoga teacher training as a part of their 300-hour yoga teacher training online certification. Are you already certified but want to deepen your yoga knowledge or advance your teaching? You can sign up for this online hatha yoga course and receive Yoga Alliance Continued Education hours.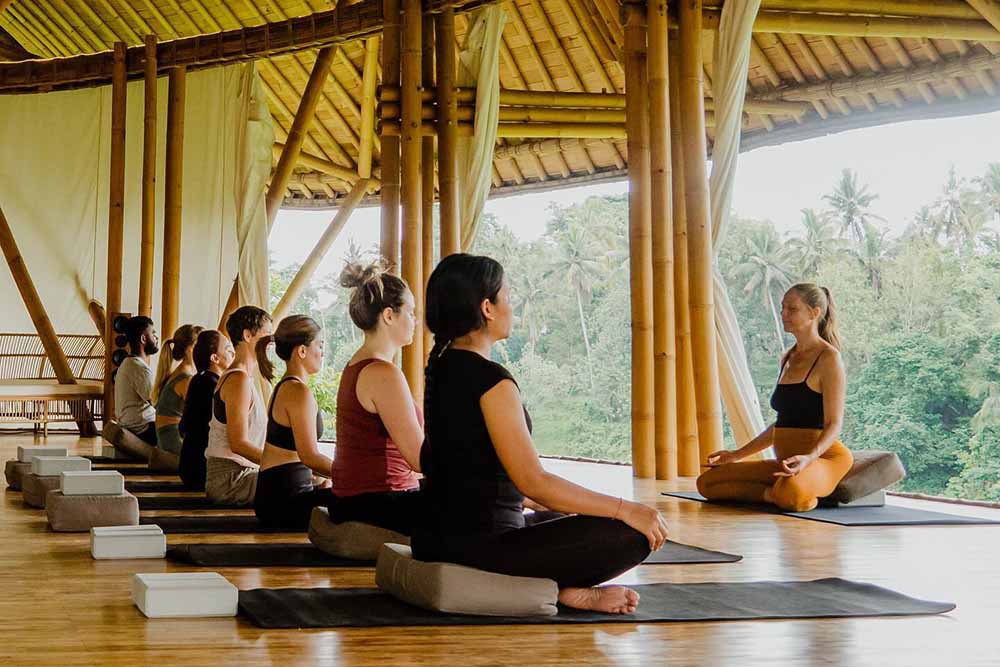 Frequently Asked Questions
Is hatha yoga a commonly taught style at yoga studios?
Yes. Classic hatha yoga is the base for several other modern yoga styles. Because of its popularity, most studios offer this class style. There are many websites, apps, and YouTube channels that provide online hatha yoga classes as well.
How do online hatha yoga teacher training courses compare to the effectiveness of in-person courses?
Online hatha yoga teacher training courses can be more effective than in-person training courses. On a short 3-week training retreat, for example, it can feel like a race to cover all 200 hours of instruction.
Pursuing a hatha yoga certification online allows participants the time each individual needs to grasp profound philosophical and energetic concepts fully and to learn detailed yoga anatomy and alignment cues.
Are there any specific prerequisites for enrolling in an online hatha yoga teacher training?

Most online hatha yoga teacher training courses require your dedicated interest and commitment to the program to enroll. You do not need any prior teaching experience, and even beginners to yoga are welcome.
How long does a typical online hatha yoga teacher training program last?

Each online hatha yoga certification course's length varies and depends on the individual's learning pace. A 200-hour hatha yoga online teacher training may last several weeks up to a year or more.
What is the cost range for online hatha yoga teacher training courses?

The cost of obtaining your hatha yoga certification online varies, depending on the school and whether you are doing a full 200-hour hatha yoga training or a smaller module. The courses on this list range from $425 to $2850.
Is an online hatha yoga certification different from a certificate earned in person?
No, you'll receive the same hatha yoga certification for teaching from an online program as you would from attending an in-person training. After you're certified through an accredited online program as a new hatha yoga instructor, you can teach at studios, gyms, private lessons, or offer your own hatha yoga online classes.
Final Thoughts on the Best Hatha Yoga Teacher Training
To meet the continuing demand for top-notch instructors, online teacher training programs like the ones mentioned here stand ready to help you leap from hatha yoga student to hatha yoga instructor!
In many ways, hatha yoga represents the essence of the yogic arts. By bringing yoga's physical, mental, and spiritual aspects together in perfect harmony, hatha remains one of the most popular disciplines of this ancient practice centuries after first arriving on the scene.
The best online hatha yoga teacher training programs include all the essential elements of hatha yoga, as outlined here. Now, it's up to you to choose the online hatha yoga certification that suits your schedule, interests, and lifestyle best!