Last updated on December 1st, 2023.
Do you have a passion for yoga, meditation, and holistic wellbeing? Do you like helping people, solving problems, and guiding people towards solutions? Are you also thinking about starting a new career? Becoming a yoga therapist may be an excellent choice if you answered yes to these questions.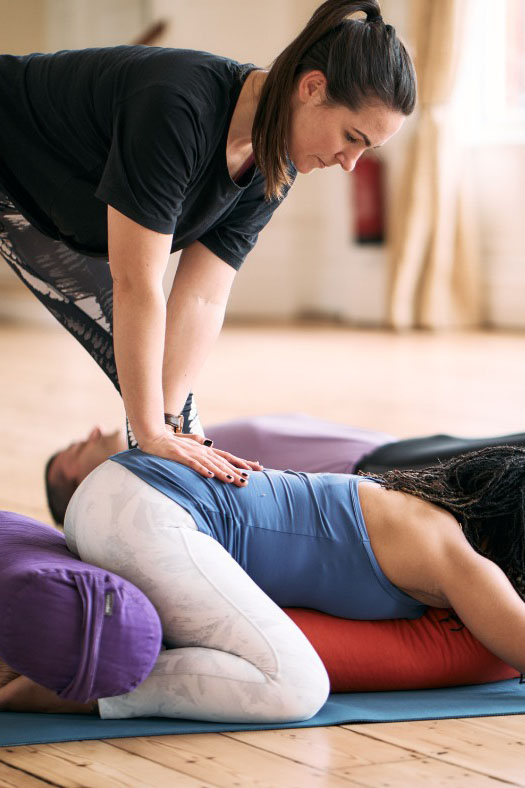 The best Yoga Therapy training certification courses are presented by leading institutions and experienced instructors dedicated to imparting the art and science of yoga therapy. Whether you are a yoga enthusiast looking to deepen your practice or a healthcare professional seeking to integrate yoga therapy into your patient care, these courses offer comprehensive and reputable training options to help you achieve your goals. Here is a quick overview of 7 of the best courses available today:
Yoga therapy can take many forms. For example, let's say you have a client complaining about sleeplessness. You could consider advising your client on an appropriate form of yoga or perhaps suggest a change in diet to help improve their situation of sleeplessness. Or, let's suppose that your client's complaint is chronic pain. In this case, you might work with your client to discover the root cause of the pain. You can then carefully and thoughtfully guide your client on lifestyle changes to ease and hopefully cure the pain while introducing your client to meditation, mindfulness, dietary changes, and yoga practice. Yoga therapy encompasses so many different forms of wellness. 
What is a yoga therapist?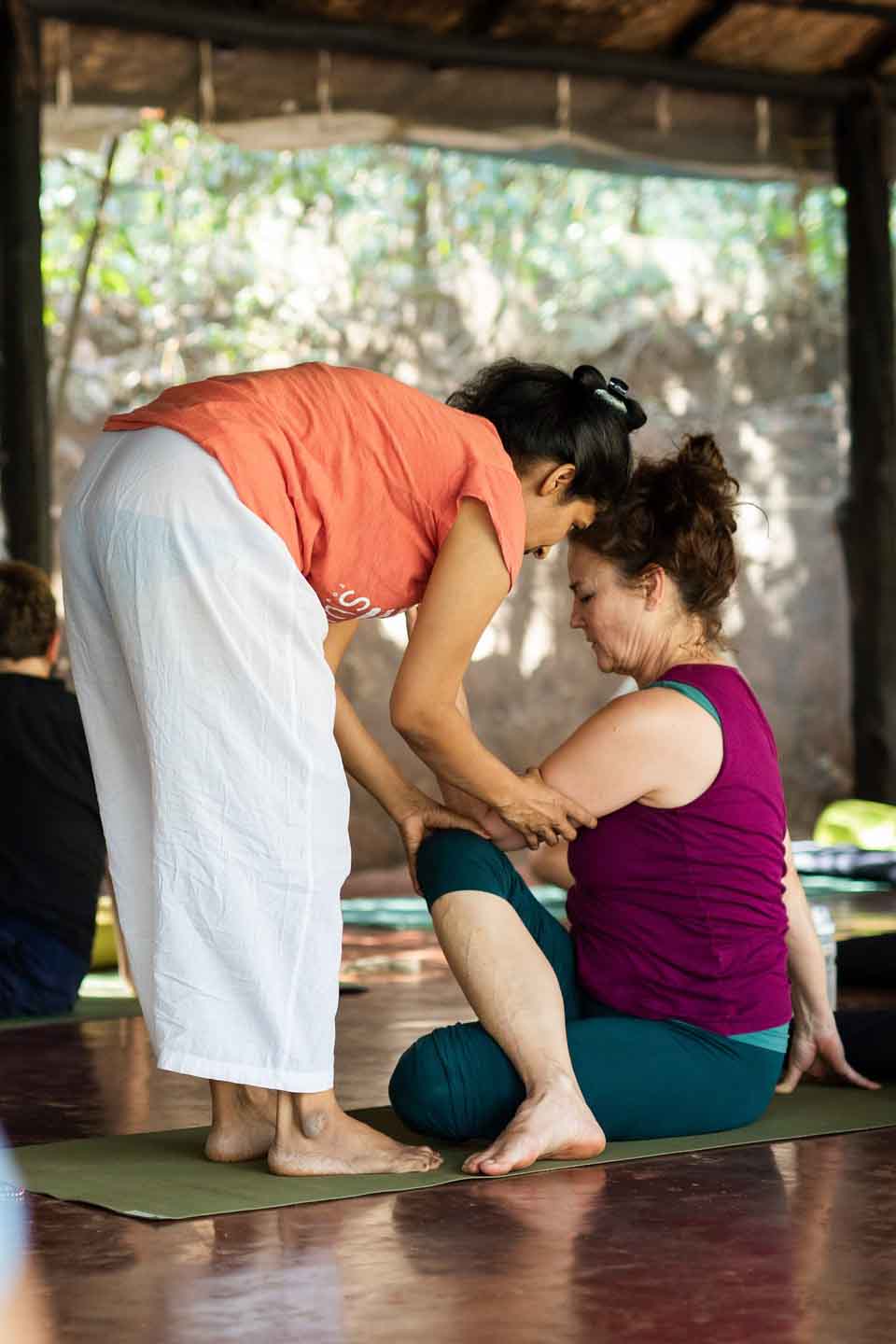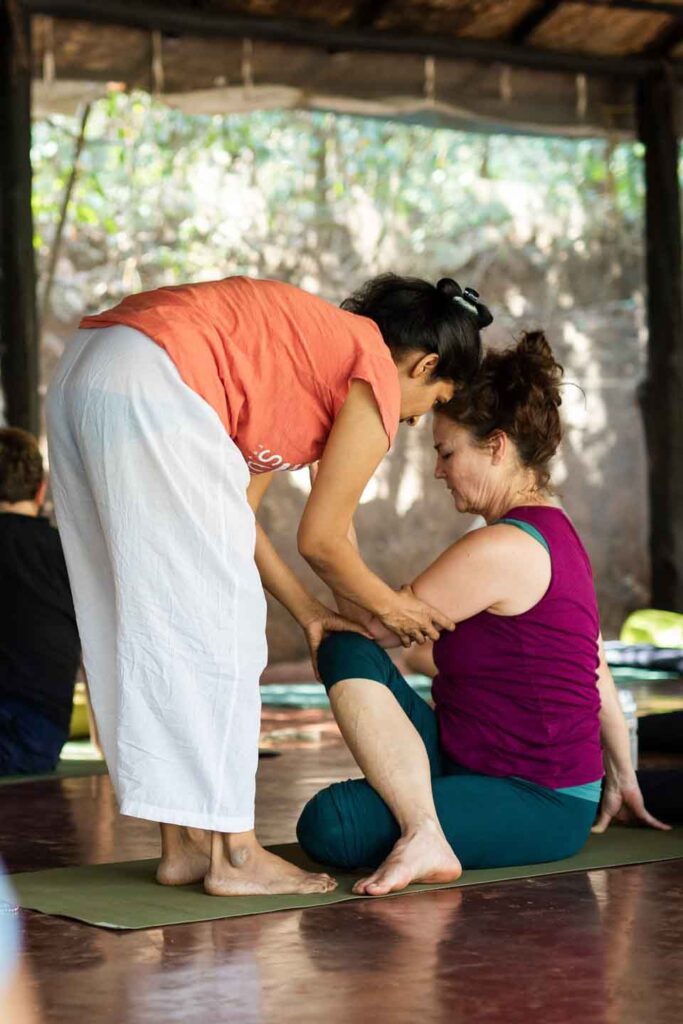 Here are examples of the approaches a yoga therapist may use to address their client's needs:
And, if the therapist also takes an ayurvedic (eastern holistic healing based on yogic teachings) approach, then they may introduce:
Yoga therapy is a vast field. A yoga therapist could work in a hospital helping cancer patients with the side effects of their treatment or in a retirement home helping the elderly stay healthy and pain-free. A yoga therapist could also have their practice, attracting clients who desire a natural approach to healing. There are many avenues a yoga therapist can take, and if you are interested, sign up for a session of yoga therapy to see what it is like, as it just may spark a drive in you to learn more.
The 7 Best Yoga Therapy Training Certification Courses
Yoga therapy is a new and expanding area that straddles yoga and naturopathy. Yoga therapists are highly trained to look at every part of a client's life to discover issues and help their clients leverage their innate capability to improve well-being.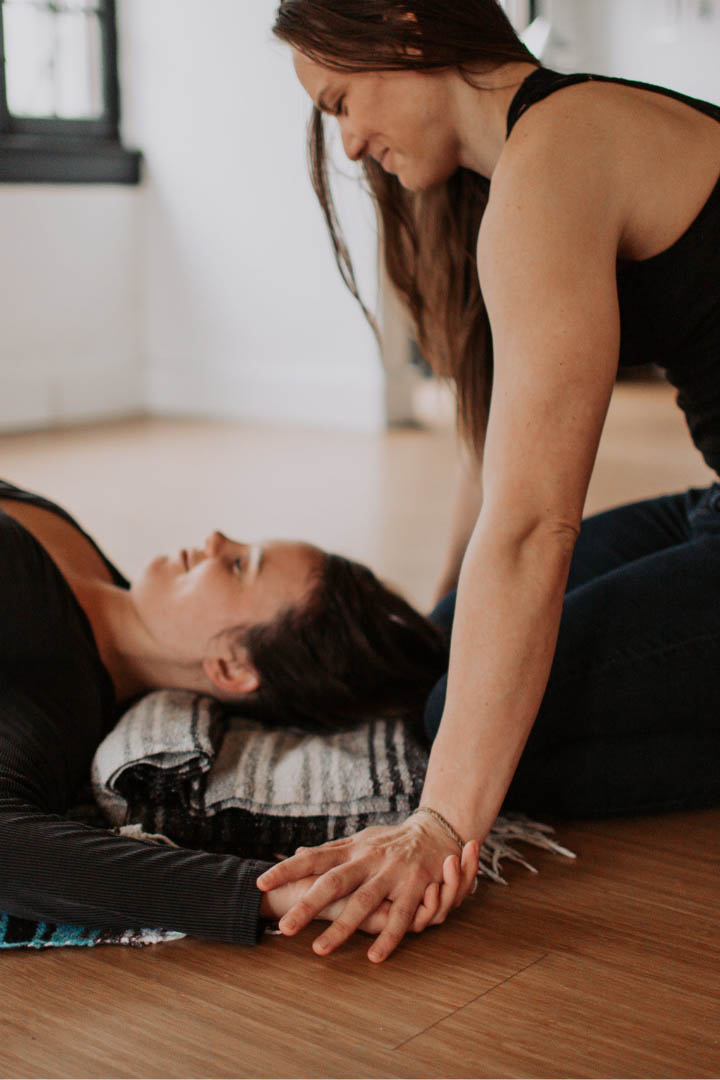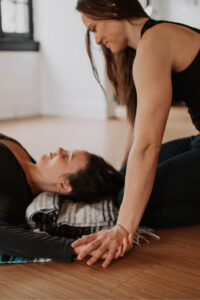 To become a certified yoga teacher, you must complete at least one 200-hour teacher training in-person or online. The 200-hour yoga teacher training is typically very interactive; yoga therapy training is no exception. It's a long road to becoming a yoga therapist. It could take years. Most yoga therapy training programs require that you work as a yoga teacher for at least a year before starting a program. 
During your initial 200-hour yoga training, you'll receive a brief introduction to the musculoskeletal system, whereas the anatomy training for aspiring yoga therapy instructors goes much deeper. Enrolling in a 300-hour yoga teacher training program is a viable option for students seeking a more profound understanding.
Yoga enthusiasts increasingly recognize the significance of yoga therapy, leading to a proliferation of yoga therapy training options. Some programs even offer master's degrees in the field. We've thoroughly evaluated the top-rated yoga therapy training certification programs, considering tuition costs, curriculum quality, and other program aspects.
You can go ahead and explore our handpicked selection of the finest yoga therapy programs compiled below and find the perfect one to help you with your yoga journey.
1. My Vinyasa Practice: Clinical Yoga Therapy Certification
My Vinyasa Practice (MVP) offers a highly rated C-IAYT Applied Yoga Therapy certification. This program provides the foundational knowledge and skills to enter the professional healthcare industry. It is designed for people who want to work in clinical settings like rehabilitation facilities, hospitals, and private practices. After completing the program, you will earn your advanced certification and become a clinical yoga therapist.
This course bridges the gap between private yoga therapy and integrative medicine. It combines MVP's 300-hour yoga teacher training with 200 hours of clinical application. Upon successfully completing your training, you will be awarded the 300-hour certification and the C-IAYT Applied Yoga certification. This achievement will enable you to instruct at the advanced 500-hour level and collaborate seamlessly with healthcare experts.
Applicants looking to register in this program must possess a 200-hour teaching certification, have one year of experience in personal practice, and have one year of teaching experience. If you want to become a C-IAYT Clinical Yoga Therapist with advanced certification, don't hesitate to enroll.
Price
$1,870 one-time payment or 12 payments of $155/month
Reviews

"My Vinyasa Practice is a wonderful organisation offering yoga classes, teacher training, and yoga therapy. I have been fortunate enough to enjoy all of these offerings – during a year that challenged me and pushed me to my limits, but (with the right guidance) also proved to be a powerful period of transformation and growth. Everyone that I have spoken to and interacted with, be it teachers on the livestream classes, peer support during training, or Michelle during our yoga therapy sessions, have been wonderfully kind, compassionate, and helpful at every step of my journey with MVP.

"

-Becca (Google review)

"I enjoyed this course, it was more involved to obtain the credential than I anticipated; however, I am a better practitioner having done so." -Black Flag Yoga Therapy (Yoga Alliance review)
2. Soma Yoga Institute: 200 Hour Online Therapeutic Yoga Teacher Training Certification Program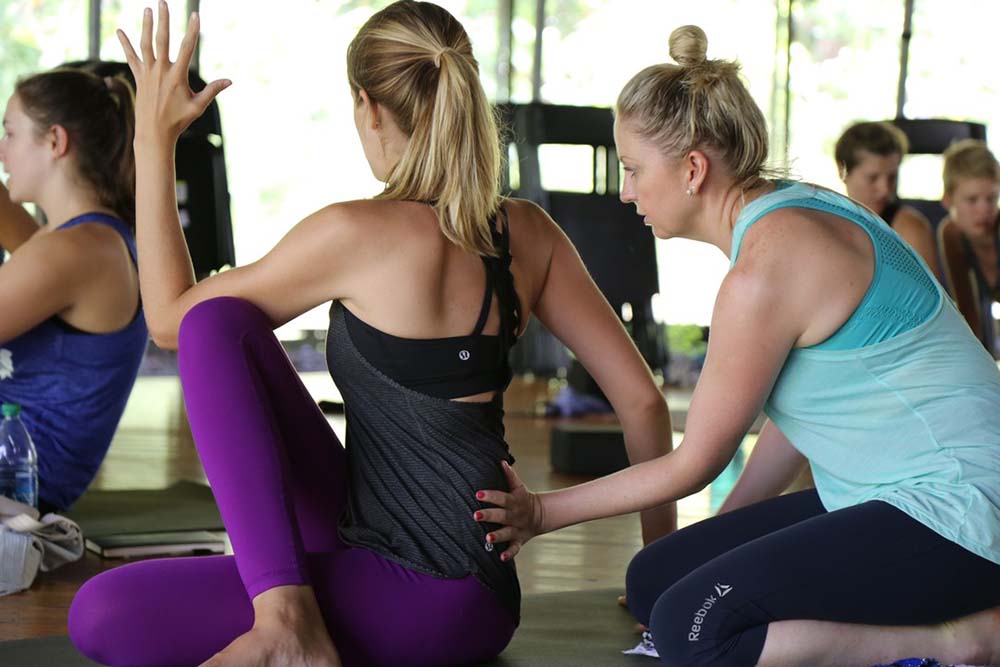 Experience the pinnacle of yoga education with the 200-Hour Online Therapeutic Yoga Teacher Training Certification Program from the Soma Yoga Institute. Led by C-IAYT yoga therapists and seasoned instructors with a wealth of wisdom spanning over two decades, this program imparts knowledge and kindles the empowerment to share these teachings.
The curriculum covers diverse practices, from alignment-centric vinyasa flow to a robust grounding in hatha yoga, all seamlessly integrated within a therapeutic framework. This equips participants with the insight to instruct with safety, skill, and confidence, building the skills necessary to steer future students toward their well-being and personal growth.
In this program, you will experience:
Asana techniques

. Engage bio-mechanically sound & anatomy informed alignment

Art of teaching.

Adapt classes for special populations

Yoga as a path for holistic health & radical wellbeing.

Explore the chakras

Pranayama & meditation.

Establish a consistent practice of meditation and teach you excellent breath practices

Experiential anatomy & fascia exploration.

Avoid injury in your classroom, provide effective modifications. and address common musculoskeletal issues

Yoga history, philosophy & mythology.

Build mindful awareness and elevate your perspectives

Restorative yoga & yoga nidra.

Learn practices of yoga that 

down-regulate your nervous system
Current research.

Get educated on the true benefits of yoga

Business of yoga.

Gain invaluable tools, insights, and strategies to launch your career
With the option to register with Yoga Alliance as an RYT-200, this course imparts knowledge and empowers individuals to pass on their learnings. Enroll today and embark on a journey of wisdom and an unbreakable connection.
Reviews

"What I enjoyed overall was watching the teachers model the yogi life in all aspects of what it means to be a yogi. The lessons I have learned at yoga teacher training were to be more mindful, meditation and the power of the breath, and having compassion towards others including myself. I would absolutely recommend Soma Yoga Institute to others, especially because it is alignment based and because it embodies all components of yoga.

"

-Lynn Lind (Google review)



"First Class Program! Liz and Allison were in sync in everything they provided. The communication, the handouts, instruction, the pre and post course material and learning opportunities during the 200 hours were all top notch curriculum. Highly recommend Soma!" – Laura Bellagio (Yoga Alliance review)
3. Santosha Yoga Institute: Online Yoga Therapeutics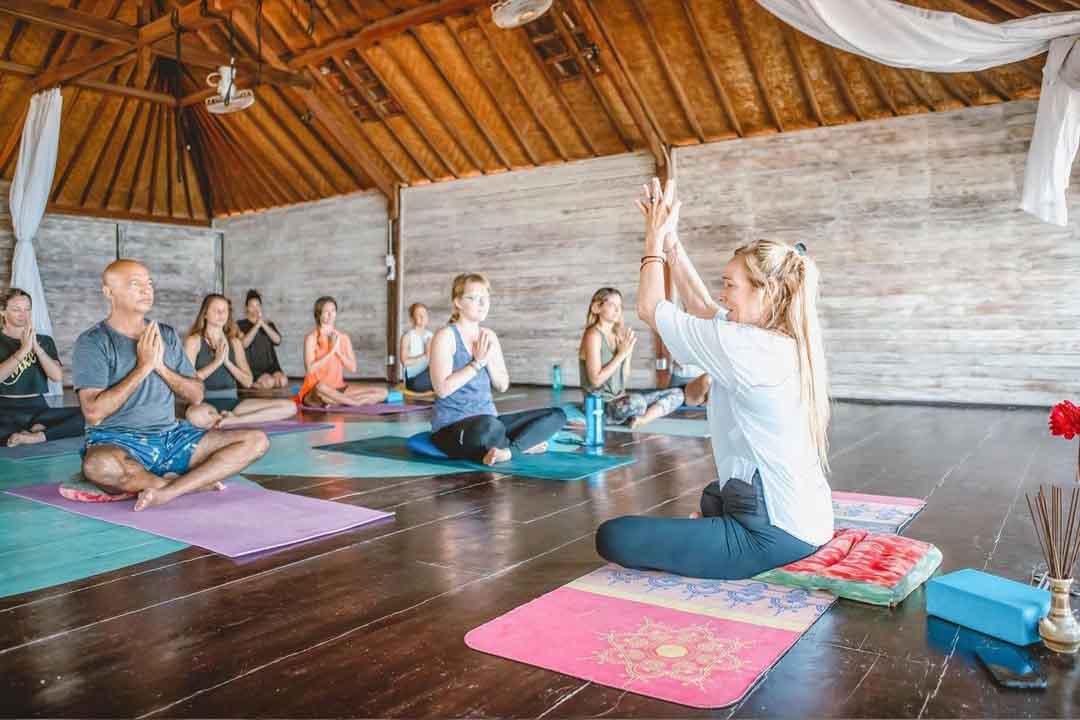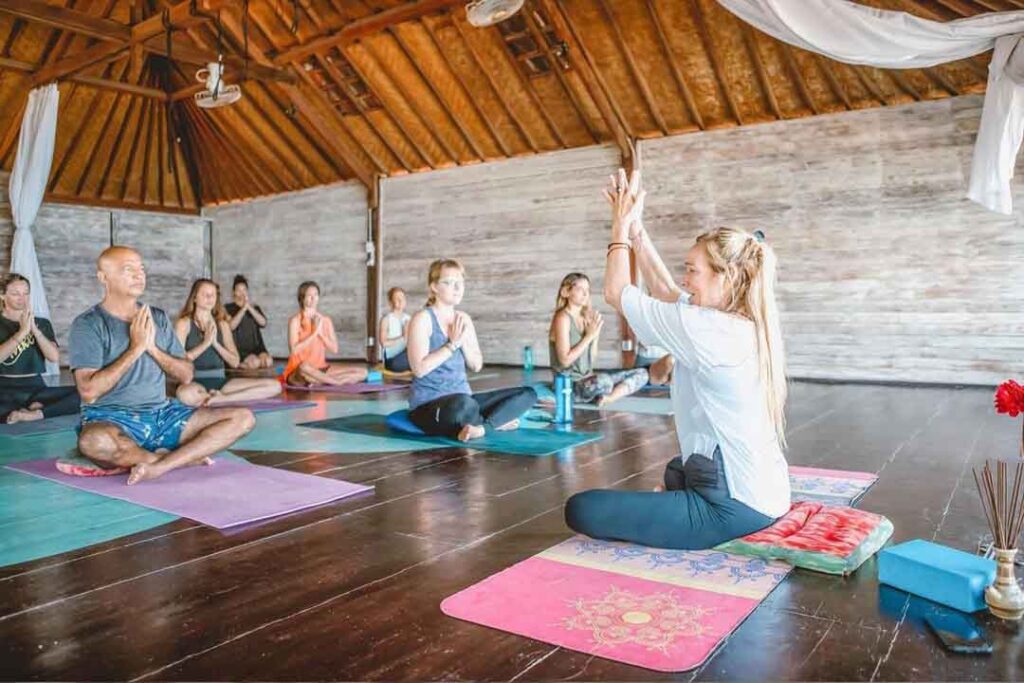 Designed for experienced yoga teachers and therapeutic professionals, the 100-Hour Yoga Therapeutics Teacher Training by Santosha Yoga Institute provides a unique opportunity to get certified in restorative yoga and harness its benefits for increased health, vitality, and overall well-being. As the demand for integrated approaches to health grows, the fusion of traditional yoga practices with modern therapeutic insights becomes increasingly valuable. 
At the heart of this training lies a deep commitment to understanding the intricate connection between the body, mind, and spirit. Taught by a physiotherapist and through in-depth anatomy studies, participants gain the tools to comprehend movement patterns and identify critical ailments intuitively. 
The focused modules include:
Foundations of Yoga Therapy

The Locomotor System

The Power of the Breath

Chronic Disorders

Nervous System & Neuroscience

Mental Health & Trauma
Why we like it
This course is designed for seasoned yoga teachers and extends its reach to medical professionals, physiotherapists, coaches, and other therapeutic experts. Participants will understand how restorative yoga can be applied to specific conditions and amplify their ability to facilitate meaningful healing.
Price
Reviews

"Santosha was a beautiful place and I feel lucky to have begun my yoga teacher career as a student of this school. The curriculum focuses on safety, yoga as therapy and the basics which can be applied to anybody and any body. Expect a slower yet thorough pace where you can really understand and grasp these critical concepts.

"

-Elizabeth Focazio (Google review)



"I have thoroughly enjoyed the process of the online TT, I found all the zoom lectures informative and I loved that the teachers were from all over the world. All the teachers were very caring and supportive and helped make the assignments that had to be submitted of a high quality. This really helped my planning of preparing sequences. Thank you all so much for this positive experience" -Heidi Zeck (Google reivew)
The Applied Yoga Mobility Certification is a niche yoga therapy course that blends asanas with functional movement. This blend of knowledge empowers you to reach and address nearly every joint within the body by skillfully enhancing operational motor control, a fundamental element crucial for muscular well-being. This course aims to equip yoga teachers with the expertise and readiness to transcend mere yoga poses and embrace the art of healing the body through yoga therapy. In addition to the convenience of online learning, this course focuses on nine different core features to ensure that you complete the course and become a well-rounded yoga therapy teacher:
Hip Mobility
Sacroiliac Joint, Glute Strength, and Hamstring Length
Back Line Strength
Knee
Abdominals
Shoulder
Neck
Thoracic Spine/Spinal Segmentation
Breathwork, Diaphragm Mechanics, and conscious Relaxation
The course is entirely self-paced, and it can take anywhere from four months to a year to complete, depending on each student's schedule. One of the perks of this course is that it comes with lifetime access, which is ideal for anyone with a busy schedule.
The program's founder, Jory Serota, has over 20 years of experience in kinesiology and various movement disciplines. He is a Neurokinetic Therapy Instructor who has trained thousands of yoga teachers worldwide to transform other people's pain, dysfunction, and injuries.
As a student of Applied Yoga Mobility, you'll learn all the aspects of yoga therapy and movement. These skills and teachings will give you the confidence and knowledge necessary to begin your journey as a professional, blending ancient Eastern practices with the intelligence of Western science.
Review
All nine modules are included in the complete package, and two payment options are available:
One-time payment of $1,497
Three payments of $597/month
Reviews

"Jory is an inventive and courageous practitioner who is intensely sensitive to his clientele and humanity as a whole. He is committed to his patients and his own open mindedness in his endless quest to create health, well being and wholeness in those whose lives he touches."


-Barry Hooper (Facebook review)
Breathing Deeply is dedicated to disseminating high-quality, ethical, and practical teachings in yoga therapy. Breathing Deeply's mission is to help people obtain and maintain health by offering an 875-hour Advanced Yoga Therapy Program. The first part is the Foundation course to give students a solid start on their journey, which is mostly online with three retreats over a weekend.
After the Foundations course, students will attend seven weeks of residential learning in Claverack, New York. Lastly, they'll work 215 hours of mentored yoga therapy in their communities. And finally, after graduation, students will earn International Association of Yoga Therapists Certification. Tuition also includes textbooks and exams.
Price
Foundations Program
Pay in Full for $2,995
$500 first payment; $235/month for 12 months after ($3,320 total)
3 Online Retreats: $350/each (or $400 residential weekend)

Foundations final exam: $250
The total cost of the Foundations Program is $4,295
Reviews

"Breathing Deeply is a top notch school for someone who is seriously interested in pursuing yoga therapy. I spent a lot of time carefully researching the most suitable, comprehensive and authentic program that is recognized and meets the high standards of IAYT. BDYT stands out because it offers both guidance and resources such as access to experts in the field, online sessions and forum discussions, even after you finish the program."


 

-Yolanda Hornman (Facebook review)
6. Phoenix Rising Yoga Therapy
In the Phoenix Rising Yoga Therapy training, you'll learn to blend the best of yoga, mindfulness, and talk therapy for a unique approach known as the Phoenix Rising Method. The entry-level 16-hour experiential yoga therapy essentials course is packed with valuable tools to give you a taste of what you will learn in this full IAYT Accredited Yoga Therapy Certification. You will become an expert in skillfully guiding others to align the wisdom of their body and mind in an individualized experience. Discover how to catalyze powerful change through this research-backed, body-centered approach to clear insight and life-changing action.
PRYT IAYT Accredited 2-Year Yoga Therapy Training Program includes four semesters of blended learning.
Each semester includes:
11-day residential learning in Estes Park, CO
5.5 months of distance learning (online and independent)
Supervised Practicum
Reviews

"PRYT really gets the essence of yoga practice. I have been training with them since 2015. I have been personally transformed through the journey with them. Their training is spacious yet vigorous. We learn how to give and receive feedback from peers and this is very edgy yet very useful. PRYT is very trauma informed. The best trauma informed yoga teacher training!!! I am going to continue training and my journey with them way beyond the 300 hour training."


"

-Ria Nieboer (Yoga Alliance review)
7. The Mindfulness Center
The Mindfulness Center in Bethesda, Maryland was founded in 2009 by Dr. Deborah Norris, Ph.D. and her daughters. They started the non-profit wellness center to allow people to achieve health, happiness and well-being through mind-body teachings. Norris and her daughters work with health experts and teachers to develop this new vision of health care.
The Mindfulness Center not only provides an extensive 800-hour Professional Yoga Therapy Training course but also ensures that graduates maintain a lasting connection to the Center and its valuable resources. The Mindfulness Center provides its students with opportunities to volunteer at hospitals, shelters, schools and more. Graduates will be able to stay in touch with their fellow students via a graduate alumni directory and will have access to help wanted ads for both volunteer and paid positions. There is also a community page to share stories and gain access to further training. 
Price
$6,999 for the 800-hour program Yoga Therapy Training course
Reviews

"My journey with The Mindfulness Center has been an amazing experience. As a future teacher, you are fully accompanied in the theory, the practice, and the spiritual dimensions. Debbie and Jessie are wonderful teachers, knowledgeable and open-minded. Beyond yoga, you'll learn a lot about yourself!" –

Clotilde Villette (Yoga Alliance review)
How do I become a certified yoga therapist?
As you embark on your journey into yoga therapy, you must acquaint yourself with every facet of yoga. Please regularly practice, revisit your 200-hour yoga teacher training materials, and prioritize your ongoing anatomy study.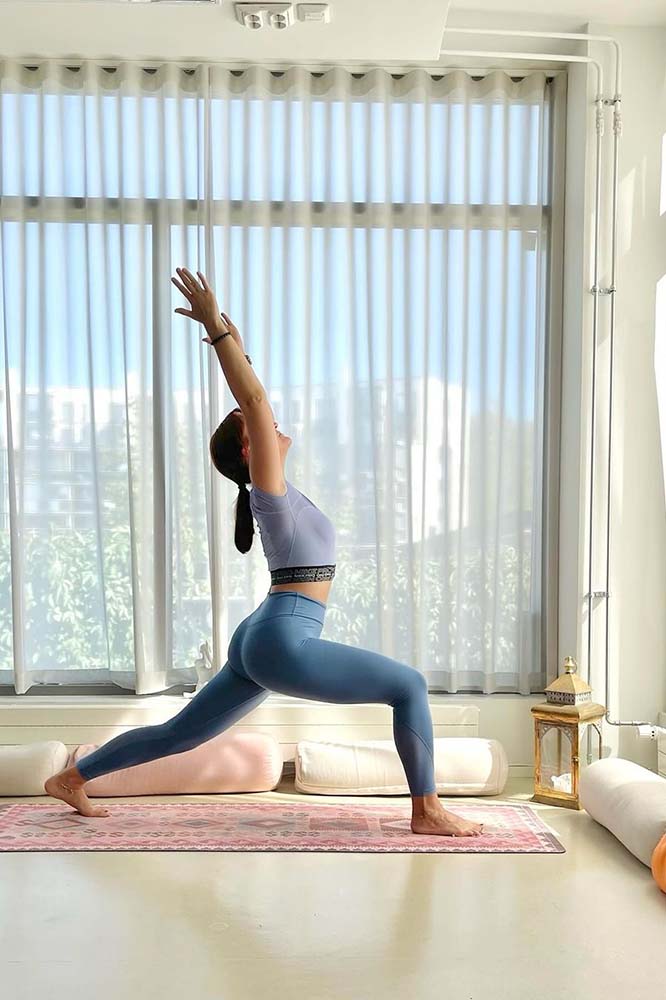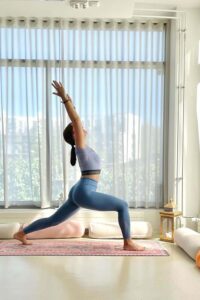 Here are ten steps to become a certified yoga therapist:
Have a solid yoga and meditation routine and practice regularly
Complete your 200-hour yoga teacher training
Work steadily in the field and focus on therapeutic types of yoga, such as yin or adaptive yoga
Book yoga therapy sessions for yourself to familiarize yourself with the approach
Determine if studying online or in person is better for you
Visit a yoga therapy teacher training class to see what the education process is like
Look at the various programs in this article to find a program that's right for you
complete your program and mentorship
Apply to the International Association of Yoga Therapists for your accreditation
Start your career and determine if you want to teach online, at healthcare facilities, nursing homes, etc.
How much does a yoga therapist earn?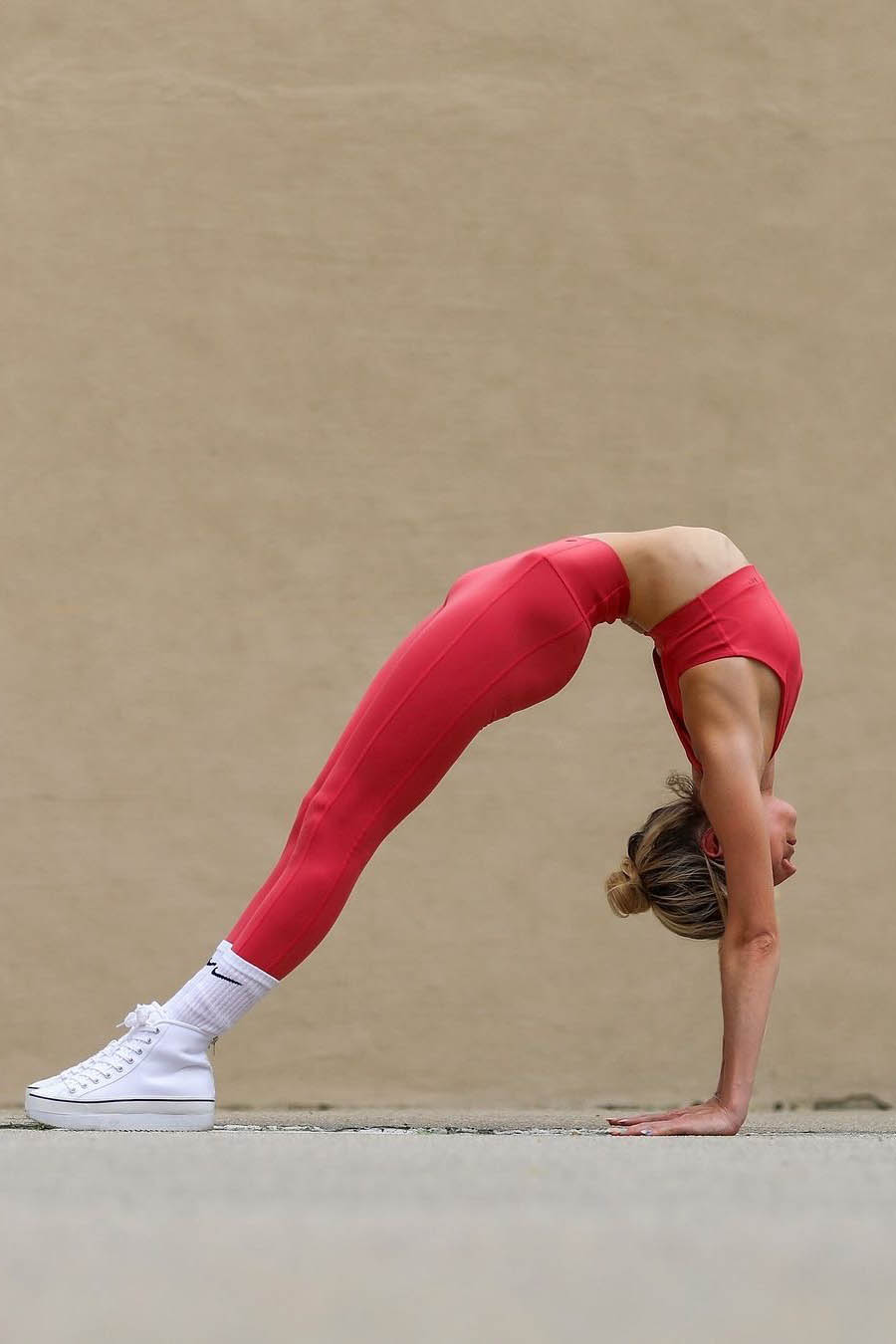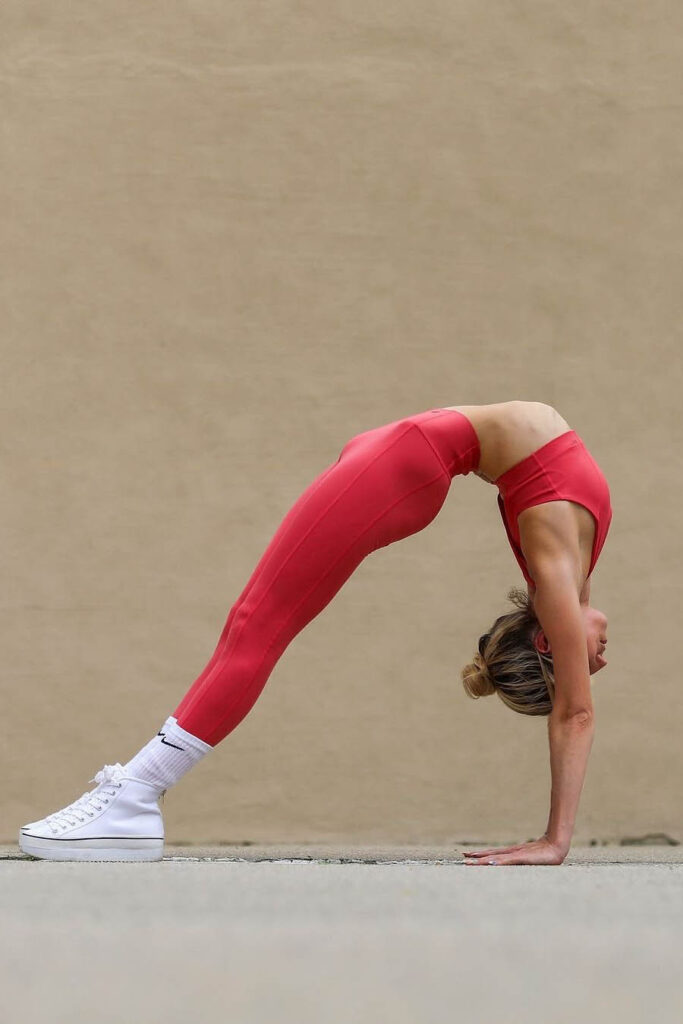 Yoga-related opportunities can offer fulfilling and meaningful employment, with the flexibility to create your schedule and engage in in-person and online teaching or therapy. Our research indicates that the average annual income for yoga therapy positions is approximately $80,000. However, earnings vary significantly based on geographic location and practice nature, ranging from as low as $63,000 to as high as $101,000.
Additional factors influencing a yoga therapist's annual income include employer benefits, such as insurance coverage, which hospital-based positions often provide. Conversely, you can just opt to establish your independent yoga therapy practice. You'll be responsible for expenses like insurance, rent, advertising, marketing, website maintenance, and possibly staffing, along with the costs of running a business.
Explore the Best Yoga Therapy Certification Courses
If you have explored the world of yoga, you're likely familiar with yoga therapy, a holistic approach to fostering healing in both the body and mind. The sense of fulfillment that comes from guiding individuals on their journey towards wholeness and well-being is truly remarkable, as you play a vital role in helping them lead healthier lives.
We have provided insights into the structure of yoga therapy training programs, the prerequisites required, program duration, and tuition fees, but we also address essential questions surrounding yoga therapy. Furthermore, we explored the potential earnings of a yoga therapist. Remember that this is a transformative journey that doesn't happen overnight. Still, it's a rewarding endeavor to empower students with the knowledge and skills to make a profound impact in the lives of their clients. We wish you the best of luck as you embark on this fulfilling path.