Last updated on November 29th, 2023.
With advances in bioengineering and genetically modified farming, it can be challenging to trust or comprehend what is being put in our food in 2022. In many instances, choosing the wrong types of products to put in our bodies can lead to a variety of health issues, with obesity being just the tip of the iceberg. Fortunately, mindbodygreen Functional Nutrition training can help educate professionals on how to reverse this troubling trend.
The mindbodygreen Functional Nutrition certification is awarded to those students who complete a world-class nutrition training program taught by leading health and nutrition experts. It aims to prepare graduates to use food as a medicine to treat various health issues, such as digestive problems, anxiety, and autoimmune disorders.
Although the MBG Functional Nutrition program is self-paced, most graduates take at least 20 weeks to master the content and pass the final exam. With 30 hours of online instruction, 600 pages of information, and live office hours with more than 20 medical experts, the program has a lot for students to digest. Keep reading to find out all of the MBG Functional Nutrition certification details!
What is mindbodygreen Functional Nutrition?
mindbodygreen Functional Nutrition is a world-class program taught by the leading experts in functional nutrition around the globe.
The program aims to teach healthcare practitioners, dieticians, and other medical professionals how to use foods to improve the body's physiological performance on a cellular level. 
Students can complete the MBG functional nutrition program independently or with its NBHWC-approved Health Coach Certification.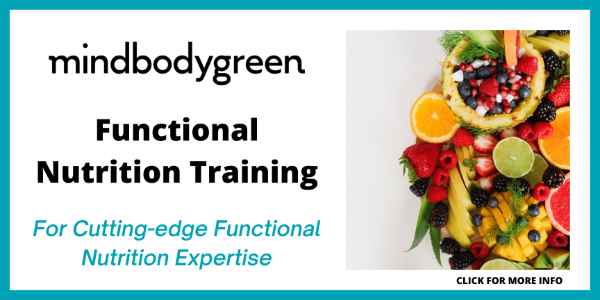 What does Functional Nutrition mean?
Functional nutrition is a natural approach to healthcare and wellness in which professional dieticians or health coaches prescribe foods that will improve a patient's wellness at the cellular level.
While regular nutrition follows a more general set of guidelines and recommends foods believed to be universally beneficial for everyone, functional nutrition takes a more detailed approach and uses food to correct health issues on a case-by-case basis.
It should also be pointed out that while standard nutrition is largely focused on issues such as weight loss, muscle gain, and other types of appearance-based transformations, functional nutrition is a much more holistic approach (covering all of the categories of nutrition as well as other aspects of a person's health) to nutrition that combats a wide range of concerns at the cellular level. So while a body transformation can be very likely when following a functional nutrition program, it is not the only goal.
Aimed at using food to correct problematic health issues, functional nutrition can be used to prevent or correct the following types of maladies:
Gut or digestive problems

Autoimmune diseases

Insomnia

Depression and anxiety

Metabolic syndrome
These are just a few of the conditions that functional nutrition can purportedly treat. As many of these conditions are difficult to combat with standard drugs and medical treatment, the potential for functional nutrition is particularly exciting. 
How long is the MBG Functional Nutrition certification?
The mindbodygreen Functional Nutrition Certification is a self-paced course allowing pupils to complete content at leisure. However, the following is a list of some of the content students will be required to master as part of the program:
More than 30 hours of online instruction

Over 600 pages of detailed study material

three meeting hours with industry experts each month

Periodic comprehension quizzes

A final exam covering all course content
With this in mind, most students require at least 20 weeks to master the course content and pass the final exam to receive their MBG Functional Nutrition Certification. https://shrsl.com/3u6sw
What does the MBG Functional Nutrition certification cover?
The MBG Functional Nutrition Certification covers everything there is to know about functional nutrition and how nutrition coaches can use food to treat the most problematic health conditions of our time. 
Leveraging the most up-to-date research in nutritional science, graduates will be able to understand why patients have food intolerances, improve the gut health of their clients, and prevent cellular inflammation. 
The MBG Functional Nutrition Certification will give graduates unmatched tools for helping clients increase their lifespans and improve their quality of life.
All of this is covered via one of the most innovative curriculums in the online nutrition sphere. Some of the benefits included in the certification package include:
Access to over 20 certified nutrition experts, doctors, and healthcare professionals

A course of study rooted in holistic wellness that zeroes in on the root causes of diseases and not treatment for the surface-level symptoms

Lifetime access to the program once you have subscribed so that you can learn at your own pace, on your schedule
Although the certification program covers 28 in-depth modules, some ideas of the type of information you will be learning include how to use food as medicine, how to stock a healthy kitchen, how poor diets lead to inflammation, and all of the subsequent problems that occur due to inflammation. 
How can I learn more about MBG Functional Nutrition?
The most straightforward way to learn about MBG Functional Nutrition is to visit the MindBodyGreen website. It provides a thorough breakdown of everything the certification program entails and can answer myriad questions prospective clients have about the program and functional nutrition.
MBG also features examples of past client reviews and their experiences going through the program.
Of course, if you are the type of consumer who likes to look through feedback wholly independent of the source, there is no shortage of video and blog reviews you can work through to help you view the certification from all angles.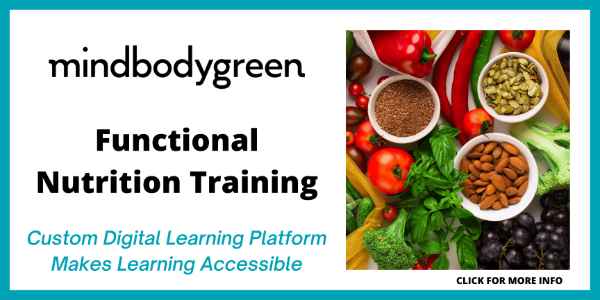 In a Nutshell: mindbodygreen Functional Nutrition
The mindbodygreen Functional Nutrition is a world-class program for aspiring dietitians and health coaches to help give them the tools to successfully use food to treat various health conditions ranging from autoimmune disorders to anxiety.
With over 30 hours of video lessons, 600 pages of the latest nutritional scholarship, and live office hours with more than 20 leading medical experts, the program is arguably the most robust online. If you are trying to take your nutritional career to the next level and want to use food to improve health at a cellular level, sign up for the MBG Functional Nutrition certificate today!
Explore the best courses on MindBodyGreen and the best online degrees in nutrition.