Last updated on August 29th, 2023.
So, you are interested in getting your degree in nutrition, and you are wondering what it takes to get an online degree. We will discuss this and more throughout this article while helping you choose the best online nutrition degree program for you.
Finding an online degree program in nutrition is easy. Here are five top online degree programs in nutrition:
Each school has been recognized for its excellent nutrition programs offered online.
There are many excellent online opportunities to get your degree in nutrition. In this article, we will investigate the top five online degree programs in nutrition. Let's look at what these programs have to offer you.
How Long Does it Take to Become a Nutritionist Online?
It takes two to eleven years of education to become a nutritionist. It is common to obtain a bachelor's degree in nursing and healthcare with a focus on nutrition. Courses are offered online and on campus.
It will take four years to receive a bachelor's in science degree to become a nutritionist. This is the same amount of time it would take you if you were attending classes in person.
This could vary if you already have some transferable college credits. If you already have an Associate of Science Degree, it may be quite possible to obtain your BS Degree in Nutrition online in two years.
Can You Study Nutrition Online?
Thanks to modern technology, it is possible to study nutrition online. There are many colleges and universities that offer nutrition courses ranging from Associate in Science to Doctorate Degrees online.
You can study nutrition online from many different schools.  Studying online can be helpful if you are currently employed or are unable to attend a brick-and-mortar school. If you are highly motivated and disciplined, taking online college courses can be a great alternative.
The best part of online study is that you may still qualify for grants and loans to help with your tuition, supplies, and more. To study nutrition online you will need to register in the school that offers online courses.
Can You Really Work With a Two-Year Degree in Nutrition?
With a two-year nutrition degree, you can get into entry-level work positions at hospitals and other organizations. Some entry-level jobs include:
Weight Loss Counselor
Food Technologist
Nutrition Assistant
Higher paying jobs will require a four-year bachelor's degree or higher.
If you want to begin earning money quickly in the nutrition field, it is possible to obtain an associate degree in science. This degree will help you get into entry-level jobs offered at many medical facilities. You will be able to get certification through the Commission on Dietetic Registration or other organizations.
On average, you can earn $36,376 annually with an associate degree in nutrition. This can vary greatly depending on where you live. Some states' annual average can be as low as $18,000 per year, while others may pay as much as $73,000 per year.
If you get your AS degree and begin working at an entry-level job, you can still take online courses toward obtaining your BS degree. By doing so, you will gain experience in the field as you take required courses for a higher degree and higher pay.
The Top 5 Online Degree Programs In Nutrition
The top 5 online degree programs in nutrition offer the best education resources online. These school programs are well recognized by companies looking to hire nutritionists.
These Universities offer the top degree programs in nutrition in the United States:
UA: University of Alabama
ASU Arizona State University
KSU: Kansas State University
U of A: University of Arizona
EMU: Eastern Michigan University
The top 5 online degree programs in nutrition range in price from $375 to $800 per credit hour. Let's take a closer look at what each of these schools offers for their nutrition programs.
1. University of Alabama Online Nutrition Degree Program
The University of Alabama ranks 1st with its online nutrition Degree programs. At the University of Alabama, you are able to study online and receive
Bachelor of Science Degrees
Master of Science Degree
In their Nutrition by Distance course, you are able to choose the course that is right for you.
A BS in Food and Nutrition is for undergraduate students who want to earn a degree. With this program, you must maintain a 2.0 GPA to graduate, but you will not get a verification that would allow you to apply for a Dietetic Internship that is accredited.
They also have a BS in Food and Nutrition with a DPD. With this course, you will need to maintain a 3.0 GPA, and you will receive a dietetic internship verification statement. You will need 120 credit hours as an undergraduate. Postgraduate students will need 79 credits of the didactic program in dietetics.
The University of Alabama has three master's degree programs in nutrition. These are:
This is an accelerated master of science in human nutrition degree. You will need to have completed prerequisite classes and maintained a 3.3 GPA while completing at least 90 credit hours prior to enrolling in the program.
Master's of Science in Human Nutrition is for the student who is not working toward becoming a registered dietitian nutritionist. Again, there will be prerequisite classes required, and maintain a 3.0 to graduate from the 30 credit hour course.
MS and DPD Degree: This is the Master of Science with Didactic Program in Dietetics degree program. You will need to take 30 credit hours plus the DPD courses while maintaining a 3.0 GPA to receive your DPD verification.
All of these courses require that you be accepted to UA prior to enrollment. If you are working toward becoming a registered dietitian, you will take the courses to obtain your DPD verification. Following this, you will need to go through and complete 1200 hours of Dietetic Internship and pass the National Registration Exam.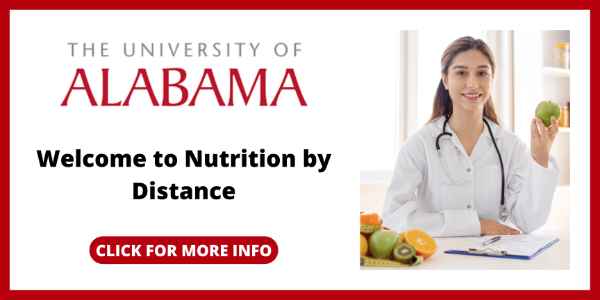 2. Arizona State University Online Nutrition Program
Arizona State University offers eight online nutrition degree programs. The programs start with a BS degree and go through master's degree programs. Here we will briefly investigate each of these programs to help you find the right one.
BS in Community Health – In this course, you will complete 120 hours of coursework in 39 classes over seven weeks. With the community health degree, you will be able to apply for community health worker positions.
BAS in Food and Nutrition Entrepreneurship – ( The BAS degree is a Bachelor's in Applied Science degree.) This encompasses 20 classes. These classes will guide you on your path to becoming an entrepreneur in the food and nutrition industry. It is geared toward students who already have some food and culinary skills.
BS in Food and Nutrition Entrepreneurship – This Bachelor's of Science degree offered will require 40 classes totaling 120 credit hours. You will learn innovative ways to market and manage food as well as sustainability and nutrition. This is for students who may want to own their own business in food and nutrition.
BS in Health Education and Promotion – This course has 39 classes that are taken over seven and a half weeks. It is directed toward the student who wishes to go into the health education field.
In this field, you would help the community learn about physical fitness and nutrition. Upon completion, you are able to take the CHES Certification Exam. If you work for five years after certification in Health Education you can work toward your Master Certified Health Specialist or work toward your Master's of Science Degree.
BS in Health Sciences – This is the first course offered in the nation targeting students who will be taking jobs in health and fitness. It will provide a firm foundation in preventative health.
MS in Medical Nutrition – This is a Master's of Science degree program for the student focusing on medical nutrition. These classes will prepare you to help others prevent disease and promote health through nutrition.
MS in Nutritional Science and Dietetics – This program is for registered dieticians and those that have completed a DPD accreditation. It will help you keep up to date on leading research and practices in the field while providing better care to the community.
MS in Regulatory Science/Food Safety – With this degree, you will learn safe food handling regulations that will be brought or distributed to the public.
Arizona State University offers a wide array of nutritional programs online. Any degrees or certifications you receive from them will not mention these are online classes because you will be required to do the same work as though you were in the classroom.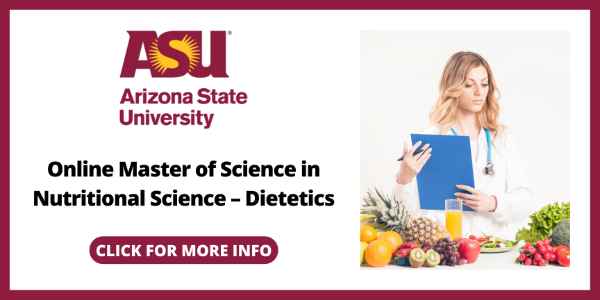 3. Kansas State University Online Nutrition Program
Kansas State University offers online degrees in dietetics. These programs are 100 percent online and offer graduate and undergraduate programs to those who want a degree in dietetics and nutrition. Here are the four courses they offer:
BS in Dietetics
BS in Nutrition and Health
MS in NDSS
MS in Dietetics
KSU does not charge out-of-state tuition for their online courses. Tuition ranges from about $400 to almost $600 per credit hour, depending on the courses you are taking. They do offer financial aid applications for their online courses.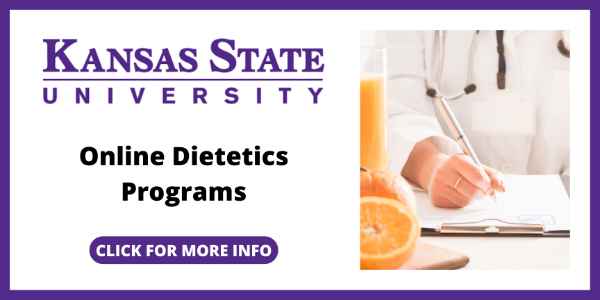 4. University of Arizona Online Nutrition Program
The University of Arizona offers a certificate program and two-degree programs in nutrition. These are:
Graduate Certificate in Applied Nutrition. This 14 unit course will allow the student to apply and compete in entry level nutrition based jobs, while preparing them for continued education in the field.
BS in Nutritional Science Degree from the college of agriculture and life sciences at UofA. With this program you are able to choose an emphasis in nutrition or in dietetics.
If you enter the dietetics area of study you will be able to apply for internships and become a registered dietician.
PSM in Applied Nutrition Dietetics Degree. This is the course you will want to take to become a registered dietitian nutritionist. Within a year you will be able to take the national RDN exam for certification.
The programs offered by UofA will guide the students to further their education or obtain well paying jobs after completion.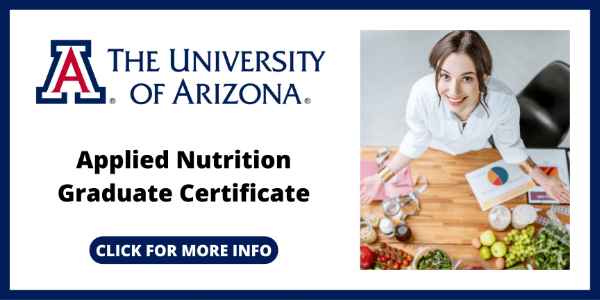 5. Eastern Michigan University Online Nutrition Program
Eastern Michigan University has offered degrees in nutrition for 47 years. They have offered online programs in nutrition since 2006. They have 2 online programs.
MS in Human Nutrition this degree does not include RDN credentials, but it will enhance your knowledge of nutrition and keep you up to date in your current work environment.
MS in Dietetics is the program offered through EMU that will lead to receiving RDN certification.
EMU online courses offer in-state tuition fees to anyone. These courses are nationally ranked.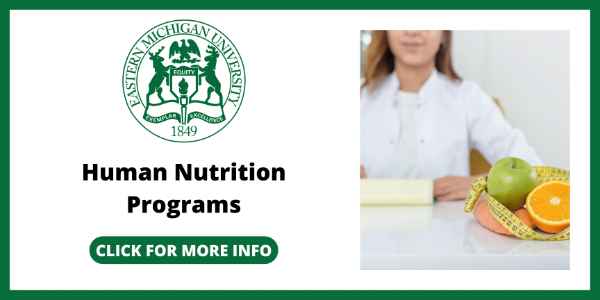 It is Possible to Get Your Online Degree in Nutrition
There are many fantastic online programs that offer degrees and certificates in nutrition. The top 5 schools listed here are all nationally recognized and excellent choices. It doesn't matter your situation, you will be able to find the school that is right for you. Don't forget to ask about financial aid and fill out the FAFSA application.