Last updated on October 20th, 2023.
If you're thinking about learning yoga or broadening your knowledge of the art but don't have access to an in-person yoga studio, you might wonder if there's another option – and yes, there is. Online yoga memberships provide access to videos and tutorials that can significantly benefit you. But which ones are best?
While there are many top-notch online yoga memberships out there, the top two include My Vinyasa Practice, and Alo Moves. My Vinyasa Practice is excellent for aspiring yoga instructors, and Alo Moves is geared toward fitness enthusiasts.
For those looking to dip their toes into online yoga memberships but don't know where to begin, this article is here to help. Below, you will find important information, such as what online yoga memberships are, what to expect from an online yoga membership, and which top two yoga memberships to consider signing up for.
What is an Online Yoga Membership?
Online yoga memberships bring in-person yoga studios right to your front door. They're cheaper, more flexible, and allow you to engage in classes anywhere, whether relaxing in your bedroom or going on a jaunt in your RV across the Midwest.
With an online yoga membership, you can access countless videos and tutorials showcasing a wide range of yoga styles. Beginners can find various classes designed to help them kickstart their yoga careers, while advanced users will find more in-depth and challenging courses to engage in.
What Can I Expect to Find in an Online Yoga Membership?
Course offerings will differ depending on which online yoga membership you choose. For example, some offer classes and workouts beyond yoga, such as HIIT, skill-building, pilates, and more. 
While some online yoga memberships branch off in different directions, the bulk of the courses remains the same – various styles of yoga and meditation. Online yoga memberships offer every type of yoga imaginable, from Chair Yoga to Yoga Nidra, Yin to Meditation. 
Each class is taught by experienced and renowned yoga instructors, so you can feel confident you're getting the best courses at home or on the go.
With a wide range of courses (typically 300+) at your fingertips, you're guaranteed to find something that piques your interest, challenges you to try something out of your comfort zone, or transform your mindset and body entirely.
How Much Does an Online Yoga Membership Cost?
One of the benefits of opting for an online yoga membership rather than an in-person studio is that it's far less expensive. In fact, most online yoga memberships cost less than $30, with most hovering around the $15 to $20 range.
Most online yoga memberships also offer discounts, such as seven days free or 25% off membership if you purchase the whole year. Many apps and websites also offer multiple classes at no charge, although you are not given full access to the courses and classes until you sign up for a membership.
2 Best Online Yoga Memberships Out There
Think that an online yoga membership is suitable for you but are overwhelmed with the number of options? To help take the guesswork out of things and fast-track you to your first yoga class, check out these top two online yoga memberships that won't disappoint.
If you're considering becoming a yoga instructor but don't have any nearby studios that offer training, My Vinyasa Practice may be your best online yoga membership. This state-of-the-art platform provides 200, 300, and 500-hour teaching certifications, all "Yoga Alliance Approved."
Don't wish to become a yoga instructor? Don't worry – you can still opt for My Vinyasa Practice. They have various classes and courses available to their members. In fact, they currently have over 300 courses to check out, leaving you with plenty of material to check out.
Live near Austin, Texas? Then you can also head over to the in-person My Vinyasa Practice Studio at 109 Jacob Fontaine Ln Suite 800, Austin, TX 78752.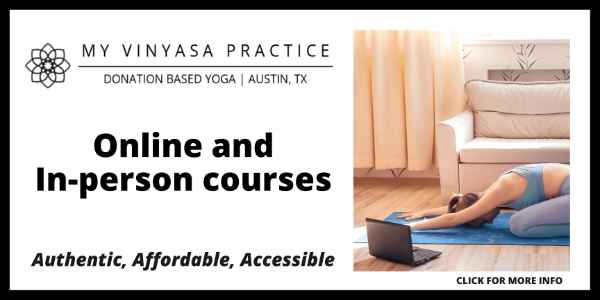 For those seeking an online yoga membership that doubles as the ultimate go-to for fitness classes, Alo Moves is the best option. This impressive platform offers over 2,500+ classes of varying styles, ensuring you can find a yoga or fitness class that suits your needs.
One of the standout features of Alo Moves is their roster of distinguished yoga instructors, with some top names like Dylan Wener, Briohny Smyth, and Carling Harps on the list. With celebrated instructors like these, you can rest assured you're getting top-notch courses every time.
You will love the impeccable sound and video quality of the offered content. The platform is also very user-friendly, so even those who don't consider themselves "tech-savvy" can easily guide themselves through the content with no hurdles.
Here's a full review on Alo Moves.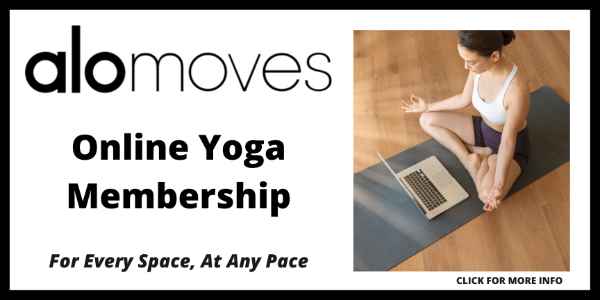 An Online Yoga Membership is Your Gateway to All-Things Yoga!
Whether you're trying to become the next world-renowned yoga instructor or simply want to hone your craft, you can do so with an online yoga membership. Yoga International is an excellent option for all yogis, while My Vinyasa is the perfect pick for those wishing to get certified. Lastly, choose Alo Moves if you're looking for a great blend of yoga and other fitness classes.