Last updated on December 5th, 2023.
Yoga nidra is a deeply restorative and meditative practice that puts the practitioner in a dream-like state through guided meditation. It helps soothe the nervous system, rejuvenates and restores the body and mind, and diminishes symptoms of anxiety, depression, and other emotional obstacles. On top of all this, it also promotes better sleep, pain reduction, enhanced mental clarity, and increased energy throughout the day.
Many yoga teachers find that offering yoga nidra to their students is an excellent way to deepen the mind-body connection. By sharing the many benefits of yoga nidra, teachers can enhance the health and well-being of their students while supporting their business opportunities.
But how do yoga teachers learn to guide their students in these sessions? Of course, the best way to ensure you're giving your students a quality experience is to complete a yoga nidra teacher training. However, in-person training courses for this niche style of yoga may not always be available in your area.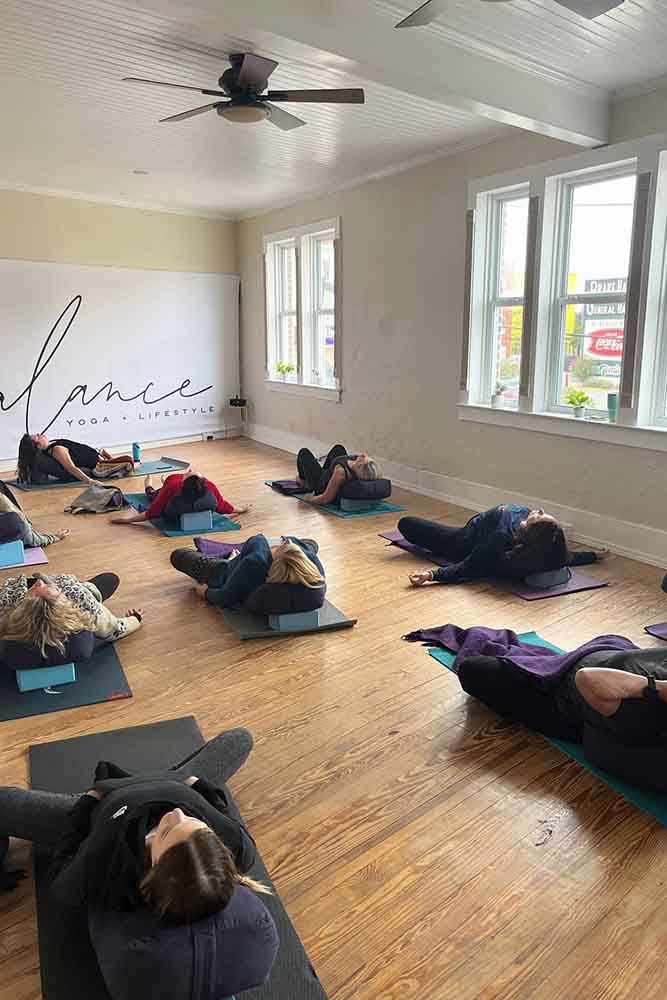 Luckily, there are fabulous online resources available that you can access from anywhere in the world to complete your yoga nidra teacher training online! There are so many you need help choosing the proper online yoga nidra teacher training for you. But don't worry! We've narrowed down the choices for you.
Here is a glance at the list of the best yoga nidra teacher training courses we'll examine:
In each review, we'll give you a breakdown of the training's course material, highlights, cost, and a review from past students – everything you need to select a yoga nidra teacher training online program.
If you're interested in yoga nidra certification but aren't sure where to begin, stick with us as we review the best online yoga nidra teacher training courses!
Our Top 6 Yoga Nidra Certification Online Programs
There are many reasons for instructors to choose an online yoga teacher training program. For starters, they're highly cost-effective compared to in-person training, which includes travel-related expenses. Many offer a flexible schedule and self-paced learning you can complete from the comfort of your own home.
Without cramming dozens of hours of learning into one week as you would in retreat-style training, choosing an online yoga nidra teacher training course means you can take the time to absorb all of the knowledge fully.
These yoga nidra training programs conveniently and safely provide teachers-in-training with comprehensive knowledge about facilitating yoga nidra sessions. Below are our top picks for yoga nidra teacher training online courses in more detail.
1. Scott Moore Yoga: Online Yoga Nidra Teacher Training
Scott Moore Yoga, RYS 200, E-RYT 500, and author of Practical Yoga Nidra, is a passionate and experienced practitioner and yoga instruction provider specializing in yoga nidra. His school offers various programs for all levels, including teacher training, private sessions, mentorship, and supplemental materials to deepen one's practice.
Scott Moore's Yoga program, Facilitating Transformation with the Yoga of Sleep, is available for instant download so trainees can work at their own pace. This 50-hour intensive yoga nidra certification course provides participants with tools for deeper learning about the self.
The program will prepare yoga nidra facilitators to safely and intelligently guide others while exploring how to become successful yoga nidra teachers. Trainees participate in yoga nidra, pranayama, and mindfulness. They will watch detailed video lectures on creating unique and effective yoga nidra classes and scripts. Participants also learn about the origins of yoga nidra, storytelling and mythology, mantra chanting, and philosophical concepts like energies of the subtle body and the Koshas.
This online yoga nidra course offers an extensive collection of yoga nidra scripts spanning a range of topics: grief, healing, sleep, reaching goals, compassion, abundance, bliss, wisdom, grounding, and more.
One of the more practical aspects this yoga nidra teacher training covers is how to earn a living teaching yoga nidra, as well as how to organize and lead retreats.
Highlights of this program include:
Time: Self-paced
Yoga Nidra Certification: Completing this training includes a certificate and 50-hour non-contact continued education credit recognized by Yoga Alliance.
Lifetime access to all audio and video lectures and course materials, including 100+ pages of yoga nidra scripts and a library of recordings
Price
Scott Moore offers his yoga nidra teacher training online for $589. This fee also brings the option to complete two payments of $309.
Review from a past student
"

Scott's Yoga Nidra Teacher Training was an excellent blend of information, inspiration, and application. I love his way of organizing and presenting of the abundance of material. Scott is very authentic and has a way of connecting and empowering his student to feel confident to utilize the tools he provides. I am so thankful to have the Yoga Nidra as part of my toolbox of offerings!"

-Jackie (Direct review)
2. Somah Journeys: Yoga Nidra Mentorship
Instructor Simon MacKay offers a unique one-on-one learning journey with her Yoga Nidra Mentorship. As the founder of Somay Journeys and the School of Sacred Arts, Simone helps people find deeper connections with their souls through self-discovery practices. She supports her students in developing a clear, calm, and confident life, elevating their teaching practices.
In this transformative experience, mentees learn to guide yoga nidra classes by exploring the five layers of being, or koshas. These encompass various layers of human existence: the physical, energetic, emotional, intellectual, and spiritual.
Simone's online yoga nidra course offers a comprehensive understanding of each kosha and its significance in our overall well-being. In addition to these deeply insightful philosophical teachings, you'll receive vinyasa, yin yoga, non-linear movement, and restorative yoga instruction.
Additionally, this comprehensive yoga nidra course incorporates pranayama or breath practices, introducing breathing techniques to harmonize the mind and emotions, promoting a balanced and serene state of being.
For your yoga nidra training, the course provides several yoga nidra meditations for confident teaching and guidance and yoga nidra audio recordings to calm your nervous system and facilitate lasting transformation by reprogramming new neural pathways.
Highlights of this program include:
Time: 12 weeks
Personalized, one-on-one instruction of twelve 60-minute live sessions and weekly personal development activities with feedback
Yoga Nidra Certification: 30-hour continuing education credits approved by Yoga Alliance
Lifetime access to over 11+ hours of yoga nidra education
Price
This one-on-one yoga nidra mentorship with Somah Journeys costs $1,800, or a 3-month payment plan option of $650 monthly.
Review from a past student
"A big thank you for all your generosity and for such a beautiful and soulful way to explore and understand the koshas. Your presence, guidance, and teaching style through the videos is very authentic, engaging, and full of insight. I'm loving following along with each part!" ~ Lizabeth (Direct review)
3. My Vinyasa Practice: Online Yoga Nidra Certification
My Vinyasa Practice's Yoga Nidra Certification, created and run by Michelle Young (E-RYT 500, C-IAYT), is ideal for all learning levels and leads its participants toward becoming leaders and mentors in the field of yoga nidra. This online yoga nidra teacher training emphasizes healing and therapy and promotes self-reflection while giving yoga teachers the tools to be creative within their teaching practice.
With My Vinyasa Practice's yoga nidra course, you'll learn techniques to regulate and tone your nervous system and experience first-hand the powerful stress relief from practicing yoga nidra. From the teaching standpoint, this online training covers the ethics of teaching yoga. It explores the technical aspects of yoga nidra, like trauma and neuroplasticity, and the concepts of direct versus abstract association in meditative and healing practices.
By the end of this training, trainees can create their nidra scripts and understand how cultivating an ideal environment enhances the yoga nidra experience.
Highlights of this program include:
Time: Self-paced, with course completion possible in as little as four weeks
Yoga Nidra Certification: 40 hours of non-contact continuing education credits recognized by Yoga Alliance
Lifetime access to all modules of the yoga nidra course material
Direct support from lead trainers and teachers
Price
The base price of My Vinyasa Practice's online yoga nidra teacher training is $358, but they often offer hefty discounts!
Review from a past student
"All staffs in MVP is so responsive and helpful. Michelle and the teachers offer a wide range of yoga practices not only Vinyasa but also Yin, Yoga Nidra, Sound Healing, Trauma-Informed Yoga, etc. MVP makes all students inclusive and are welcoming. I appreciate all work Michelle and the teacher put into the training and I look forward to keeping in touch with them and their teachings for life!" -Yuko Y (Google review)
4. Soma Yoga Institute: Yoga Nidra for Healing and Transformation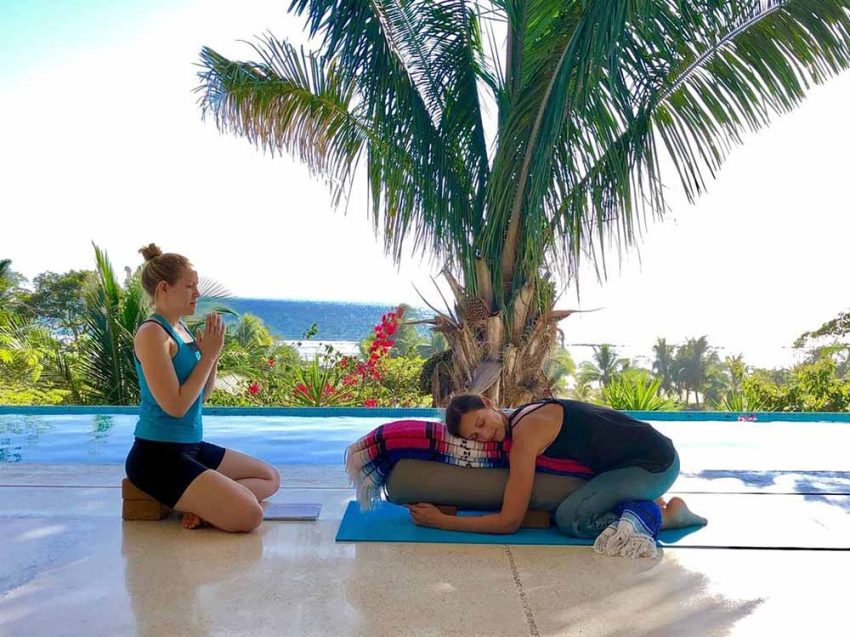 Senior teacher Liz Hefferman, a certified yoga therapist, leads Soma Yoga Institute's Yoga Nidra for Healing and Transformation certificate training course. With Soma Yoga Institute's online yoga nidra teacher training, you'll explore the ancient roots of yoga nidra practice and its theory and learn how to adapt the practice for modern-day practitioners.
Soma Yoga Institute stays up-to-date with the latest scientific research to support its curriculum. You'll learn about how this ancient practice applies to current-day challenges many people face, including anxiety, PTSD, trauma recovery, and mood disorders.
This online program delivers clear, concise, and practical lessons. You'll learn through pre-recorded videos, lectures, and practices, then complete actionable assignments to directly apply the techniques you've learned in the course material. In addition to the independent study time, you'll participate in weekly live Zoom calls for a shared experience with your peers.
Highlights of this program include:
Time: 5 weeks, with 4 hours of content/practice each week.
Yoga Nidra Certification: Online yoga nidra training certificate with 20 continuing education units approved by Yoga Alliance.
Clear, ten-step framework for writing and guiding yoga nidra, developing voice tone and pacing skills for delivering quality sessions.
Understand the importance of sankalpa to create transformative experiences for your students.
Price
Soma Yoga Institute's transformational yoga nidra training costs $397.
Review from a past student
"This yoga nidra training course allowed me to go deeper in my already existing nidra practice. On a personal level, I find myself having more clarity and feeling more balanced. I also really enjoyed the amount of details and hands-on practice as well as the clarity of the instructions and class participation. Thanks to the lectures' breakdown and class discussion I was able to better understand some of the more subtle aspects of yoga nidra within the larger body of yogic knowledge and traditions." – Ron Fog (Website review).
5. Vinyasa Yogashala: Online Yoga Nidra Teacher Training
Are you looking for a program that's quick and cost-effective? Vinyasa Yogashala's Online Yoga Nidra Teacher Training could be the best option for you. This program is a great place to start if you are a yoga teacher who wants to learn more about yoga nidra.
Vinyasa Yogashala is based in Rishikesh, India, offering in-person and online yoga nidra courses led by the respected Yogini Tanushree, a yoga nidra master. Throughout this 20-hour yoga nidra course, she leads participants through deep self-reflection and emphasizes the healing aspects of practicing yoga nidra.
In addition to covering the origin and benefits of yoga nidra, this program gives yoga teachers the tools they need to be more creative. Trainees learn all the essential phases of a yoga nidra session, from preparation to rotation of consciousness, breath awareness, visualization, and more.
By the end of this nidra yoga training, you'll have all the tools needed to guide others through this meditative experience confidently.
Highlights of this program include:
Time: Self-paced, with completion possible in as little as ten days
Yoga Nidra Certification: 20-hour certificate of continuing education credits (5 contact hours, 15 non-contact) approved by Yoga Alliance
Lifetime access to all course materials, including lectures and pre-recorded audio and video classes
Price
At just $150, this Vinyasa Yogashala online yoga nidra teacher training course is one of the cheapest options! And, they offer discounts.
Review from a past student
"I'm so glad I choose this school for my online yoga teacher training. I had a good feeling and the experience matched. The teachers are professional, kind, and engaging." -Hillary (Vinyasa Yogashala website review)
6. Santosha Yoga Institute: 50-Hour Online Yoga Nidra
The 50-Hour Online Yoga Nidra Course by Santosha Yoga Institute offers an inspiring program enabling you to teach and share the healing practice of yoga nidra. Barbara Kundig, yoga nidra instructor and author of the best-selling book Yoga Nidra: Blissful Deep Relaxation, leads this program with her extensive nidra yoga training experience and offers live support and mentoring to program participants.
Six unique modules make this yoga nidra teacher training course a well-rounded and comprehensive curriculum. After learning the basic foundations of yoga nidra and experiencing the practice for yourself, you'll dive deeper into the topic.
Unique aspects of this online yoga nidra teacher training include the topics of Raja and Tantric yoga, in addition to the connection with chakras and energetic principles. Overall, this yoga nidra course presents an opportunity to deepen your overall understanding of yoga.
Highlights of this program include:
Time: Self-paced with no time limit, although students typically complete in six to ten months
Yoga Nidra Certification: Online yoga nidra training certificate with 50 hours of continuing education credit verified by Yoga Alliance
Access to course materials, including a comprehensive training manual, recorded video lectures, audio recordings of yoga nidra meditations, and scripts available to download
Price
The Santosha Yoga Institute lists this yoga nidra teacher training online at $675 AUD, which converts to $438 as of November 2023.
Review from a past student
"…I have been practicing yoga for about 10 years before I signed up with Santosha. I truly understood the foundation of yoga and it's incredible essence in our life." -Odnoo B. (Google review)
What is required to earn a yoga nidra teacher certification?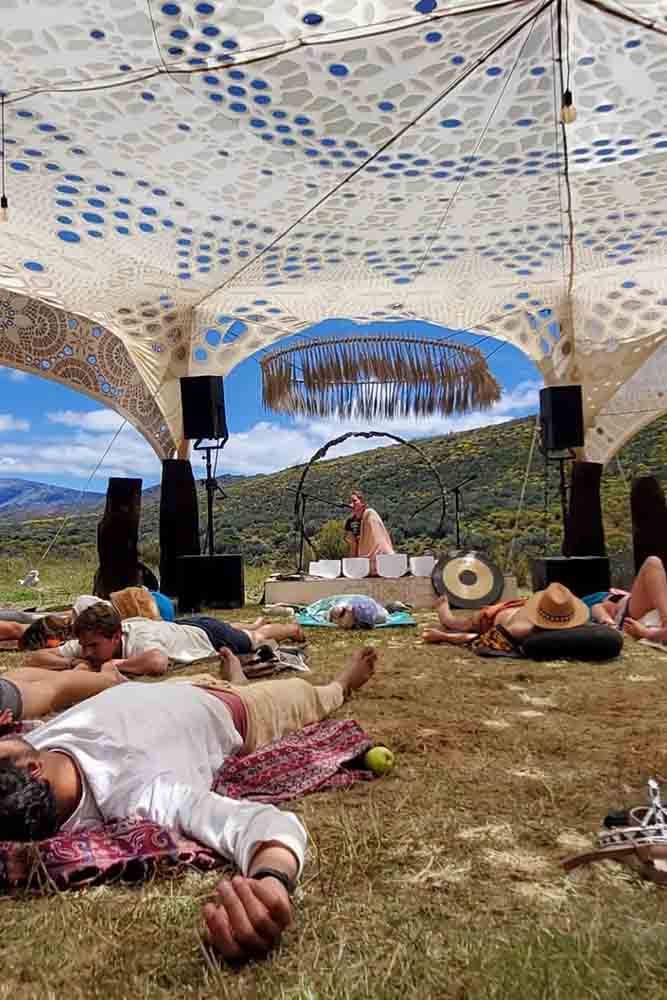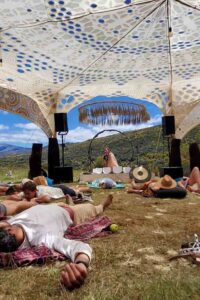 Yoga teacher certification requirements are continuously evolving. And while anyone with proper knowledge and experience can lead a yoga nidra session, you'll feel more confident and gain the respect of your students having completed an accredited yoga nidra teacher training program.
Any of the above courses will provide an individual with the knowledge and tools to teach yoga nidra. However, most programs list the prerequisite of being a 200-RYT (Registered Yoga Teacher with 200 hours). Completing a yoga nidra teacher training online provides you with continuing education (CE) credits to supplement your credentials and keep your teaching certification current.
Because of the healing nature of yoga nidra, it is crucial to be appropriately trained and prepared. Yoga nidra and guided meditation help practitioners process trauma and release stress. In those instances, students may require additional support. A responsible and effective teacher trained properly has the skills to manage these situations and provide a safe space for all individuals.
Typical yoga nidra teacher training online courses, including the ones on this list, range from 20 to 50 hours. Some programs include more individual practice and are beneficial to teachers who don't have much personal experience with this style of yoga. Others focus more on the technical aspects of planning and leading yoga nidra sessions.
No matter your experience with yoga nidra, there is an online yoga nidra teacher training to fit your needs and interests.
How do you lead a yoga nidra session?
Yoga nidra is a specialized practice that takes thoughtfulness to plan and facilitate. Timing, environment, props, and script all affect the experience immensely!
Here are some essential factors to remember when planning and leading a yoga nidra session.
Early morning and before bed are optimal times for yoga nidra. Yoga nidra means "yogic sleep" and is a natural and safe way to help encourage deep rest.
Some people may want to experience yoga nidra before bed to prepare the mind and body for deep relaxation. However, others may wish to use yoga nidra as a meditation or self-exploration and prefer to stay awake afterward to integrate their experience.
As a teacher planning a yoga nidra session, clearly state the intention or sankalpa of the session so students have clear expectations.
For a successful yoga nidra session, it is essential to provide a calm and supportive environment so practitioners are alert but restful. Your yoga nidra session should be in a soft-lit space free from distracting external noises.
Another must-have in any yoga nidra session is access to props. Provide your students with yoga props such as blankets, bolsters, and extra mats to ensure they remain comfortable throughout the session. Keeping the body as relaxed as possible allows a more profound meditative experience.
To further enhance the experience, you might add the following:
Ultimately, a yoga nidra session takes practitioners on an internal journey. Setting up the optimal environment allows the students to feel supported and safe in self-exploration.
The script is where the magic truly happens in a yoga nidra session! Typical yoga nidra scripts may include 4 to 10 distinct stages, each designed to contribute to the ultimate state of deep relaxation.
When writing a yoga nidra script, consider it like several meditations rolled into one. You'll use elements of body scan, breath awareness, noticing thoughts and emotions, visualizations, and intention setting. Scripts sometimes include other elements like affirmations or mantras as well.
If it sounds daunting to write a script on your own, you can find free scripts online to use (provided you do not make recordings using copyrighted material). You also can use a pre-recorded audio track rather than reading a script aloud.
Keep these tips in mind when facilitating a yoga nidra session:
The tone of voice should be calm and soothing when delivering the script.
Take your time and allow for pauses between instructions so students have time to internalize and experience each step.
The duration of a yoga nidra session varies depending on the script length and intention of the practice, but 20 minutes to an hour is standard.
Manage the session time wisely and practice the script beforehand to pace yourself properly.
7 Steps to Enter a Deeply Relaxed State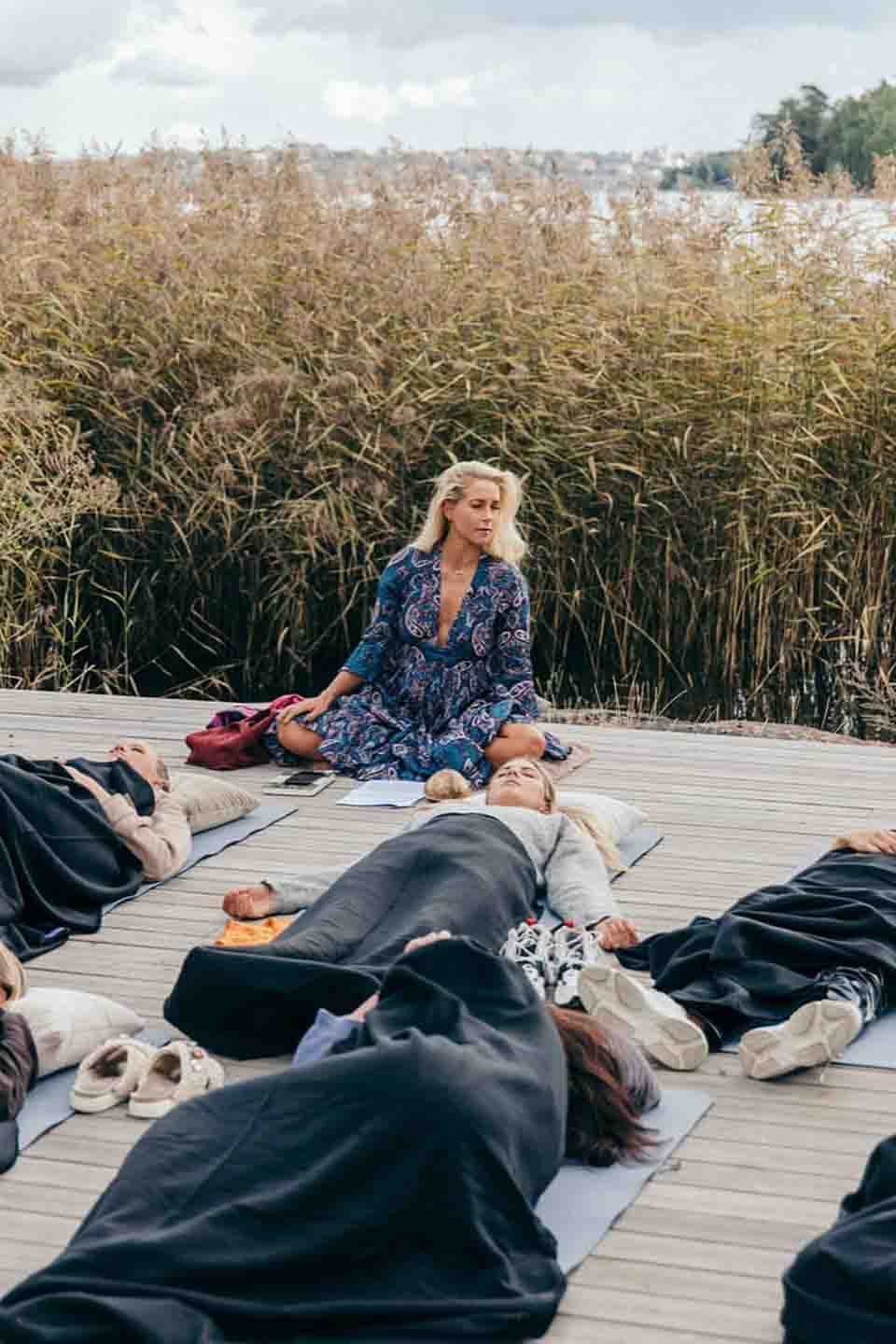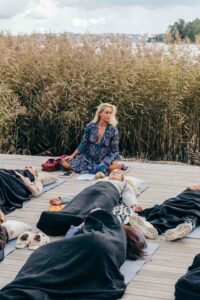 Yoga nidra typically involves seven stages to enter a deep, unconscious state:
Intention: Set an intention or affirmation for the yoga nidra session.
Rotation of consciousness: systematically shifting the attention to different body parts, becoming aware of the physical body.
Breath awareness: noticing the natural breathing pattern and sometimes counting breaths.
Opposite Sensations: tapping into the mind-body layer by bringing awareness to feelings and sensations through contrasting sensory input.
Visualization: rapidly visualizing everyday objects or scenery to cultivate inner peace and a receptive mind state.
Repetition of intention: once your mind is relaxed and receptive, return to the original intention of the session to be absorbed by the subconscious.
Externalization or return: gradually bringing the consciousness back to normal functioning, becoming aware of the physical surroundings, and concluding the yoga nidra session.
These steps may vary amongst teachers and traditions, but these seven stages are standard in most yoga nidra practices and can serve as a template when you write your script.
Frequently Asked Questions
What are the advantages of doing yoga nidra teacher training online?
There are many benefits to getting your yoga nidra certification online, including cost-effectiveness, self-paced study, and convenience and comfort of learning from home. Only some people can pause their life and travel to a retreat destination. Online modules like the ones reviewed here allow interested teachers to continue their yoga education, fitting a yoga nidra course into their current schedule.
It's also important to remember that the yoga nidra practices included in many online trainings can have profound physical, mental, and emotional effects. Being in your familiar space will help you feel more comfortable and get the most out of your yoga nidra experience.
How long does it take to complete a yoga nidra certification?
The length of each yoga nidra course varies, but you can complete an online yoga nidra teacher training in anywhere from 10 days to 3 months.
Do I need a yoga nidra certification to teach this style of yoga?
Technically, anyone with enough yoga nidra practice experience can lead a yoga nidra session. However, the yoga community advises facilitators to receive formal training and a yoga nidra certification issued by an accredited yoga nidra teacher training program.
What are the requirements for signing up for a yoga nidra teacher training online?
Most online yoga nidra course options accept anyone wishing to explore a yoga nidra practice. However, to receive a teaching certificate, you'll have to have completed a 200-hour Yoga Teacher Training first.
Final Thoughts on the Best Yoga Nidra Certifications
Yoga nidra is a powerful tool to tap into the unconscious. It can help us set new intentions, release stress, heal from trauma, and sleep better. Such a powerful practice requires proper training and guidance from the facilitator.
Becoming a yoga nidra teacher first requires significant personal experience with the practice. Once you're ready to take your practice to the next level by becoming a facilitator, there are many options for your yoga nidra certification. The five online yoga nidra teacher training courses reviewed here offer a diverse selection.
Whether you're a practitioner looking to incorporate yoga nidra into your self-care routine or a yoga teacher seeking to continue your education by adding yoga nidra to your toolbox, completing a yoga nidra teacher training online is an excellent place to start.