Last updated on December 2nd, 2023.
Yoga practice is equal parts spiritual and physical. Understanding yoga anatomy is vital as it helps to explain how bones and muscles are engaged when conducting poses. Yoga anatomy is an excellent course for every yoga teacher to pursue.
As a yoga teacher, it is your role to ensure that your students don't get hurt in their practice. Studying yoga anatomy will help you prevent injuries and help you take on students who have had injuries in the past.
As a teacher, you will also create personalized yoga exercises to suit every student and their needs. Anatomy and physiology are necessary to study if you want to be a better yoga teacher.
What are anatomy and physiology?
Anatomy studies the structure and relationship between different body parts. In yoga, when studying anatomy, you will learn about the detailed design of other parts and organs of the body.
On the other hand, physiology is the study of the body as a whole and the functions of those body parts. In yoga physiology, you will learn the roles of different body parts and organs coordinated. If you want to become an exercise physiologist, check out the steps to become an exercise physiologist in that article!
In yoga, anatomy and physiology are studied together. Without one, the other is incomplete. One needs to understand anatomy to learn physiology. On the other hand, studying anatomy alone is useless.
Why is anatomy important in yoga?
Understanding yoga anatomy is essential as it helps students avoid injury and facilitate the healing process. In medical terms, anatomy means the study of basic structures of the body. When studying anatomy, you will learn about the body's bones, muscles, joints, and other internal structures.
As a yogi or yoga teacher, understanding anatomy means that your classes will be inclusive, allowing you to take on students who have had a prior injury and help them practice yoga safely and effectively. As a yoga teacher, the safety of your students is in your hands. Therefore, learning anatomy is essential in yoga.
Studying anatomy will help the teacher understand;
The skeletal structure of the body. 206 bones support the human structure. The teacher needs to learn about the major bones in the body, such as the legs, arms, and spinal cord. Understanding the skeletal structure will help yoga teachers determine which poses will be effective on various body parts.
The movements of the body. There are three anatomical planes of motion. As yoga teachers understand, this will help your students avoid injuries and become more balanced and robust.
The muscles of the body. By moving through different poses in yoga, you engage the muscles of the moving joints. Learning about muscles will help teachers focus on asanas to heal or target specific muscles in the body.
The major joints of the body. Joints are where two or more bones meet. These include cartilage, synovial fluid, fibrous tissues, or a combination. Knowing joints helps you go through poses without hurting your joints.
What happens to your body when you start doing yoga?
When you start doing yoga, you will realize why this practice has existed for thousands of years. Yoga helps you tune in with your inner self and build strength physically. Attending a yoga class means setting time aside for self-growth and self-care. When you start to practice yoga, you will notice a few things changing physically and mentally.
A calmer mind
Most exercise aids in reducing stress because when you exercise, your body releases endorphins. Endorphins are "feel good" hormones. Yoga also involves a lot of stretching. Through stretching the body, you tend to release tension trapped in the muscles, making you feel better and relaxed.
During a yoga class, you will use breathing as a tool. Through the inhales and exhales, your mind will be present as you go through the motions. Breathing makes the body calm.
Even though yoga poses are physical, they require so much concentration that your mind will stop worrying about all other things and focus on the present moment. This break gives the mind a little vacation, eventually resulting in lower stress hormones in your body.
Weight loss
The types of yoga, such as Bikram and Power yoga, are intense enough to make you lose weight. During these classes, you will go through various rigorous body movements, and you will sweat profusely, causing you to lose the water weight, gain more balance and strength, and lose weight naturally at the same time.
Some Bikram yoga classes are hosted in rooms with 40% humidity and 105 degrees Celsius. You will sweat a lot throughout the class and lose the extra water weight. You will also go through around 26 poses at least twice during the class and feel the burn.
Yoga can increase your metabolism, helping you lose a few pounds and maintain a healthy body weight.
Yoga helps in bringing you into tune with your body. You will have a positive self-image. Yoga also helps many people be conscious of their food and eating habits, leading to intuitive heating and weight loss in the long run.
Improved sleep
If you are an insomniac or suffer from anxiety, yoga would be the best thing for you. Yoga poses help in relaxing your nervous system. Doing yoga increases blood flow to your brain's sleep center and decreases activity in your nervous system, allowing you to settle quickly and fall asleep.
Yoga activates your parasympathetic system, getting you out of the "fight or flight" mode and allowing you to fall asleep quickly.
Strength
As your mind gets stronger, your body does, too. Yoga helps you tone your arms, abs, and legs. Ashtanga yoga is the best for those looking to build strength since you repeat the vinyasas multiple times and hold them for a while. These are just some of the many benefits of yoga and meditation!
The 8 Best Yoga Anatomy Courses Online:
Here is quick sneak peak at the 8 best Yoga Anatomy courses online are:
To read the full descriptions for these exceptional yoga anatomy courses online, continue on.
1. Lasater Yoga: Experiential Anatomy
The Experiential Anatomy course by Lasater Yoga has been meticulously crafted by seasoned yoga experts Judith Hanson Lasater, Mary Richards, and Lizzie Lasater. With decades of collective experience in yoga practice, teaching, and therapeutic applications, they have come together to share their wisdom.
Dr. Judith Hanson Lasater, a trailblazer in the yoga world, brings her extensive psychology and physical therapy knowledge to the forefront. As a pioneer in restorative yoga and a respected author, her teachings have influenced countless yoga practitioners and teachers worldwide.
Anatomy, with its complex jargon, can often seem intimidating. The Movement Literacy program challenges this by introducing a refreshing perspective on learning through experiential education and fun. It's not just about memorizing muscle names; it's about feeling the body's movements and understanding them deeper. This course employs a multifaceted approach to ensure a comprehensive understanding of the human body.
Course Overview
15 modules covering the entire body
Learn in diverse ways: workshop videos, tutorials, and audio podcasts
Join six new live webinars
Webinars recorded with past students
Supplementary material includes award-winning medical animations, PDF downloads, assigned reading, homework, and quizzes
Certificate of completion with 50 hours of Yoga Alliance continuing education credit
Three years of unlimited access to the course materials
Some students opt for an intensive approach, tackling one chapter each week, while others can take their time. Students can expect to dedicate a minimum of 50 hours to master the course materials fully.
Movement literacy for yoga teachers is a game-changer in yoga education. With its innovative approach to anatomy, the knowledge of absolute experts, and a flexible learning structure, this $1,250 course equips yoga teachers with the skills and insights to read the human body like never before. Namaste.
2. The Mazé Method: Asanatomy - The Wonder of Your Body
If you're passionate about yoga and want to explore human anatomy, kinesiology, and applied biomechanics, then The Mazé Method Asanatomy course could be your next move.
No prior teaching experience is required, but this course is tailored for dedicated yoga practitioners familiar with anatomical principles or accredited yoga teachers. It's also open to individuals with stiffness or injuries who are still willing to actively participate in a group learning process. Dedication, motivation, and a self-directed approach to learning are key attributes for success in this program.
The course content is not just about bending and stretching
Muscular-Skeletal Anatomy, Kinesiology & Applied
Biomechanics
Alignment in Common Yoga Poses
Motor Skill Development
Pose Progression and Regression
Adapting to Limitations
Enhancing Teaching Skills
Effective Communication
This intensive training program spans several days, each dedicated to a specific body region: spine and core, pelvis, hip, lower extremity, foot and ankle, shoulder, and arm. Participants will explore yoga anatomy through methods and topics designed to enhance practice and teaching skills.
Real-time engagement is highly recommended, but all live sessions are archived, usually available within 24 hours after each session ends. Students can engage with missed sessions later and repeat them to reinforce their skills. The Mazé Method combines the ancient wisdom of yoga with cutting-edge knowledge of human anatomy.
3. The Peaceful Warriors: Yoga Anatomy and Physiology
The Yoga Anatomy and Physiology course by The Peaceful Warriors consists of 30
hours of an online module that is part of The Peaceful Warriors 200HR Online YTT
Pathway and counts towards your 200HR YTT certification.
This course is designed to educate and inspire yoga teachers, students, and
practitioners to look deep into the physical composition of the human body to understand the body's bones, muscles, and tissues and how they all work together with Yoga postures and practice.
Students will learn to deliver a safe and effective yoga class and to keep their yoga practice safe and beneficial. Taught by Sean Goldberg, BSc, a Physiotherapy teacher with a teaching style based on a deep understanding of yoga anatomy, physiology, and traditional Hatha Yoga. He's spent his life traveling all around the world, teaching and helping people who suffer from chronic pain, anxiety, depression, and insomnia. According to The Peaceful Warriors, students can gain anatomical knowledge, taking their teaching skills to the next level. 
Use code MITM25OFF for 25% off at checkout on The Peaceful Warriors' website.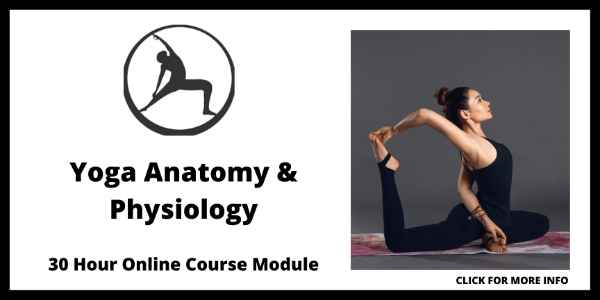 4. YogaRenew: Yoga Anatomy Teacher Training
YogaRenew's Yoga Anatomy Teacher Training will empower you to embody a deeper understanding of human anatomy, enabling you to integrate it into every class you teach.
YogaRenew is a Registered Yoga School (RYS®) and continuing education provider with Yoga Alliance, offering this 50-hour Yoga Anatomy & Physiology Training Online. This certification can be used as a continuing education CEU course.
Deepen your understanding of the human body and functional movements in yoga asana.

Make anatomy concepts accessible to yourself and your students, seeing the human body as an integrated whole.

Immediately incorporate the knowledge gained into your classes, leaving a lasting embodied impression on your students.
Whether you have some knowledge of anatomy from your 200-hour yoga teacher training, extensive anatomy knowledge but seek a more profound understanding in the context of yoga, or are starting from scratch, this course is designed for you.
Fees and length
50 hours and $249 one-time payment.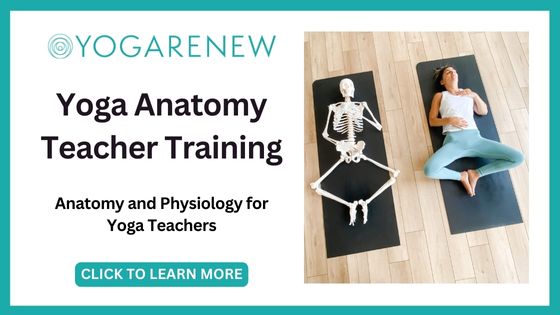 5. Doctor Yogi: Yoga Anatomy Online Course
This 30-hour on-demand course is delivered by Dr Andrew McGonigle, a medically trained yoga anatomy teacher. The course is perfect for yoga teachers and trainees who want to teach from a more science-informed perspective. The course will help you build confidence in training with the latest evidence-based movement techniques and refine your language as a yoga teacher. 
Time is dedicated to exploring how to effectively communicate with and support students who come to class with common injuries and conditions. There are dedicated somatic practices throughout the course to ensure full integration of the knowledge.
With lifetime access to the content and live Q&A sessions every five weeks, this course is excellent value for the investment.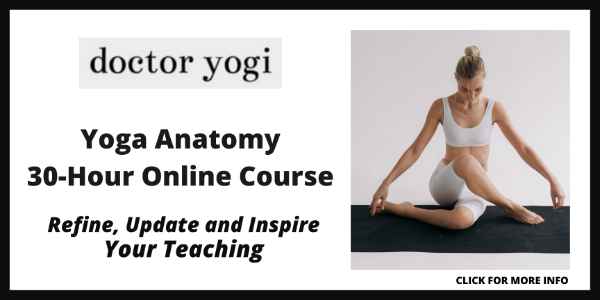 6. Loka Yoga School: Yoga Mechanics Course
Guided by Stella Attwood, a renowned expert in over a dozen modalities, this Loka Yoga School Yoga Mechanics Course is an excellent option to log 20 hours of Yoga Alliance credits. This online, self-paced training offers a comprehensive curriculum into the depths of yoga science, biomechanics, and asana.
You'll discover how to safely and effectively teach yoga exercises and techniques to everyone and use yoga to release tension, alleviate stress, reduce pain, prevent injuries, and promote recovery.
What's included
Complete Yoga Mechanics training program. Internationally certified and accredited with Yoga Alliance, this 20-hour training will set you up for success as a yoga teacher or practitioner
Yoga Mechanics workshops in action. An opportunity to be a student and learn from an expert as you experience and feel the exercises and techniques yourself
Tune up class. Stella's famous full-length Yoga Mechanics class
Common cues & misconception. Benefits, contraindications, options, variations, cues and instructions
Teaching tips. Additions and inclusions for your future teachings
Areas of Focus
The Spine and Core
Hips and Knees
Shoulders
Mobility
Isometric drills
Sequencing
Cues and Instruction
Dynamic movement
Understanding these fundamentals and mechanics of yoga will enable you to assist athletes, senior citizens, office employees, or anyone with a human body. The course also provides direction to design creative and effective sequences, incorporating mobility techniques and catering to a broad audience. Don't miss this opportunity to work with Stella Attwood in revolutionizing the yoga world.
7. My Vinyasa Practice: Online Advanced Anatomy & Physiology Course
My Vinyasa Practice has become one of the most well-known yoga studios in the world because of its firm belief in providing practical yoga instruction at affordable costs. In the online advanced anatomy and physiology course, students will learn about the musculoskeletal system, meridians, and nadis, their relationships with one another, their significance for yoga practitioners, and more. Students will also learn about the human anatomy's most vulnerable areas, including the hips, joints, spine, pelvis, and more, and how important it is for physical health and effective yoga practice.
According to My Vinyasa Practice, teachers who wish to strengthen their training foundations or students looking to improve their practice should take this course. Following successful completion, students of the course will receive a diploma in advanced anatomy and physiology.
8. Yoga Bliss: Yoga Anatomy Course
This 30-hour Online Anatomy Training by Yoga Bliss provides comprehensive tools to understand your body and its movements. By the end of the course, you will have in-depth knowledge of the main muscles and joints, enabling you to assess your postures and progress in your yoga practice. 
Explore the impact of yoga on the nervous system and delve into practical anatomy, exploring your body and its limitations.
Some things we love about this course:
Gain a solid foundation in yoga anatomy, going beyond the Yoga Alliance requirements.

Access all course materials online, allowing you to study independently and connect with senior teachers for guidance.

Enjoy lifetime access to updated Yoga Anatomy content, providing ongoing support and resources for teaching and planning.
This course dives into detailed muscle actions, empowering you to teach asana classes with an anatomical focus. You will also explore factors influencing yoga practice, including proprioception, the vagus nerve, relaxation processes, diaphragmatic breathing, and more. 
Additionally, you'll learn about fascia, release techniques for the plantar fascia, modifications for hyperextended knees, and other practical information that surpasses expectations for a 30-hour online course.
Fees and length
30 hours and $297 one-time payment.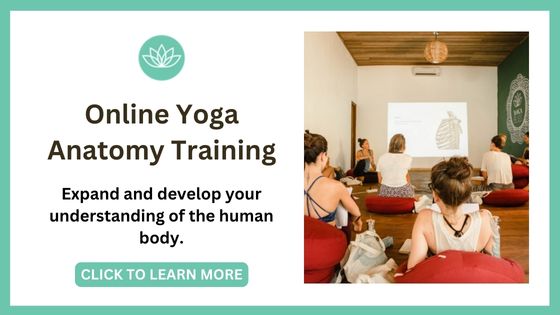 Final Words on the Best Yoga Anatomy Courses Online
Anatomy and physiology are essential aspects of yoga. As with every type of physical exercise, there are injuries. When you take anatomy and physiology courses as a yoga instructor, you take a step in the right direction by avoiding injury. Taking these courses will also help you diversify your students as a yoga teacher. You can take on even those who have had injuries and are trying to heal through yoga.
Knowing anatomy and physiology could help your students become more stable and avoid injury. Some students mainly look for teachers who have anatomy and physiology education because they know how important it is to be safe.
As a yoga teacher, you should add anatomy and physiology to your credentials as part of your continuing education studies. Find a suitable course for yourself in the above list.