Last updated on September 28th, 2023.
There are generally two main umbrella styles of yoga, Yin and Hatha. Either form can be super beneficial depending on your needs. Both are done gently and are great for beginners and novices alike. Although the end result is pretty much the same, the path to get there may have some slight differences, making these two styles complementary opposites.  Read this article to consider which style of yoga is best for you.
The differences in each are how the class is conducted and what type of poses are used as well as the time frames that are set for each pose.  If you need to reduce anxiety then Yin is the way to go. If you have stiff muscles then Hatha is the way to go.
Continue reading to learn more about these two styles and see which one, if not both would be good for you.
What Does Yin and Yang Mean With Regard to Yoga?
Yin and Yang is a concept that everything has two qualities. Yin is considered passive, cooling, and internal while Yang is considered dynamic, warming, and external.
Is Yoga Suitable for Beginners?
Yoga is definitely suitable for beginners. Even five minutes a day can be beneficial. Yoga changes your brain chemistry, is just like everything else in life, if you continue to work at it you'll be able to do more and more as time goes by.
What Makes Hatha Yoga Different?
With Yin Yoga being more passive it tends to focus on the meditation aspect. Hatha Yoga, however, is an umbrella term for any type of yoga that focuses more on the physical than the mental. A lot of Buddhists believe that beginning your meditation cycle with Hatha allows the body to relax into the meditative state easier.
Here is a bit of the history of three of the types of yoga available.
Yoga itself began in India around 2000 years ago. It was a series of breathwork exercises that were conducted under a spiritual belief. It was first mentioned in an ancient sacred text called the Rig Veda which was a set of four texts written in Sanskrit.  Yoga is among the six philosophy schools of Hinduism and is used immensely in Buddhism as well.
As explained on arhantayoga.org Yin Yoga, was started in the 1980s by Paul Grilley, and is not the age-old yoga that most people assume it is. After witnessing a martial arts championship that showed the flexibility of its presenter, Paul began attending the presenter's yoga classes.
Being unimpressed by the amount of improvement in his own flexibility, he continued practicing on his own trying different poses and using different muscles. After starting to teach his own classes, with the improvements he discovered while working on his own, a student helped him to come up with the name Yin Yoga.
According to VeryWellfit, Hatha yoga as a spiritual practice was brought to America in 1893 when Swami Vivekananda demonstrated Yoga at the 1893 Chicago World's Fair. It sparked interest in those who witnessed it.
It was then combined with the popular exercises of the day in 1920 making this style of yoga more for the physical body than the spiritual mind. In the 1950's it was introduced on television in a show called "Yoga for Health". The spiritual advisor to the Beatles combined transcendental meditation and yoga. The popularity of yoga took off.
3 Key Differences Between Yin Yoga and Hatha Yoga
The three key differences between Yin and Hatha Yoga are:
Let's review them here.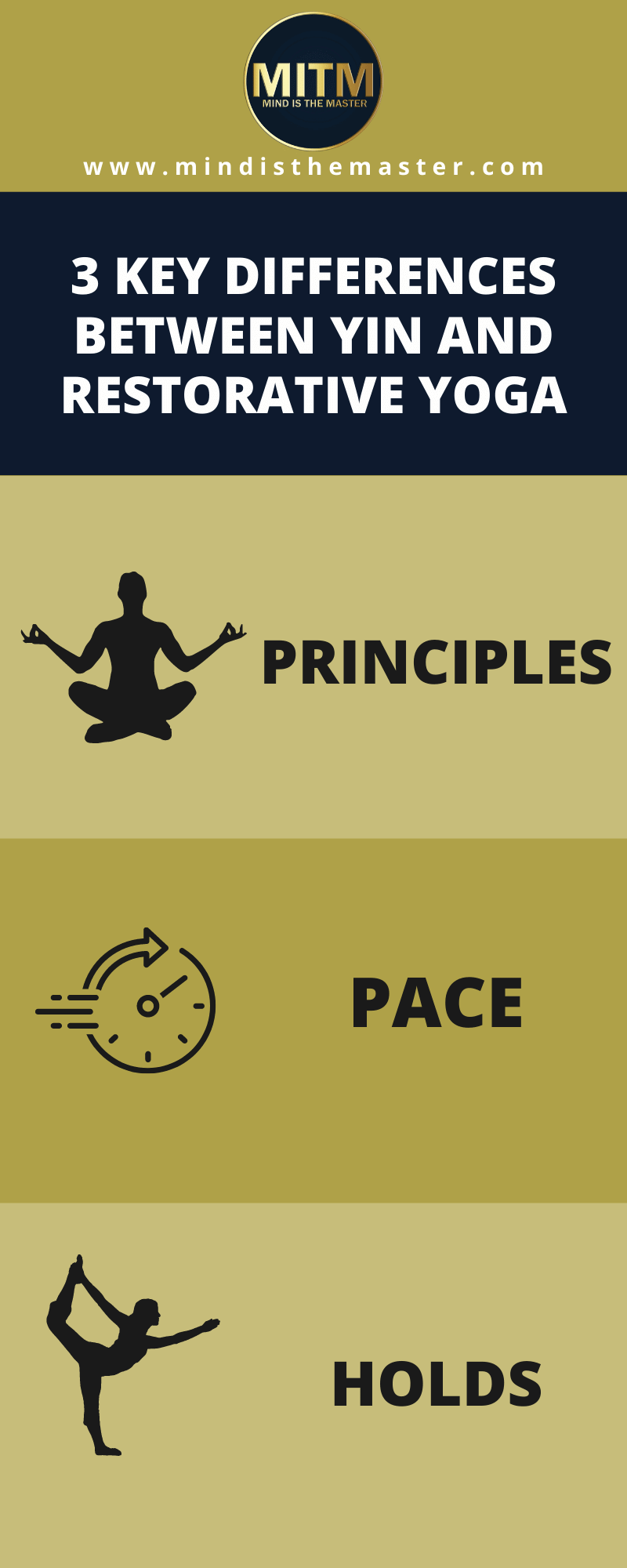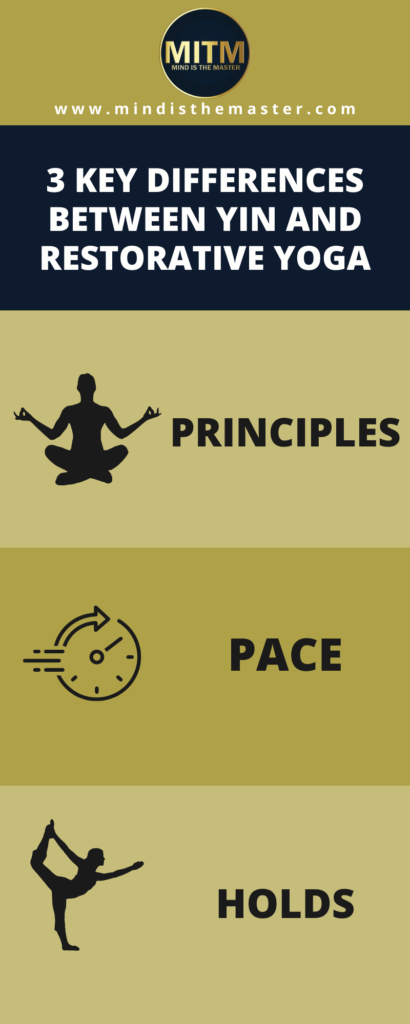 Principles
Yin incorporates principles of traditional Chinese medicine and is more meditation-based focusing on the release of tension through relaxing your mind. The poses done here are used to increase the blood flow to the brain allowing it to release anxiety.
Hatha, who's Sanskrit meaning is "force" is more physically based, focusing on stretching to release tensions in the body so the mind can open and lead you into a meditative state. Both are done gently and in serene atmospheres.
Pace
Yin is done at a faster pace to get you to your relaxed state quicker. It can also help restore your energy levels. This form is done on a floor mat with an instructor and contains 26 poses.
Hatha is done at a slower pace, involving large amounts of stretching. This allows you to stretch more for better blood flow. This form is done in a studio and involves a piece of equipment on the wall to assist the yoga practitioner. This form of yoga contains 15 main poses.
Holds
With Yin, you will stick to one position for a period of time, usually between 1 and 10 minutes. Some of these poses can be challenging to get into and hold. This style helps create new muscle fibers. This style tends to put more emphasis on flexibility versus weight loss.
With Hatha, you tend to use different poses involving a lot of twisting and stretching. This can help relieve stiff joints (very helpful with arthritis) and also helps build muscle tone without adding bulk.
In a world full of rat races and stresses we can all begin to feel a bit overwhelmed, a bit beaten down, and a bit exhausted.  There are many difference in the yoga and other certifications out there.  Even within yoga there are differences in 200 vs 300 as well as the other styles.
Whether we physically ache from it all or we just can't turn our minds off, yoga can be a great tool to help us cope and manage our mental, physical and holistic health. With benefits that range from better circulation to less anxiety to being more limber, therefore less prone to injury we could all benefit from a bit of yoga.